ALUMNI PROFILE
Jason Epstein '49 Looks Back - and Ahead
By Timothy P. Cross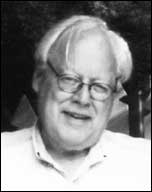 Jason Epstein '49
PHOTO: PEGGY SIEGAL


It's no exaggeration to say that Jason Epstein '49 has enjoyed one of the most remarkable careers in 20th-century publishing. In 1952, as a 22-year-old editor at Doubleday, he created the Anchor Books imprint, establishing the quality trade paperback format and launching the "paperback revolution." (Quality paperbacks have remained a consistently profitable format ever since.) In 1963, during the New York newspaper strike, he became one of the founders of The New York Review of Books, another profitable, intellectual venture. In 1982, after 25 years of lobbying for the idea, he launched The Library of America, which continues to produce high-quality editions of classic American texts. In 1986, he invented The Reader's Catalog, which marketed books directly to readers, a precursor of modern online bookselling.
In the eyes of many, the advent of new technology - typified by online booksellers like Amazon.com and electronic publishing on the Web - bodes ill for publishing. Epstein, a former member of the CCT advisory board, has a different view. Unlike the glory days of the 1920s, when Alfred Knopf '12 went out on his own and Bennett Cerf '20 and Donald Klopfer founded Random House, the present book business, he says, has become "an increasingly distressed industry," and in decline. He believes that new technology promises to restore something of the risk-taking and innovation lost since the rise of publishing conglomerates (who Epstein describes as "the ghostly imprints of bygone firms") in the 1960s.
"With books no longer imprisoned for life within fixed bindings, the opportunities are endless for the creation of new, useful and profitable products by Internet publishers," he writes. "There will be room for a virtually limitless variety of books that can be printed on demand or reproduced on hand-held readers or similar devices." Publishing will be able to become again what it was in the 1920s, a creative, profitable cottage industry.
Epstein first described publishing's gradual slide and presented his rosy forecast in three lectures delivered at the New York Public Library in 1999; he expanded these into Book Business: Publishing, Past, Present and Future (W.W. Norton, $21.95), published in February 2001. With its blend of publishing history, an insider's perspective on publishing, and predictions of things to come, Book Business has garnered praise from more than just bibliophiles. (Its publication merited not only an extended book review but also a story about Epstein in The New York Times.)
During 40 years as editorial director at Random House (he was lured there in 1958 by Cerf, who put him in charge of the Vintage paperback line), Epstein worked with Norman Mailer, Vladimir Nabokov, E.L. Doctorow, Gore Vidal and Philip Roth. He received the first National Book Award for Distinguished Service to American Letters and the Curtis Benjamin Award from the Association of American Publishers for "inventing new kinds of publishing and editing."
At 72, Epstein remains under contract with Random House to work with some of his former authors, including Doctorow, Mailer, Jane Jacobs, Elaine Pagels and Helen Prejean, as well as newer clients, such as former U.N. Ambassador Richard Holbrooke.