Columbia College is excited to announce its first cohort for the Visiting Professorship in the Core Curriculum: Jeremy J. Mhire, the Joe D. Waggonner Professor of Political Science at Louisiana Tech University, and Ezra Tawil, associate professor of English at the University of Rochester. In Fall 2018 they will begin a nine-month appointment that includes teaching in the Core Curriculum; they will conclude their year at Columbia with summer curricular development workshops in Summer 2019.
"The ancient Greeks hold a special place in my heart," said Mhire, who will teach Contemporary Civilization. "And putting them into dialogue with others across time and space is a profoundly rewarding and enriching experience."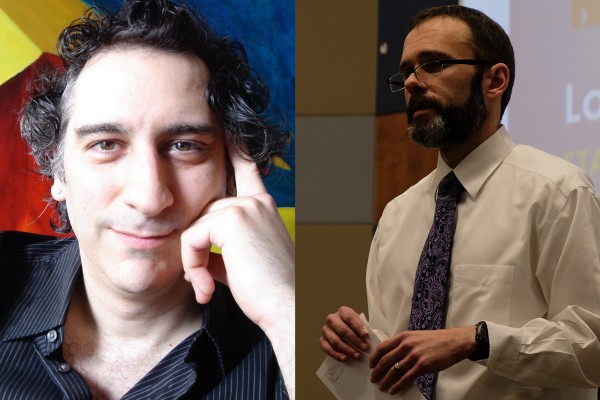 "At some level, the Core touches on the deepest questions of human meaning and existence without presupposing substantive answers," added Mhire, who also serves as director of Louisiana Tech's Waggonner Center for Civic Engagement and Public Policy. "The Core therefore teaches us to begin this process of self-exploration without either fixing the path that process takes or casting us adrift without assistance."
Tawil — who is currently working on a collection of essays on literary style and a third monograph on Islam in early American literature — will teach Literature Humanities, which he previously taught while on faculty at Columbia and calls "one of the most remarkable and memorable teaching experiences I've ever had."
"There's something truly magical in the way these texts, some of which people have been reading for literally thousands of years, are transformed and renovated by their encounter with the minds of contemporary students, and their own personal, cultural and political frameworks for rereading tradition," said Tawil.
Through a gift from Arnold Chavkin CC'74, BUS'77 and Laura Chang BUS'77, the Visiting Professorship in the Core Curriculum aims to reinvigorate liberal arts education nationally by bringing two tenured faculty fellows to spend a year teaching in the Core in preparation for advancing similar initiatives at their home institutions.
"We are pleased to help bring the spirit of the Core Curriculum to help students, faculty and institutions around the country adopt its intellectual approaches," said Chavkin and Chang. "In so doing, we believe students will come to understand how these historical texts facilitate the kinds of critical thinking skills needed to become better citizens."
"This program is a significant step toward accomplishing one of the important objectives of the Columbia College Strategic Plan — to lead the revival of undergraduate liberal arts curricula in the United States by building partnerships with other institutions based on the Core Curriculum," said Columbia College Dean James J. Valentini.
Housed in the Center for the Core Curriculum, the two-year pilot program will also strengthen the faculty and teaching culture at the College, which will be the hub of a network of institutions that place structured liberal arts programs at the center of their undergraduate curricula.
"We are proud to have Professor Mhire and Associate Professor Tawil as the inaugural cohort for the Visiting Professorship in the Core Curriculum," said Roosevelt Montás CC'95, GSAS'04, director of the Center for the Core Curriculum."Moreover, each comes to Columbia with institutionally-endorsed plans for significant curricular initiatives at their own campuses. In this way, their time in the Core will serve as the basis for strengthening liberal education at their home institutions."
The Core Curriculum, which will celebrate its centennial in 2019, remains one of the most distinctive programs of study in the world. In an educational landscape that increasingly favors "career-ready" skills, the College's Core Curriculum is the standard-bearer in undergraduate liberal arts education. It produces critical thinkers, scholars and leaders who engage the world with agility, innovation, depth and deliberateness.