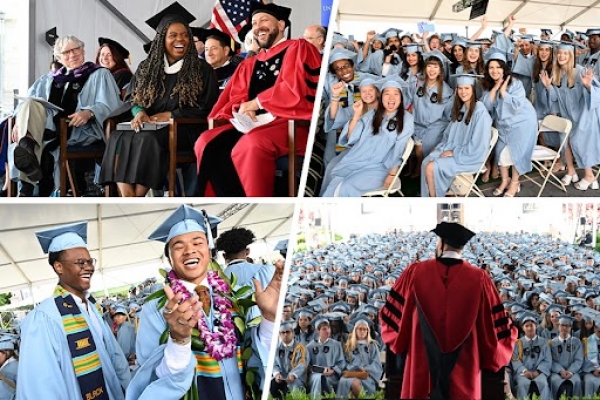 The fortitude and formidable achievements of the Class of 2023 headlined May 16's Class Day, as 1,259 College seniors joined the ranks of alumni. Speakers throughout the morning celebrated the students' resilience in the face of the pandemic, recognized their contributions to reinvigorating campus life and exhorted them to continue roaring like the Lions that they are.
The annual ceremony took place under a blue sky, with the familiar strains of "Pomp and Circumstance" accompanying the seniors as they marched to their seats. Among the featured speakers were Dean Josef Sorett, presiding over his first Class Day; keynote speaker Katori Hall CC'03, the Pulitzer Prize-winning playwright of The Hot Wing King and The Mountaintop; and President Lee C. Bollinger, who is stepping down June 30 after 21 years in the role.
Wadzanayi Michelle Mayiseni CC'23, the class' student speaker, took the stage early to enthusiastic cheers. Selected from more than 25 essayists, she delivered a moving speech that connected her experience — both as an international student who stayed on campus through the pandemic, and as a bone cancer survivor — to a larger message about not letting fear of the unknown hold you back. Reminding classmates of their first-year selves, she said, "We allowed ourselves to be newcomers, beginners who dared trust they would make it to the finish line. … And now we have made it to this beautiful end!"
Senior class president Nicolas Turrill CC'23 emphasized the lessons in perseverance taught by the Covid-19 crisis: "Our class is different in too many ways to count, perhaps even unrecognizable, from the class that was welcomed to this community at Convocation in the fall of 2019, but we persisted," Turrill said. "The change we have faced together — throughout our time inside and out of the classroom — unites us."
In his remarks, Sorett hailed the "resilient and remarkable Class of 2023." He celebrated their ability to adapt and meet the challenges of the pandemic, and credited them for reenergizing campus life, "infusing it with the vitality, spontaneity and camaraderie it had sorely missed."
Looking ahead, Sorett also spoke about the relationships between ethics and aesthetics, "our shared responsibility to make the world better and to make beauty in and of it."

"As current and future leaders," he said, "you will have the chance — and the responsibility — to uphold the values you cherish and to add value to the communities you join and create. You will no doubt do well for yourself. You are Lions, after all. Yet I exhort you to also do good, as complicated and naive as these two simple words might be."
Of beauty, he implored, they should take an expansive view: "There is a kind of ordinary activism to be found in apprehending and amplifying the beauty around you. Seeking it, discerning it and striving to name it will enrich your lives and the lives of those within, but also beyond, your reach. And beauty is the great hope for our shared present and futures."
With ardor and honesty, and sharing stories drawn from her own experience, Hall delivered a master class on the importance of finding your voice and representing yourself; of digging in to do the work when opportunity arises; and of learning to view failure as a "blessing cloaked in a lesson."
She concluded by summoning the "world of no" that the graduates are entering into: "You are walking into a world that throws its hands up at climate change, at gun control … where lies are being peddled as facts, dismantling the very bedrock of logic your education is based upon."
Against that background, she urged: "You cannot be replaced. Your unique experiences, your mistakes, your dreams, your solutions are what we need in this world oh so badly today. We need you to stand in your authenticity, stare failure in the face with no fear, because you all have withstood a darkness that nobody has ever gone through before.
"You, Class of 2023, are truly the resilient ones. May your wounds give you wisdom, and may your failures give you grit. May your faith withstand the test of time and may you step into your future with pride tomorrow and tomorrow and tomorrow. Demand today that this 'world of no' welcome you into your tomorrow of hellll yes."
University Commencement
The celebrations continued on May 17, when graduates from schools across the University came together for Commencement, the ceremony in which degrees are officially conferred by the University president.
Hall once again had a seat on the dais, as she received the University Medal for Excellence. The recipients of honorary degrees included Jonathan Lavine CC'88 and Minouche Shafik, who begins as the 20th president of the University on July 1. Two of the 10 Alumni Medals, given for distinguished service to the University of 10 years or more, went to College alumni: Carlos V. Cruz CC'88 and Richard E. Witten CC'75. A third Alumni Medal went to Diane McKoy '00TC, '02TC, who recently retired as senior associate director of Undergraduate Admissions after 42 years of service.
Frank Guridy, executive director of the Eric H. Holder Jr. Initiative for Civil and Political Rights, received a Faculty Service Award, recognizing full-time faculty whose extraordinary and creative voluntary service has contributed significantly to the University's diversity, equity and inclusion efforts. Guridy is also the Dr. Kenneth and Kareitha Forde Professor of African American and African Diaspora Studies.