The Alum Who Wrote the Greatest Movie of All Time
Herman J. Mankiewicz CC 1917 gets his due in the Oscar-hyped Mank, starring Gary Oldman.
By Thomas Vinciguerra '85, JRN'86, GSAS'90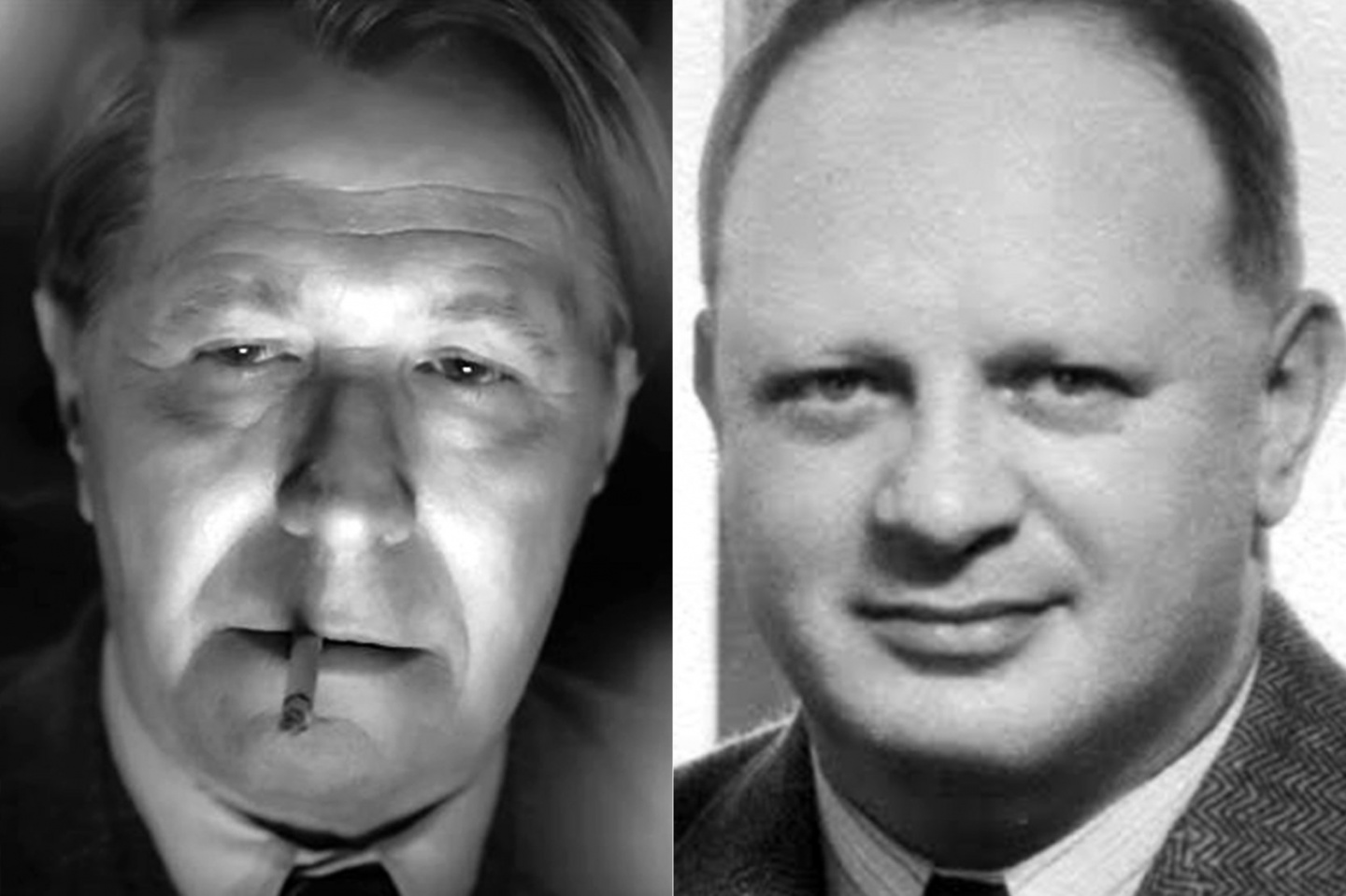 DAYTIME SCENE: INTERIOR, CABIN,
NORTH VERDE RANCH, VICTORVILLE, CALIF., 1940

John Houseman (Sam Troughton) is riding herd on Herman J. Mankiewicz (Gary Oldman). The latter has written the first draft of the 1940 masterpiece Citizen Kane for director Orson Welles. Houseman, Welles's longtime associate from the Mercury Theatre, has been assigned to keep Mankiewicz on track. But he is not happy with the alcoholic, bedridden scriptwriter's work.
HOUSEMAN
A hodgepodge of talky episodes, a collection of fragments that leap around in time, like Mexican jumping beans!
MANKIEWICZ
Welcome to my mind, old sod.
And welcome to Mank, directed by David Fincher, which, after a limited theatrical run, debuted on Netflix on December 4. It is the story of the sophisticated, crude, brilliant and pitiful Mankiewicz (CC 1917) who, in his professional prime, wrote, co-wrote, produced and supervised more than 70 films. The greatest was Citizen Kane. The struggles to make it — as well as Mank's complex life in general — form the heart of the Netflix production.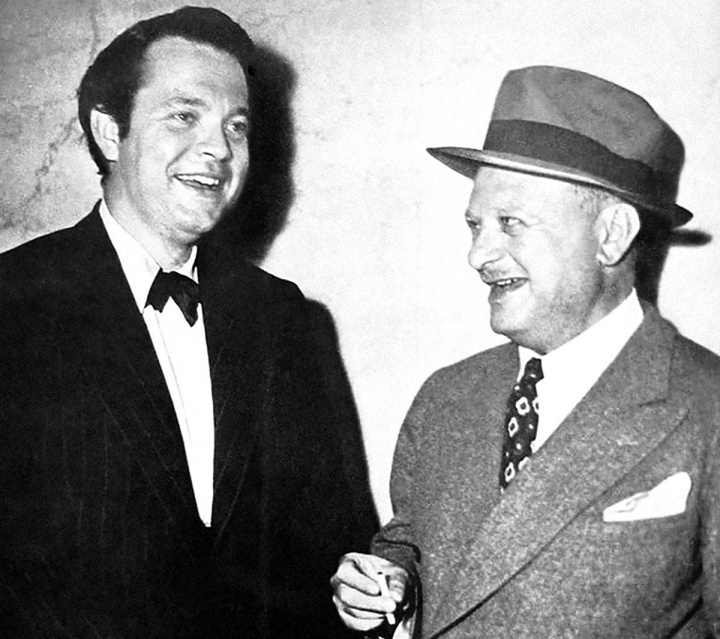 Citizen
Kane
won only a single Academy Award, for best original screenplay, shared by Mankiewicz and Welles.
Mank,
if
the critical buzz
has it right, may well pick up a few of its own. In a sense, Fincher's effort to portray this story of a "singularly great writer," as he characterized Mankiewicz for
The New York Times,
has been 30 years in the making (he dates the idea to around the time he was working on
Alien 3).
But the film was worth the wait. Highly stylized and noir-ish,
Mank
is a portrait both sensitive and merciless of one of Columbia College's most unforgettable — yet somehow forgotten — alumni.

Mankiewicz was a veteran journalist and critic before morphing into a 1930s Hollywood player. Both backgrounds brought him into close touch with the tyrannical media mogul William Randolph Hearst, and inspired Mank to create his eponymous American "citizen," Charles Foster Kane, played by Welles. Critic and all-around raconteur Alexander Woollcott once called Mankiewicz "the funniest man in New York." Welles thought him a "great, monumental, self-destructing machine ... And people loved him. Loved him."
Mank was a belligerent, direct, fearless cut-up. He once tried to wind up a Rin Tin Tin film by having the canine hero carry an abandoned baby into a burning building. His contempt for authority was boundless. "Look — no hands!" he would yell at policemen while driving. "Idiocy is all right in its own way," he would say, "but you can't make it the foundation of a career!" Oldman conveys this mordant yet hilarious persona by slouching, brooding, not infrequently smiling and delivering such crackling bon mots as "In socialism, everyone shares the wealth; in communism, everyone shares the poverty."
With its many talents, the Mankiewicz clan has long been associated with Columbia. Herman's brother, Joseph Mankiewicz CC 1928, wrote and directed the Academy Award-winning A Letter to Three Wives and All About Eve (in Mank, he is played by Tom Pelphrey). One of Herman's sons, Don M. Mankiewicz '42, was the Oscar-nominated co-author of I Want to Live! and a teleplaywright with credits like Star Trek. Don's brother, Frank J. Mankiewicz JRN'48, was press secretary to Robert F. Kennedy. Joseph's sons were Tom, a Yalie who would write or co-write the James Bond films Diamonds Are Forever, Live and Let Die and The Man With the Golden Gun; and Chris Mankiewicz '63, an actor and producer.
At the College, Mank was "Off Hour Editor" at Spectator, overseeing a column of light jottings, and co-author of the 1916 Varsity Show The Peace Pirates, which lampooned Henry Ford's ill-advised WWI peace mission by wrecking the delegates on a desert island. He graduated to reviewing plays for the Times and becoming the first regular theater critic at The New Yorker. He had low regard for his Algonquin Round Table cohort; of their sporadic, uninspired contributions to Harold Ross's new magazine, he said, "The part-time help of wits is no better than the full-time help of half-wits."
In January 1926, producer Walter Wanger lured Mank to Hollywood for a base pay of $40,800 in his first year and $56,000 in his second. Mank famously wired his friend Ben Hecht in New York: MILLIONS ARE TO BE GRABBED OUT HERE AND YOUR ONLY COMPETITION IS IDIOTS. DON'T LET THIS GET AROUND. Once Hecht arrived, Mank gave him a crash course in screenwriting: "The hero, as well as heroine, has to be a virgin. The villain can lay anybody he wants, have as much fun as he wants cheating and stealing, getting rich and whipping the servants. But you have to shoot him in the end."
Over more than 25 years in Tinseltown, Mankiewicz was a consummate utility infielder. A screen constructionist and front-line producer, he punched up scripts and wrote full-fledged screenplays, original and adapted. His credits included Million Dollar Legs with Jack Oakie and W.C. Fields, and Dinner at Eight with John Barrymore, Lionel Barrymore, Wallace Beery and Jean Harlow. He specialized in smart, "sparkling" scenarios and dialogue. In Love Among the Millionaires, he had a frustrated suitor quip, "If I'm ever electrocuted, I'd love to have you sitting in my lap." (In Mank, Oldman confides that if he were in the electric chair, it would be MGM studio head Louis B. Mayer whom he would take with him.)
Mank was versatile. He worked for three weeks on 1939's The Wizard of Oz, contributing such invaluable elements as having little people play the Munchkins and filming the Kansas prologue in black and white. (The credited screenwriters included Varsity Show veteran Edgar Allan Woolf CC 1902.) Apart from Citizen Kane, his most important effort was the 1942 biopic The Pride of the Yankees, starring Gary Cooper as the legendary Lou Gehrig CC 1925. In this classic, Cooper asks ominously, about his fatal bout of amyotrophic lateral sclerosis, "Is it three strikes, Doc?"
Mank had a knack for imparting humanity to much of his work. That quality didn't always extend to himself. His boozing was notorious. In 1925 he got soused at the opening of School for Scandal and went back to the Times to pan the production. He typed out part of his lead ("Miss Gladys Wallace, an aging, hopelessly incompetent amateur") and little else before passing out, a scene he immortalized in Kane. When Mank visited fellow screenwriters Hecht and Charles MacArthur near Woodstock, N.Y., he brought two suitcases; the larger one contained 16 bottles of Scotch and nothing else. Late in Mank, our hero staggers into a louche Hearst dinner party, delivers a drunken harangue, vomits grotesquely and says, "Don't worry folks — the white wine came up with the fish."
His wagering was the stuff of myth, too. "It's not fun gambling if I lose two thousand and write a check for it," he explained. "What's thrilling is to make out a check for fifteen thousand dollars knowing there's not a penny in the bank." Mank kept his job as a producer at Paramount mainly because he owed studio head B.P. Schulberg $30,000. At one point in Mank, MGM head of production Irving Thalberg (Ferdinand Kingsley) upbraids a self-righteous Oldman. It seems he has not contributed to a studio fund aimed at disrupting the radical Upton Sinclair's run for California governor: "It's ten bucks, Mank, and you piss that away between hopeless bets. … I'm just going to add the appropriate amount to your gambling debt and forget we ever had this conversation."
Mank died on March 5, 1953, the same day as Stalin — and what morbid fun he would have had with that! Among his last words, apropos of nothing, were, "You know, I've never had a bad steak. Some weren't great, but none were bad."
For a real epitaph, though, a line from Mank, uttered by Oldman in defense of his script's apparent lack of direction, is far better: "The narrative is one big circle, like a cinnamon roll. Not a straight line, pointing to the nearest exit. You cannot capture a man's entire life in two hours. All you can hope is to leave the impression of one."

CCT contributing editor Thomas Vinciguerra '85, JRN'86, GSAS'90 is the author of Cast of Characters: Wolcott Gibbs, E.B. White, James Thurber, and the Golden Age of The New Yorker (W.W. Norton, 2015).

Published three times a year by Columbia College for alumni, students, faculty, parents and friends.
Columbia Alumni Center
622 W. 113th St., MC 4530, 4th Fl.
New York, NY 10025
212-851-7852
cct@columbia.edu

Columbia Alumni Center
622 W. 113th St., MC 4530, 4th Fl.
New York, NY 10025
212-851-7488
ccalumni@columbia.edu