From the courtroom to the boardroom, Khadijah Sharif-Drinkard '93 is a
force for positive change.
In 2007, after a decade working her way up within the legal department at media giant Viacom, Khadijah Sharif-Drinkard '93 found herself in a new role: approving music videos that would play on BET. The stakes were high. Protesters had begun to gather outside the network president's house in Washington, D.C., chanting their disapproval of the sometimes violent, and often sexist, video fare. Soon, the president had trouble walking out her front door each morning. So when Sharif-Drinkard was dropped into the Midtown boardroom where video decisions were made, she saw an opportunity.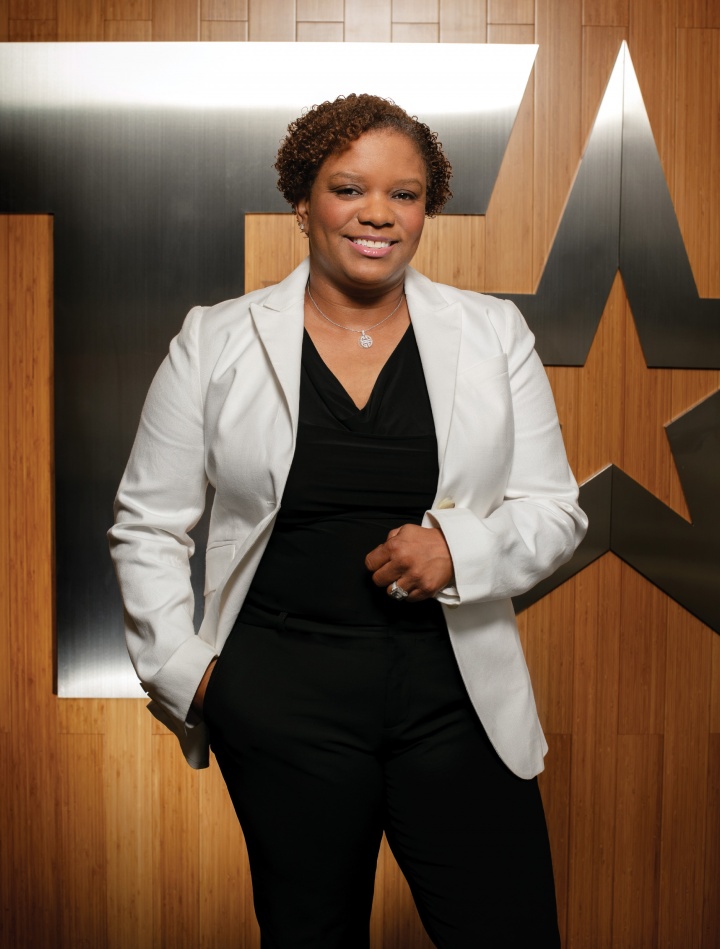 "I was the only woman in the room when I got there," says Sharif-Drinkard, now VP, associate general counsel at Viacom Media Networks. "I said to myself, 'Now I see why this is the way it is. Because nobody's saying the things that need to be said!' So I took it upon myself to say, 'Well, I'm in the room now, and I need to say something.'"

A group of seasoned businessmen — most of them her superiors — would watch each submission from record labels, screening for anything that might be inappropriate for viewers. Most of the videos were sexually explicit — "women were basically sex objects; they didn't have a face or a head, they were just a body part" — but in the pre-#MeToo, pre-#TimesUp era, they often got a pass. None of the men saw a problem. Sharif-Drinkard did.
"I would say, 'This video can't air!'" she recalls. "People didn't always like it, but it started conversations about what was acceptable, and what was not. When Nelly swiped that card through that woman's behind? Just not acceptable."
But nixing videos wasn't enough — Sharif-Drinkard wanted to stop the misogyny before it was shot, and spare the company the hassle of rejection after rejection. "I figured out how to get to the labels early," she says. "I started saying, 'Listen, give me some [plans] in advance, so I can see what the video's going to entail. Then I can tell you, there's too much of this, or that. Don't shoot this, shoot that.'"
It was a real risk. Her male coworkers were less than thrilled and Sharif-Drinkard worried she might lose her job. "They would call me The Suit," she recalls. "I'd hear, 'Why are we letting her in the room?'"
But slowly, during her three years on video duty, she began to turn her reluctant coworkers. She flagged every issue she saw, told labels exactly what was wrong with their submissions, over and over, until it stuck. Until others saw the problems, too. "It wasn't overnight, but little by little they'd say, 'Go get Khadijah!'" The protests stopped, as did (some of) the blatant sexism and gratuitous violence. It confirmed a theory that Sharif-Drinkard was starting to believe: that by working hard and proving your own worth, you can use your power to push for change, and propel others forward.
It's easy to see Sharif-Drinkard's worth. She wins over boardrooms with a wide, easy smile, and you get the sense that everyone who knows her sees her as a friend. Somewhere between hollow humility and oversized bravado, she navigates an impossible middle ground: She sounds delighted, but not smug, as she rattles off her (many) accomplishments over a coffee squeezed between meetings. She's proud of what she's done, because what she's done has helped others, and isn't that the point?
"She has that sort of voice and personality that brings people to her," says Miguel Batista '93, BUS'99, a childhood friend and College classmate. "She does a really good job of galvanizing folks."
Take, for example, her first court case, at just 17: Sharif by Salahuddin v. New York State Education Department.
She's proud of what she's done, because what
she's done has helped others, and isn't that the point?
Sharif-Drinkard grew up in the Harlem projects, not far from campus. As a public school student, she had learned to advocate for her education — and she and her friends were running into a wall.
"We were all public school girls who were straight-A students who didn't do well on the SAT, and because of that, we didn't get a lot of money for scholarships," she says. She saw a clear bias: Access to tutoring and test prep made it easier for wealthier students to do better on the SAT than poorer students. Data further showed that white and Asian test takers tended to score more highly than their black and Latino counterparts. A mentor tipped Sharif-Drinkard off to ACLU chatter about the unfair scholarship allocations, and connected her with one of the union's attorneys, Carrie Wong. Sharif-Drinkard and Wong assembled a group of female high-schoolers with high GPAs and low SAT scores, and together they pressed charges — with Sharif-Drinkard's name on the case, since she was the first to speak up. They won: The court ruled that New York could no longer award scholarships based solely on SAT scores.
By the time she got to Columbia, she was ready for more.
"I came in [with] guns blazing," Sharif-Drinkard says. Her courtroom experience had motivated her to fight for what was right, and set her on a path for law school. "I was moved by what Shirley Chisholm did — she ran for President in 1972, way before a black man ever ran. Here she was, a woman from Brooklyn who, for all intents and purposes, didn't have a whole lot. … I was buttressed up a little bit by the notion that people who didn't have a whole lot could still do a lot."
But as she planned her future as a human rights attorney, she began to wonder if her skills might be better used elsewhere. "There was a part of me that felt like there wasn't a whole lot of movement in human rights law," she says. "The question was, how could you be a social activist, and also make money and donate, and do good? How can you do good within a company?"
Sharif-Drinkard was "not a big TV fan growing up," but worked at Viacom for a year between college and law school, gaining on-the-ground experience before jumping back into classes. "I saw that people are really impacted by what they see on TV," she says. "So my goal was to make television that gets people to focus on things that are inspiring. I thought, if we could get more people to share the [positive] on TV, and not just the crazy, it's a good thing to be involved in."
At Fordham Law School, she finally faced her decision: Stick to human rights law, or stake her claim in entertainment and build a platform for change? She chose the platform. Returning to Viacom, she worked her way up from assistant to video approver to her current position, where she leads a team of a half-dozen young attorneys and para-professionals.
As associate general counsel, Sharif-Drinkard handles contract and deal negotiations, checks in on TV and movie sets, counsels clients on navigating production hurdles and ensures that advertising partners' needs are met to keep the production on track. "I'm just trying to make sure I'm helping the business move forward in some way," she says. "It's an interesting hodgepodge of practicing law." It also allows her to throw her legal weight behind important projects — particularly those that promote diversity and highlight people of color.
"Diversity has always made sense — not only because it is good for business, but [also because] it's the right thing to do," she says. "It makes sense that we would want to tell stories about people who have different life experiences, diverse perspectives, and come from a variety of cultures and races. Telling these stories makes the artistic landscape richer, and it allows for the humanizing of more communities that have often been left on the periphery of American storytelling."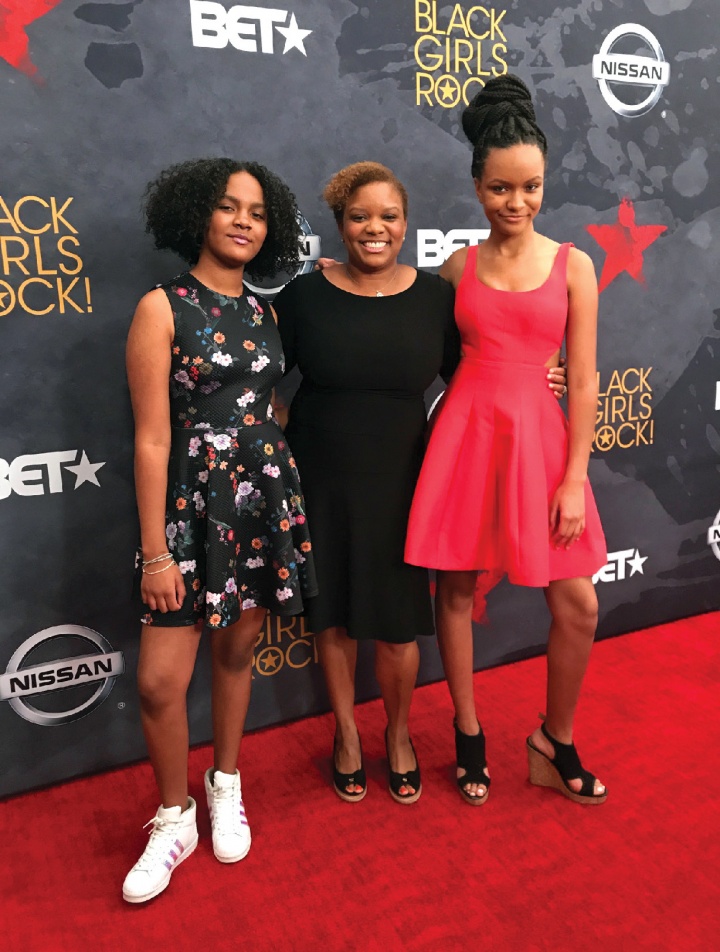 Courtesy Khadijah Sharif-Drinkard '93
The recent success of
Black Panther
,
Black-ish
and similar movies and TV shows is what Sharif-Drinkard often calls "a start" — a step in the right direction, but not the whole picture. "There is a lot of work to do with respect to including African Americans, Latino Americans, Asian Americans, Arab Americans and more in the natural fabric and landscape of filmmaking," she says. "Our experiences are too diverse, and we are too complex. We need hundreds, if not thousands, of productions to properly represent our experiences. We need to greenlight more shows that speak to diverse communities, staff more diverse writers, directors and producers, and ensure that the shows that do make it to screen … acknowledge that all communities have layers and layers, and that there is not one story for any particular group."

As an attorney, greenlighting shows is not exactly Sharif-Drinkard's job. But she's found a way to get around that. She pushed, hard, to bring the awards show Black Girls Rock! to BET in 2010 — a coup that took more than two years of negotiations. "I think it helped to shape the culture, for little black girls to say, 'I'm cool! I rock!'" she says. It was particularly important to her as a mother to two young black girls, now 13 and 15. (Sharif-Drinkard, her husband and their daughters live in West Orange, N.J.) "That was something that was monumental for us, because it gave a voice and a platform to women and girls, who didn't see themselves the way they wanted to be seen."
The same full-bodied effort went into saving Kasha and the Zulu King, a children's animated movie that aired on BET in 2012. She was assigned the basic legal responsibilities of handling contracts and financial negotiations. But when she heard production was running behind schedule and about to be shut down, she sprang into action. "The young man who created it … was using college students in Atlanta, at Spelman and Morehouse, so it was taking a lot longer [than anticipated]," she says. "But he was really shaping and molding these new creatives, so I pushed not to pass on it." She petitioned her bosses to stay the course, negotiated longer contracts. "When it was all said and done, it looked amazing!" she says. It also won a 2013 NAACP Image Award.
Developing young talent is important to Sharif-Drinkard. As a boss, she takes her direct reports under her wing, teaches them how to navigate corporate life. One of those mentees was Rakiat Gbadamosi, who joined Sharif-Drinkard's team in 2014.
"Right away, she would let me sit in on all her deals, on all the phone calls, include me on emails, so I knew what being a lawyer looked like," says Gbadamosi. "She'd give feedback on everything — not just on my work product, but how she feels like I'm networking, steps she thinks I should be taking. She was always going to the higher ups and saying, Rakiat's been with us for 'x' amount of time, she deserves a raise. I want her to advance."
Sharif-Drinkard's superiors say she's earned her influence. "When you hear Khadijah talk about a potential solution to a problem, she's talking from a position of strength," says BET general manager Michael D. Armstrong. "You never have a doubt when you listen to her. [You know] that she's going to exhaust all her resources and find a solution."
Sharif-Drinkard's advocacy extends outside of Viacom, too: She's on a handful of boards, including that of the Black Entertainment and Sports Lawyers Association, where she mentors those looking to break into her industry and effect the same changes. She takes humanitarian trips, organizes networking opportunities, chairs award ceremonies, even helps to coordinate summer camps for low-income New Jersey students. It's enough to make anyone's head spin, but not Sharif-Drinkard's. To hear her explain it, it's simple: She's invigorated by the possibility of creating something better, something that lasts.
"I think there's a lot of power we have, even when we don't necessarily know we have it — that's why I'm always energized to do something," she says. "We can sit and figure out the things that didn't go right for us, or we can figure out the things we can make right for other people."
Molly Shea is a journalist based in Brooklyn, N.Y.

Published three times a year by Columbia College for alumni, students, faculty, parents and friends.
Columbia Alumni Center
622 W. 113th St., MC 4530, 4th Fl.
New York, NY 10025
212-851-7852
cct@columbia.edu

Columbia Alumni Center
622 W. 113th St., MC 4530, 4th Fl.
New York, NY 10025
212-851-7488
ccalumni@columbia.edu