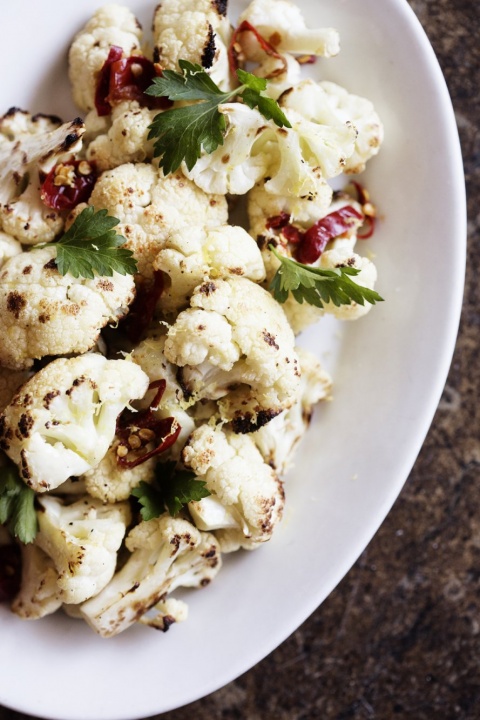 This yummy vegetarian recipe from Pizzeria Lola is provided courtesy of chef
Ann Kim '95

Pizzeria Lola's Roasted Cauliflower with Calabrian Chile
Level: Easy
Total: 35 min
Prep: 15 min
Cook: 20 min
Yield: 4 to 5 servings
Ingredients
1 medium head cauliflower, cut into 1½-inch florets
¼ cup extra-virgin olive oil
Salt and freshly ground black pepper
2 teaspoons fresh lemon juice
2 teaspoons diced Calabrian chiles (found in Italian specialty markets)
Fresh flat-leaf parsley, roughly chopped, for garnish
Lemon zest, for garnish
Directions
Preheat the oven to 400 degrees F.
In a large mixing bowl, toss the cauliflower florets with olive oil and some salt and pepper.
Place the cauliflower in a large roasting pan (a baking sheet works, too).
Place the pan in the oven and roast until the florets are lightly charred and cooked through, 15 to 20 minutes. Check on the cauliflower occasionally to ensure an even roast.
Remove from the oven, place on a serving plate and toss with the lemon juice and chiles. Garnish with lemon zest and parsley. Serve immediately.