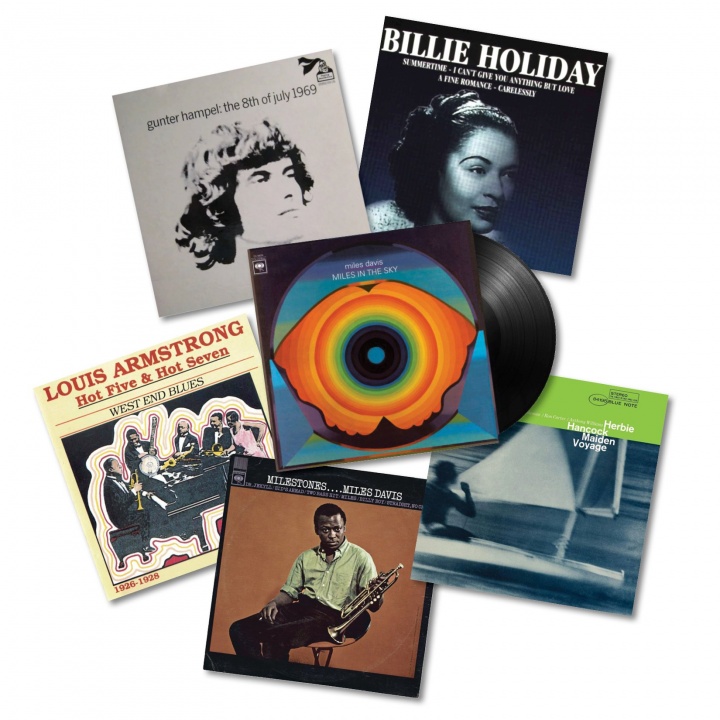 W
e invited the participants from
"Radio Days,"
our oral history of the origins of jazz at WKCR, to share the jazz track that's most meaningful to them. Here's what's at the top of their personal playlists.
From Sidney Bechet to Kenny Clarke, to Dexter Gordon to the Art Ensemble of Chicago, American jazz artists found a warm welcome and sometimes a long-term home in Europe. Free from the harsher racism of the United States (though not always from financial exploitation) and with regular opportunities to perform, these artists flourished and, in the process, influenced and came to know and work with emerging generations of European musicians.
By the late '60s, some of the latter began to find their own unique voices, sometimes incorporating elements of the classical avant-garde (composers like Berio, Boulez, Stockhausen and Xenakis). The avant-gardes of the U.S. and Europe soon crossed paths and opened the gates to literally decades of fruitful collaboration (with each other — and with WKCR).
A superb example is the album The 8th of July 1969, by German vibraphonist/bass clarinetist Gunter Hampel, and particularly the track "Morning Song." I used to play this LP a lot on my weekly avant-garde jazz show, "Jazz Projections," and on my weekly late-night free-form program, "Unidentified." The song features remarkable American vocalist Jeanne Lee, along with two important members of Chicago's Association for the Advancement of Creative Musicians, multi-instrumentalist Anthony Braxton and drummer Steve McCall. It also includes two stalwarts of the Dutch avant-garde jazz scene, saxophonist Willem Breuker and bassist Arjen Gorter.
When asked for my favorite jazz track, it took one second: "Maiden Voyage" — a composition of understated beauty, elegance and craftsmanship; an evocative tutorial on mastering one's art.
I loved it the first time I heard it, a few years after it was recorded in 1965, and love it more now.
When I interviewed Herbie for an article around 1990, I was pleased to find that he was still the Herbie Hancock of that song, a masterful purveyor of the learned heart. By then he had exploded out of "jazz" with massive career-altering funk and rock hits in "Chameleon" and "Rockit." They could easily have pushed him over the precipice, a long way from the calm waters of "Maiden Voyage" and the acoustic brilliance of his first radio-friendly delivery, "Watermelon Man."
As of this writing he's still the same — a master doing his best work each time he sits down at his piano. He's even giving master classes in jazz on YouTube.
On a sweltering night in August 1968, mere weeks before I arrived on a Columbia campus in upheaval, my friend Bret Marcus told me he had just gotten the new Miles Davis album, and of course, I wanted to hear it immediately. The album was Miles in the Sky, and when he dropped the needle on the first cut, "Stuff," I was startled by what I heard.
Davis's young quintet at the time was unquestionably one the greatest bands ever assembled, each member a highly original instrumentalist: Herbie Hancock, piano; Ron Carter, bass; Tony Williams, drums; Wayne Shorter; tenor saxophone; and of course Davis on trumpet. They were consummate artists who played and comported themselves with style and assurance. It was cutting-edge on many levels.
But "Stuff' represented a departure, even for this constantly innovating group — a fusion of jazz, rock and soul expressed through the sensibility of a French Impressionist. The tune itself is unremarkable — a series of two- and three-note fragments played in rough unison by the horns, lasting nearly six minutes before any solos begin. What leaps out is the slinky, seductive groove established by the rhythm section from the first moment on. Herbie Hancock's simmering, shimmering chords, in his first recording on a Fender Rhodes electric piano. Tony Williams's restrained, complex, yet still-propulsive beat. Ron Carter's dancing bass, straight out of Motown. Most impressive is the sensitive musical conversation among the three, each reacting to the others, building subtle tensions and releases. Among the solos, Wayne Shorter's is remarkably coherent and expressive: timeless storytelling of a high order.
I wouldn't include "Stuff" in any list of the 50 greatest jazz recordings, nor even in the top 25 Miles Davis tracks. But it perfectly captured the feelings of newness and departure I had at that point in my life. And for its instant ability to establish a unique atmosphere, I used "Stuff" as my radio in-theme for many years.
I'm almost embarrassed by my choice; given the fact that I have played and listened to jazz for more than 60 years, I had hoped to dig up something obscure. But "Summertime" is, of course, the antithesis of this. The song was composed by George Gershwin with lyrics by DuBose Heyward and Ira Gershwin as an aria in the "folk opera" Porgy and Bess. The opera — a depiction of a Black community in Charleston, S.C. — was first performed in 1935, but was hardly considered the American classic that Gershwin desired, nor a Broadway smash hit.
Ironically, it was largely Black performers who transformed Porgy and Bess's music into jazz classics. In 1936, "Summertime" leaped to fame with a recording by Billie Holliday. Lady Day took a modest classic aria and turned it into a hot, up-tempo, swinging tune with drums punctuating the words. Since then it has become one of most recorded songs in jazz history, performed by Ella Fitzgerald, Nina Simone, Louis Armstrong and even Janis Joplin. Nor were its operatic roots lost; a magnificent performance was recorded by opera great Maria Callas.
I never understood the song's power until I watched an operatic performance a few years ago at the Metropolitan Opera House in New York. Almost every version has a powerful rhythmic sound (with the notable exception of the instrumental by Miles Davis). But at the Met, it was modest, befitting the shabby, southern-town setting — and I heard "Summertime" for what it was: a soft, wistful lullaby, sung by a young mother whose life is rooted in poverty, drinking and violence.
The actress/singer was Golda Schultz. During intermission, people complained they could barely hear her. And that is what makes the song superb. It's a counterpoint to the bravado surrounding her. She is not belting out a jazz tune, she is whispering hope to her baby and, as Schultz softly sings, the music and lyrics become a somber, blues spiritual — exactly as the composer and song writer must have imagined it.
I was the quintessential rock kid when I came to Columbia and wandered into WKCR in late 1969. For six months I engineered Jim Carroll's one-hour, avant-garde show in the dregs of Sunday evening, turning down the sound whenever John Coltrane or Ornette Coleman started wailing, until I, too, got the fever.
Somewhere along the way I observed the ultimate, authentic jazz hipster, Jamie Katz. We didn't speak, but every once in a while I'd be around during his show. The music went in one ear and out the other. To me, straight-ahead jazz was the barely audible background to detective shows that I loved.
Until one day, Jamie was about to play a Miles Davis track. Something in the way he introduced it — exact words forgotten 50 years on — made me look up to the speakers. A mellow but relentlessly insistent chorused beginning, a beautiful trumpet line that took hold of my shoulder and then a rush of an alto saxophone solo that grabbed me by the neck and wouldn't let go.
I was hooked. Jazz became such a part of my life from that day on, and a professional thread for the past 50 years — sometimes in the foreground, often as a soundtrack, but always there. Thanks Jim and Jamie, thanks Miles, thanks WKCR and Columbia.