Make this sticky-sweet treat while you enjoy our Summer 2017 cover story.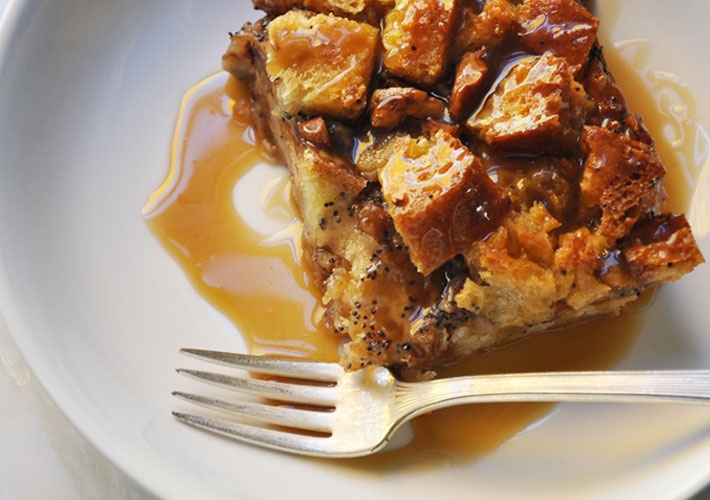 Pecan and Butterscotch Bread Pudding
Required: 13"x9" baking pan

For pudding:
12 cups of day-old French (or other crusty) bread, top and bottom crusts removed, cut into ½-inch cubes
¼ lb. (½ stick) unsalted butter, melted
2 Tbsp. sugar
2 cups pecan pieces
5 eggs, beaten with a pinch of salt
1½ cups + 2 Tbsp. sugar
4 cups heavy cream
1½ Tbsp. poppy seeds
3 Tbsp. bourbon
½ vanilla bean; split, with seeds scraped

For salted butterscotch sauce:
2 cups packed light brown sugar
6 Tbsp. unsalted butter
1 Tbsp. salt
1 cup light corn syrup
1 cup heavy cream

Make the bread pudding:
Toss the cubed bread with the melted butter and the 2 Tbsp. of sugar in a large mixing bowl. In a separate bowl, mix the eggs with the sugar, beating until light and fluffy. In a smaller bowl, mix the bourbon with the vanilla bean seeds, stirring to break up the seeds. Add the heavy cream and bourbon to the egg mixture and stir. Pour mixture over the cubed bread mixed with the pecans and toss so the bread is coated on all sides. Pour entire mixture into a 13"x9" baking pan and cover with plastic wrap. Chill the unbaked bread pudding overnight, allowing the bread to soak up the liquid. The next day, bake at 325°F until top is browned and pudding is set, about 1 hour.
Make the sauce:
Place all ingredients but the cream in a pot and bring to a boil over medium high heat. Stir once, lower the heat and simmer the sauce until syrupy, around three minutes. Remove from heat and add the cream. Stir again until uniform. Allow sauce to cool and serve with the bread pudding.