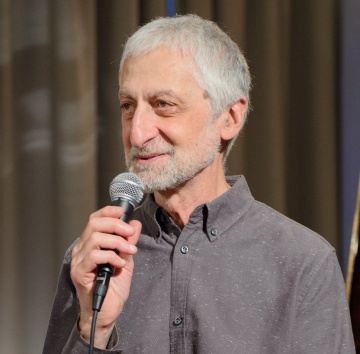 Armen Donelian '72
is a pianist, composer and Fulbright scholar who has distinguished himself over 45 years as a performer, recording artist, educator and author. Since 1975 he has appeared in more than 25 countries as a featured solo pianist, leader of his own quintet and trio, and alongside jazz legends such as Sonny Rollins, Chet Baker, Paquito D'Rivera, Mongo Santamaria and Billy Harper. Donelian is a six-time National Endowment for the Arts fellow and has taught for 35 years at The New School's College of Performing Arts. His distinctive music blends diverse influences including his Armenian origin, classical technique and his association with some of the biggest names in jazz.

What were you like when you arrived at Columbia?
I was a talented pianist and an above-average student, socially inexperienced, shy around women, a poor dancer, good in science and math, poor in history and languages, fairly proficient in English, a good writer although poor as a public speaker, politically on the left, a good financial planner, struggling with my relationship with my father, rebellious toward authority, sometimes lazy, underachieving my potential, sometimes lacking in enthusiasm, able to excel and apply myself in areas of interest and curiosity — enjoying travel, exploring, adventure, taking risks and above all playing music. Being in NYC was the fulfillment of a lifelong dream that I found thrilling, daunting and at times threatening. I was raised in a white middle-class suburb; I lacked street smarts and became stressed out at every dark corner and subway platform.
What do you remember about your first-year living situation?
I was assigned a single room with a bunk bed on the fourth floor of Furnald Hall, which I shared with Miguel Alvarez, also a first-year student, of Cuban descent. It was a very small room, so we got to know each other pretty quickly. I also became friends with Eddie Gottesman '72 who lived down the hall. Both liked music, and we all enjoyed each other's company.
The dining hall food was uninspiring, so I often ate hamburgers and fries from the greasy spoon across the street, and gained weight. Fortunately, after passing an audition, I was hired to play piano at the King's Table restaurant in John Jay Hall four nights a week, a gig that lasted for the duration of my four College years. The food there was better than at the dining hall or the greasy spoon, and as I honed my repertoire of standards I worked to pay for my dorm and glean some extra pocket money.
I moved into a single in my sophomore year; I felt comfortable and autonomous there and I made a number of friends, including my late good friend Eliot Soffes '74, GSAPP'77, who became a successful architect. There was a supportive sense of community in Furnald. We all watched the Knicks games, followed the re-election of President Nixon and the Kent State shootings, smoked pot, listened to music, studied for exams and shared personal views on the news. I also liked attending the Furnald Folk Festival, at which I performed with my musical friends.
What Core class or experience do you most remember, and why?
There are many.
Without a doubt, Eugene Santomasso GSAS'73's required art history course made the most impression on me. In his animated lectures in a darkened classroom, he made static two-dimensional slide projections of classic paintings jump out from the screen and come to life. He was amazing!
Also, freshman English with Dick Kuczkowski GSAS'73 was fabulous! He had us go to see Jean-Luc Godard's film The Weekend and write an essay. He also assigned us to visit the Frick Collection and write about it. He loves jazz and for one assignment he allowed me to write a paper comparing Monk and Tatum. He and I became friends, and we still get together periodically. He and his wife, Mia, often come to hear me play. Dick exponentially expanded my world view.
Composer Walter Hilse '62, GSAS'72 was another of my favorite professors; I took his "Orchestration, Conducting and Score Reading" course. Walter was articulate, brilliant, thorough and methodical. We also became friends and I often attend his organ concerts at St. Peter's Church, or meet him and his wife, Pat, when I'm in NYC.
I also remember accompanying the Barnard-Columbia Chorus, directed by choirmaster Daniel Paget '64, GSAS'66, a great musician, conductor and pedagogue. Dan had varied and eccentric interests including ragtime and alternate instrumental tunings.
Contemporary Civilization was illuminating and, although I've forgotten the instructor's name, his lectures were informative and energized. I do remember that each week he came to class at 9:00 a.m. with two packs of Newports and two cups of coffee. By the end of class at 11:00, he had gone through all of them.
I took astronomy to fulfill one of my science requirements, as I had always loved staring at the starry sky. However, I recall the large lectures were impersonal and dry, although I found visiting the observatory in Pupin Hall fascinating. I had a similar experience in calculus; The material was somewhat familiar to me but the large lectures quickly and assumed that the lab classes had adequately covered a great deal of dense material.
Finally, I remember fulfilling my P.E. requirement with the unique experience of running laps on the circular track with elevated sides. I also remember my first time visiting Butler Library — huge, overwhelming, but in a way thrilling, too.
Did you have a favorite spot on campus, and what did you like about it?
One of my favorite places was St. Paul's Chapel, a beautiful dome with resonant acoustics, colorful stained-glass windows and an amazing pipe organ. I found it restful amid the urban clamor. I also played guitar in the coffee house venue in the chapel's basement with a friend who sang and played blues harmonica.
Another favorite spot was Riverside Park, where I often would take solitary walks or jog.
What, if anything, about your College experience would you do over?
I would change nothing. It all was as it was meant to be.