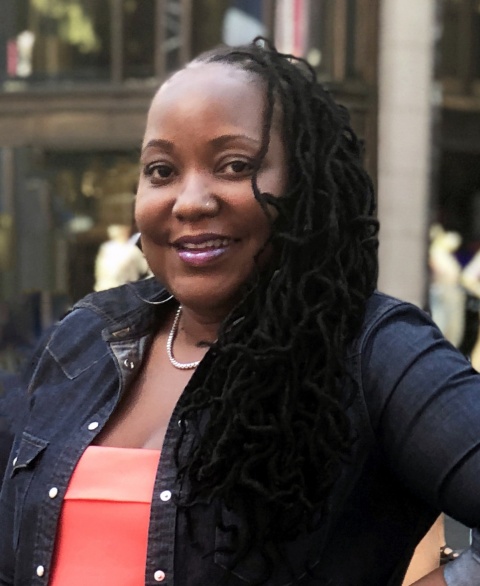 Elon D. Johnson '98
is an Emmy-nominated producer of critically acclaimed and highly rated television shows for several networks, including ABC, NBC, FOX, VH1 and MTV. She is currently a creative executive at BET, overseeing the late-night show
The Rundown with Robin Thede,
along with a host of ancillary programming and annual post shows for
The BET Awards
and
The Soul Train Awards
. Her production credits include
106 & Park
,
The Megan Mullally Show
,
It's On With Alexa Chung, The Nate Berkus Show, Anderson (
Anderson Cooper's daily talk show, for which she received her Emmy nod),
Love & Hip Hop Atlanta: The Reunion
and
Love & Hip Hop New York: The Reunion.
As a journalist, Johnson's work has appeared in
Essence, Honey, Jewel, Latin Girl, Mixmag, One World, Poz, Request, The Source, Uptown, Vibe, XXL
and more. Her essay, "Miss Piggy Gets Depressed Too" appears in the Penguin anthology
NAKED: Black Women Bare All About Their Skin, Hair, Hips, Lips, and Other Parts.

What were you like when you arrived at Columbia?
I was a young woman with a fight in her; a believer of justice and right-doing; a know-it-all yearning to know so much more; a wide-eyed young adult embracing her new home with welcoming arms; a fearless female loving hip-hop music and classic literature equally; a student who had made the best of her privileged private school education; a ripe 18-year-old with more independence than a lot of her colleagues; a social butterfly ready for an awakening. And I was on the brink of all of that blooming in ways that I couldn't have even imagined.
What do you remember about your first-year living situation?
When I think back to the beginning of such great times and forever friendships, one particular story involving the "décor" of my Shapiro double comes to mind. My roommate, Scarla Pineda '98, and I had a lighthearted rivalry with two Baltimore first-years. They were what we deemed show-offs, with their matching athletics outfits, perfectly coiffed hairdos, and synchronized club music dance routines, while Scarla and I were in tattered jeans and oversized T-shirts, messy buns with glasses on bridges of noses and a Brooklyn bop to our own beat. Somehow, Dawan, one half of the Baltimore opposition duo, and I were working on a class project that led to her hanging out in my room. I remember when she came into the L-shaped double and sat down next to my dimly-lit study area — she looked around; zeroed in on the oversized poster of Bob Marley in all his loc'ed glory and U. of Michigan's Chris Webber — my teenage crush — mid-air with basketball in palm flanking the shelves of my desk and immediately decided that I was, in fact, quite cool. We've been best friends ever since thanks to our shared impeccable taste in music and sports.
What class do you most remember and why?
La Negritude with Serge Gavronsky '54, GSAS'65 was emphatically the best thing to happen to me academically during my time at the College. It ultimately shaped the direction of where I was going and thinking intellectually while serving as the foundation of my studies for my major. Being introduced to this critical, cultural, literary movement during the time I was the recipient of individual study sessions with the amazing Elliott Skinner GSAS'55 nearly made my head explode. Both Gavronsky and Skinner moved me intellectually, emotionally and even physically, as their tutelage led to my life-changing study abroad semester in Dakar, Senegal.
Did you have a favorite spot on campus, and what did you like about it?
The entire Columbia campus was my favorite spot, simply because we had a whole suburb-ish campus inside New York City. In retrospect, the front of Low Library or as we called it — "The Steps" — was a special area because it represented camaraderie when we were just chilling; commune when we were meeting up; solitude when we were reading; and entertainment when there was an event. This most recently resonated with me as I convened with my classmates on the Steps for our 20th reunion.
What, if anything, about your College experience would you do over?
I'd do my entire tenure over in the same way if that's what you are asking. If you're asking what would I amend, the answer to that is very little. Looking back, I probably would have taken five to get to know some more of the magnificent people who came out of Columbia.