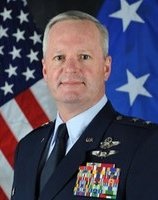 Retired Maj. Gen.
Scott FitzSimons Smith '86
concluded nearly 33 years of service in the United States Air Force on October 1. Following his College graduation, Smith entered Officer Training School; he served as a navigator and pilot in numerous aircraft and in nearly every corner of the globe. He participated in key military operations in Africa, the Middle East, South America, Europe and Asia, gaining extensive experience along the way with the State Department. Smith closed out his career as the director of training and readiness at the Pentagon, where he had been stationed on 9-11. He is currently on to his second career, which is still evolving as of this writing. Smith lives thoroughly outnumbered in Burke, Va., with his wife, Amber, and daughters, Mazie, Marisha and Melody.

What were you like when you arrived at Columbia?
I think I believed I had it wired. I came to campus with my great high school friend Jack Merrick '86, and we put on a bravado like we owned the city. We came from suburban California so we figured it was best to act like veterans, starting with the cab ride to campus from LaGuardia. We were putting on an act like we were old hands at NYC, so not to be ripped off by the cabbie taking a long route or some such. That attitude continued once at school, always acting like we knew what we were doing. Truth be told, we were fairly clueless.
I had worked two jobs the summer prior and all of that money was gone by Christmas. I was just naïve, and paid for everything. It would ultimately be pledging Fiji in the spring that would turn that trend around, as the Phi Gam brothers taught me how to work the city — where to get free beer and appetizers, and easy access to clubs. By April of my freshman year, I'd gone from NYC poseur to pro.
What do you remember about your first-year living situation?
Jack and I shared a room in Carman — 406B, if memory serves. Our suitemates were an odd combo of introverts and we took it on ourselves to get these guys out of their shells. They must have thought we were whack jobs from the West, constantly playing the stereo and looking for social opportunities. (Yes, our efforts worked! One of them, who would normally sit in his room and play board games, took our encouragement and ended up earning a spot on the rowing team; the other became a frequent participant in all sorts of events on campus.)
Can't say the rooms were endearing — Carman cinder blocks do not shout "regal" or "cool" — more like Rikers! However, we soon plastered California Dreamin' posters and other positive energy things on the walls and it became a pretty cool room. We also had a great R.A. team; I can't remember their names, but they made the transition much easier.
What Core class or experience do you most remember, and why?
I loved the Core Curriculum — nothing like it in the world, and I'm thrilled the College has maintained it. It was also an incredible NYC gift to students. That is, you are in class listening to the professor explain a painting and there it is in a textbook, but being in NYC means you can say 'to heck with this' and jump on the subway and go SEE that painting at the Met or Guggenheim. Is there anything as remotely close to awesome as that?
However, I must give props to the professor who inspired me most. When I first walked into James Shenton '49, GSAS'52's history class, I was instantly spellbound. He absolutely defined the art of teaching, where history is brought to life. He would deliver "normal" presentations, but then pivot into theatrical versions of the material that were truly award-worthy. To this day, I can hear some of his drama-deliveries in my mind like they happened yesterday. Thank you, Professor Shenton, for the generations whom you inspired. Rest in peace.
Did you have a favorite spot on campus, and what did you like about it?
Low Library steps in the spring. When the weather turned nice, there was nothing quite like relaxing on the Steps and sharing some laughs (and perhaps a cold beer) with friends. A close second was the Fiji house. Though the fraternity lost it, the Phi Gamma Delta letters remain over the doorway. Endless hours of fun and growing-up occurred at 538 W. 114th St., and I will always have a soft spot for that address.
What, if anything, about your College experience would you do over?
I wish I could go back and talk to the 17-year-old me who arrived at Columbia; I would caution him that the time would fly by so grab every opportunity, take the time to meet hundreds of people, and squeeze every ounce out of the school and city experiences that he could. I did a fair job of that, but I also know I left a lot of opportunities on the table.

The major character challenge of my College experience was as a member of the football team. I had come from a State championship team, only to go 1–31–1 as a Lion. I would love to have another shot with my teammates to change that history. But even saying that, I'm not so sure. The lessons of discipline, dedication and resilience that those losing seasons taught me served me well in life.