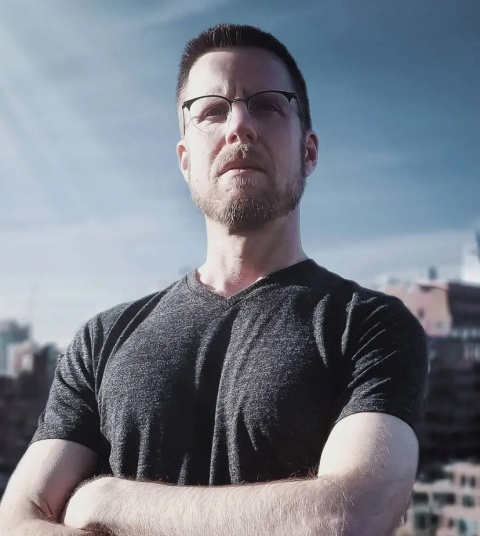 O
n May 22, 2022,
Joshua Spodek '93, GSAS'99, BUS'06
disconnected the electricity in his West Village apartment. Nearly a year later, it's still off.

For Spodek, an environmentalist, executive leadership coach, motivational speaker, author, professor and podcaster, living off the grid is the latest effort in his mission to encourage personal and corporate sustainability. "You can't influence others to live by values you live the opposite of," his website reads.
He hasn't flown in six years. This is Spodek's second year with his fridge unplugged; he's a vegan, and favors fresh, local produce (not much of a novelty — he stopped eating packaged food a decade ago). He charges his essential electronics via portable solar panels, bought used on Craigslist, on his building's roof. Still, he unplugged as an experiment, not knowing how he'd make it past a few days. "Nobody is more surprised than I am that I made it this long," he says.
Spodek's unplugged project has been written up widely (including a January feature in The New Yorker); he blogs regularly and hosts the podcast This Sustainable Life. He is also a four-time TEDx speaker, the bestselling author of 2019's Initiative: A Proven Method to Bring Your Passions to Life (and Work) and 2017's Leadership Step by Step: Become the Person Others Follow, and is an adjunct professor of leadership, entrepreneurship and social entrepreneurship at NYU.
Living without electricity in Manhattan might sound daunting, but Spodek says he couldn't be happier. "People say, 'I don't have the time for the environment!' But each move toward sustainability has led to more spare time and spending less money, the opposite of what our culture says."
Spodek likes listing data points: 11 months off the grid is noted in his email correspondence alongside other data such as his average 2022 electric bill ($0.52), his number of daily burpees (cumulatively six digits and counting) and his average resting heart rate (~50 bpm). Not listed, but relevant: he has five degrees from Columbia — a B.A., two masters and a Ph.D. in physics, as well as an M.B.A.
He grew up in Philadelphia (his father, Howard Spodek '63, taught history, geography and urban studies at Temple). When he and his siblings each turned 10, they got a trip to New York City; Spodek was hooked immediately. "I remember Times Square at the time, 1981, gritty — it was also the first time I saw a limousine," he says. "So it was like, wealth and grit. Something about that seemed like this was the right place for me."
Spodek liked math and science, and thought he would be a teacher. But he found physics more challenging, and declared it both his major and his career path (he studied under Nobel Prize winner Melvin Schwartz). But he says playing Ultimate Frisbee made as deep an impression. "I was on the last Columbia team that made nationals," he says. "That group of guys was highly competitive and super fun. Competition didn't mean just winning — it meant training to reach our potential. And then find potential beyond what we thought were our limits."
Despite not having experience in business, Spodek co-founded the company Submedia in 1996 with a Frisbee friend to market an invention that showed animated images to subway riders in tunnels between stations worldwide. Already a vegetarian and concerned about the environment, he eventually segued first into leadership coaching, then sustainability leadership coaching.
"The business world talks about changing culture through a mindset shift followed by a process of continual improvement," he says. "We overestimate what we can do in a day, but underestimate what we can do in a year. People most commonly describe [living off the grid] as 'extreme,' but grids and fridges didn't exist more than a century ago. I'm traditional. And yeah, change is scary, it's really deep. And not everyone gets it — including environmentalists who haven't tried living sustainably."
Spodek says he is somewhat reluctant to one day reconnect to the power grid, making an analogy to addiction relapse. Until that time comes, his lack of electrical connectivity has given him a euphoric sense of purpose. "What this experience has done is connected me more — I want not to hurt people. Not just my neighbors or the person next door, but everyone," he says. "This has been a journey from isolation and dependence to community and love."