Urban designer Damon Rich '97 has been named a prestigious MacArthur Fellow, widely known as a MacArthur Genius. Recipients of the grants, announced on October 11, are each given $625,000 to work on projects of their choice. A Fast Company profile of several of the recipients says Rich, also an adjunct professor at GSAPP, "focused on developing cities that better service the entirety of their populations."
Rep. Beto O'Rourke '95 (D-Texas) is making waves in the political sphere with his run for Senate against conservative Ted Cruz. Along with recent coverage in Mother Jones and Vox, O'Rourke's fundraising prowess has him poised to be a serious contender.
Jin Ha '13 stars as Song Liling in the Broadway revival of M. Butterfly, directed by Julie Taymor. The show opened October 7.
Columbia history professor David Eisenbach '94, GSAS'06 wrote an October 9 piece for the New York Daily News, "Imagining a New Columbus Circle." Of the 125-year-old statue and its iconic space, he writes, "Now more than ever, we need a new Columbus Circle that forces us to reflect on power, greed, discrimination and exploitation and teaches essential lessons of history to New Yorkers and visitors from all over the world for generations to come. I have proposed a plan to do exactly this — transforming the plaza around the Columbus statue to offer multiple perspectives that tell a fuller, more complete story of the man and his legacy: the good, the bad and the ugly."
The National Institute of Social Sciences, one of the nation's oldest honorary societies, announced that former University president Michael I. Sovern '53, LAW'55 will be presented a National Institute Gold Honor Medal on Tuesday, November 14. For more than 100 years, the Gold Honor Medals have been given annually to Americans who have made significant contributions to the nation.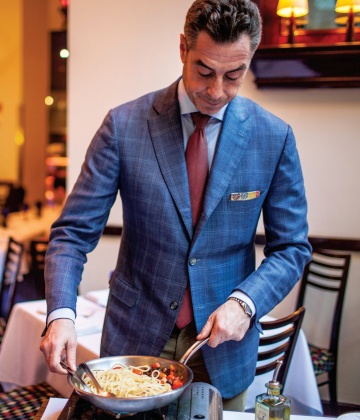 Mauro Maccioni '95 weighed in on the closing of his family's flagship Manhattan restaurant, the famed Le Cirque, in an October 18 Bloomberg article: "The Troubling Economics of One of the World's Great Restaurants." He is quoted, "[R]ather than harm the Le Cirque brand, NYLC [New York Le Cirque] decided to vacate the space. NYLC the operating entity is shutting down, but the Le Cirque brand will move on." He also hinted that the brand might reopen in a new Manhattan location.