On August 24, Lisa Carnoy '89 was unanimously endorsed and elected to the U.S. Soccer Board of Directors, the governing body of the U.S. Soccer Federation. She will be an independent director on the board. "I am excited and honored to be joining the Board during such a significant period for U.S. Soccer," Carnoy said in a statement. "I look forward to helping soccer continue to grow at all levels in the U.S."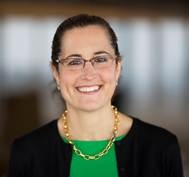 Rocky Abdul '10 and Derek Lipscomb '11 were featured in a Time Out New York photo spread of stylish New Yorkers in a pre-New York Fashion Week street style special.
Maggie Gyllenhaal '99 stars in The Deuce, which debuted on HBO on September 10. The show takes place in the 1970s, telling the story of the beginnings of New York City's porn industry; Gyllenhaal stars as a sex worker who enters the triple-X film world.
Jenji Kohan '91 was profiled in The New Yorker on September 4. She spoke about her struggles starting out in writing rooms; launching her successful shows Weeds, Orange is the New Black and GLOW; and her bold approach to life. From the article: "As Kohan put it, 'I'm fascinated by people interacting with the Other — forced to interact with people they'd never have to deal with in their day-to-day lives.' Her specialty is exploring 'crossroads,' which are often found in underground economies. 'Attraction or repulsion, it's great for drama,' she said. 'It's something that interests me in my life. I want to meet all sorts of people, not to live in my bubble."
Cat Clifford '04 interviewed Brad Stone '93, author of The Everything Store: Jeff Bezos and the Age of Amazon, on CNBC on July 27. The two discussed Bezos' trajectory to becoming the world's richest man.