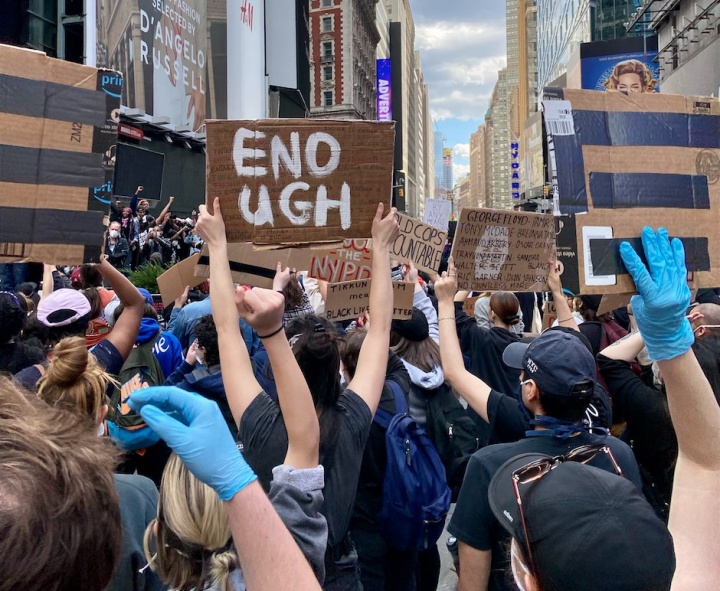 F
rom experiencing our deadliest pandemic since 1918 to the growing worldwide support for the Black Lives Matter movement, we are witnessing new historical precedents every day. To add perspective to our current reality,
Columbia College Today
sat down with history educators
Sari Beth Rosenberg '97, TC'02,
an award-winning, 18-year public high school U.S. history teacher, and
Natalia Mehlman Petrzela '00,
an associate professor of history at The New School.
Rosenberg was awarded the 2019 Paul Gagnon Prize by the National Council for History Education; she is writing the new 11th-grade U.S. history curriculum for the New York City Department of Education with a small team of social studies curriculum specialists. This summer, she completed a 13-part series,
"Teaching in the Age of Coronavirus,"
for
PBS Newshour Extra
.
Petrzela is a historian of contemporary American politics and culture and the author of
Classroom Wars: Language, Sex, and the Making of Modern Political Culture
(2015). She co-hosts the Past Present podcast and will launch the podcast series
Welcome to Your Fantasy
in August as host and co-producer.

Rosenberg and Petrzela never met at the College, but since connecting through a mutual friend, they've collaborated on a local lecture series and history videos for the newsletter theSkimm, and Petrzela was a guest speaker for Rosenberg's Feminist Eagles after-school club. Our lively conversation touched on everything from pedagogy to politics — we discussed their love of history at first footnote, the gendered reception of female historians and teaching history in today's fact-challenged world.
Our original pre-coronavirus meeting in SoHo now seems like a relic; parts of the conversation have been revisited in light of recent events. What follows is an edited excerpt.
Columbia College Today: What attracted each of you to the subject of history at the College?
Natalia Petrzela: Professor Alan Brinkley's lecture courses. I loved the storytelling and the use of sources, but I loved the rigor of the experience, too. There was so much to know; it wasn't just raking up facts. I sat rapt in those lectures, and I thought, "That's what I want to do."
Sari Beth Rosenberg: For me, it was Professor Ann Douglas. She's actually a special lecturer in English and comparative literature, and she did an amazing cultural history in the "Beat Generation" class that I took. The lectures were very much steeped in the history and context of the literature, which would always end up looking at sources, watching sources.
CCT: How did the College influence the way you read and interpret history?
Petrzela: I learned that history is made up of stories that are woven from all sorts of primary sources, whether it's literature or culture, and I learned to seek out other sources that will perhaps muddy the narrative but ultimately enrich it. The challenge for the historian — who fundamentally is a storyteller — is, how do you craft a story in a way that's intellectually honest and doesn't just focus on the stories that are most convenient to tell?
Rosenberg: I think that I'm able to really appreciate history and get my students excited about it because I experienced the Core Curriculum. I bring in music, I bring in art, I bring in other disciplines that you might not always connect to the teaching of history, because the Core automatically conditioned you to approach history in that way. It helped me look at history from an interdisciplinary model.
CCT: What has changed about the way you teach now versus when you started?
Rosenberg: There has definitely been a shift against the lecture. There is a feeling that it creates a passive learning experience, and there's a real push to train students to take a more active role in the study of history by thinking like historians in their analysis. My students do a ton of primary, secondary and tertiary source analysis.
Petrzela: Agree. There has been a pedagogical turn where the lecture is frowned upon, because it invests too much authority in one person. I think the impulse is to have a more applied learning experience, and also to teach toward different learning styles, for those who don't receive knowledge in the same way. I fully applaud it.
But when I'm lecturing, I try to challenge that assumption. I don't just read. I use images in a way that asks the students: "What do you see here? What do we know about context? What's the significance?"
Rosenberg: My lectures are interactive, as well. When I say lecturing, I mean storytelling, so it's not me just standing up there reading from a piece of paper — it's telling an engaging story about history, and it's very much echoing the style of all my professors at the College.
We're analyzing sources together, answering questions and engaging in high-level discussion. When I started teaching, I didn't have the technology to teach the way I do now — we didn't have SMART boards, projectors or computers in the classroom, so I wrote on the board. Technology has allowed me to make the lecture, or the mini-lesson, as I call it, more interactive and seamless.
The curriculum has also changed. The emphasis before was more about memorizing content; it was less about thinking like a historian. I think that's a change for the better.
CCT: Sari, have you specifically changed anything for your new 11th-grade curriculum?
Rosenberg: There used to be a trend of starting [an American history class] in 1607, the year when the first successful American colony was established, and now there's an emphasis on teaching the Indigenous cultures that were present in North America before it was "discovered" by the Europeans. There's more inclusion of Black, Indigenous and people of color (BIPOC) voices that were previously left out, not just presenting them as "other" voices. The goal is to weave them seamlessly into the story of America.
In addition, my history teacher community is actively working this summer to better include anti-racist education into all aspects of our curriculum next year. For example, not pretending that race does not exist in your classroom. If race comes up, teachers should use positive language around differences, communicate that communities of color are not monolithic and acknowledge the effect of systemic racism in your lessons as a history educator.
We're aiming to make the curriculum more inclusive and reflective of all students' experiences, in addition to identifying commonly used racist terms and no longer using them. For example, replacing the term "slaves" with "enslaved people."
I think history educators should always be rethinking the underlying assumptions of their curriculum and their pedagogy.
CCT: Should history educators consider changing their curriculum or teaching style in light of the racial justice issues raised by the BLM movement?
Rosenberg: Yes. I am pleased to see a growing push to add anti-racist education to the curriculum. Education is the most valuable tool to dismantle racism and create a more equitable society.
Petrzela: I think history educators should always be rethinking the underlying assumptions of their curriculum and their pedagogy. In this case, they have a particular opportunity to engage students in understanding the history of freedom struggles against structural inequality, especially anti-Black racism. It's important to also consider how those inequalities continue to be perpetuated in the classroom, like thinking hard about which texts are on the syllabus and which voices are amplified in class discussions.
CCT: What kind of shifts have you made?
Rosenberg: I completely changed my lesson plans after the murder of George Floyd and the protests that followed. I brought in special guests, including historian Yohuru Williams, an expert in civil rights and Black Lives Matter history, to put the current events in historical context for my students. In addition, I invited Manhattan public defender Eliza Orlins to speak with my students about the COVID-19 crisis and how it relates to criminal justice reform, as the news reported widespread infections in prisons.
Petrzela: We had already let out for summer break when this wave of protests took place, but I will teach a history of U.S. youth cultures course in the fall and the protests are absolutely shaping my thinking. I see them as part of an important wave of contemporary activism around gun control, the environment and sexual assault that is meaningfully youth-led and rooted in a criticism of structural injustice.
CCT: Has being a woman had an impact on your approach to teaching?
Petrzela: I am especially attuned to the importance of incorporating women into historical narratives. I am quite conscious of my own identity in the classroom, and not only when I get highly gendered remarks on student evaluations — some of which are nicer than others. Last semester I couldn't help smiling when someone called me "a cool young aunt who gets it."
Rosenberg: Yes, I get that, too.
Petrzela: Those are meant in a positive way, but they highlight a troubling dynamic where women end up doing soft advising work with students because they take on — or are assigned — a quasi-maternal role. That work is important and I don't begrudge it, but it's not valued professionally for promotion in the same way that research is. So what can happen is that female professors end up overloaded with this relatively undervalued but arduous labor. I've definitely felt that.
Rosenberg: I made a distinct decision, in the beginning, to dress stylishly. At first, the students [at my New York City public school] were obsessed with the fact that I wore heels, and they kept trying to figure out if I was Carrie from Sex and the City or Monica from Friends — those were their two cultural reference points to understand this woman standing in front of them. They couldn't understand that I could dress nicely while also existing as an intelligent person whom they respected. I'm a role model for the young women in the classroom, and so I wanted to project to them that you can dress up and also talk about Civil War battles. I wanted to show young women, as well as young men, that they don't have to choose between two rigid confines.
Petrzela: Like Sari, I also take pleasure in dressing stylishly, but that doesn't mean my scholarship is any less serious. I think it's important for students to see that juxtaposition, because so much social messaging suggests the two are mutually exclusive.
CCT: Has your teaching changed since the 2016 election?
Rosenberg: The majority of my students, especially the ones who felt targeted by the President's rhetoric, expressed fear and anxiety about where the country was going. My teaching has changed because I am very strategic about which parts of history I teach to make sure that I don't just teach the dominant historical narrative, but also teach BIPOC narratives that appeal to my students' diverse backgrounds. In shifting my instruction this way, I am communicating to them my social and emotional support in a time when they might feel alienated or targeted.
Petrzela: I was teaching a freshman seminar the year that Trump was elected, and I had undocumented students, students who wore hijabs, students from all of the countries and identities that he had been maligning all election season. There was a palpable climate of fear, not just disenchantment with a particular election outcome.
Beyond that, Trump is assailing everything a historian does. Something feels different about this moment as a historian who is trained to be politically objective, because to oppose Trump is not only to articulate a political sensibility, but it's also just to say, "As a historian, we believe in the accurate presentation of facts."
If you teach U.S. history, you probably believe in institutions like the Constitution, so to teach in a way that's faithful to the basic principles of what a historian does is to articulate a kind of opposition. It's less hating Trump, and more like, "Wow, this is a President who flies in the face of everything that the educational system values." To me, this isn't "politics shaping history teaching" in an inappropriately ideological way, but rather what I consider an ethical response to the political moment.
Rosenberg: My students read excerpts from the Federalist Papers, including Alexander Hamilton [CC 1778]'s writings about the impeachment process. As it happened, they had recently finished that unit when the impeachment trial was in the news. Being able to connect what they were reading in class to the headlines helped spark much more interest in what we were studying.
CCT: Has the era of "fake news" challenged what you teach or what you embody as historians?
Petrzela: I think it's only reaffirmed what we teach and what we study. I used to joke that when I would go to cocktail parties and say I was a historian, people would say, "Oh, I think I see my friend over there." Now, since Trump, they're like, "Oh my God, how did we get here?"
As a historian, what are the important things we can impart to students? The critical consumption of our ever-expanding media landscape is number one. How do you become a critical consumer and engage with the many sources you encounter, some of which misinform you, and others that are calculated to disinform you?
Rosenberg: Yeah, step 1 of teaching kids historical-thinking skills is sourcing.
Petrzela: Ask of whatever information comes across your timeline or in your conversation: "Where did this information come from? Who wrote it? What are the stakes? What's the agenda here?" It's exhausting, but that kind of rigorous, relentless scrutiny is crucial.
CCT: Why is history so important to understanding what's going on right now?
Petrzela: Historical thinking is crucial because it helps us understand how to chart a course forward, which we can only do better when we understand our past.
Rosenberg: As I'm teaching history every year, I get to look at current events with fresh eyes because I'm always navigating between the past and the present. It's important to study the past, to understand that, yes, although nothing from the past is exactly like today, we can still apply some important lessons about how people navigated around it before.
Petrzela: Hindsight helps and the current media landscape doesn't automatically approach the news from that perspective.
It's never been easier to get up in the morning and feel that being a historian is doing important work. I have no doubt that helping people think historically is a valuable act in this climate.
Yelena Shuster '09 has written for The New York Times, InStyle, Cosmopolitan and more. Her CCT Fall 2018 cover story, "Star Power," won the Folio Eddie Honorable Mention and a CASE Silver Award. She founded and runs TheAdmissionsGuru.com, where she edits admissions essays for college and graduate school applications.