Last month
Columbia College Today
got on a conference call to San Francisco to speak with friends and former colleagues
Robert Gnaizda '57
and
Rebecca Kee '05.
Gnaizda, before retiring in 2017, spent his professional life as an attorney advocating for social justice; Kee was a public school teacher before working with Gnaizda at the
National Diversity Coalition
(NDC), an organization of community organizers, faith-based leaders, nonprofit directors and business owners working for greater financial equality and empowerment for underserved populations.

During his career as a leader and advocate, Gnaizda traveled to Mississippi to hold hearings about voting access for African-Americans, worked with labor leader Cesar Chavez for migrant rights in California, founded both California Rural Legal Assistance and the public interest law firm Public Advocates, and became one of former governor Jerry Brown's closest advisers. In 1993, he cofounded The Greenlining Institution, a public policy, research and advocacy nonprofit based in Oakland, Calif., where he worked until joining NDC as general counsel in 2014.
Kee is now the director of communications at the Invest in Women Entrepreneurs Initiative, which supports the growth of women-owned businesses.
CCT spoke to Gnaizda and Kee about how the College shaped their starts in advocacy, how policy change is a process and how looking for common interests can foster solutions. What follows is an excerpt from the conversation.
Columbia College Today: What led you both to become social justice advocates?
Robert Gnaizda '57: For me, I think boredom [laughs]. I was a tax attorney and the work didn't interest me much. I decided to go to Mississippi in early 1965, and there I realized that I had some natural talents. There was a lot of hope at that time that hundreds of years of injustices could be cured with attention, and by revolting against the southern apartheid system — that's what got me involved. I ended up playing a role in the Congressional hearings that led to the Voting Rights Act.
CCT: Rebecca, what about you, what brought you to advocacy?
Rebecca Kee '05: My experience teaching in public schools. When I was at the College I signed up to volunteer at an after-school program in Harlem. I walked into the school and looked down the hallway and it just hit me in a moment of realization — I said: "Oh, this is what I'm going to do." That afternoon I signed up for a Barnard education program to get my teaching credentials; when I graduated I was a licensed teacher.
I moved home to San Francisco after graduation and within a month started working in the SF Unified School District at pretty much its toughest school, the largest group of underperforming students in the district. It cut me down in such a way that the only thing I could do was to build myself back up stronger — I stayed for a second year just out of pure refusal to quit on myself. That's when I realized I was good at it, and I ended up teaching there for five years. I'm still in touch with some of my former students. I had grown up in a very privileged environment — insulated and isolated — and I just had no sense of what urban communities needed or where people were coming from. Once I saw those needs, it was just a natural direction to want to find ways to help whole communities.
CCT: Bob, did you have any similar experiences at the College? Did you know you wanted to be a lawyer when you started?
Gnaizda: No, I was thinking of being a doctor. I got high grades in science but I realized by my junior year that I needed to do something else. I decided I would apply to both Harvard and Yale law school and if I got into one of them, I would become a lawyer; if not I would think of some other profession. My other profession was gambling [laughs]. I got into both and I decided to go to Yale.
CCT: You became a tax lawyer, then what you saw on TV happening in Mississippi inspired you to do a different kind of work. It's like you and Rebecca both had a similar kind of "revelation" experience.
Gnaizda: I can probably attribute some of the advocacy I'm doing now to my Columbia experiences. I wrote an article for Spectator about the absence of women at the College. I asked two questions: one related to women, the other related to black students. I wondered why a school at the edge of Harlem had only one black student per undergraduate class. And because my own mother was outstanding at everything she did, I wondered why we didn't have any women. But the paper wouldn't print it; they thought it was too inflammatory.
CCT: So, you were a progressive even then.
Gnaizda: I was progressive in my own way, yes. I grew up in Brownsville, Brooklyn, in an all-Jewish neighborhood. It was sheltered in that there was very little mobility, and there was a lot of anti-Semitism at the time.
CCT: And then you got to Columbia and it was a different population.
Gnaizda: Yes, very different. For the good, I would say.
CCT: Rebecca, how did you meet Bob? Had you heard of his work?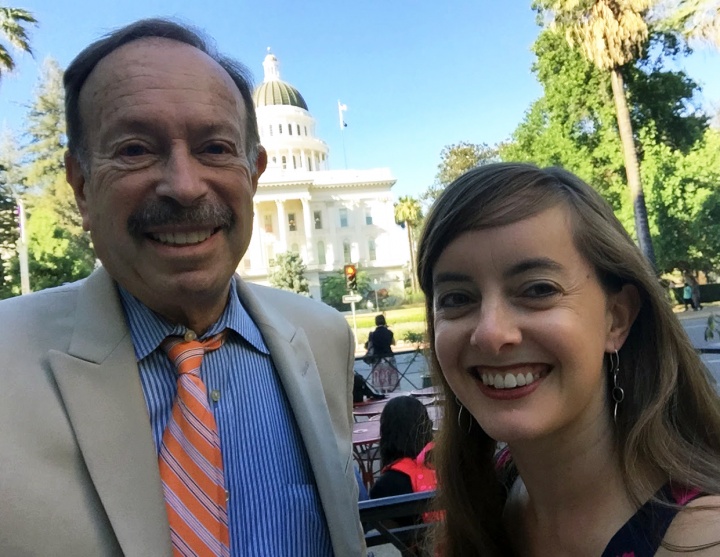 Kee:
I've actually known Bob since I was 16; we're from the same town in the Bay Area and I knew his children. After being a teacher and having two children of my own, I was looking to enter the nonprofit world and I decided to give Bob a call to get his advice on what direction I should take. He said "I'm actually looking for someone right now!" I interviewed and got the job at NDC.

CCT: Bob, you were planning to retire before you joined the NDC as general counsel. What made you change your mind?
Gnaizda: I had decided to work part time with a group that was then called the National Asian-American Coalition, and I realized I didn't want to retire yet. As a group we broadened to include black and Latino churches nationwide, and we became the National Diversity Coalition.
Kee: The real reason Bob started working with the National Asian-American Coalition is that the group has a very charismatic leader named Faith Bautista. She is incredibly skilled at bringing different groups of people together but has no actual legal or logistical background, so she knew that she and Bob working together would be a perfect pairing. Faith wanted him lead the advocacy work, and she would help build the relationships. She's a very convincing and strategic person — she got Bob on her team and then the two of them pulled in an enormous coalition of heavyweight activists and advocates across the state.
CCT: Rebecca, in what capacity did you and Bob work together?
Kee: I started in May 2015 as a glorified assistant — typing letters, organizing meetings and calendars. Because Bob and I knew each other, we created a working partnership in which he trusted me to do more, to be creative and switch things up. He enabled me to be part of the process of writing op-eds — the organization was getting a lot of press at that time for a lawsuit we had won against Governor Brown for misallocation of funds for housing.
CCT: What was it like suing Governor Brown after you had previously worked for him, Bob?
Gnaizda: [Laughs] Well, I didn't find it to be any problem at all!
Kee:
[Laughs] Here's the thing about Bob — Bob will sue you, and somehow you'll still like him. Jerry and Bob still went to parties together. Bob has this ability to not make things personal, ever.

Getting back to the NDC … my experience there culminated in an opportunity for me to be the organizing planner for a coalition-wide trip to Washington, D.C. About 30 representatives came together in D.C., and Bob gave me the ability to lead the process of getting meetings. Our goal was to meet with as many influential lawmakers and regulators as we could to advocate for our communities. We got 20 meetings, from people like Rep. Maxine Waters, Rep. John Lewis and Treasury Secretary Steven Mnuchin. Being able to organize a trip like that was really rewarding.
CCT: Was there anything that happened on that trip that had concrete results or led to changes to policy?
Gnaizda: I'd say it's a process. The Republicans had just taken over, and we were able to work with a very different administration. Rebecca doesn't agree with me, but politics is only a part of how our nation operates.
CCT: Rebecca, how does your view differ?
Kee: In my experience working closely with Bob, I'm most grateful to him for pushing me on my impulses, because for me — unlike Bob — things are personal. I have more of a tendency to be ideological, and Bob really pushed me to be more pragmatic and to consider the notion of coming to the table with people with whom I might deeply disagree and looking for areas of common interest and overlap. I recently left the coalition and took a position that has a goal of bipartisan advocacy, and I would never would have taken if not for Bob.
CCT: What are you each proudest of in the work that you have done?
Gnaizda: Two things: When I went to Mississippi in 1965 with two black lawyer friends, and we made an agreement that we were not going to get beaten up, we were not going to be imprisoned and we were going to do the best we could, recognizing that maybe we couldn't do anything. It was clear immediately that the group that had paid for us to come there did not know how to use our skills, and we decided on the spot we would go somewhere we could be useful. We went to a county that the FBI had contended was so dangerous that they would not go there, and therefore we would get no protection — Clay County, Miss. My friends and I agreed that I would have to be the up-front guy.
When we arrived I went to see a judge, told him what we were doing, and then I switched to talking about baseball. Then I went to see the top lawyer for the county, he and I became friendly and talked mostly about baseball. Then I talked to the sheriff, about what my purpose in town was, and baseball. Then I talked to the chief of police, about my purpose, and baseball. They were all surprised that a civil rights lawyer knew so much about baseball and so we got along fine and I managed to convince them in a few days that I wanted to hold hearings about the exclusion of blacks from the voting process. They had convinced themselves that they never blocked anyone from voting — only from registering. We had a good hearing and they cooperated with me and told me they realized that change was coming.
CCT: You were a diplomat!
Gnaizda: Well, I had no alternative! For the same reason I was also proud of my lawsuits representing with low-income and mistreated farm workers in the Salinas Valley — they were successful because I never had my opponents look at themselves as my opponents. They were just on a different side, and when they lost, they would usually keep their word.
CCT: And Rebecca, what are you proudest of?
Kee: The thing that I was most proud of in my two years with the coalition was that trip to D.C. To get the people in the room together who could share ideas, getting the right person introduced to John Lewis who could say "Have you thought of this?" I got to be part of a meeting with Maxine Waters about small businesses in her district having trouble getting loans, and she was able to pick up the phone right then and call someone else for help. Getting people in a room together, and not being a leader but letting the actual leaders do the work they needed to do was so satisfying for me.
I never had a dream of being a leader; I still don't. My dream is finding the visionaries like Bob, who need someone to do all the little things really efficiently and well so they can be their best, and that's what I felt like I was able to do.
CCT: What would you tell alumni who are interested in volunteer advocacy?
Kee: Find the right people, not the right topic. You might be really interested in a certain area, but if that area doesn't have leaders who are willing to take the time to teach you and make you a part of their work, then you're going to be frustrated with your experience and perhaps lose interest. Find the people who inspire you — the people who have the energy and the enthusiasm and the strategy, and hitch your wagon to their star, because , like Bob has done for me they will pull you in new directions, in ways you didn't even know about, and make you feel not just passionate but also effective, like you're helping a team achieve something great.
Gnaizda: I second Rebecca's perspective! You have to work with people you're able to work with. A narrow subject matter is not the answer — it's how people go about it and how you get along with them.