In early June, Columbia College Today introduced Mary Donnelly '89 and Nicole Ellis '10 for a conversation about storytelling.
Donnelly is a poet
, editor and video producer whose work has appeared in
The Brooklyn Rail
,
Indiana Review
,
Prairie Schooner
,
The Literary Review
and
The
Yale Review
; her chapbook
Mad World Colored Oil
will be published this fall. She teaches creative writing, grammar and poetic techniques for non-poets through Gotham Writers Workshop in New York City, is an editor for
DMQ Review
and is editor emeritus for the art and literature journal
failbetter
.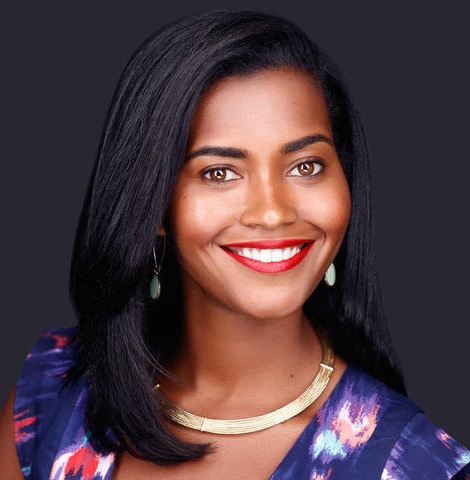 Ellis is a video host and filmmaker with
The Washington Post
, covering, social issues and breaking news. Her recent five-part documentary series,
Should I Freeze My Eggs?,
is a funny and poignant exploration of her own fertility. Before joining the
Post
in 2017 she was a member of the CNN Heroes production team, a Peabody- and Emmy- winning television series that recognizes altruism in everyday people. Ellis is also the co-director of
Blind Date
, a documentary about being visually impaired in the age of Tinder.
On a conference call between Brooklyn and Washington, D.C., the women spoke to CCT about how the College influenced their career paths, sharing personal work with the world and the importance of storytelling in the 21st century. The following is an excerpt from their conversation.
Columbia College Today: What attracted you to storytelling?
Mary Donnelly '89: I have always been a person who loved hearing about people's lives. My father was a trial attorney and had to deal with different people in his line of work —he loved learning about what their lives were like, what their families were like. I think I got a lot of that from him.
I write poetry often; I have from a very young age. At the same time, I love reading and I have "documentary disease" — when I watch something about someone's life, I want to know everything!
Nicole Ellis '10: I have always loved descriptive storytelling. One of my fondest memories is doing writing assignments in second grade and bonding with my teacher. Fast forward to visual storytelling — I remember my freshman year at the College, I signed up for a class about film and culture I thought it would be easy because it's a night class: watch movies once a week. I ended up falling in love with the visuals and exposure to different cultures. After taking that class I became an anthropology major and backpacked around the world after graduation. On that trip I became aware that being a storyteller is to be the person who gets to report back, to shed light on lived experiences for people who don't necessarily understand or have that exposure.
CCT: What do you think are the key ingredients for a powerful story?
Donnelly: It shouldn't be pat or clichéd. People aren't perfect, right? There's nothing worse than a story that represents the cliché of the super-happy ending. You see old movies and they're fun but it gets a little boring because it gets a little predictable. You want twists and turns, something that makes it feel unique. To me if something is too easy then it's not interesting. I like a story that shows you 1) that people's lives are complicated and complex in both good and bad ways, and 2) that makes you feel a little less alone in the world and also a little less self-absorbed.
Ellis: One of the most important ingredients lies with characters. People don't empathize with the headline, they empathize with the headline behind it — that perspective of walking in someone else's shoes and understanding and empathizing with their lived experience.
I also think about the details. When I am filming, I'm always trying to get the little pieces of somebody's personality that don't necessarily come out of their mouths. If someone is anxious, they're tapping their feet, biting their nails or scratching their neck. Those bits of personality set the scene for you to understand someone and relate to their humanity.
CCT: Are there particular topics you are drawn to?
Donnelly: I grew up along the ocean in California, so I write a lot about the coast and weird and twisted things. The contrast of this sunny beautiful place and the troubling conflict of childhood and other troubling things like earthquakes, tsunamis and the environment. I am drawn to things like that. Also political things, the way people are treated, women's rights, the rights of all those people who have not been given rights. I like to approach things in a subtle, sinister way with a little bit of humor.
I remember studying Russian at the College. I don't know why — I needed a language and it was around the time of the Soviet Union dissolving. I was really fascinated by the way people approached very serious political and historical topics through satirical humor, dystopian images, unreliable narrators. There was something about that that spoke to my soul.
CCT: How about you, Nicole?
Ellis: I love anything that can be conveyed through a character or a real person as an example of an experience. Part of what attracts me to journalism is exposing people to a different way of thinking, and Blind Date is an example of that. I don't think people are necessarily thinking about how blind people navigate the dating world.
I love sharing stories that are anxiety-relieving rather than anxiety-inducing. A lot of what we see and hear right now is stressful, right? There is reason to be plagued with doubt, insecurity and fear about the state of our country. My goal is to tackle some of those issues, to help give people a window for relief and constructive ways of solving a problem rather than just reporting on what the problem is.
CCT: What do you both think is most relevant about storytelling now?
Ellis: I think there are tons of great storytellers out there, but what I've learned is that access to stories is disparate. In the 2016 presidential election we learned that a lot of people are being overlooked in terms of who is reporting to and for them. For me storytelling means figuring out how to tell stories for people who feel underrepresented or underreported on, and figuring out how to get stories to their doorsteps. It's an industry that's chock full of people and talent, and I think it's a little noisy. Noise is good, but getting to communities who don't necessarily see other pockets of culture and life beyond their own is really the challenge.
Donnelly: Nicole, I like that you brought up representation. I totally agree with you on that. There's so much information out there — some of it not even true, some of it just partially true.
It is easier to tell stories now in terms of all the different ways you can reach people. I love the way you can get information everywhere and I also worry about it. I'll watch the news and it'll be like, "Don't use aluminum foil!" and they'll give you 15 seconds and move on.
Ellis: I totally agree, and I think that's a good point. If only there was more money invested in spending time explaining and contextualizing things. You don't have enough information to move forward or backward or to the left or to the right. You're stuck with the headlines and 10 seconds of repetition of that same headline.
Donnelly: Another thing that is different about telling stories nowadays is all of the different media you can combine. You read about someone's life and then you scroll down and you get a photo, and then there's a video. Newspapers are using these amazing multi-media stories and I love it! It adds an extra dimension that we didn't have before.
Ellis: I wish there were more artists in newsrooms because I really think that does level up the willingness to try different ways to tell a story and flexing all the muscles of the medium.
CCT: Have changes in technology affected your work?
Donnelly: When I started out, even if you were working on a short video the equipment was gigantic. Now the crew has a tiny camera, smaller than a book, and they're not using lights. That allows you to get in and make someone comfortable and make them feel like they can tell you what they really think.
Ellis: Yeah, it's nice that cameras are smaller and easier to use. It makes for a fun, failing-forward process — like, "that didn't work, we'll try it this way." It's rare to be able to have that much fun and tell a story, even if it's from a hard-lived experience, but I think it's healthy to play with that.
CCT: What does the video medium allow you to do versus what you've done in writing?
Ellis: Video can let things speak for themselves. It provides a multi-dimensional experience without having to spell it all out, and really in a powerful way.
Donnelly: I completely agree. Show don't tell, right? Video is the ultimate showing. Let the people, characters, subjects themselves do the talking. When I started out people weren't watching videos on their phones or their computers. It's wonderful how easy it is to see video on all our devices now.
CCT: To get back to Columbia for a minute, what kind of influence did the College have on your life?
Donnelly: I was fortunate to take Kenneth Koch's creative writing workshop, where I had to both share and read work aloud. I got used to doing it and found I loved it.
It was one of the most meaningful experiences for me at Columbia — partly because he was such a wonderful teacher and personality, but also because the class exposed me to all these great poets I had never heard of and who heavily influenced my own writing, especially New York School poets like Frank O'Hara and Koch himself. Before that, I didn't know poetry could be funny and sad at the same time; that it could be smart, quirky and surreal, filled with references to pop culture, art and the life of the city.
When I graduated I began reading my work at open mic nights in the East Village and I got comfortable performing my work alongside others. It's also been exceedingly effective training for public speaking and, hence, for teaching. I always tell students that they need to get used to reading their work aloud — even if they do it under their breath in a dark closet with no one around. It's important to hear your work when revising.
Ellis: Taking the Core really brought me out of my shell in terms of speaking up for myself, and just speaking in general. Learning how to think creatively and off the cuff to make sense in a public forum was hard and amazing. There's something to be said about being able to communicate something, even when you're not entirely sure about it, to an audience.
Also, growing up, a lot of the time I was the only black kid in my classes. So coming to Columbia and being exposed to other people of color who were just as ambitious, dorky and fun as I am was so validating and so enriching. It emboldened me to be confident enough to go into a creative field, so that was a huge part of my College experience.
CCT: Nicole, obviously the video series about freezing your eggs was very personal. What did you take away from the experience?
Ellis: Telling such a personal story is hard, but honestly it's the kind of trial by fire I enjoy. It's rare that we get to harness our own vulnerability and channel it into something others can learn from. I'm thankful it's been well received and that it can be helpful to so many women trying to navigate similar unfamiliar territory.
CCT: Mary, do you have a similar feeling about writing and sharing poetry?
Donnelly: Writing and sharing my poetry always feels inherently personal because, no matter what the subject, it's a reflection of the way I think about language and all the elements that go into poetry, like voice, rhythm and sound, as well as the way I view the world. That said, I don't often write directly autobiographical work. Even when I write in the first person, I'm generally embellishing the truth, building other worlds, playing with reality. And of course, there is always a bit of excitement and risk in sharing anything creative that you feel attached to.
CCT: How do you find inspiration?
Donnelly: I find inspiration in museums. And I like to get out — just going to new places. I went to Yosemite; I'd never been to a national park. I like reading fiction and poetry, listening to a podcast about something I never would have listened to before or learning about someone I didn't know anything about.
Ellis: For me, inspiration never turns off. I think it's always there, it seeps through. For example, for the egg series, I had just broken up with a boyfriend and felt really good about that decision and then, I literally just searched "egg freezing" online and thought, "Oh, this would make a good story." Inspiration comes from everywhere if you're looking for it.
Elena Bowes JRN'89 is a freelance writer living between New York and London. She writes about art, books, culture and travel.