Columbia College Today
sat down with
Tim Griffin '92,
director/curator of the experimental Chelsea space The Kitchen and the former editor of
Artforum
magazine, and
Peter Currie '07,
director of the New York site of Galerie Buchholz, a Germany-based contemporary art gallery with exhibit spaces in Cologne and Berlin. The two had never met, although Currie says he relished every issue of
Artforum
— an influential monthly specializing in contemporary art — when Griffin was at the helm. Over a three-hour lunch at The Park on 10th Avenue, the men shared their experiences of art at the College, compared their roles in the New York gallery world and discussed how best to make art accessible to the public. What follows is an excerpt from the conversation.

Columbia College Today: How did your time at the College develop into a relationship with the art world?
Tim Griffin: I was studying philosophy and English and it pretty quickly became clear to me that all roads were leading to art. So I immediately started to write about it. And then right out of school I started penning art reviews. I went to Bard for a poetry M.F.A., which was completely enmeshed with artists in their studios. At Bard you were, as a writer, actually living with other artists.
CCT: How about you, Peter?
Peter Currie: I studied art history, and it felt like the art history faculty were actively engaged in the contemporary art world. So at the same time I was studying I was also in contact with people who were participating on the real front lines of art culture.
Griffin: How did you end up [working] at Paula Cooper's? [Paula Cooper was a pioneer in the New York art world; she opened the first gallery in Soho — unheard of at that time — in 1968.] Her gallery is enmeshed with the idea of art history.
Currie: I knew that I wanted to work in a gallery rather than go to graduate school. A friend of mine has a gallery in Texas and he did a lot of work with Paula and put me in touch. She was wonderful; she made me feel like the work I had done as an undergraduate was relevant. She took my academic interests seriously.
Griffin: Were you shell-shocked when you entered the commercial art sphere?
Currie: Not really. What was more intriguing to me was working with artists. It felt like a whole new world of engagement. The one thing I can say is that in art history, I couldn't really wrap my head around what it would be like to be a living, working artist. And working at Paula's brought that into the clear.
Griffin: [Laughs] Right!
CCT: What is the New York art scene like now for each of you?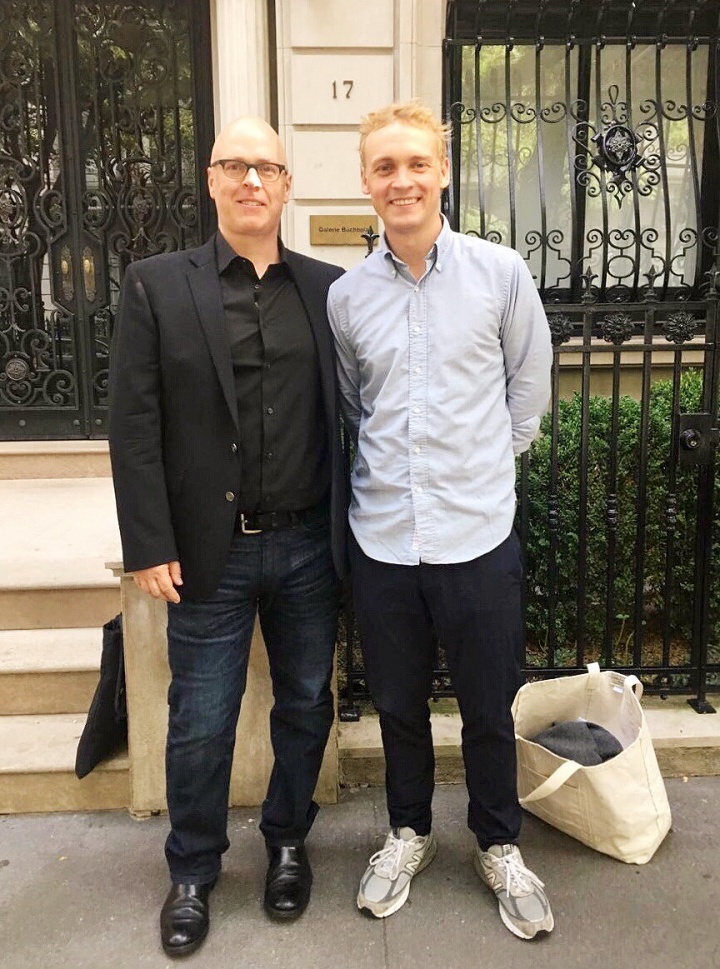 Currie
: It's hard to say. I'm freshly back from Berlin so the art world doesn't feel so geographically specific. Our gallery is really based in Germany still; the epicenter of Buchholz is Cologne and Berlin.

Griffin: So your work has always been international?
Currie: It really has. After Paula Cooper I moved to Beirut; I worked in a German gallery there. I didn't have much to do with New York.
In the work that I do now, the artists have a real engagement with what it means to work and show in New York, but for me the art world feels like its own territory. I participate in art fairs all over. It can feel like a traveling circus, but it can also feel like a community of people who can arrive in different places and instantly pick up a conversation.
Griffin: It is a world unto itself.
CCT: Tim, how would you describe the art scene now?
Griffin: The Kitchen has a gallery but there's also theater, music, installation, dance. One of the reasons I went there is because the arts seems to be moving in that direction.
Before that I was at Artforum for nearly a decade and during those years, there was a large transition where the art world was becoming more international, art fairs were rising, biannual exhibitions started getting larger. The whole market was getting larger so there was a question of what art's role was and who the public was, both for museums and artists wanting to make work that actually engages.
I remember when I started at Artforum, maybe 2004, 2005, they reopened the space for MoMA. The earlier MoMA was based on a scale that emulated a sort of household — ceilings were a certain height, it was made for a certain number of people to be in a room. It was made to house paintings — it had that kind of address, it anticipated a particular kind of time to be spent with the objects.
Then when the museum expanded to accommodate say, three million people a year, it became a little less about contemplation — or should I say, it was still about contemplation but now it also had to be about circulation.
MoMA will have amazing projects in the atrium, and because it's a transitory space, visitors really wrestle with the questions: Do I stand and look at this? Am I walking by and looking at this? There's staging in a space that is supposed to be about work, but it's also a social space. That is a little bit unknown to us. At The Kitchen it's like a laboratory because we can stage on a small scale and see what the implications are in a more concrete way.
CCT: With all these art fairs, and powerful global galleries, do artists have more pressure to constantly produce and be more creative than in the past?
Currie: Yes. That's true and real. We have an annual calendar of fairs. An art fair is really an efficient way to see a lot quickly and meet a lot of people. Like an auction, it creates a sense of urgency that people like; it's a bit thrilling. It also offers a public place to do your shopping, and people like to buy artwork in public.
Griffin: They can be great resources too. The first time I saw [German photographer] Wolfgang Tillman's work was at the first Gramercy International Art Fair in the Gramercy Hotel. I think it was 1994. They had his photos lying on hotel beds.
CCT: That small space was maybe more manageable for the artist?
Griffin: Yes, maybe this is parallel to what you were saying about artists being asked to over-produce. One of the things I've found working at The Kitchen is that there are certain prominent artists wanting to work in a smaller venue, just to dial it down a bit.
On my board, there are bunch of artists you might not anticipate seeing in a smaller place. Maybe being part of the art world and yet being slightly to the side appeals — you have license to do different things.
Currie: The Kitchen is very specific to and for New York.
Griffin: There's something about specificity. It's increasingly rare that things are specific to a space, specific to a place. So much is built around circulation, transportability, mobility, that artists really like to have something that you walk into and just have to deal with the circumstance.
Currie: Our gallery in Cologne is in the back of a real antiquarian bookstore. It's really magical.
CCT: You go through it to get to the gallery?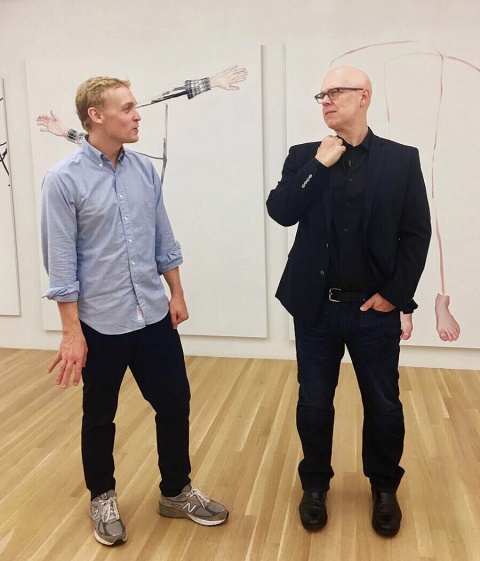 Currie:
Yes, it's very charming but it has a real content to it, too. The gallery space in Berlin feels very different, but also very specific. The building is from 1908. It was a historical bourgeois apartment building. And then in New York our space is in some ways architecturally very youthful, but the block is a particular place to go look at art. It's on the same block as the entrance to the Met.

I like the scale of our gallery; it's not an industrial space. It's in a townhouse, on one floor, and it lends itself to an intimate art viewing space.
CCT: Can you talk about communicating sophisticated ideas to a broad audience and making your art accessible?
Currie: I feel sometimes like that's my job, and I'm not always good at it. Sometimes I have the feeling like I can't stand in front of an artwork and open it up to people with various degrees of interest.
That being said, art is art, and I kind of like that it's hard for me. I don't necessarily have a native fluency with it. There's a lot that's unknown that you come to slowly and in roundabout ways. I think it's OK for art to be challenging or to have hurdles that you have to jump to be able to hold conflicting or complicated or vague ideas in your head. I don't fight against that.
Griffin: I feel like it's possible to speak in a way that makes art accessible without sacrificing sophistication. If you put the two of us together we're inevitably going to go to a kind of specialist language that moves the conversation along, it's a kind of shorthand. There's nothing wrong with that. As a writer and editor, I feel like there is often an unnecessary fear that people won't understand what they're reading or hearing about. I think the public is a lot more sophisticated than the press, especially the art press, gives them credit for.
I remember when I was at Time Out, time and again the editor would say "I think this is a little abstract for me" and I was like, "Look at what they're writing about in the TV pages!"
Currie: [Laughs.] It's also OK to not say so much — I learned that from Paula Cooper. I remember watching her walk around a show in the gallery with a visitor and she would say very little.
CCT: How do you make certain that the art you show has meaning for people?
Currie: I think often people bring their own meaning to it. I don't think that it's necessarily my job to make sure that it has meaning. And it might not for everyone.
Griffin: One of the great things about writing about art is to participate in the construction of meaning, how it can resonate. For me, often it meant setting up a dialogue between what was happening in art and what was happening in mass culture. It allows a way in for the general readership but it also generates a sense of stakes, of why this is important.
At The Kitchen, one thing I wanted to do was to generate juxtapositions among different kinds of work, so I'll have this show happen simultaneously with this other show, have something in the gallery that has something to do with what's happening in the theater. So even if these artists are ostensibly talking about really different things, you can begin to see how these puzzle pieces fit together in an unexpected way.
Currie: We always like to think about what the sequence of exhibitions means and how the convergence of exhibitions can work together in our three cities.
CCT: Let's wrap up by getting back to Columbia: What do you both think about new Lenfest Center for the Arts on the Manhattanville campus?
Currie: I always really admired the programming of the [Miriam and Ira D.] Wallach [Art Gallery]. There were some really memorable shows when I was a student.
Griffin: I feel like collaboration between Columbia's remarkable arts programs and artists in the surrounding neighborhood offers a pretty unique bridge between the people working in the studios and the people working in New York City. It'll be interesting as well with new galleries up there, it will make for a really rich set of possibilities.