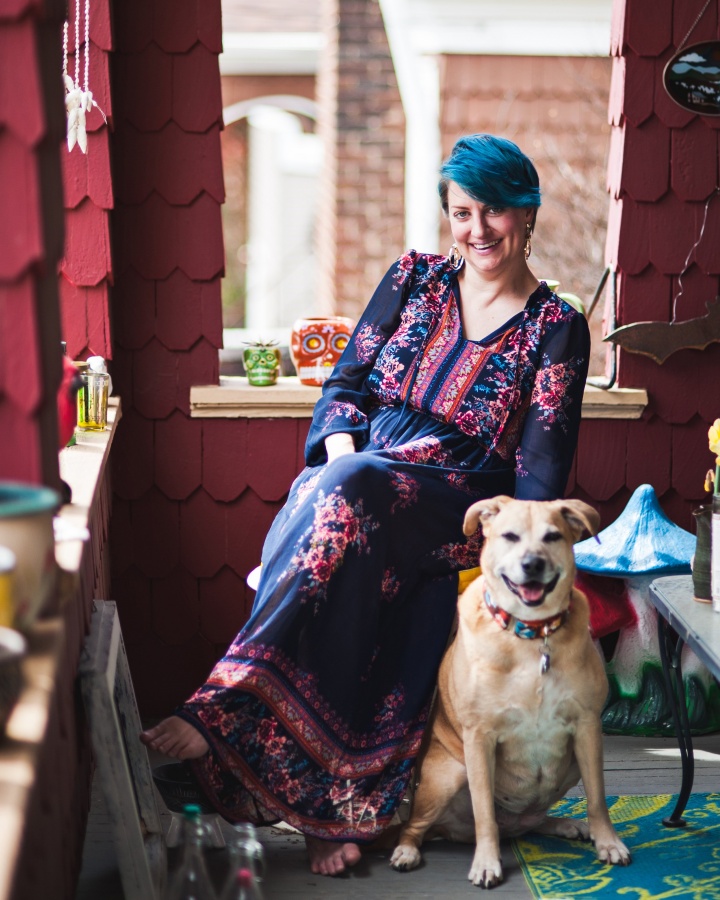 My front porch is my favorite room in my house. I suppose it's not really a room.

I love to sit on my porch when it's raining, and it's raining this evening, as it often does in the North Carolina summer. A strong breeze shakes the trees. The cicadas chirp, and my wind chimes chime. My dog, Millie, doesn't like the thunder, so she pushes open the door and goes inside.
The fireflies will be out later. The row of bushes across the street is their backdrop, and I sit and watch them and think how strange it is that bugs like this exist at all. Lightning bugs, people also call them. If the word firefly suggests that they come from the earth — that they're like sparks from a fire — lightning bug connects them to the sky, which is where they want to be.
I went to Home Depot a few days ago and got some flowers and planted them in pots, so there are lots of colors to look at, here on my porch. Yellow and orange marigolds, red and white pansies, yellow gerbera daisies and some fuzzy purple flowers. There are lots of other things to look at, too, like all my souvenirs. Some things are actual souvenirs, like a little ceramic bell I found in a Love's Travel Stop store, and some are just things from other places, like my yellow wooden sunflower from the Great Smoky Mountains. I have a lot of things from the Smokies: a little painting of a bear, a cheap plastic mock-stained glass panel of a cabin in the woods, a spoon wind spinner and a tin welcome sign that hangs by the front door.
My whirligig really gets going during storms. He is a butterfly. For a while I thought he was a bee because he's black and yellow, but now I think he's a butterfly. I also have concrete animal statues (including a pelican, a duck and chickens), a watering can, a gnome, two afghans, shells, a fan printed with roses, a fly swatter, three bird houses (one made out of a gourd), a carved wooden bear from Texas and a few stacks of books. These are my things, and I love them because I love things.
When I moved into my house, there was an old porch swing out here, but I took it down. I don't actually like porch swings all that much — not for sitting in for hours. Then you want a comfy couch or chair. I don't have proper outdoor furniture. I dragged two indoor chairs outside, as well as a couple of stools that serve as a foot rest and a makeshift coffee table. I used to have an antique Woodard iron couch, chairs and coffee table, but the cushions fell apart over the years, so I sold it. The patio set was one of the first home-oriented things I bought when I moved to North Carolina from New York City a decade ago. The cushions had flowers and hummingbirds on them. I spent so much time on that couch, by myself and with friends.
Sometimes I read or write on my porch. I'm re-reading Persuasion now, and I leave it outside on my chair, so it has gotten weather-beaten. I like to write longhand when I'm outside. A laptop seems ill-suited to the space. Too office-like. Too work-like. But a notebook is good. I write a little, and then I put my pen down and watch the cardinals in the bushes.
But a lot of the time, I just sit. This is one of my favorite things to do: sitting. When I lived in New York, I sat in cafes and diners and bars. I sat in parks, on the grass and on benches. I used to sit on the Low Steps, 20 years ago, and I have sat there a number of times since then. It's tempting to think of sitting as doing nothing, but I have come to think of it as an activity — and maybe one of the best ways you can spend your time. And my front porch has allowed me to perfect the art of sitting.
Millie usually sits out here with me. We have done a lot of sitting together, in many different places. She is a wonderful sitting companion. Sometimes she barks at people who walk by. My porch is higher than the street and enclosed with a little half-wall, so I don't always see people who pass. And sometimes they don't see me. But if they do, they wave and say hello, and so do I. There are two large weeds — leafy tree-sized things at this point — that have grown up in one corner of the house, but I haven't cut them down because I like the way they block the street in that direction.
Although I often feel restless, when I'm on my front porch, I feel least like I wish I were elsewhere. Especially in the fall. Fall is my favorite porching season because I need a long-sleeved shirt or a sweater or even, some nights, a blanket. Front porches seem so summery — and they are — but they're best when they air is almost telling you to go inside. Fall is the perfect season for sitting. It will be here soon enough.