For much of my life, I was always the youngest person in the room — at least when that room contained a stage, a 48-track mixing board or a refrigerator filled with bottled water.
I was the youngest dude in my sprawling, rowdy, extended family of a Boston hip-hop crew, a 14-year-old surrounded by guys 17 and 18 at a time when practicing hip-hop's myriad artforms required mastering a body of esoteric knowledge that could only be transmitted directly from mentor to apprentice: How to make a turntable do things that would have scandalized the manufacturer, alter the blast radius of a spray paint can by fitting it with a nozzle from a bottle of oven cleaner or figure out which jazz record had an open drum break by scrutinizing the back cover for everything from song titles to personnel to recording date.
And I was a 15-year-old sitting in a hotel suite with the entire Wynton Marsalis Septet, watching Evander Holyfield fight Riddick Bowe on pay-per-view after a sold-out concert, there by the grace of a teacher at my high school who had seen some promise in me — as a writer and a rabble-rouser, souped up on Amiri Baraka and KRS-One — and taken me under his wing and introduced me to his friends. The love affair between hip-hop and jazz was largely one-sided then, so pretty soon I was having heated arguments with Wynton's younger brother and producer Delfeayo about rap's right to exist.
When I was 20, we were still fighting about it, but we were wearing matching T-shirts now, emblazoned with the words "Elvin Jones Jazz Machine." Delfeayo was playing trombone for the greatest drummer in the history of the world, the man who had been John Coltrane's primary musical partner. And I was Elvin's drum tech, ferrying the trap kit from airport to hotel to club to airport and listening my ass off, soaking up all the history I could with the vague notion that someday I would write about all this.
And I did. I wrote about all of it. About being stuck between the warring worlds of jazz and hip-hop, and about being a white boy furious at the brutal absurdities of racism. About traveling the world and only ever seeing the insides of nightclubs, and about taking the Metropolitan Transit Authority to war with spray cans. And before I knew it, I wasn't the youngest person in the room anymore. In fact, ambitious up-and-comers were asking me for advice about writing, taping a mentor sign on my back. Shit, people even wanted me to teach. At universities. Like I knew something.
At first, I kept thinking about the scene in Return of the Jedi where Obi-Wan Kenobi confesses that in his hubris, he thought he could train young Anakin Skywalker just as well as Master Yoda. But as I eased into the role, I realized how much knowledge is codified in the process of articulating it. In a classroom full of graduate students or hunkered down over a manuscript with a teenage poet, I'd find myself articulating theories and rules I'd never known I'd possessed, much less believed.
I came to understand my own mentors better, too. I'd never fully understood why they took the time to bring me along; I assumed it was altruism and that I was a burden and that, fundamentally, they were better people than I. All of which may be true, but it leaves out the immensity of the satisfaction one feels when a lesson lands, when whatever we consider to be wisdom is received as such. It is both self-aggrandizing and self-effacing: We think we know something important, and we pass it along in the hopes of building better versions of ourselves. I don't find myself musing on that Obi-Wan line anymore. Instead — especially now that I'm the parent of a budding artist — I think about a lyric the rapper Nas wrote about his father, the trumpet player Olu Dara: When I was young they called me Olu's son. Now he's Nas' father.
Like most of us, I am now older than I've ever been. But something unexpected and strange and wonderful has happened to me in the last three years: Once again, I am the youngest person in the room. A few years ago, I met legendary comedy writer Alan Zweibel at a book festival; his daughter had recently had a baby and thus he'd just become a fan of my fake children's book, Go the F**k to Sleep. I, in turn, had grown up laughing my ass off at his jokes — on Saturday Night Live, The Garry Shandling Show, Curb Your Enthusiasm —– and over dinner we decided to write something together. For reasons I cannot reconstruct, this turned out to be a pair of epistolary middle grades novels about a kid who starts trading letters through time with Benjamin Franklin.
Then Alan introduced me to another of his collaborators, the writer Dave Barry, who had been my childhood comedy hero and the object of my most ardent quasi-plagiarisms as a high school newspaper humor columnist. The three of us did some events together and had a great rapport, so I suggested, somewhat randomly, that we collaborate on a parody of a Passover haggadah. We did, and it was a blast — the emails we sent back and forth may well be funnier than the book, though 90 percent of them are absolutely unprintable — and now we're working on another book. And once again, I'm on tour with guys I can't believe I get to be in the same room with. Sometimes I have to remind myself that this time, I'm not the roadie.
They say youth is wasted on the young, but I'm not that young now — only in comparison to my co-writers. And so there's a new studiousness, a new poignancy, to the way I fall into my old habit of soaking up the history, the craft, the wisdom. When Alan tells a story about Henny Youngman, or Dave recounts a conversation with Art Buchwald, I'm able to marvel at the reverence in which they hold the older generation, and also contemplate the fact that in another 30 years, I may well be the guy telling stories about them. And by "them," I don't just mean Alan and Dave, but also Henny Youngman and Art Buchwald — the same way I tell Elvin's stories about Charles Mingus and Jonah Jones. That's the way it works: We make stories and stories make us. We go from the youngest in the room to making room for the youngest. And if we're lucky, that chain stretches forward forever, unbroken and shimmering.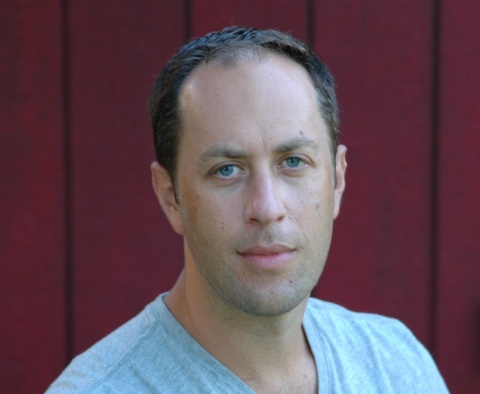 Adam Mansbach '98, SOA'00
is the author of more than a dozen books, including the
New York Times
number 1 bestseller
Go the F**k to Sleep
, the California Book Award-winning novel
The End of the Jews
and the novel
Rage is Back
.