"Making the Pandemic Personal, One Meal at a Time"
I was feeling restless and helpless during my first day of lockdown-induced working from home. Sitting in my improvised office, I stared at my monitors, keyboard and mouse — hastily assembled to replicate the corporate financial services setup in my Midtown office — and began sorting through my inbox.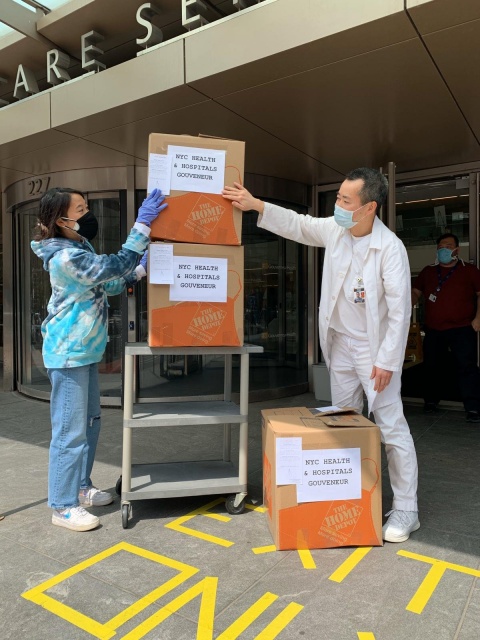 As I scanned emails about COVID-19's impact on the small-business industry, my mind raced with thoughts about the constellation of issues presented by this pandemic: the employees being laid off in droves, struggling to make ends meet; the healthcare providers on the frontlines, risking their lives as they work themselves to the bone. I thought about my favorite neighborhood restaurants, wondering if they could survive without business for an indefinite number of weeks. Reports surfaced, each one more horrifying than the last, about the conditions of outer-borough and community hospitals in their fight against the pandemic — Kings County Hospital Center, and NYC Health + Hospitals Elmhurst, Lincoln and Harlem. What could I do to help?

I thought, perhaps, I could feed people. Food is at the heart of my Jewish culture and community; we use food as a celebration of survival, as an expression of love, as a panacea for mourning, as an outpouring of support. And so, though it didn't yet have a name, Feeding the Frontlines was born.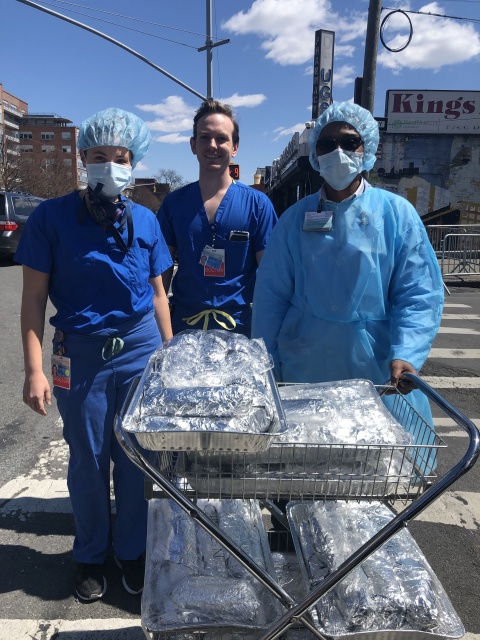 That first weekend, my only goal was to send a few hot meals from a nearby restaurant to an ICU team; I was shocked to receive $2,000 in donations on Venmo. Then friends began reaching out, asking to get involved. The mission of our grassroots initiative quickly crystallized: to provide meals to healthcare workers on the frontlines while supporting local small businesses. In just six weeks, with our now-large team, we have raised more than $35,000, and we've proudly fed 3,000 staffers in 37 hospitals while supporting 34 businesses across New York and New Jersey.

My co-organizer in this incredible endeavor is Kate Christensen BC'14. We'd first met over a meal of traditional Israeli food at an Interfaith Council event during my first year at the College. A member of the Church of Jesus Christ of Latter-day Saints, Kate also comes from a cultural and religious tradition of supporting others by feeding them. We found endless overlaps in the ways our communities operate, and quickly forged a lasting friendship. I've lately realized we'd been doing this helping-others-by-feeding-them-thing our entire lives.
Many of the donations received in my first weekend of fundraising were deeply personal: One woman wanted to send a meal to her sister's nursing squad at a hospital. Another donor wanted to help a neighbor who works for a medical unit that had been recently converted to a COVID-19 intensive care unit. These requests quickly led me to see that we were not alone in our restlessness and helplessness — dozens of my friends were grasping at how to help both loved ones and strangers. Feeding people is a fundamental way to support them and to show them love.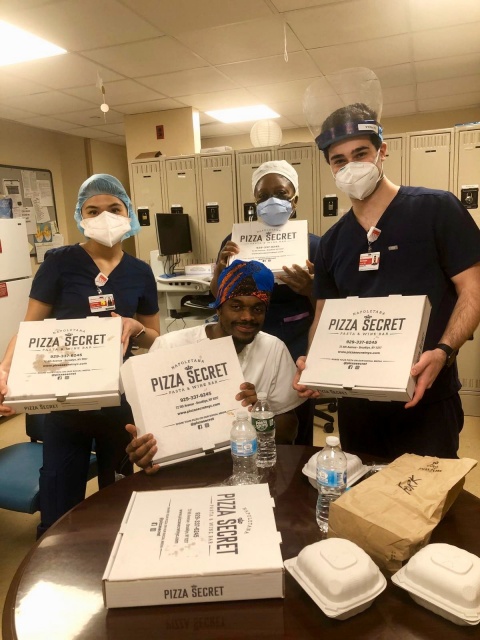 In the wake of our fundraising success, Kate and I have established daily Zoom meetings with the rest of our volunteer team, plus a rotating supporting cast of willing and able helpers. We solicit suggestions for restaurants and caterers that need business and puzzle over which fundraising methods are proving to be most effective. Kate posts on
social media
to showcase the impact of our donations: photos of food being prepared and delivered to hospitals, frontliners taking five minutes to eat after 12 hours of rounds, and reviews of the local restaurants we're doing our all to support. Recently we received a donation that paid to feed 100 ER staff members at Harlem Hospital. The owners at Morningside Heights favorite Bettolona
were thrilled to partner with us
.

We've found that making these donations personal — sending a meal to the team of a donor's loved one, or ordering from the restaurant of a donor's friend — has been tremendously effective at creating a sense of purpose and impact on all sides of the effort. We recognize that the frontline includes physicians, nurses, security guards, lab technicians, assistants and many others, so our deliveries go to all personnel working the shift.
When this is all over, Kate and I, along with our team, plan to share meals at some of our favorite restaurants, like Pisticci and Bettolona, in a place so personal and dear to us: Morningside Heights.
For more information or to donate, go to wearefeedingthefrontlines.com.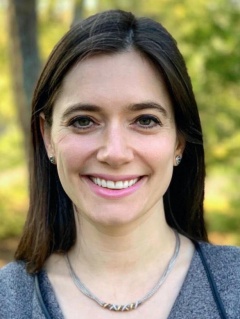 Dara (Marans) Shapiro '14
is a senior strategy associate at JPMorgan Chase & Co., where she drives the growth strategy for financial products across consumer and small business segments. She is a member of the Board of Directors at Columbia/Barnard Hillel and studied philosophy as an undergraduate.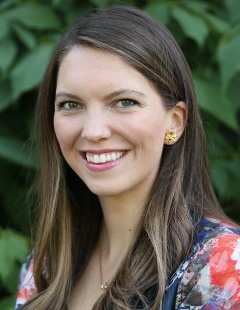 Kate Christensen BC'14
is a researcher in marketing at Harvard Business School and a consultant for early-stage startups on their brand and marketing strategies. She studied political science and art history as an undergraduate and will start an M.B.A. program at Harvard this fall.