Musician Billy Cross '68 "Was in Heaven" at the College
Friday, September 9, 2022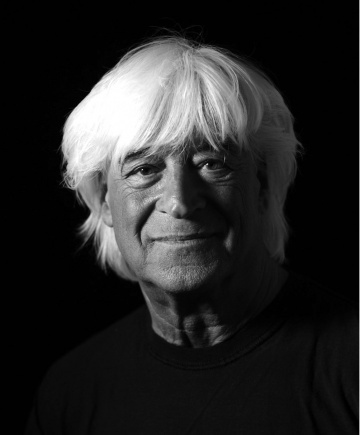 Billy Cross '68
is a guitarist, singer and producer who has lived in Denmark since 1980. He has been part of the Danish bands Delta Cross Band, Cross-Schack-Ostermann and Everybody's Talking. Cross began his professional music career in 1960 as a studio musician and assistant producer; he played briefly with Sha Na Na and played guitar in the Broadway production of
Hair
. He became the musical director of the national touring company of
Hair
in 1972. Cross was a member of Bob Dylan's band 1977–79 and played on the albums
Bob Dylan at Budokan
and
Street-Legal
. Additionally, he was a member of the New York-based trio Topaz and played guitar on two albums by Robert Gordon & Link Wray. Cross has written two books in Danish: a cookbook,
Mit amerikanske køkken
(2001), and a memoir,
Så langt så godt — et liv med rock
(2010).

What were you like when you arrived at Columbia?
I arrived in 1964 completely believing in the ethos of liberal arts and academic commitment to culture. As Lionel Trilling CC 1925, GSAS'38's nephew, I grew up with these beliefs firmly positioned in my identity. But I was already a seasoned, working rock 'n' roll musician with a history of playing professionally since I was 14. I was brash, self-involved and very social. I'm the only member of our clan without a graduate degree, and my family had assumed that I would be pre-med. Sadly, for them, my inability to navigate calculus put an end to their dreams for my future occupation. Otherwise, I can only describe myself as extremely delighted and a bit daunted. It all seemed so historically weighty and impressive.
What do you remember about your first-year living situation?
I was in a suite in New Hall with one of my best friends from high school; the other room was occupied by types of people I had never before encountered. One guy was furious that he hadn't gotten accepted to Princeton and despised us and the whole NYC scene ("too many grubs from Brooklyn"). He was from Philadelphia's Main Line. Aside from that, there were so many fun people on the ninth floor (some of whom are quite well known today) and we had a ball. We played bridge at the end of the hallway, played practical jokes on each other and made late-night trips to Ta-Kome for sandwich sustenance while studying. There were Homecoming weekends, theme parties and so many interesting things to do. But we were not allowed to have girls in our rooms.
I loved wandering around the campus, which I found both romantic and beautiful; once, three friends and I stood by the Sundial trying to duplicate the famous photo of Jack Kerouac ['44], Allen Ginsberg ['48], William Burroughs and Hal Chase. My band, The Walkers, was becoming popular and we were playing lots of events on campus in Ferris Booth Hall and in the frat houses on 113th and 114th Streets. During the last week of the school year, I had my first experience with smoking marijuana. All in all, I was in heaven.
What Core class or experience do you most remember, and why?
I was instructed by some upperclassmen to "go after the professor, not the subject," so I ended up taking a variety of different courses with no real central idea of where I was going. Once I switched to being an English lit major, I was exposed to some of the greatest minds in that area. My uncle Lionel, Jacques Barzun CC 1927, GSAS 1932, Edward Said, Kenneth Koch (with whom I later co-wrote a song), William York Tindall CC 1925, GSAS 1934 … it was an intellectual paradise. Eugenio Villicana '46 was a very special teacher who took a special interest in me. I was not a particularly good student. My head was in the clouds, and I was so focused on my music that I neglected my studies and he put me back on track (for a while). He even got me to read Gerard Manley Hopkins with enthusiasm. Also, because when I was growing up my mother would take me to the American Museum of Natural History frequently, I developed a strong love of geology. My first geology course was a wonderful experience and I retain a fervent interest to this day.
Did you have a favorite spot on campus, and what did you like about it?
I loved The Lions Den. My group of friends — made up of a few classmates and augmented by a flock of Barnard girls with whom we shared a love of rock 'n' roll music — used to meet there most every day. A few of us were earning extra money as fashion models and we began hanging out downtown as much as in Morningside. The Lions Den was a perfect size for socializing after morning classes. Butler Library was also one of my favorite places to study in peace. The West End, which had been a central meeting place for the Beats, was also a favorite hangout. And naturally, the South Lawn in front of the library where we all sat together in good weather was a fave.
What, if anything, about your College experience would you do over?
I wish I had spent more time and energy on my studies. A friend introduced me to Andy Warhol and his crowd during spring 1965. This led to my spending more time downtown exploring the new scenes in NYC than I did up at the College. While these social connections were inspiring, I wandered away from the academic world and began to spend less time on my studies, with expectable results. Also, I was beginning to work more professionally as a musician, and this too stole my time from my studies. Now that I have had a very successful career as a musician/songwriter/producer and I have reread many of the books that I simply skimmed back then, I regret not having spent more time and energy on the great volume of wonderful literature that I had been required to read and understand. But it was the '60s and I was perhaps a bit too wild for Columbia.