Alex Navab '87, University Trustee, Former BOV Chair, Prominent Financier
Alex Navab '87, a University trustee and former chair of the Columbia College Board of Visitors (BOV) who recently formed his own investment firm, died on July 7, 2019. He was 53.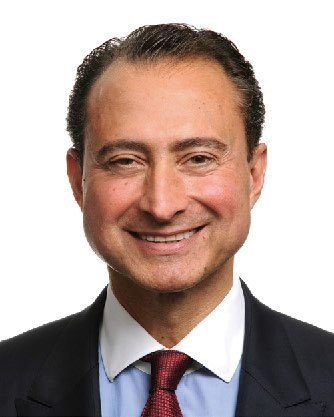 Navab was born in Isfahan, Iran, on November 24, 1965, to Dr. Ali and Katina (née Armenakis) Navab. The family — Navab was one of four children — fled to Greece after the Iranian revolution in 1979 before moving to the United States.
Navab worked at Goldman Sachs from 1987 to 1989 before earning an M.B.A. from Harvard Business School in 1991; he graduated as a Baker Scholar (High Distinction) and was presented the Edna E. Wolfe Award. He then worked at the investment bank James D. Wolfensohn, Inc., before joining KKR — then known as Kohlberg Kravis Roberts — in 1993.
Overseeing numerous leveraged buyouts at KKR, including the takeovers of the Nielsen Company, Yellow Pages and Borden, Navab by 2008 had become co-leader of the firm's North American private equity business. He took sole leadership of the division six years later, and as head of North American buyouts helped the firm raise nearly $14 billion for its 12th North American private equity fund, one of the biggest of its kind. Navab left KKR in 2017 and announced in April 2019 that he had formed Navab Capital Partners.
Navab, who lived in New York City, was an involved and generous Columbia alumnus; his giving of his time and energies began as president of his sophomore class and continued as president of the Columbia College Student Council his senior year. An outstanding student who graduated Phi Beta Kappa, Navab also captained the varsity lightweight crew team, and maintained close ties as a benefactor. He donated two shells in summer 2018 and was presented the 2018 King's Crown Rowing Association honor this past December.
While on the BOV, where he was a member from 2005 to 2017, with terms as vice-chair from 2011 to 2014 and chair from 2014 to 2016, Navab led the effort to develop a strategic plan for the College; this became the foundation of the Core to Commencement campaign, the first campaign uniquely dedicated to Columbia College students and faculty. In partnership with Dean James J. Valentini, Navab helped shape a plan that would focus on strengthening the student experience, enhancing the Core Curriculum and supporting faculty committed to teaching undergraduates as priorities for the College's success.
Navab became co-chair of the Core to Commencement campaign; he and his wife, Mary Kathryn — who survives him, along with their three children and his parents — gave $6 million to Columbia to create the Navab Fellowship Program, announced this past December, to fund internships for students. Navab was also a board member of NewYork-Presbyterian Hospital and the Robin Hood Foundation, among many others. He was elected a University trustee in 2017, was presented a John Jay Award for distinguished professional achievement by the College in 2011 and was awarded the Ellis Island Medal of Honor, a national award that recognizes recipients' public service and patriotism as well as their connection to their ethnic heritage, in 2016.

Published three times a year by Columbia College for alumni, students, faculty, parents and friends.
Columbia Alumni Center
622 W. 113th St., MC 4530, 4th Fl.
New York, NY 10025
212-851-7852
cct@columbia.edu

Columbia Alumni Center
622 W. 113th St., MC 4530, 4th Fl.
New York, NY 10025
212-851-7488
ccalumni@columbia.edu