CCT joins the fan club of bestselling author Melissa de la Cruz '93.
By Anne-Ryan Sirju JRN'09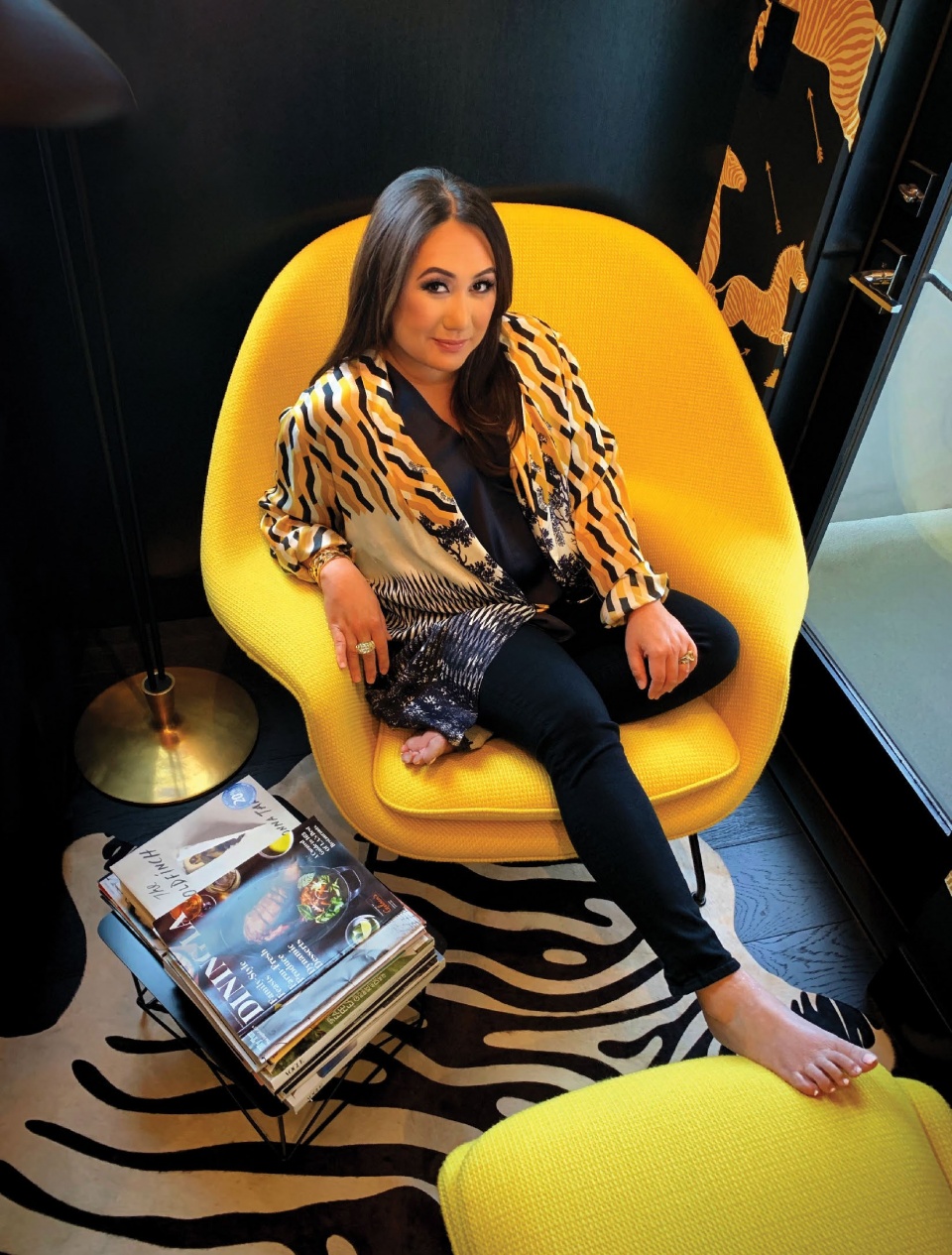 I
t's the first Saturday in June, and thousands of fans have crowded into New York City's Javits Center, lining up since early morning for a chance to meet their heroes at BookCon. The two-day celebration of books and pop culture brings together authors and readers of
young adult (YA) literature, a booming market that has made rock stars out of writers. And one of the industry's brightest lights is Melissa de la Cruz '93.

On that Saturday, de la Cruz perched at a table as the line for her book signing snaked around stanchions and out of view. Excited fans rolled through to take selfies, meet de la Cruz and talk Hamilton (de la Cruz had just come from a packed panel — "Making Out Between the Pages" — where she discussed the final book in her Alex & Eliza trilogy, which follows Alexander Hamilton CC 1778's romance with Elizabeth Schuyler). Near the front of the autograph line, a girl clutching all three Alex & Eliza books complimented de la Cruz on her striking gunmetal-grey eyeshadow, while another autograph seeker gushed, "My friends are freaking out that I'm meeting you!" A Sunday giveaway for advance review copies of the first book of her new series, The Queen's Assassin (coming in early 2020), was so mobbed that the publisher had to call security. Rock star status: confirmed.
---
To say de la Cruz is prolific would be an understatement. In the nearly 20 years since she published her first novel, the author has written more than 50 books, penned three television movies, helped develop two thriving book festivals on opposite coasts and, oh yeah, cumulatively her books have spent years on The New York Times Bestseller List. But ask the bubbly de la Cruz how she manages her workload and she answers, with a laugh, "Absolute procrastination and then absolute desperation!"
For de la Cruz, writing has always been a passion. She grew up with parents who loved and encouraged reading, and as a child she devoured everything from Little Women to her mother's Jackie Collins romance novels (she describes herself as "the kid who always had a book"). But reading an interview with Francine Pascal, creator of the Sweet Valley High tween series, opened her mind to being on the other side of the page. Pascal "talked about how she had created the [Sweet Valley] world, but the women who actually wrote the books were 22 years old! They were three girls who were just out of college and they were her ghostwriters," de la Cruz recalls.
"At this time I was 11 and I thought, 'They're 22? Maybe in 11 years I could be writing books like these.'"
When de la Cruz was 12, her family left her native Manila and settled in California. Columbia and the East Coast called to her, as she was inspired by both Jay McInerney's Bright Lights, Big City and the Beat Generation –– "[Columbia's] reputation rested on being the home of Jack Kerouac and Allen Ginsberg, and for having produced all these beautiful writers and just having that edgy, alternative reputation," she says. "It felt like the kind of school you would go to if you were a little artistic."
De la Cruz majored in English and art history, and stayed in New York for a decade after graduation, writing about beauty and fashion for publications from Marie Claire to Allure to the Times. In 1999 she sold her first book — the adult
fiction novel Cat's Meow — and in 2003 she and her husband, Michael Johnston GSAPP'99, moved to Los Angeles.
"I had just talked to my agent about wanting to do a fairy tale
and here I was being handed the entire Disney universe."
De la Cruz's first YA novels were contemporary fiction, covering wealthy teens in the Hamptons and regular high school life. Then everything changed: Thanks to the success of the Twilight book series (which launched in 2005), vampires and supernatural creatures were suddenly big business. De la Cruz's Blue Bloods, about wealthy New Yorkers who happened to be vampires, was released in 2006 and rode the wave of late-aughts vampire popularity. Although it first became a bestseller in 2008, Blue Bloods continued to pop up on the list until as late as 2011; the story grew into a nine-book series. De la Cruz's first take on adult fantasy literature came in 2011 with Witches of East End, which spawned a six-book series and a Lifetime TV show, which ran for two seasons.
After success writing about vampires, witches and dystopian futures (the Heart of Dread series, co-written with her husband), de la Cruz was looking for the next big thing. A fortuitous lunch with Jeanne Mosure, then-head of Disney Publishing Worldwide, led to an offer de la Cruz couldn't refuse: a deal to write a middle-grade (readers ages 8–12) series about the children of Disney's villains, tied into the upcoming Disney Channel movie Descendants. "I thought it was so funny," says de la Cruz. "I had just talked to my agent about wanting to do a fairy tale and here I was being handed the entire Disney universe." The offer turned into 2015's The Isle of the Lost, which reigned on the Times Bestseller List for 50 weeks ("We ran out of champagne!" jokes de la Cruz) and has spawned an entire book and movie series; the fourth book, Escape from the Isle of the Lost, was released on June 4, and the Descendants 3 film debuted on August 2.
De la Cruz reflects on her accomplishments as being hard won: "There are a lot of ups and downs in creative careers, and I was fortunate to be with people and raised by a family that said, 'When it's time to celebrate, it's time to celebrate,' because you don't know how long the moment will last — you can't take things for granted.
"The first time I hit the bestseller list was in 2008, and I had been a writer for about 10 years by then," she says. "I felt really validated. When Descendants did so well and was on the bestseller list for a year, it was hard not to get used to it. But I was really cognizant that these things don't last and you have to enjoy them while they're happening."

---
On the Friday night before BookCon, de la Cruz sat on a panel with six other YA authors also represented by Penguin Teen, hosting a free trivia night at the Upper West Side Barnes & Noble. Among the crowd of excited teens and young adults was an elderly man who stepped into the Q&A to ask why the authors were wasting their time writing fiction when they could be writing something educational for young people. De la Cruz, there promoting All for One (the third book in the Alex & Eliza trilogy), was diplomatic in her response: "I write books to entertain, I write them to amuse myself — I hope they amuse other people. But I do think that they teach something that's so much more important than how to put together an airplane. They teach us how to love, and that's the most important lesson of life."
She continued, "I wanted to write about Eliza Schuyler because I wanted to write about a good person, a decent American. In the climate that we're in, I wanted to celebrate that [decency] — everything that is good about our country was in this one person."
De la Cruz is ardent in her belief that reading about different people and places can teach empathy and open-mindedness. Her 2005 book Fresh Off the Boat drew from her own family's immigration story and was one of the first Filipino-American themed YA books published in the United States. A decade later, publishing company Harlequin Teen came to her about an imprint they were launching with Seventeen magazine about teens going through real-life issues. Their request: Could she write about a teenager experiencing the effects of illegal immigration? Her instinct was to say no, she didn't want to relive the difficulties of her own immigration story (her family came to the U.S. legally on her father's business visa, but it was a long journey to a Green Card). "But then I thought that it would be kind of necessary to tell the story now," she says. "This country was founded by immigrants; we were always proud to be immigrants in this country." The book, Something in Between, was released in October 2016.
De la Cruz wants YA to be celebrated in its own right, and to that end she's been instrumental in raising the genre's profile during the two decades she's been writing. She has participated in the Charleston, S.C., young adult book festival YallFest for its entire nine-year run, and is the co-founder of its West Coast sister show, YallWest, begun in 2015. Author Margaret Stohl, the co-founder of both festivals, says, "The incredible power of Mel is that she will see something and immediately know how to make it better, fund it, roll it out, take it to the next level. She came [to the first YallFest] as an author and then, as my friend, said, 'Oh honey, you're doing this all wrong!' And by the next year she had enlisted every major publishing house in New York and in our industry."
YallFest brings dozens of YA authors to South Carolina for a weekend of panels, signings and special events. De la Cruz notes, "A lot of the cities in the deep south aren't normally on the book tour circuit, and a lot of the kids we met during our first festival were so thankful that we came there." When YallWest launched in Santa Monica, Calif., the organizers wanted to continue bringing YA literature to underserved communities, and so the festival sponsors kids from Title 1 schools (public schools with a large concentration of students from low-income families) to come to the festival for free and to receive free books. "There aren't that many people who can demand the attention of an entire industry and their dollars, and that's what Mel can do," Stohl says. "It's really just this one person who has transformed opportunity and access for children. She's sort of the unofficial CEO of the YA community."
At BookCon, after speaking to a jam-packed room for "Making Out Between the Pages," fans lined up at microphones to ask everything from how de la Cruz and her fellow writers found their passions in life to thanking the panelists for creating diverse characters that speak to the readers' real-life experiences. Moments before de la Cruz headed into the panel, she reflected further on her Friday night comments about love, decency and the power of books. The questions "'how to love, who to love' have fueled generations of readers and books," she mused. "From Jane Austen to Shakespeare, it's the immortal question. How do you learn about love but through books and putting yourself in someone else's shoes?"

Published three times a year by Columbia College for alumni, students, faculty, parents and friends.
Columbia Alumni Center
622 W. 113th St., MC 4530, 4th Fl.
New York, NY 10025
212-851-7852
cct@columbia.edu

Columbia Alumni Center
622 W. 113th St., MC 4530, 4th Fl.
New York, NY 10025
212-851-7488
ccalumni@columbia.edu