By Jamie Katz '72, BUS'80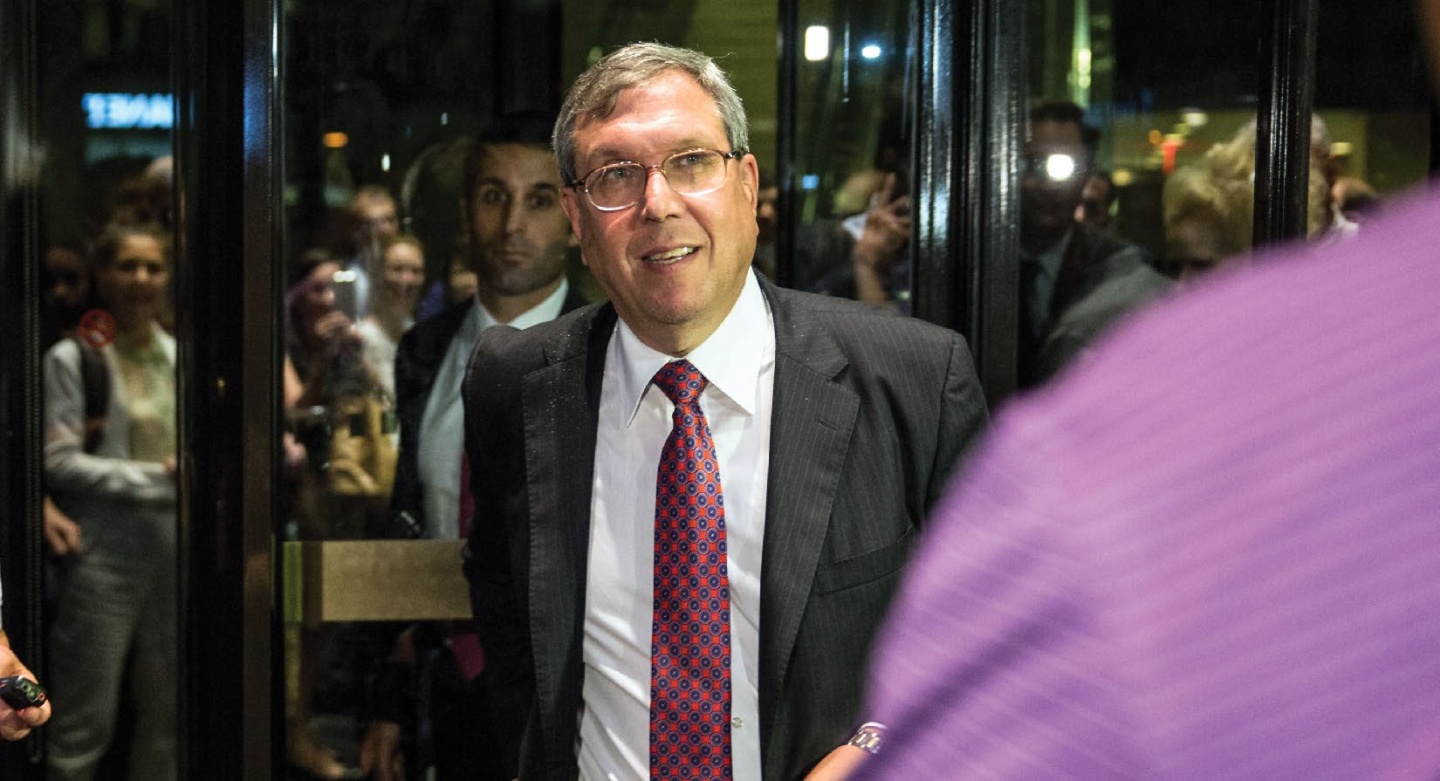 Andrew Burton / Getty Images
The electrifying performance of the U.S. women's soccer team this summer furnished Jeffrey L. Kessler '75, LAW'77 with something unique in his career as a high-profile sports lawyer: the thrill of watching a beloved team compete for international glory while vying for an historic legal breakthrough under his guidance. While the players' talent and swagger was catching the world's eye, Kessler was masterminding the team's pursuit of pay equity and equal treatment, a cause that reverberates far beyond the soccer world. "I can honestly say I've never been involved in a sports matter that has had such pervasive, widespread public support," he says.
A top member of the international law firm Winston & Strawn, Kessler has long operated on the front line of athletes' rights and interests as individual competitors, employees, union members and citizens. Some of his earliest heroes, he notes, were sports figures who bucked the establishment to follow their conscience and assert their rights. "I was inspired to become a lawyer in part by people like Curt Flood, Muhammad Ali, John Carlos and Kareem Abdul-Jabbar, and the idea of using the law to achieve social justice objectives," says Kessler, who specialized in antitrust law before his practice became increasingly involved in sports. "So in a strange way my childhood inspirations have come to roost in my career, totally unplanned and unexpectedly."
Among many key episodes to be found on Kessler's career highlight reel, he litigated the 1992 case McNeil v. NFL, which resulted in free agency in the NFL; negotiated the current salary cap/free agency systems in the NBA and NFL; and challenged the amateurism provisions of the NCAA. He represented Patriots quarterback Tom Brady during the Deflategate controversy, defended the right of NFL players to take a knee during the national anthem and argued for the right of double-amputee track stars Oscar Pistorius (years before his murder conviction) and more recently, Blake Leeper, to compete in the Olympics despite their use of prosthetics.
The heart of the women's legal fight is a lawsuit Kessler filed in federal court this past March on behalf of all 28 team members, accusing the sport's governing body, the United States Soccer Federation, of years of gender discrimination, in violation of the Equal Pay Act of 1963 and Title VII of the Civil Rights Act of 1964. The federation not only compensates the women's team considerably less than the U.S. men's team, the suit charges, but also spends less on coaching, training, medical personnel, marketing and travel.
Compensation for the national teams is not a straightforward process; it is determined by a tangle of collective bargaining agreements, payments from FIFA (the sport's international governing body), sponsorships and other factors. Some have argued that men's soccer generates far greater revenue worldwide, justifying the pay differentials. Kessler counters not only that the U.S. women's team generates greater revenue than the U.S. men, but also that, under law, the federation cannot compensate players unequally based on gender. As of late July, the case appeared headed for mediation.
All along, public opinion has weighed heavily in favor of the U.S. women's team. The throngs who cheered them at a tickertape parade along the Canyon of Heroes three days after the World Cup victory — chanting "Equal pay! Equal pay!" — certainly understood that the event was both a celebration of sports heroics and a rallying cry for women's rights at a time when they are felt to be under assault. After the final horn sounded on the United States' 2–0 victory over the Netherlands on July 7, tennis legend and feminist icon Billie Jean King tweeted: "These athletes have brought more attention, support, & pride to women's sport than perhaps any other team in history. It is long past time to pay them what they rightly deserve."
"They're inspiring," Kessler says of the U.S. team. "They are maybe under more pressure than any group of female athletes has ever been. And they not only performed amazingly throughout the tournament, but they also did so well handling the media and the world on this important issue of equal pay. So to be able to do both of those things at the same time in the fashion they did is really just incredible."
Viewing the World Cup final live from France on a 65-inch plasma TV in his Manhattan apartment, Kessler allowed himself to set aside the legal briefs and enjoy the drama.
As the match got underway, he was confident. "I just felt in my heart that they were going to come through, because they always have," Kessler says. Yet as the 60-minute mark passed with the American and Dutch squads locked in a scoreless tie, he admits, "I was glued to my seat." And then, when U.S. co-captain Megan Rapinoe banged in a penalty kick in the 61st minute, followed soon afterward by an insurance goal by midfielder Rose Lavelle, "I jumped up and shouted for joy," Kessler says, "even though no one else was in the room."
Former CCT editor Jamie Katz '72, BUS'80 has held senior editorial positions at People, Vibe and Latina magazines and contributes to Smithsonian Magazine and other publications. His feature on Wah Chen '92, "Small Business with a Social Conscience," appeared in the Summer 2019 issue.

Published three times a year by Columbia College for alumni, students, faculty, parents and friends.
Columbia Alumni Center
622 W. 113th St., MC 4530, 4th Fl.
New York, NY 10025
212-851-7852
cct@columbia.edu

Columbia Alumni Center
622 W. 113th St., MC 4530, 4th Fl.
New York, NY 10025
212-851-7488
ccalumni@columbia.edu