FEATURE
Double Discovery
By Laura Butchy
For 35 years, Columbians have helped neighborhood youth through the DDC


DDC ninth graders participate in group study sessions as well individual tutoring appointments.


Denise De Las Nueces '03 grew up dealing with not only poverty but also incredible shyness that caused her to stutter. In March, she became a recipient of one of the first New York Times College Scholarship Program awards - $12,000 a year for four years toward college tuition - because of her outstanding academic achievements.
The road to change was not easy, but she was helped along it by Columbia's Double Discovery Center, a non-profit youth service agency that tutors students from low-income families. For students of neighborhood and area schools, DDC staff members and volunteers offer academic, career, college, financial aid and personal development services aimed at increasing the students' rates of high school graduation, college entrance and college completion.
De Las Nueces became a member of DDC in eighth grade. "Denise is typical of our students: immigrant parents, first-generation college student," said Olger Twyner, DDC's executive director.
Determined to overcome her problems, De Las Nueces forced herself to speak in front of people and began studying astronomy from books her father, a doorman, found thrown out by residents of his building. She credits the Center for encouraging her and giving her the confidence to apply to Ivy League schools and seek scholarships. "It was a safe haven," she said. Although she applied to several universities, she said Columbia was her first choice "because it feels like home."
On May 25, the Center will celebrate its 35th anniversary as one of the largest programs of its kind in the nation. More than 400 program alumni and staff will attend a formal dinner to learn about the changing program. Conferences and workshops will be offered for alumni according to age group.
"Alumni love to come back and see how the program has changed," said Grissel Seijo '93, DDC admissions coordinator.
DDC has changed a great deal since 1965, when Roger Lehecka '67, former dean of students and now director of alumni programming, decided to start a group that would work with Harlem youth. With the help of Steve Ross '68 and other College students, he applied for grants to support the program and it gradually expanded. According to Seijo, the program now serves about 1,000 students each year.
What hasn't changed is DDC's overwhelming success rate. Over the past 35 years, the Center has sent 96 percent of its students to college. To put that number in perspective, consider that the high schools from which DDC students come graduate only 34 percent of their freshman classes.
Students who belong to the program enjoy individualized attention. DDC assigns each student an academic counselor who consults with students about their individual academic and career goals. Felicia Collins, a 10th grade student who has been with the DDC for about six months, said the Center's volunteers, most of whom are College students, impressed her right away. "They help you adjust to your surroundings," she said. "They're friendly and outgoing, which makes the work easier."
DDC students belong to two separate programs: Talent Search and Upward Bound. The Talent Search Program, developed in 1977, provides academic and career preparation services to more than 600 students annually in grades 7-12 and young adults up to age 27.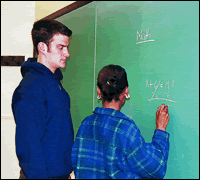 Andy Housiaux '01 helps Myisha Speas with her math homework.


Upward Bound provides high school students who need more intensive academic assistance with mandatory tutoring in all subjects. This program only accepts students in ninth or tenth grade, and students remain in the program until graduation. According to Seijo, students receive tutoring twice a week after school that matches their various high school curriculums, with classes in biology, chemistry and trigonometry. Incentive trips and science-related laboratories and lectures are offered each term.
Upward Bound students may also attend Saturday academic classes taught by College alumni and community members. In one session, students learned about the elements and structure of poetry by dissecting hip-hop music. Another session used basketball to teach elements of mathematics. This alternative learning program incorporates gender-specific issues as well and emphasizes personal growth.
According to Seijo, the typical DDC student attends tutoring twice a week, seeks occasional counseling and participates in gender-specific programs. Seijo said one of the Center's most popular optional activities is the Young Women's Alliance, which provides a support network that offers young women a safe place to discuss issues such as self-esteem, health, careers, relationships, violence against women and college life.
"The thing that's really impressive is that the numbers (of student successes) are real, and the students make a community for themselves," said Twyner. "It takes a lot to come to tutoring twice a week."
Many members of the Columbia community as well as Columbia alumni support the Center's activities. Several of the Center's paid employees, including teachers, tutors, supervisory personnel and work study students, are Columbia graduates who previously were volunteers.
In addition, the majority of DDC's tutoring force is made up of about 60 College student volunteers each semester. College student mentors discuss college preparation, standardized tests and completing high school with DDC youth, while career mentors help them consider career alternatives.
Columbia professors, retired faculty, DDC alumni, and peer high school students also serve as tutors. SAT instructors prepare students for the exams by teaching math and English classes on campus.
Alicia Chung, an 11th grader who has been part of DDC since seventh grade, applied at the Center after a teacher told her about the programs. "The SAT prep and the counselors are great," Chung said, "and it's nice that the library is nearby and has great variety."
Students at DDC enjoy a number of benefits from the connection with the College, Twyner said. The Center offers computers with multimedia and Internet capability for daily use, students may use the library, and small group activities use campus classrooms. Twyner said support from individual professors has also helped the program widen students' experiences. Leonard Fine, director of undergraduate studies in chemistry, has aided DDC chemistry groups and run a chemistry workshop, Professor of Astronomy Joseph Patterson has allowed the Center to use the Columbia telescope, and Hillary Ballon, associate professor of art history, has arranged mini-courses about skyscrapers and music.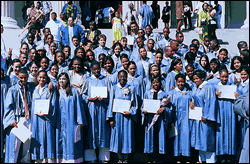 DDC graduates are all smiles as they show off their diplomas on the Low Library steps.


Seijo, who tutors ninth-grade English, says the best part of her participation in the program is witnessing the success stories. "It's watching the ones who go the whole way come back," she said, "and they're excited-they realize they made it. You learn from them as much about yourself as they do from you."
According to Seijo, the Center is developing an alumni database to help it keep in touch with program graduates and volunteers. Their second annual alumni party for students and volunteers was held on January 7.
In the summer, high school students can participate in afternoon academic mini-courses, personal development workshops, SAT preparation, trips and pre-professional conferences. Upward Bound students can attend a six-week summer residential academic program on the Columbia campus, which includes three academic classes, tutoring, a health class, special interest clubs, trips, and health awareness. Students receive dormitory housing, three meals a day, books and 24-hour supervision.
Jimmy Vasquez, a 12th grade student who has been with DDC for one year, travels from the Bronx to visit the Center and use the computers. "The attention and support you get is great," he said. Although he used to "roam around college programs," he said the Center has helped him focus his studies. "It's been fun, especially the summer residency program."
High school seniors in particular appreciate the Center's fall and spring local, overnight, and week-long college trips. During the roughly 20 tours each year, students meet admissions officers and financial aid administrators and attend classes. Overnight stays help give them a perspective on what living on a campus is like. DDC graduates are currently attending a variety of institutions, including Columbia, Cornell, Rutgers, Boston U., Fordham, LIU and Manhattan.
Lakiya Burrell, a high school senior, has studied in the program for five years, including the summer program. "It keeps your mind on track in the summer," she said, "and you meet new people."
DDC received White House recognition in 1998 as part of the President's Promising Practices program, which highlights community efforts to reduce racial disparities across the United States.
About the Author:
Laura Butchy is a graduate student studying dramaturgy in the School of the Arts.