FEATURE
Brandon Kessler '96: Entrepreneur Works the Business Side of the Music Biz
By Shira J. Boss '93
Six years ago, Brandon Kessler '96 was tipping friends to his favorite new band. With his characteristic calm enthusiasm he was telling them: "I have three words for you: Dave. Matthews. Band." Nobody had heard of them then, but a year later Dave Matthews Band hit the top of the charts with "What Would You Say," "Satellite" and "Ants Marching."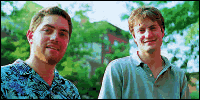 Seth Unger '97 (left) and founder Brandon Kessler '96 of Messenger Records.


And Kessler was partly responsible for boosting them into the New York spotlight. In his freshman year he spotted the band performing before a tiny audience at the Wetlands club one weeknight and "flipped out," as he tells it. Dave Matthews Band's only problem, in Kessler's view, was that nobody was hearing them. So he took it upon himself to remedy that.
"I got in touch with their manager and said, 'I want to help you,'" he says. He started doing promotions for their shows, especially on college campuses. More people came, and more became fans. The band put out an independent album, with Kessler handling New York state radio promotion. RCA Records came to them with a contract and the band asked Kessler to stay on, but he had other things to do.
Like start his own record label.
What sets Brandon Kessler apart from throngs of music-loving, concert-going youths is a love of the business side of the industry, a Columbia education with a dose of B-school courses, and the temerity to put it all together to power his own label, Messenger Records.
Messenger is a tiny indie label that Kessler started in his Ruggles dorm room and now runs out of an only slightly larger Chelsea studio. It puts out two or three albums a year by rock bands that get good press, in part thanks to Kessler's tireless networking and promotion.
"He's an extremely aggressive marketer who really understands music. That's rare in the industry," says Andrew Rasiej, founder and former owner of New York's Irving Plaza nightclub, where Kessler worked promoting concerts while he was in school.
Messenger is quickly earning a reputation in the music world for its grassroots efforts that produce big-label results, and was featured on a segment of MTV's Indie World called "indie labels run by one." One of the most unique aspects of his label is an innovative Internet- and fan-based promotions program, which got him featured on CBS's Wild Wild Web show. And Billboard and MTV.com both picked up on Messenger's pioneering two-month tour of college campuses last fall called "No One Gives a Damn About Your Band."


A creative fan found a place for Kessler's tour sticker.


Kicking off the tour at Columbia in October, Messenger hit the road not to promote any one of its bands but to promote independent music itself at 40 campuses across the nation. "It's all about celebrating the local music scene," says Kessler, who held radio forums with local music industry professionals to talk about promoting music and organized concerts of local bands where they set up an information table.
"It was neat because there was this rock concert going on in the background and these bands are sitting around our table asking us questions, like should they get distribution for their band, do they need a manager, questions about the Internet," says Seth Unger '97, who works with Kessler at the label. "We were psyched to help these bands out. We've been there and we know how tough it is."
What Messenger got out of the tour was promoting their label name and newly released compilation, Wouldn't It Be Beautiful? They added people to their mailing list and networked with local press and retailers. At first, people thought the label was scouting for bands to sign, but then they realized that Kessler and Unger wanted to share a message about smartly promoting independent music.
"We've both been in bands and we know how hard it is just to get the music sounding right," Unger says. "But we don't want people to fall into the trap of thinking that great music is a magnet and people will then come to your shows and buy your CDs - it doesn't work like that. If you're an artist or singer/songwriter, there are two jobs you have to do: only one is being an artist, the other is being a self-promoter."
As a result of the tour, they realized the need that unsigned bands have for advice and promotional resources, which Messenger is going to offer through the tour's website, noonegives.com.
The tour, which will become an annual event, was funded by several sponsors, including the on-line student retailer edu.com and Internet Underground Music Archive. "Brandon and Seth represent a fresh approach-very genuine and un-slick, if you know what I mean," says Rob Levinson, director of marketing and communications for edu.com.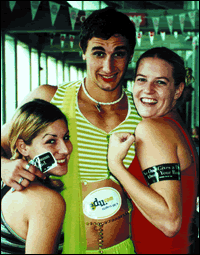 Fans sport promotional stickers as the "No One Gives A Damn About Your Band" tour visits New Orleans.


Kessler, who studied piano in childhood and played guitar in amateur bands, came to Columbia from San Diego specifically to be near the music industry in which he was determined to work. During his freshman year he called and sent letters to all of the record companies, landing an internship with Columbia Records's artists & rep department. In his sophomore and junior years he worked for Sony Music Studios full-time while taking classes. At Sony, he got to mingle with the likes of Bruce Springsteen, Bob Dylan and Mariah Carey in the course of delivering donuts and setting up equipment.
In a profile of Kessler in The San Diego Union-Tribune, the former intern described how he became disillusioned with waste at the major labels: "Michael Jackson had reserved two studios simultaneously, Sony and the Hit Factory, which is across the street. Jackson had engineers and producers on call, 20 hours a day, to do nothing but wait for him to appear. Occasionally he'd show up, sing a few lines, eat a few grapes, then split, leaving everyone there doing nothing."
One time, Kessler says, Carey "had to sing a few lines for her Christmas album. So at 2 a.m. on a June night, I had to run around the studio searching for Christmas decorations and a fake tree, which she wanted for inspiration. After I set up and decorated the tree, she sang two words-'Bless you'-and left."
Taking note of how he would run a label and the kinds of artists he would want to work with, Kessler took several more internships and part-time jobs, two or three at a time, working in marketing, publicity, copyright/publishing, booking and scouting. "I wanted to learn all facets of the industry," he says. "I tried to meet key people, learn as much as I could and move on without hurting anyone's feelings." He was college marketing representative for Atlantic and Virgin Records, then started his own concert promotions company specializing in college campuses. In his senior year he took business classes, where he jokes that what he learned was, "Keep your receipts and give them to your accountant."
While working at Sony he met Bobby Sichran, a former Columbia student and a Long Island singer who has been credited with starting the folk/hip hop fusion. "He'd had a Columbia Records release that got a lot of critical acclaim but was ignored by the record label. It wasn't promoted," Kessler says. They decided to release a single together, and so, with money he had saved from his jobs, Kessler launched Messenger Records during his senior year.
Kessler single-handedly promoted Sichran's seven-inch vinyl album, All the Psychotics in my Building. "I got a list of publicists and sent the album to all the editors, then spent all day between classes calling these people until they would answer their phones. It got me on the map a little bit," he says.
And it paid off. The album got good reviews from Spin and other music publications, and all the copies sold. In February, 1997, Interview ran a full page on Sichran featuring him among stars like Sharon Stone and Marlon Brando as one of "The 30 Most Wanted People Right Now."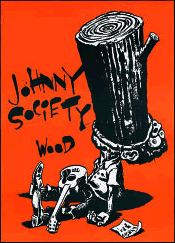 Cover art of Messenger Records artist Johnny Society's album, Wood.


After graduation, Kessler turned down job offers from major labels to devote himself to Messenger. The label's general mission is to look for artists who are innovative and also have commercial appeal, according to Kessler. "We're partly anti-establishment without being rebellious," he says. He signed The Hand and Johnny Society, winning over the latter from former Kinks star Ray Davies, who tried to lure the band to his own label. "Ray was very interested in signing us," Kenny Siegal, the leader of Johnny Society, said after joining Messenger. "But I'm a young unknown guy, and Brandon convinced me he had the same fire I do. We're the same, it's just that my fire is for art and Brandon's is for business."
Kessler often works from 9 a.m. to 1 a.m., helped part-time by Unger and two or three interns at a time. Headquarters remains at his multi-personality studio that doubles as his living quarters (his bed is tucked away in a tiny loft, accessible by ladder), office, conference room, communications center with the bands and hundreds of fans, company storage space and extensive music library. Filed in there somewhere are the contemporary novels he likes to read in the few minutes before turning in at night, and a small selection of cookbooks to guide his newfound hobby.
It's a good time to be an independent label. With the merger of Polygram with Universal in 1998, the six major labels became five and 300 bands lost their contracts. Hundreds of bands are taking refuge at smaller labels that will stick by them and nurture their careers.
"It costs $1 million to $2 million to release an album" on a major label, Kessler explains. "If you're not making money by the second album, chances are you'll be dropped. It's like throwing darts at a wall and hoping they stick. The artists are the darts. I've seen a lot of bands crash. Artists are realizing their careers are fragile, and they want to be on a label that's passionate and will seek out their audience and use innovative marketing techniques."
"With a big record company, it's simply a fact that some people are going to be working on your record just because it's their job," says blues singer Chris Whitley, whom Kessler signed after Whitley left Sony. "With Brandon, it has been pure enthusiasm. He isn't a rebel; he's just incredibly unjaded. To him, it's always, 'Who says I can't do this?'"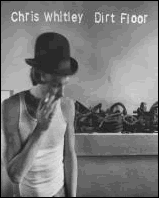 The album cover for Dirt Floor doubled as the tour poster.


Whitley's first album on Messenger, Dirt Floor, is a "stripped down acoustic affair that would be ignored by a lot of big labels," Kessler says. It was recorded for $1,500 in one day, with one microphone, at Whitley's father's farm in Vermont.
What followed the recording was a unique marketing blitz engineered by Kessler. He used an e-zine (e-mail newsletter) distributed to Whitley's fan base of around 10,000 to tell them about the new album and ask them to help promote it and Whitley's concerts. He reached new fans via the label's website (www.messengerrecords.com), where visitors can listen to sound bites, see videos, read press and tour schedules, and use a list of local radio station phone numbers to call up and make requests. Messenger has also held cybercasts of concerts on the website.
As it turned out, Whitley's fans only had to be asked before they eagerly went to work calling radio stations, contacting record stores, putting up posters advertising the albums and shows, and spreading the news among friends. Messenger started an incentive program for Dirt Floor where fans print out coupons from the website and get a point when a CD is bought. If they accumulate four points they get a signed poster; eight gets them a t-shirt. Whoever gathers the most points receives a notebook of Whitley's hand-written poems and lyrics. "
They get the prizes, we get the record sales, and the artist grows in popularity," Kessler says.
Kessler nurtures the label by contacting stores himself. "Major labels call stores, too, but not as much as they should," he says. "Most of the time they rely on a distributor, who will call a store and say 'Do you want this?' and the store will either say 'Yes' or 'Never heard of it.' I spend a lot of time on the phone with record stores, explaining, 'This is a kind of magical, mystical album that's been missing....'"
"Whitley's dinky Messenger Records release has been reviewed by everyone from Rolling Stone to Entertainment Weekly. All raves," David Bowman wrote in Salon, an on-line literary magazine. "Whitley also [had] a spread in Esquire. One wonders how many publicists (and Christmas trees) Sony hires to get the same results for Carey."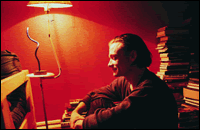 One reason blues singer Chris Whitley chose Messenger Records was that he was impressed with Kessler's enthusiam.


Messenger's 250 volunteer representatives worldwide were going into their local stores requesting Dirt Floor even before it came out. A system of local representatives is common for labels, but Kessler says his crew is different. "Local reps usually work like 20 albums a month," he says. "We wanted the people who spend hours on the chat site arguing over which guitar string Chris uses in a certain song. Those are our reps."
Messenger sends these reps stickers, posters, postcards, fliers, and copies of CDs to distribute for play in record stores, coffee shops, bars and on college campuses. The original sales target for Dirt Floor was 10,000 CDs, and already 45,000 have been sold worldwide.
Whitley recently opened a tour for pop star Alanis Morissette. "She hand-picked him," Kessler says. "Her personal assistant heard the buzz on the album, went to a sold-out show in L.A. and gave her the album the next day. The day after that we got a call. That is grass-roots."
With Messenger, Whitley got the first royalty check of his career and spent 14 months on the road in Europe, Australia and the States. His most recent tour ended with a sold-out show at New York's Bowery Ballroom.
Messenger is now bringing in enough money so that Kessler can support himself and begin looking for funding to expand the label, starting with getting it out of his apartment and into an office. "Labels are two things, banks and promoters," says Rasiej of Irving Plaza. "Brandon might not have access to a lot of money right now, but he's got the marketing and promotion side down, and it's only a matter of time before he's well-funded."
About the Author:
Shira J. Boss '93 is a contributing writer for CCT who profiled Andrew Carroll '93 in the November issue.