ALUMNI PROFILE
Northern Exposure
By Lisa Kitayama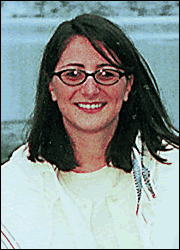 Jessica Zimmerman '95, wearing a tallit (prayer shawl), at the Mendenhall Glacier in Juneau, Alaska.


As a Columbia-educated, Jewish professional living in Alaska, it is tempting to draw comparisons between Jessica Zimmerman '95 and the character of Dr. Joel Fleishman on the old television series, Northern Exposure. But that's where the similarities end.
Call it divine inspiration, wanderlust, or an intense respect for nature, Zimmerman, currently a student rabbi working in Juneau, is most definitely in Alaska of her own choosing - and loving it.
Now a third-year student of the Hebrew Union College in Los Angeles, she specifically requested a post in Alaska due to her interest in culture and tradition in rural areas with an indigenous population, as well as the breathtaking environment. Zimmerman commutes between California and Alaska about once a month to serve Juneau's Jewish community, though she spent three weeks there in September there for the high holidays of Rosh Hashanah and Yom Kippur.
"Alaska is the most soulful, beautiful place I've ever been," said Zimmerman. "It was easy to write sermons this year for the high holidays; I had enormous inspiration - bald eagles flying by, whales, bears. It's a fantastic place! Kids grow up sharing the beautiful outdoors - including the glaciers - with animals most of us only see on the Discovery Channel."
Originally from San Francisco, Zimmerman's travels began after graduation, when she accepted a research assistant position with Columbia astronomy professor Joe Patterson. She was stationed both in New York and at the Cerro Tololo Interamerican Observatory in Chile. "Working in astronomy allowed me to gain a whole new perspective on the universe and our place in it," she said. "Every night and day, I was amazed at the beauty of what I was looking at." After weeks of stargazing in the Andes, her desire for a career in the rabbinate was reaffirmed.
She began her rabbinical studies in 1997, spending her first year in Jerusalem and traveling to Turkey, Egypt, and Europe. Though she is still finalizing her postgraduate plans, she looks forward to serving Jewish communities both domestically and abroad and credits Columbia with contributing to her joie de vivre.
"So much of what I learned at Columbia stays with me wherever I go," she said. "My excitement to explore new places and my openness to learn about new people help me daily. My education, academic and personal, supports me every time I find myself in a crazy new adventure!"