ALUMNI PROFILE
Armen Donelian '72 Brings Hot Jazz to Armenia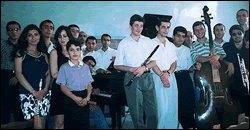 Armen Donelian '72 (far right) with members of the Armenian jazz workshop.


"For the first two weeks I taught four hours a day at the Conservatory without air conditioning in 90-degree weather," reports jazz pianist and composer Armen Donelian '72, who last summer spent a month in Armenia initiating an exciting musical program entitled "The Jazz in Armenia Project." The program included a jazz master class June 14-25 led by Donelian at the State Conservatory in Yerevan, the capital of Armenia, a solo piano recital by Donelian, and several other activities.
"Twenty five avid jazz instrumentalists and vocalists attended the workshop, with visiting duduk and kimache (folk instrument) players raising the class size at one point to 40," said Donelian. The workshop, several of whose members are pictured here, concluded with a concert at the Conservatory featuring the students as well as several local jazz professionals.
Donelian also presented a solo piano concert at the Yerevan Chamber Music Hall and led a group of two students and four of the Yerevan jazz pros for a workshop and performance at the High School for Music in Vanadzor. In addition, he performed outdoors at the Kinderdorf Orphanage in the town of Abovyan in celebration of its 50th anniversary.
"I had an anthropological impulse in mind," said Donelian, a recipient of six Jazz Performance Fellowships from the National Endowment for the Arts. "The thought of bringing new music to new students and audiences always intrigues me, especially when American jazz and Armenian people are involved."
"During the month he spent here, Armen became an important part of the cultural life of Armenia," said Nika Babaian of N.A.B. Artists Management, a prominent concert promoter whose roster includes many of Armenia's top classical artists, composers, chamber and early music ensembles, and the Armenian National Opera and Ballet Theatre. "We greatly appreciate his activities and would be happy to host him again and again in our country."
Vanakh and Hasmig Hovnanian of the Hovnanian Armenian School in New Milford, N.J. provided initial funding for the Project, supplemented by a grant from Artslink CEC International Partners. Denelian, who can be contacted at donelian@ibm.net, is seeking ongoing financial assistance to make The Jazz in Armenia Project a regular occurrence.