FEATURE
George Starke '71: From Head Hog to School Builder
By Jonathan Lemire '01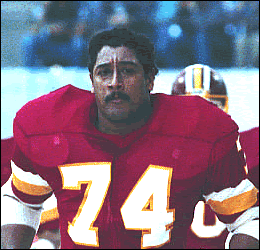 "Head Hog" George Starke '71 leads Washington Redskins teammates onto the field.
(PHOTO: WASHINGTON REDSKINS)


Collegiate football and basketball star. Offensive lineman in the National Football League. "Head Hog." Super Bowl champion. Network TV commentator. Restaurateur. Car dealer. School builder. Role model.
To say that George Starke '71 has led an interesting and varied life would be, to put it mildly, a gross understatement. Returning to campus last fall to speak with students at an Alumni Partnership Program event, he spoke of the need for students to balance enjoying their college days with preparing for a productive future.
"Enjoy your four years, but be sure to learn a skill which will let you accomplish something out there in this world," he said.
Or, as in Starke's case, many things. An accomplished athlete and businessman as well as the founder of a program to help troubled youths, Starke credits the College in preparing him to lead a successful and diverse life.
"They made you work real hard," he said, "but it was worth it. My time here was a very positive experience, and I like to give something back to the school when I can."
Born and raised in suburban New Rochelle, N.Y., Starke turned down a number of scholarship offers from schools with major football programs to attend Columbia. "I wanted to go to a place where academics came first," he said. "My mind was my most important asset, and I wanted to develop that as much as possible. I've never had any regrets about my decision."
Describing it as "an interesting time, to say the least" to be at Columbia, Starke recalled the 1968 student demonstrations and the community-building efforts of the small number of black students on campus. He also stressed that he focused equally on academics and athletics while on the Heights.
"I took every course I could find," he reminisced with a chuckle, "and they eventually had to kick me out."
Starke's claim to fame as a Lion, however, was on the football field and basketball court.
Although he went on to play on the offensive line in the NFL, Starke was utilized primarily as a tight end while at Columbia. At 6-5 and 235 pounds, he made an inviting target in Columbia's passing game and he led the team in receptions in 1969. His teams never won more than three games in any season, however, and suffered two of the worst losses in school history, a 51-0 drubbing against Harvard in 1969 and a 55-0 debacle against Dartmouth in 1970.
Victories came much more frequently to his basketball squads. Starke would join coach Jack Rohan's basketball team as soon as football season ended and step in as the starting center on a front line that included All-American Jim McMillian '70. Although opposing centers often towered over him, Starke used his strength and athleticism to help Columbia to 20 wins apiece in his junior and senior years, when the Lions battled Penn and Princeton for Ivy supremacy. At one point in the 1968-69 season, after a 74-70 win over Purdue in the 1968 Rainbow Classic in Honolulu, Columbia's basketball team was ranked second in the nation, behind only the legendary Lew Alcindor-led UCLA Bruins.
Football, though, would be Starke's professional future. An 11th round draft pick of the Washington Redskins in 1971, Starke spent time on the taxi squads of the Dallas Cowboys and Kansas City Chiefs before winding up with the Redskins, where he was a starting offensive tackle for nine seasons. The team's outstanding offensive line became known as "the Hogs" during a sweltering summer training camp, when offensive line coach Joe Bugel said the tired, hot lineman looked like "a bunch of lazy hogs." Starke and the others, with little to do at the rural Pennsylvania campsite, quickly had T-shirts and hats printed with the moniker, and equally bored media members carried the message back to the D.C. area.
Before long, the line became the most dominant unit in the league, sending John Riggins to the Pro Bowl and prompting hundreds of grown men to dress up in skirts and hog noses for Redskin home games. While Starke, dubbed the "Head Hog" because of his seniority and leadership, was pleased with his individual accomplishments and the fame of his unit, he was never totally satisfied with his career until the Redskins got a chance to compete for the championship. That chance came in Super Bowl XVII in 1983, and Washington captured the crown with a 27-17 win over the Miami Dolphins.
"It is an amazing feeling to be on top," Starke said. "We were the best in the world at what we did, and nothing could ever top that. It made everything else I did in my career seem less significant."
What Starke has done since retiring from football in 1984 has hardly been trivial. Almost immediately after hanging up his cleats, he began to broadcast football games for CBS, and moved on to a number of other networks before settling in as color commentator on the local Redskins radio network.
In addition to his announcing duties, Starke opened the Head Hog BBQ Restaurant in suburban Maryland and also ran a car dealership, George Starke's Ford. He eventually sold the dealership, but his involvement in the auto world continued.
In 1998, Starke founded the Excel Institute Automotive Program, which combines academic programs geared toward helping students pass the high school equivalency exam with lessons in auto mechanics.
"There is a worldwide shortage of mechanics, especially inside the Beltway," said Starke. "We're going to create the best there are."
There is much more to the plan than just an attempt to fill a need for trained mechanics, however. With support from the D.C. Superior Courts, Starke has created a school whose primary mission is to turn at-risk teenagers away from crime, drugs and other horrors of the street.
"I consider myself a school builder now," he said. "There are a lot of troubled kids in our cities, and while almost everyone assumes they are all illiterate, orphaned and doomed, there is a percentage of kids who want out and who want to live.
"I built the school for those kids."
Funded primarily through grants and donations, the Excel Institute hopes to expand to include over 50 students within a year. The early results have been promising, with most students eager for the chance to improve their chances of obtaining legitimate employment, and the school's founder is already busy setting lofty goals for the future.
"We're going to build a car next summer," Starke said. "Then we're going to drive it down Pennsylvania Avenue on July 4."
About the Author:
Jonathan Lemire '01 is a long-time Washington Redskins fan who pines for the Super Bowl success enjoyed in the era of the Hogs.