LETTERS TO THE EDITOR
Lerner Hall? Like, Cool!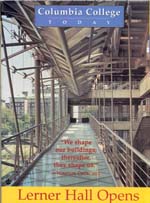 Columbia's cool student center


Is there no heating system in Lerner Hall? Or is it that despite the Core Curriculum, Columbia College students speak only like jargon?

Of the 16 students interviewed for their reactions to Lerner Hall, four of them, or 25%, thought it was "cool." One of them thought that the café is "cool" and the meeting space is "cool." She is in the Class of '03, and was only in the first month of her freshman year when interviewed. Perhaps there is still some hope.

Or perhaps it is my education that is antiquated. If so, I look forward to seeing Lerner Hall when I am like on the campus for my like 60th Class Reunion. That would be like cool.

Justin N. Feldman '40, '42L
NEW YORK CITY

Favorite Professors

Responding to your request for reminiscences of favorite professors, I submit the transcript of an excerpt from a 1954 NBC Radio program. Clifton Fadiman '25 had a weekly half-hour show entitled Conversation, each week with a different topic and list of guests. The transcript tells the rest.

"The Minor Pleasures of Life,"
Sunday, August 8, 1954

Participants: Clifton Fadiman '25, Bennett Cerf '20, Bergen Evans, Jacques Barzun '27

Cerf: You know, I think every one of us could remember one teacher - this would be a real pleasure in life - one teacher who influenced our lives in a major way.

Fadiman: Who was yours?

Cerf: Well, I would say that mine was a teacher up at Columbia named Harrison Steeves [Class of 1903]. Do you remember him, Kip?

Fadiman: Very well indeed.

Cerf: He taught freshman English, and it was because of his enthusiasm for good books that I stopped reading sports magazines and trash and juveniles. I'll never forget Steeves.

Fadiman: I'll never forget Steeves. And this is a tribute to the kind of influence people like Bergen and Jacques have on youngsters. I learned one thing from Steeves I think, and not a fact, not a theory; I learned merely that an English sentence could be both complicated and clear. He spoke always with the elegance and perspicuity of sentences, let us say, by Henry James. When he was halfway through a sentence you felt sure he would never come out alive at the other end, but always he did it with no dangling participles, and every word in its proper place. From that moment on I began to see what a wonderful thing a sentence could be, and how much you could do with it, and how worthwhile it was to try to begin it properly and end it properly.

Professor Harrison Ross Steeves was my uncle. After retiring in 1948 as head of the Columbia College English Department, he moved first to Windsor, Vt., and then to Providence, R.I. Active as a writer and teacher nearly to the end, he died in 1981 at age 100. He always claimed he remembered every one of his students in his 45-year career at Columbia.

John Steeves '48
SAVANNAH, G.A.

In my time, Columbia provided me with a dazzling lineup of professors and instructors including Carlton Hayes [Class of 1904], just returned from being U.S. ambassador to Franco's Spain (history), Irwin Edman '16, friend of philosopher Santayana (philosophy), and Lionel Trilling '25, who, with his wife Diana, became internationally famous essayists/critics. But best of all in my opinion (arrived at after the event) was Mark Van Doren. He taught a course on English plays held at the ungodly hour of either 8:00 a.m. or 9:00 a.m. Whichever it was, it was too early for those of us who had been in bull sessions until after midnight. (In cold weather, half of us would show up with our pajama bottoms visible below our trousers.)

We met in a small room with only three rows of seats. There were about 20 students but most had a high degree of talent. One was my friend Ralph Gleason '38. When Ralph and I would put the Spectator into the hands of the printer across the George Washington Bridge in New Jersey, we wouldn't get back to the campus until between 3:00 a.m. and 4:00 a.m., at which point Ralph would elect to spend the rest of the night on the couch in my dorm room rather than go home to Far Rockaway. Ralph later co-founded the magazine Rolling Stone, and as San Francisco Chronicle writer and PBS West Coast jazz authority introduced the entire nation to the emerging stars of San Francisco jazz that he was discovering on Mission Street.

Another classmate was Thomas Merton '38, later to become a best-selling author (Seven Storey Mountain) and a world-respected religious spokesman. Tom and I shared the opinion that Alfred Hitchcock was a genius. Who else would present a frozen leg of mutton as a murder weapon, then thaw it, roast it and feed it to the investigating police? Tom and I paired up to see each new Hitchcock film so we could compare notes.

For me, the high point of Mark Van Doren's course was his discussion of Romeo and Juliet. I arrived expecting a talk on family rivalries or the tragedy caused by raging hormones in teenagers. Instead, Professor Van Doren spent the entire 50 minutes discussing one minor character, Juliet's nurse. I was stunned. He not only had us fascinated by the unexpected, but succeeded in teaching us how rewarding even the minor characters in Shakespeare could be.

A few weeks later we were assigned a play called The Merchant of Venice. Professor Van Doren asked if we had liked it. I was insufferably cocky on this occasion. I was writing for Spectator and Jester and the previous year Lionel Trilling had given me an A for my essay on The Canterbury Tales. I ignored the fact that I had not read nor even opened The Merchant of Venice. After all, it was on the list between The Tempest and School for Scandal, so it must be good. I launched into a series of generalities that I hoped would hide my ignorance. Professor Van Doren let me down gently but firmly.

It turned out that the play's claim to fame was that it was the first play whose main characters were middle-class rather than the usual nobility. I was covered with shame.

But he gave me a good grade, anyway. There is no doubt in my mind that Mark Van Doren was the instructor who enriched my life the most.

Russ Zeininger '38
LOS ANGELES

As an alumnus of the College and Law School I can confirm what was noted in "Letters" and attest to the outstanding quality of the professors and instructors at Columbia. In response to your note asking for a reminiscence, let me repeat an experience I can vividly remember some 50-plus years later.

In my "Trusts and Estates" course I was called upon to respond to a question from Professor Powell. After listening to my recitation, Professor Powell, without any reference and without a moment's hesitation, noted, "So you disagree with what I wrote on page 187, line 18?" Needless to say, I was struck dumb!

Arthur Joseph '40, '46L
MONROE TWP., N.J.

From the Poet of Patmos

How thoughtful of you to have sent me copies of Columbia College Today. And how good of you to devote so many pages to my work. I have had cheers and congratulations on it from all parts of the world. And more visitors knock at the door than I know how to handle! More letters too than I have been able to answer which may explain why this is so late. Thank you again.

Peace, joy & the warmest of good wishes.

Robert Lax '38
PATMOS, GREECE

Stamp of Approval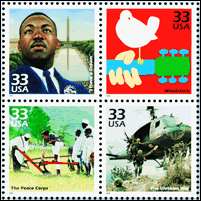 Sha Na Na was formed at Columbia and played at Woodstock. The festival was honored with the stamp at upper right


The November '99 CCT noted that - in a single year - the U.S. Postal Service had issued stamps celebrating no less than four Columbia College alumni for contributions to American entertainment (Cagney, Rodgers, Hart, Hammerstein). Amazingly, you're selling Columbia short. In 1999, the USPS issued a stamp honoring the 1969 Woodstock Festival. As every schoolboy knows, Sha Na Na, who a few months earlier had been the Columbia Kingsmen, Columbia's a capella vocal group, played Woodstock, and was selected for the Oscar-winning Woodstock movie.
So Columbia entertainers were part of five American stamps in 1999. The Woodstock stamp was chosen, by popular vote of the American postal customers, to appear on the Celebrate the Century Series as one of 15 stamps summing up the 1960s. It's right next to Martin Luther King and above the Vietnamese War. And Columbia was part of that.
Sha Na Na went on to become a standard Fillmore group (Santana started as our opening act, and Bill Graham picked us for the "Last Concert From Fillmore East"), launched the 1950s revival, had a gold album, recorded half the eight times platinum Grease album, and for five years was one of the top syndicated TV shows worldwide. A detailed 1989 CCT article on the group is posted at www.georgeleonard.com.
George Leonard '67 '68 M.A. '72 Ph.D.
REDWOOD CITY, CALIF.
Robert Leonard, '70C '73 M.A. '73 M.Phil. '82 Ph.D.
ROCKVILLE CENTRE, N.Y.
Editor's note: George Leonard, founder and choreographer of Sha Na Na, is a novelist who works with Imagine Entertainment/Universal Pictures Hollywood. Rob Leonard, now a professor of linguistics at Hofstra University, was among the original group members, perhaps best remembered for his spoken solo on "Little Darlin'." On a personal note, in the late '60s and early '70s, my office at Spectator was on the third floor of Ferris Booth, down the hall from the rehearsal room where Sha Na Na took shape, and their unique sound made those night hours that much more enjoyable.
The Correct Answer Is.
The answers to the Homecoming Trivia Quiz in the November 1999 issue give Augustus Saint-Gaudens as the sculptor of Alma Mater. The sculptor, as any College tour guide can tell you, was in fact Daniel Chester French.
Adam Sokol '01
NEW YORK CITY
Editor's Note: Tom Ferguson '74 also pointed out this error, and suggested there may be more than two New York City parks named for College alumni. In addition to Tompkins Square Park and Seth Low Park, city parks also have been named for DeWitt Clinton (Class of 1786) and Joyce Kilmer (Class of 1908).
String Theory, the Fates, etc.

Concerning the Fates and String Theory, rather wasn't it that the spirit of the winds blew across the face of the Strings: Melodious Sound. (Was it a Trilling event?)
Byron Noone '66
GARDEN CITY SOUTH, N.Y.

So Who Owns Columbia?
The November 1999 Columbia Forum "Who Owns Columbia Anyway?" by James Mirollo noted that in 1978, Dr. John F. Godfrey, president of King's College in Halifax, Canada, led an attempt to recoup the assets remaining from King's College in New York. Your readers might like to know that Dr. Godfrey is safely no longer in academics, having entered politics. He now sits in the House of Commons as the member for Don Valley West, where I reside.
Of course, Godfrey has been a notable legislator, and his accomplishments in the areas of innovation are very significant. Fortunately, he also continued to pursue his earlier interests, showing that he was not at all frustrated by the experience with Columbia. Bill C-339, the Godfrey-Millken Bill, was introduced in response to the Helms-Burton Act in the United States (seizing the property of those who conduct certain business in Cuba): "An Act to permit descendants of United Empire Loyalists who fled the land that later became the United States of America after the 1776 American Revolution to establish a claim to the property they or their ancestors owned in the United States that was confiscated without compensation, and claim compensation for it in the Canadian courts, and to exclude from Canada any foreign person trafficking in such property."
More details are available at www.johngodfrey.on.ca. The Bill has not yet been passed but he has my full support, as he did in his previous attempt to correct the injustice noted by Professor Mirollo.
Ronald Kluger '65
TORONTO