OBITUARIES
Class of 1922
Nathaniel H. Schwartz, retired physician, Laurel, Fla., December 1998. Schwartz, who received his medical degree from N.Y.U., had an internal medicine practice in Port Chester, N.Y. for many years.
Class of 1928
George Strenger, retired surgeon, Laguna Niguel, Calif., on October 6, 1999. A Brooklyn native, Strenger received his medical degree from P&S and began a private medical practice in New York in 1931. He served on the staffs of Coney Island Hospital and the Brooklyn Jewish Hospital. He was one of the first diplomates of the American Board of Surgery and among the youngest members of the College of Surgeons when he was made a member of that organization in the 1930s. During World War II, he served with the Army Air Corps medical corps, heading the first flying field hospital (the predecessor to M.A.S.H. units) based in England. After the war, in addition to his private practice, he served as the chief of surgical services for the Veterans Administration health system in the tri-state region. An accomplished violinist, Strenger performed frequently in orchestras and string quartets. Survivors include sons Philip '58, '61 Law, and Laurence '65.
Class of 1933
Thomas D. Neier, retired army officer, Carlisle, Pa., in 1999. Colonel Neier, who was a student at the College from 1929 to 1932, received a bachelor's from the United States Military Academy in 1937 and a master's in international affairs from the George Washington University in 1965. Commissioned as a first lieutenant in 1937, Neier advanced through the ranks to become a colonel in 1951. He served with the Army Air Defense Command office and with the Army Material Command in Washington, D.C. For his military service, he was decorated with the Legion of Merit with oak leaf cluster.
Class of 1934
Belmont Corn, Jr., retired advertising executive, Boca Raton, Fla., on September 3, 1999. The son of Belmont Corn, Sr. (Class of 1906), "Bud" Corn graduated with honors in history. He was stage manager for the Morningside Players and technical director of the Varsity Show, for which he designed sets. In 1935, Corn decided to put his flair for scenic set design to work and founded Displayers Inc., which produced exhibits for the New York World's Fair and many other displays in North America and Europe. A long-time resident of New York City and Scarsdale, N.Y., Corn retired to Boca Raton in the 1980s.
Class of 1935
Nelson Weimer Fry, retired physician, Millbrook, N.Y., on November 20, 1999. Fry, who attended the Long Island College of Medicine, had his own medical practice in Roslyn Heights, N.Y. from 1945 to 1983.
Class of 1937
Frederick J. Mackenthun, actor and retired accountant, New York, on September 12, 1998. A native of Mount Vernon, N.Y., Mackenthun served with the army in France during World War II, winning the Bronze Star. After the war, he worked for many years as an accountant in the tax department of American Brands. In addition, Mackenthun had extensive experience as an actor, director, stage manager and crewmember in community theater and summer stock companies from the late 1930s to the early 1970s. He worked with New York theater groups in Mount Vernon, Westchester, Mamaroneck, Flushing, and New York City, playing more than 40 roles and working on more than 25 summer stock productions. He became a member of New York's Amateur Comedy Club in 1976, acting in 10 productions of the company and serving as stage manager or production manager of others. He also served as the group's assistant treasurer, helping manage day-to-day operations throughout the late 1970s and early 1980s.
Class of 1939
Arthur W. Ludwig, physician, New York, on June 4, 1999. Ludwig received his medical degree from the N.Y.U. School of Medicine and joined the Department of Medicine of the Mount Sinai School of Medicine and Mount Sinai Hospital as an intern. Except for service with the U.S. Navy during World War II, he spent his entire professional career at the school. After the war, he became an assistant resident and then took a fellowship in pathology. In his early years at Mount Sinai, he was an integral part of the Endocrine Division, active both in clinical endocrinology and research on the effects of hormones on connective tissue. Beloved by his patients, Ludwig distinguished himself as both a doctor and teacher during his nearly 50-year relationship with Mount Sinai, specializing in internal medicine and endocrinology.
James B. Welles, retired attorney, Chappaqua, N.Y. on August 28, 1999. Welles, who received his law degree from Columbia in 1942, became an associate with the New York firm of Mitchell, Capron, Marsh, Angulo & Cooney in 1946 and a partner 10 years later. In 1960, he joined the firm of DeBevoise, Plimpton, Lyons & Gates (later called DeBevoise & Plimpton), from which he was retired. He was a member of Phi Delta Phi. Active in community affairs in Chappaqua, N.Y., Welles served on the board of the Chappaqua Library and was a member of the New Castle Historical Society, where he served on the Horace Greeley House Campaign. His service to his alma mater included membership on the Columbia College Council (1951-55), membership on the board of the Columbia College Fund (1962-65), and many years of participation in the John Jay Associates Program as a sponsor or benefactor.
Class of 1940
Adrian C. Dorenfeld, retired mining engineer, Minneapolis, on August 27, 1999. Dorenfeld attended the College (1936-38), then transferred to the Engineering School from which he received his BS in 1940 and Engineer of Mines degree in 1941. During the 1940s he worked in the copper, tungsten and lead-zinc mines in the western U.S., eventually rising to operations foreman of a large lead-zinc floatation mill in Bisbee, Ariz. In the early 1950s he joined the School of Mines faculty at the University of Alabama, where he designed courses in mineral dressing and published several papers on the applications of statistical methods to the mineral industries. In the mid-1950s, Dorenfeld returned to industry as a senior engineer for C. F. Braun & Co. in California, where he helped establish the company's mining and metallurgy department. His work also involved the design and construction of mines and mills, mainly copper and uranium. Later, he became a manager and partner of a small California mining company, where he was responsible for prospecting, development and operation of fluorspar, manganese and uranium mines in the central and western United States. From 1960 until his retirement in 1982, Dorenfeld was a faculty member of the Department of Civil and Mineral Engineering of the University of Minnesota in Minneapolis, where he taught, published regularly and worked as an industry consultant. In the 1960s he helped design and start operations for the Israel Mining Company (Timnah Copper Mines), and once took a leave of absence from the university to develop a copper mine and mill in Mexico. Dorenfeld had a life-long interest in Latin America, and much of his research at the University of Minnesota was directed at solving mining problems encountered in Latin American countries. He was also a devoted teacher and was instrumental in bringing many students to the university. He was preceeded in death by his son Marc '72; survivors include a son, David '67, and grandson, Michael '99.
William T. Hardaker, retired naval officer, Washington, D.C., on October 25, 1998. Captain Hardaker was a student at the College from 1936 to 1939, when he enrolled in the U.S. Naval Flight School. He also studied at the U.S. Naval School, Rutgers University and the National War College, and eventually received a bachelor's degree from the George Washington University in 1965. Commissioned as an ensign in 1939, he rose through the ranks, becoming a captain in 1958. In the early 1960s, he served as the assistant chief for the European Division for Plans and Policy Joint Staff of the Joint Chiefs of Staff in Washington. Later, he became chief of the defense coordination staff at the Federal Aviation Administration and commanding officer at the U.S. Naval Air Station in Quonset, R.I. After retiring from the navy, Hardaker became an assistant vice president for air navigation and traffic control at the Air Transport Association of America in Washington, D.C., from which he was retired.
John W. Hyatt, dentist, Short Hills, N.J., on August 10, 1999. Hyatt, who received his dental training at the School of Dentistry, had a private practice for many years in Short Hills.
Class of 1941
Edward A. Bernholz, retired businessman and sports video pioneer, Houston, on February 27, 1999. Bernholz was born in New York, and graduated from the College with a degree in business administration. He served as a Naval aviator during World War II. After the war, Bernholz worked for Service Brokerage Co., a candy and food brokerage business, for 30 years, retiring as vice president in 1982. Afterwards, Bernholz embarked on a second career, becoming the first film coach in the National Basketball Association. Known by many as "Coach Ed," he joined the Houston Rockets franchise in 1983, where he pioneered the use of videotape, and his death ended his 16th season as the Rockets' videotape coordinator.
Class of 1942
Edward A. Chadwell, retired businessman, Sarasota, Fla., on November 13, 1999. Chadwell was the owner of Del's Camera and Art, Del's Village, in Boonton, N.J., for many years.
J. Robert Cherneff, retired public relations executive, Ashley Falls, Mass., on October 1, 1999. A Brooklyn native, Cherneff helped run the family-owned Field and Stream Club, later Camp Deerfield, in Wilmington, Vt., in the 1930s and 1940s. He served in the U.S. Navy during World War II, then worked in the University's Public Information Office as director of sports publicity and was a correspondent for The New York Times and Associated Press. In 1950, he joined Steve Hannagan Associates in New York. In 1956, he joined Hill & Knowlton, Inc. as an account executive; in 1960 he became an executive vice president. In the 1990s, Cherneff retired and moved to Massachusetts, where he ran Ashley Falls Antiques with his wife, Jeanne. He served on the Mount Vernon, N.Y. School Board from 1961-66. His service to his alma mater included membership on the alumni advisory board of Columbia College Today in the early 1960s. Survivors include a son, Peter '68.
Almeric L. Christian, retired judge, St. Thomas, V.I., on September 1, 1999. A native of St. Croix in the U.S. Virgin Islands, Christian received his law degree in 1947 from Columbia. He had a private practice in the Virgin Islands until 1963, when he was appointed U.S. attorney for the St. Thomas district. He later became chief judge of the U.S. District Court of the Virgin Islands, from which he retired in the early 1990s.
Class of 1946
Anthony Amendola, retired advertising executive, Rancho Mirage, Calif., in August 1999. After graduation, Amendola worked in advertising and sales positions for the Birmingham News, Anheuser-Busch and Esquire. In 1956, he became a regional account executive for D'Arcy Advertising Co in St. Louis. He played a major role at the company, later known as D'Arcy, MacManus and Masius Advertising, where he was closely identified with the Anheuser-Busch account, serving as an account executive, regional marketing supervisor, and national marketing supervisor. Amendola later joined the Pabst Brewing Company as CEO and then joined Schlitz Brewing as a vice president, from which he was retired.
Class of 1947
John G. Bonomi, attorney, Irvington, N.Y., on November 6, 1999. A Brooklyn native, "Jack" Bonomi garnered public attention for his investigations of professional boxing and later for his successful pursuit of the disbarment of President Richard Nixon. He earned his law degree from Cornell and a master's in law from N.Y.U.; during World War II, he served in the Army Air Corps. As an assistant district attorney in Manhattan from 1953 to 1960, Bonomi investigated the influence of organized crime in professional boxing. His investigations put the spotlight on mobster Frankie Carbo, described by many as the "underworld commissioner" of the sport, who was eventually convicted of managing boxers without a license and sentenced to three years in prison. Bonomi, who was a former collegiate boxer, also targeted James D. Norris, the wealthy president of the International Boxing Club, forcing Norris to step down as president and the club to dissolve. In 1960, Estes Kefauver, the Democratic senator from Tennessee, appointed Bonomi special council to the Senate's Subcommittee for Antitrust and Monopoly when it held hearings on professional boxing. In the hearings' most dramatic testimony, former middleweight champion Jake La Motta admitted taking a dive in a 1947 bout at Madison Square Garden against then-undefeated Billy Fox. From 1961 to 1962, Bonomi worked as a special assistant attorney general in New York, investigating racist and anti-Semitic literature distributed during the just-finished mayoral campaign. From 1963 to 1976, Bonomi was the chief counsel for grievances for New York City's bar association. In that capacity, he began an investigation of former President Nixon in 1974 on issues relating to the Watergate scandal and Nixon's interference in the legal defense of Daniel Ellsberg (then on trial on charges connected to the publication of the so-called Pentagon Papers) that led directly to Nixon's disbarment. In California, Nixon had been allowed to give up voluntarily his license to practice law. The New York bar, however, would not permit Nixon to give up his license voluntarily unless he admitted, as state law requires, that he could not successfully defend himself against the charges Bonomi had brought, which included five counts of obstruction of "the due administration of justice." In 1977, Bonomi became a visiting scholar at the Harvard Law School, specializing in professional conduct. From 1977 to 1996, he was in private practice, often defending lawyers and judges accused of professional misconduct. Bonomi served as a member of the committee for grievances and admissions for the U.S. Court of Appeals for the Second Circuit, taught at Fordham Law School, and was a columnist for The New York Law Journal. He also served as a trustee of the village of Tarrytown, N.Y., a councilman and deputy supervisor of the town of Greenburgh, N.Y., and as special counsel to the village of Irvington, N.Y. His service to the College included membership in the John Jay Associates program. Survivors include a son, John '83.
Gerard L. McCoy, Venice, Fla., on September 9, 1999.
Class of 1948
Robert L. Mills, theoretical physicist, Columbus, Ohio, on October 27, 1999. Mills was widely respected for his contributions to quantum physics, notably the Yang-Mills theory, which is credited with allowing major advances in the understanding of subatomic particles. Mills was born in Englewood, N.J., the son of Dorothy C. Mills and Frederick C. Mills, a longtime professor in Columbia's economics department. Robert Mills graduated from the George School in Bucks County, Pa., and served in the merchant marines until 1947. During leaves and until his discharge, Mills took courses at the College, and he graduated with special honors in mathematics and physics. The College awarded him the Euretta J. Kellett Scholarship, which sent him to study at Clare College, Cambridge, where he took First Class Honors in part II of the mathematics tripos in 1949. He received a bachelor's degree in 1950 and a master's in 1954 from Cambridge. He returned to Columbia, earning his doctorate under Norman M. Kroll in 1955. From 1953 to 1955 he was a research associate at Brookhaven National Laboratory. He was a member of the Institute for Advanced Study at Princeton from 1955 to 1956, when he joined the Department of Physics at Ohio State University, where he remained for 39 years. Although he conducted much of his research in relative anonymity, while a 27-year-old researcher at Brookhaven, he co-authored with Chen Ning Yang, a physicist at the Institute for Advanced Study, a seminal article on gauge-field theory, now known as the Yang-Mills theory. This was, Mills later explained, "a theory of forces between nuclear particles analogous to the electromagnetic theory of forces between electrically charged particles." It extended Einstein's idea that "the fundamental symmetries of nature could actually dictate the character of the force fields of nature." The Yang-Mills theory, according to The Scientist, provided "the foundation for current understanding of how subatomic particles interact, a contribution which has restructured modern physics and mathematics." In 1981, Yang and Mills shared the Rumford Premium of the American Academy of Arts and Sciences for the theory. Mills wrote two books, Propagators for Many-Particle Systems (1969) and Space, Time and Quantra (1994). At Ohio State, he received the Rosalene Sedgewick Faculty Service Award for outstanding contributions to undergraduates and (with his wife, Elise) the 1991 International Community Service Award; he also served as vice chair for undergraduate studies from 1992 until his retirement. He had been a visiting professor, scholar or scientist at the University of Birmingham, England; CERN in Geneva; the University of Bristol, England; and Williams College. He was a member of the American Physical Society, the American Physical Society Forum on Physics and Society, the American Association of University Professors, and the Federation of American Scientists. After retirement in 1995, Mills taught as a Fulbright scholar at St. Patrick's College near Dublin.
Edward E. Seelye, psychiatrist, Cleverdale, N.Y., on July 3, 1999. Seelye, who received his medical degree from Albany Medical College in 1955, was a diplomate of the American Board of Psychiatry and Neurology. Since 1959, he worked at the Westchester Division of the Department of Psychiatry of the Weill Medical College of Cornell University, New York Presbyterian Hospital, where he had been chief of the women's division.
Class of 1950
Budd Appleton, retired army surgeon, St. Paul, Minn., on August 29, 1999. Appleton, who was commissioned by the army as a first lieutenant in 1954, the same year he received his medical degree from the New York Medical College, was a career army surgeon. He advanced through the ranks, becoming a colonel in 1966. He was a research ophthalmologist at Walter Reed Hospital, where he performed surgery on Dwight D. Eisenhower and King Hussein of Jordan. After retiring from the military, Appleton became chief of the department of ophthalmology at the University of Minnesota Health Services in Minneapolis. He later served as a physician at the Healthcare for the Homeless Project's eye-care clinic in St. Paul. A diplomate of the National Board of Medical Examiners, he had been a member of numerous professional societies, including the American Board of Ophthalmology and the Society of Military Ophthalmologists.
Class of 1952
William L. Blackwell, Jr., retired professor, Brooklyn, N.Y., on June 15, 1999. Blackwell had a master's degree from N.Y.U. and master's and doctorate degrees from Princeton. Blackwell, a professor emeritus of Russian history at N.Y.U., was the author of The Beginnings of Russian Industrialization (1968) and The Industrialization of Russia: An Historical Perspective (1979) and edited Russian Economic Development from Peter the Great to Stalin (1974).
Class of 1953
Paul Plein II, retired government official, Annandale, Va., on June 25, 1999. Plein had been a deputy associate commissioner of Federal Prisons Industries, where he had also been secretary of the board. Previously he had worked in the Department of the Navy, NASA and the Office of Economic Opportunity.
Class of 1959
Michael L. Allen, attorney and political activist, Newark, N.J., on October 30, 1999. A graduate of Harvard Law School in 1962, Allen became an associate at Clapp & Eisenberg and Hellring, Lindeman & Landau, and a partner at Simon & Allen, all located in Newark, N.J. At the time of his death, Allen was a partner specializing in corporate law at the Newark firm of Saiber, Schlesinger, Satz, and Goldstein. Always interested in government and politics, Allen was a member and former board member of the Council for a Livable World, an organization formed in 1962 (primarily by the scientists who had worked on the original atomic bomb) to encourage the disarmament and limiting of weapons of war. His colleagues described Allen as a champion of the common sense approach to problem solving. "In an organization dominated by scientists and academics, Allen was exceptional in that he was from the real world," said Jerome Grossman, chairman of the Council. "He...brought a worldly sense and attitude - a practicality that academics and scientists didn't have and thus will most especially be missed." Allen served his alma mater through his participation in alumni organizations and events, especially in the late 1970s and early 1980s; he even offered a wine class at Columbia. Survivors include his wife, Beverly A. Allen, who worked for many years in the Law Library, a daughter, Nancy Allen Markhoff '87, and her husband, Michael Markhoff '87.
Rudolph Pegoraro, retired chemical engineer, Berwyn, Pa., on March 26, 1999. Pegoraro, who also received a degree from the Engineering School, worked in the petrochemical industry for 38 years. In the early 1960s, he worked at Humble Oil and Nopco Chemical (both in New Jersey), before joining Scientific Design in Bayonne, N.J., in 1964. While at Scientific Design, he worked on projects in Pakistan, Italy, Japan, Spain and China. In the early 1980s, he was manager of engineering at the Jacobs Engineering Group in Mountainside, N.J. From 1988 to 1998, he was a senior project manager for ARCO Chemical, based in Newton, Pa., for whom he managed a polyols project in Louveciennes, France and was involved in environmental clean-ups in the United States.
Class of 1981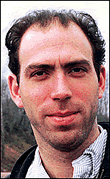 Craig McDonald '81
(PHOTO: REBECCA GARDEN)


Craig Anton McDonald, writer and teacher, New York, on September 25, 1999. Born in Detroit to an American father and a Mexican mother, McDonald grew up in Mexico City and in San Miguel d'Allende, a small village four hours to the north. At 17, he returned to the United States, completed high school in Minnesota, and moved to New York. He worked nights as a janitor at the New York Hilton, helped renovate a loft in the Garment District, and took courses at CUNY. In September 1977, he matriculated at the College, where he majored in Comparative Literature while also studying history and philosophy. Though he published only one short story in his lifetime, McDonald was at work on a cycle of stories about what he called an All-American-Mexican boyhood in Mexico City, as well as a novel that drew upon his distinct cultural background. Beginning in 1995, McDonald taught history and social studies at the Dwight School, a private secondary school on Manhattan's Upper West Side; the school has named its newly renovated history room in his honor. Previously he had taught at St. David's School on the Upper East Side and at the Instituto Allende in San Miguel d'Allende, Mexico, an internationally known arts school run by his aunt Barbara Doborganes. A natural storyteller, McDonald made an indelible impression on many of his classmates, who are seeking to establish a scholarship fund in his memory. The scholarship would support an aspiring writer from outside the United States who needs financial assistance to attend the College. For information, contact John Fousek at (212) 870-2391.