| | | | | | | |
| --- | --- | --- | --- | --- | --- | --- |
| | | || | | || | | |
BOOKSHELF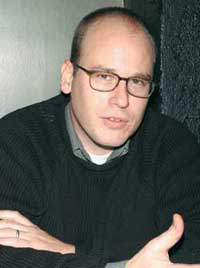 Benny Goodman, Thelonious Monk, Dave Brubeck, Ella Fitzgerald and John Coltrane. Not to mention Bessie Smith, Stan Kenton, Machito, Eric Dolphy and Cassandra Wilson. Whether you are a newcomer to jazz with a modest collection or a seasoned fan hoping to discover new music, one place to look is Ben Ratliff '90's new book, Jazz: A Critic's Guide to the 100 Most Important Recordings (Holt, $16), a guide to the best of this great American art form.
"I feel sad that jazz doesn't seem to have it within itself to keep up with the sensual experiences that big-money rock or hip-hop producers have generated in the past 10 years," writes Ratliff, 34, a jazz and pop music critic at The New York Times since 1996. "In the rest of popular music, records sound great now — so great that it's easy to be fooled by mediocre talent — whereas jazz records are still pretty much documentary affairs."
Part of The New York Times essential library of critics' guidebooks, Jazz lists and describes the medium's 100 most important recordings. Beginning with the Original Dixieland Jazz Band's work between 1917 and 1936, the exploration covers the rest of the 20th century and beyond to follow the new directions jazz is taking. Ratliff's outstanding knowledge of jazz provides this aficionado's list of the 100 greatest recorded works of jazz with insightful and assertive commentary.
"Jazz records have different significances today than they did in 1965 or 1940 or 1927," Ratliff observes. "[This explains why] a high percentage of the ones discussed here were made prior to the Nixon administration. Forty-three of them were made between 1950 and 1965."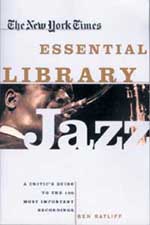 From the early recordings of Louis Armstrong, Ratliff leads the reader through the work of Duke Ellington, Charlie Parker's controversial string orchestra recordings, bebop and Miles Davis. The book also identifies less-glorified musicians who have made significant contributions, such as Chano Pozo, Jimmy Guiffre and Greg Osby. Ratliff offers historical and cultural context for each recording and explains its importance to the development of jazz.
These original essays add up to an authoritative and practical history of jazz emphasizing milestone events, legendary players, critical trends and artistic breakthroughs.
"For me, the transcendent experiences of jazz — the ones that make you feel weepy, or uprooted and a little sick, or so beguiled that you feel light for the next few days — are performances," Ratliff admits. "They don't happen often."
Jazz: A Critic's Guide to the 100 Most Important Recordings is published in paperback by Times Books Henry Holt and Co. For more information, visit www.nytimes.com/nytstore/books/arts/NSELBK.html.
L.B.
| | | | | | | |
| --- | --- | --- | --- | --- | --- | --- |
| | | || | | || | | |