| | | | | | | |
| --- | --- | --- | --- | --- | --- | --- |
| | | || | | || | | |
FEATURES
Javier Loya '91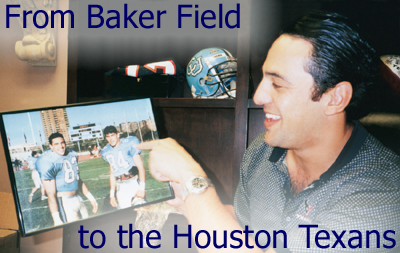 Javier Loya '91 points to his brother, Mario '92, in a photo of the Loyas taken at Baker Field in 1989.

By Elena Cabral '93
On October 10, 1988, in the fourth quarter of one of Columbia's most famous football games, the Lions were clinging to a 16–13 lead over Princeton. A five-year losing streak was begging to be broken, but the Tigers had the ball and were trying to come back. On a pass play, sophomore defensive end Javier Loya '91 found himself covering Princeton's tight end, Mark Rockefeller, a grandson of the Rockefeller dynasty and one of the Tigers' top receivers. Suddenly, Loya was getting beaten on the play and his man was breaking free, wide open.
Luckily, as Loya recalls the play, Princeton quarterback Jason Garrett overthrew Rockefeller, avoiding a touchdown that likely would have sent Columbia to its 45th straight loss.
"I kind of jogged back to the huddle and everybody was in disbelief, looking at me through their face masks thinking, 'What did you ... ? You almost screwed this up!'" Loya recalls. "I just walked back nonchalantly and was like, 'My bad, guys.' "
Loya can only imagine what his teammates were thinking. Or not thinking. "But the reality of the situation was, I was only a sophomore, I just didn't know better," Loya says. "I figured, you know, streak? Who cares about that? We are going to win some games. I didn't realize what the situation was."
But Columbia did hold on to win that afternoon at Baker Field, and Loya, as the Spectator reported the next day, contributed two sacks and eight tackles. The young athlete learned a lesson that stayed with him.
"When you have small victories, whether it's business, personal or home, you don't take things for granted," Loya says. "That may be what I learned from that game. Everything is a celebration. Everything's important."
Fourteen years later, Loya is sitting in Morton's Steakhouse in Houston, not in the dining room, but in the bar, where an elevated table has been specially set up near an overhead television set for an intimate group of friends and colleagues. They are sharing a meal and watching (what else?) football.

Loya's company reads like a Columbia football alumni roster. It includes his partner, John Klosek '94, as well as Mark Coady '94 and Sean Wright '88. Jim Kauderer '91 recently became Choice! Energy's CFO.

Just days away, when the National Football League would debut its newest franchise, the Houston Texans, Loya again would be watching. Only this time, he would not be watching on TV, but from the owners' box at the new Reliant Stadium. Loya is a minority owner of the NFL expansion team.
It's the latest milestone in a career that started in the commodities trading business when he was a senior at Columbia and has blossomed into a story of continued success in business and sports. Eight years ago, Loya helped start Choice! Energy. Today, at 33, he's the president and CEO. In September 2001, he was honored as Houston's Hispanic Male Entrepreneur of the Year, and his star keeps rising.
Loya grew up in El Paso, Texas, one of seven children born to Ana and Miguel Loya. His father worked in a clothing manufacturing plant and instilled in his children the value of a dollar and the importance of education. It was a family that was at once distinctly American and Latino.
Loya's wife, Lucinda, who matches her husband's warmth and entrepreneurial savvy — she runs her own interior design business — explains the family this way: "Everyone I knew had their diplomas on their walls in their offices," she says. "I was helping Javier fix up his office and I said, 'Where's your diploma? Let's get that framed and hung.' And he said, 'No, no, that's more important to my parents.' I didn't understand until I went there." Indeed, as Loya describes it, the walls in his family's El Paso home are a museum to higher education, including two diplomas from Columbia — Loya's and that of his brother, Mario '92.
"That's how I raised them," explains Miguel Loya, a proud man with sturdy features and a warm smile. "To understand what it is to earn something, what it is to work for money. It wasn't easy. They had to earn it, work for it — delivering newspapers, tending lawns. They also had to be prepared."
Loya, like many Latino sons, calls his father jefe, a word that means "boss" but in this family connotes much more. For it was the elder Loya who was his son's biggest influence, a man who never took the fast track but stayed on the high road, one who expected greatness but never forgot his roots. "He just knew if he grinded it out, if he did his job every day, he'd be able to provide for his family, and he was right," Loya said. "At the end of the day, we've all been successful." Miguel Loya slowly points to his heart with both hands and then stretches his arms outward in a telling gesture of infinite pride. "What I sowed, I'm getting back now," he says.
The patriarch is enjoying one of several family meals his son has arranged at local restaurants during the Texans' home opener weekend, sparing no expense. "He's been like that since he was little," says Loya's sister, Anna, a teacher. "His friends loved him and he gave the best to them, to his family. That's just Javier."
Sports was a year-round presence in the Loya household, particularly football, which helped take Loya's brother, Raul, to Rice University and another brother, Fernando, to the University of Nuevo Leon in Mexico. As a quarterback at W.H. Burges High School, Loya was recruited by military academies and offered a scholarship by Rice, but Columbia came calling, too.
Loya's oldest brother, Mike, earned an M.B.A. from Harvard. He founded Vitol, a successful energy company based in London. "I knew some of the opportunities that were afforded to Mike by going to an Ivy League school, so the Ivy League was always intriguing to me," Loya says.
As a first-year, Loya was one of few Mexican-American students at Columbia, a sharp change, but not one on which he dwells. "Because I grew up in El Paso, I never really had to deal with racism or my ethnicity, because I was the majority," Loya says. "At Columbia, I saw myself as a football player first, a student and a Hispanic athlete second. Being a football player was a true meritocracy in the sense that you were always judged on your athletic ability; it didn't matter if you were Hispanic or black or white."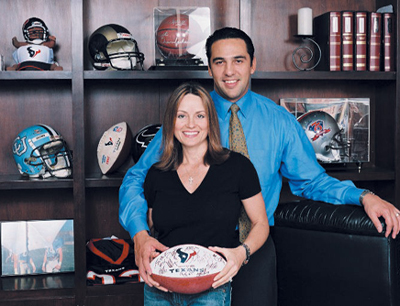 Loya and his wife, Lucinda, hold a football autographed by members of the Houston Texans, the NFL team of which he is part-owner.
PHOTO: Courtesy Javier Loya '91

A political science major, Loya's experience in Roger Hillsman's classroom broke other barriers. "Here was a professor who was instrumental in the Kennedy Administration, and he's talking like one of the guys and being forthright and open on how policy decisions are being made," Loya recalls. "It made me think: 'I'm at Columbia, where we can learn from real movers and shakers in the world, and on top of that, they are real people.' It made me realize these people were not much different from I."
Someone who noticed that Loya had something different to offer was Vin Galeoto, an oil broker and associate of Loya's brother Mike, who met Loya, then a senior, and his brother Mario, after a game.
Loya likes to say that his entry into the trading world began when Galeoto watched him get turned down by every woman at a bar. "He said, 'This guy is amazing,'" Loya recalls with a laugh. "'He can really handle rejection. He can be a broker.'"
Galeoto says it was more than the young man's threshold for pain that impressed him. "At a young age, to know that you keep trying and keep going at it and keep pushing ... not too many people are born with that kind of aggressive attitude," Galeoto says.
Loya visited Galeoto's Connecticut brokerage firm and was hooked. "There were a bunch of guys yelling on the phone, wearing jeans and T-shirts, and at 3 o'clock they jumped in their Ferraris and Porsches and took off to the beach," Loya recalls. "Vin asked me, 'Do you think you can do this?' And I said, 'Absolutely, I can do this.' Even though I had no idea what they were doing, I said, 'I can learn.' "
From Connecticut, where Loya continued to work after graduation, he returned to Texas with Galeoto to help start Choice! Energy as a minority partner. He was a millionaire by 26, and in 2000, Loya bought control of the company. With 44 brokers, the company counts Morgan Stanley Dean Witter and British Petroleum among its clients and recently launched a new service that helps such clients as Home Depot manage their energy costs.
Loya's company reads like a Columbia football alumni roster. It includes his partner, John Klosek '94, as well as Mark Coady '94 and Sean Wright '88. Jim Kauderer '91 recently became Choice! Energy's CFO.
"The essence of Javier is what brought us all down here," says Wright, a former wide receiver who was working for American Airlines when Loya lured him to Houston in 1997. "He's one of the most genuine people I've ever known," Wright continues. "One of the things that sold me on coming down here was that he could have gone anywhere to solicit talent but he was much more interested in doing this with people whom he knew — his friends — and enjoying it."
At Loya's office, which his wife likens to a guy's apartment, there are three massive tables with an impressive array of telephones, laptops and notebooks, a sprinkling here and there of bobblehead dolls, bottles of hot sauce and breakfast tacos.
Hovering over all this is an affable circle of traders, many wearing golf shirts and shorts, barking numbers into telephones and squawk boxes and tossing salty barbs between dispatches to brokers.
Trading, says Loya, is a lot like sports in that the players are judged by one score. "Whether you are working for a huge hedge fund, whether it's a small position, if you put the right position on, you either make money or lose money," Loya says. "For every winner there's a loser; it's a zero-sum game in a lot of ways. It's very exciting."
Loya found a way to connect his two passions, sports and business, when he spotted a newspaper article about Houston Texans owner Bob McNair's plan to involve minorities in his ownership group, thus mirroring Houston's growing diversity. The League of United Latin American Citizens had criticized McNair for a lack of women and Hispanics among his original investors, and McNair responded by asking LULAC for suggestions, saying he was open to adding to his partnership in a city that is more than one-third Latino. Loya wrote to McNair, applauding the entrepreneur for his efforts, expressing his interest in the ownership group and offering to recommend other candidates.
"At the time, I thought it might be fun just to go through the process, maybe get to meet McNair, and leave it like that," Loya says. He was called for an interview, which he considered as much a test of whether he wanted to be part of the organization as whether it wanted him. "I didn't want to be the Hispanic guy," Loya says. "They really wanted it to be the best franchise in the world. To do that, you need to have different owners and different viewpoints, different attitudes."
What was scheduled to be a 15-minute meeting turned into an hour-and-a half session, during which the two former athletes and energy entrepreneurs found much common ground. "I was so impressed with what his family had done. It's the great American story," McNair says.
In assembling an ownership group that reflects Houston's population, McNair had a simple goal in mind: give fans something to connect to, something to feel a part of. That effort includes sponsoring youth football leagues, a project for which Loya has been pivotal, McNair says.
Loya accepted the role, keenly aware of the significance and potential of the Latino market. "To have employees who are of Hispanic origin up to an owner is very important because, at the end of the day, for a community to embrace the team, it wants to feel included," Loya says.
On game day, a crowd of more than 69,000 swarms the colossal Reliant Stadium to see the new team take on the Dallas Cowboys. It had been six years since a professional team has played for Houston — the Oilers became the Tennessee Titans in 1996 — and the fans are jubilant. "Houston is back!'' announces one sign as ticket holders relish every moment of the pre-game hoopla.
At the tailgate party, Loya's friends and family enjoy a spread of Houston's famous Luther's barbecue and Texas-shaped brownies. Loya mingles with friends and clients until just before kickoff. Expectations are high, and from the start, the Texans don't disappoint. Just minutes into the game, the team scores a swift touchdown and the stadium erupts into a frenzy punctuated with the sound of thunder and fireworks below the retractable roof. Loya is beaming and quick to explain this burst of bravado.
"It's the Houstonian attitude," he shouts over the crowd. "We're aggressive, take fast starts, take chances, take risks, and whatever happens, happens."
What doesn't happen in this game is a comeback from Houston's rival. An NFL expansion team had not won its inaugural game since the Minnesota Vikings did so in 1961, but on this night, the Texans beat the Cowboys 19–10.
Surrounded by those he loves, Loya heeds the lesson he learned in the historic streak-breaker at Baker Field in 1988. This time, he won't take anything for granted.
"Elated, just elated," Loya says before disappearing into the crowd to join his parents, McNair and others for celebratory champagne. Around him, a steady roar rises louder and louder from the stadium, and pours out to the parking lot, reverberating long after the game is over.
Elena Cabral '93 is a writer who lives in Miami.
| | | | | | | |
| --- | --- | --- | --- | --- | --- | --- |
| | | || | | || | | |