| | | | | | | |
| --- | --- | --- | --- | --- | --- | --- |
| | | || | | || | | |
ALUMNI PROFILE
Catalytic Brings Rock 'n' Roll To the Southeast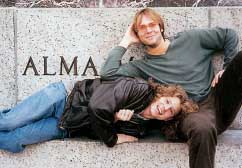 Tony Roach '97 and Jeff Gale '96 relax at the base of Alma Mater during a recent campus visit.
PHOTO: Patrick Whittle

Jeff Gale '96 and Tony Roach '97 say they get some strange looks when they tell people they moved from New York to Alabama to start a rock band. But the pair, who both play guitar and sing in the Birmingham-based band Catalytic, say they are getting their eccentric brand of rock 'n' roll to the masses despite living in a city with an undeveloped music scene.
Gale and Roach, both theater majors during their days on Morningside Heights, make up the band's core. Catalytic's self-financed debut album, Capo a Baby, was released on Catalytic Records in June. The pair say they chose the name Catalytic because it has the connotation of creating change. The band intends to remain as independent as possible because it believes the music industry works against change.
Roach, a Kansas native, says it's natural for a thespian to switch gears to music and stresses that despite the occasional strange look, things are taking off in Birmingham, which is Gale's hometown. Performing mostly in bars and small clubs, the band plays about two shows per week in Birmingham and four or five in the region, pulling down anywhere from $20 to $400 per gig.
"All actors really want to be rock stars, right? Of course, it's usually once they've had a lot of success in the acting world that they turn to their musical side," Roach says. "Jeff and I couldn't wait for a silly thing like success to stand in the way of our rock star ambitions."
The band's sound fuses traditional rock 'n' roll elements with an eclectic sense of humor and varying musical influences that range from Southern rock to the Beatles. Previous to releasing its album, the band released a five-song EP, Eustice Pennington and the Boys' Beheading, in April 2001. The band sold 500 copies of the EP in six months. In the wake of the EP and album, several Southern radio stations have given the band airplay.
Gale and Roach met as undergraduates; in fact, Roach says Gale heavily influenced his decision to declare a theatre major. Gale formed the band in the summer of 1999, shortly after moving back to Birmingham after seven years in New York City. A year later, he extended an invitation to Roach, who was still living in New York, to move south and join the fledgling band.
"The theatre training has come in handy. Rock 'n' roll, for me, has always had a huge theatrical element," Gale says. "In addition to just being able to be comfortable on stage and in the spotlight, classes with Denny Partridge and Austin Quigley shed real light on how to use concepts from the theatre to get the most bang for our rock 'n' roll buck."
When the pair aren't practicing and touring with the band, which they describe as close to a full-time project, Roach waits tables, Gale works as a freelance programmer, and both also act.
Drummer Caldwell Marks and bassist Brent Irwin recently left the band, and Roach and Gale are restructuring the lineup with new members, including drummer Mark Underwood.
Gale and Roach say the band's short-term goals include a tour of Europe and finding financial backing for its next record. Further information about the band may be found at www.CatalyticKicksAss.com.
P.W.
| | | | | | | |
| --- | --- | --- | --- | --- | --- | --- |
| | | || | | || | | |