| | | | | | | |
| --- | --- | --- | --- | --- | --- | --- |
| | | || | | || | | |
ALUMNI PROFILE
Wanda Marie Holland '89:
Educator Follows Her Calling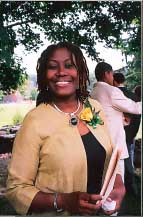 Wanda Marie Holland '89 is one of the younger school principals around. For the past five years, she has worked at The Park School in Brookline, Mass., as upper school division head. She is responsible for grades 6–9 in the private day school for children in nursery school through 9th grade.
"I knew from the age of 3 that I wanted to be a teacher," Holland says. "I always felt it in my sprit, like a calling. I'd take my sister's coloring books and make big red checks on them."
As a youngster, Holland called herself "Miss Marie," a name she just liked. In those days, she didn't have a middle name. For Holland's college graduation, her mother gave her a new birth certificate with an official name change to Wanda Marie Holland.
After graduation, Holland completed a master's in curriculum and instruction at Teachers College while teaching part-time at the Columbia Greenhouse Nursery School. She returned to her high school alma mater, The Chapin School on the Upper East Side, as a third-grade teacher. After four years in the classroom, she was offered an administrative position as dean of students for grades 6–12.
"I planned to teach for years and years and always aspired to school leadership, but never knew it would happen so quickly," she says.
For three years, Holland worked on community service, student leadership, clubs and weekend activities. At the same time, she taught one class of eighth-grade English, giving her a chance to use her undergraduate English degree, and went back to Teachers College part-time to complete a second master's, in private school leadership.
When a friend told Holland that the Park School near Boston was looking for a middle school principal, Holland, who grew up in Brooklyn and didn't want to move away from the city, at first said she wasn't interested. When her friend insisted, however, Holland faxed a résumé.
When Holland learned more about the school, she became more intrigued. The Park School is suburban and co-ed, both changes from Chapin, which is all girls. In addition, the school makes an effort toward diversity, both economic and racial, Holland says. "Over time, the world seems quite artificial when it's not diverse," she says. "And [diversity] is not always [the case with] some of the very traditional schools, which have not always been able to recruit in their students or faculty a range of people with a variety of experiences. I love Chapin so much, but for those seven years, I was one of two African-American faculty."
After extensive interviewing, Holland accepted the position at the Park School. "I thought, 'If I'm really going to be true to my independent school education, I have to push myself beyond this very comfortable place,'" and take the risk of moving out of New York and to another school.
Holland's duties include participating in the development of school policies and practices, making recommendations to the school's head regarding the hiring and dismissal of faculty, supervising and evaluating faculty and participating in the school's strategic planning. Holland also is a trustee at Concord Academy, where she chairs the diversity committee, and recently joined Columbia's Board of Visitors. In 1995, she received the Alumna Achievement Award from Columbia College Women.
Holland loves her job, and last year, she married Robert Greene, who works in admissions at the Belmont Boys School. In their time away from school, Holland and Greene travel as much as possible; in the past year, they were in Hawaii, Spain and Venezuela, and worked the Montreal Jazz Festival into their honeymoon. They're both music lovers: he plays saxophone and she is a singer who used to direct the Columbia-Barnard gospel choir.
"My job is so dynamic and so complex," Holland says. "In one hour, I can be walking down the hall with a sixth-grader who lost his backpack somewhere in the building and then heading to an educational policy meeting looking at school-wide issues and strategic planning. It goes from the big scope to the small scope, but it's all equally important. It's so wonderful."
S.J.B.
| | | | | | | |
| --- | --- | --- | --- | --- | --- | --- |
| | | || | | || | | |