| | | | | | | |
| --- | --- | --- | --- | --- | --- | --- |
| | | || | | || | | |
ALUMNI PROFILE
Christine Vardaros '91: Professional Cyclist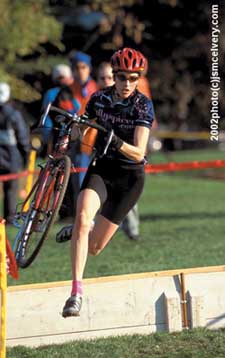 Cyclo-cross is a demanding sport that combines cycling and running with the bike.
PHOTO: © JSMCELVERY.COM

Christine Vardaros '91 is a California-based professional cyclist who runs her own cycling team. When not working in marketing from her home in Mill Valley, just north of San Francisco, Vardaros is training, racing or doing the various jobs associated with running her team. Her immediate goal is to qualify for the U.S. national team that will compete for the world championship — she was the team's first alternate a year ago.
Vardaros rides mountain bikes and specializes in cyclo-cross, a sport developed to keep road race cyclists in shape during the off-season. Cyclo-cross involves cycling with a skinny-tired bike and running with the bike through an often-muddy course that usually features some steep hills. Vardaros finished eighth in last year's Cyclo-cross World Cup in Switzerland, and has finished in the top 10 in other international races.
Vardaros started cycling in 1994 when she was working in marketing in New York. A man she met at a party showed up at her door with his mountain bike. "I was completely in love — with the bike," she says. She eventually bought the bike from him and started racing as an amateur. Soon, she was winning local championships.
Two years later, Vardaros moved to California to pursue a career as a professional mountain bike racer, a status she achieved in 1998. Racing with sponsored teams helps defray expenses, but Vardaros adds, "You always have to work, because it never pays the bills."
Vardaros raced on Team Breezer for four years before forming her own team, sponsored by Jamba Juice. Late last year, she started Team SallySpicer.com, a cyclo-cross team of five sponsored by a handbag company. In addition to securing sponsorship, Vardaros arranges the team's travel and accommodations for out-of-town races, manages the accounting, orders the logoed clothing and hires the team's mechanics.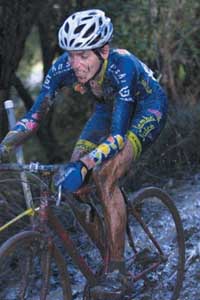 Muddy, freezing conditions are among the challenges Christine Vardaros '91 encounters as she competes in cyclo-cross events.
PHOTO: © ABBORIOCA.COM

"The biggest factor that has shaped my cycling is my struggle to do something that doesn't come naturally for me," Vardaros says. "I'm not your typical athlete: calm, collected, focused, an energy conserver. I'm lazy and disorganized by nature, emotional and flippant. I have all of the wrong qualities to be a cyclist." She did, however, compete as a fencer in high school and for four years at Columbia before taking up the more cardiovascular sport of cycling. And she says she has forced herself into a disciplined lifestyle: She's on one bike or another for 15–30 hours every week and also has an off-bicycle fitness routine. In addition, she spends quite a bit of time washing and maintaining her 10 bikes. About every other weekend she competes in a race.
In November, she spent two weeks on an eastern racing swing and won the Sportsbook.com Cross in Lancaster, Pa., leading the race from start to finish. "I'm doing everything I can to try to qualify for the world championship team," she says. "That's my goal."
At 33, Vardaros is about the average age for a pro woman cyclist, and she says she intends to keep it up for a while, despite its challenges. "It's muddy and freezing," she says of the typical cyclo-cross race, which has an October-February season. "Most women would not be too thrilled to do that." Or men either, for that matter.
S.J.B.
| | | | | | | |
| --- | --- | --- | --- | --- | --- | --- |
| | | || | | || | | |


CCT Home


This Issue


Previous Issue

CCT Masthead