| | | | | | | |
| --- | --- | --- | --- | --- | --- | --- |
| | | || | | || | | |
ALUMNI PROFILE
Nagano Explores Balinese Culture in his Artwork
Paul Nagano '60 is a synthesis of East and West. Born in Honolulu and living in Boston, his artistic inspiration for almost two decades has been Bali.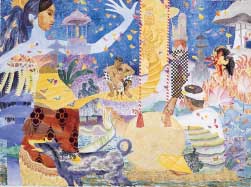 Welcoming Dance. Watercolor, 22" x 30"

"I have been going to Bali since 1984 to pursue my career as an artist concentrating on watercolors," he says. "What has made this possible is the interest and generosity of an Indonesian patron whose Bali compound is at my disposal for two months or more whenever I wish. Since it is cool(er) and drier in Ubud [a center of art and painting in Bali] in our summer (their winter), I usually go there in June. This year, my stay culminated in an exhibition in Jakarta."
Many of his classmates will recall Nagano's work as it appeared in Jester when he was editor-in-chief. Reflecting on that experience, Nagano notes, "I met a number of wildly different young men bursting with talent and found that we could all be interested in the same thing and work together creatively to accomplish something we could take pride in. We all wanted to produce something polished and wonderful that would communicate something to others. That ambition informs my work still."
Upon conclusion of his three years of service in the Navy, Nagano enrolled in the Pennsylvania Academy of the Fine Arts, where he studied for three years. A traveling scholarship awarded by the academy in 1967 afforded an opportunity to travel through Europe. As an "itinerant artist" working primarily in watercolors, Nagano captured nature's beauty in the places where sky, ocean and mountains intersect. His work, influenced by post-impression and the Nanga style of Japanese watercolor painting, has been displayed in solo and group exhibits and has been collected by major museums.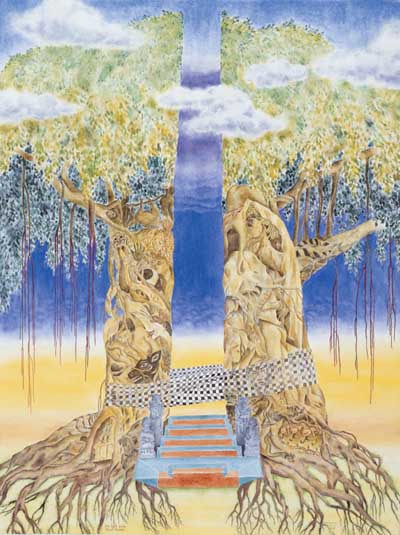 Candi Bentar/The Split Gate. Watercolor 30" x 22"

The year 1997 marked a turning point in Nagano's life. Having until then painted primarily objective, naturalistic landscapes, with his 60th year a liberated, more introspective genre emerged, drawing inspiration from his observation that there is in Bali an "intense sense of life rooted in nature" and from the ever-present symbols of Bali's spiritual life.
Nagano penetrated the surface of Bali's striking landscape to release the echoes of its rich religious and cultural heritage. In colors that are at once vibrant and delicate, he has created a series of complex, multi-layered, subjective dreamscapes: lyrical meditations in which the rules of time, dimension, space and gravity are suspended. A profusion of symbols and human and animal figures inhabit the Balinese mountains, rice terraces, sky, seacoast and soaring temple stairways: semi-transparent but precisely delineated ethereal portraits, silhouettes and impressionistic human shapes. Among others, a musician in ceremonial mask striking a gong, another playing a traditional drum, women bearing offerings from atop their heads, a priest intent on his devotions, a female dancer, a man bent to his labor in the rice paddy; hounds (a frequent leitmotif) tranquil, snarling, sniffing the ground, baying at the sky; cocks fighting; ritual processions winding their way through several paintings; a hand holding a lotus blossom; and Balinese parasols, almost always parasols — parasols in processions, parasols borne by the wind, parasols carrying human figures aloft. Nagano has aptly labeled the unique style of these paintings SymBALIsm.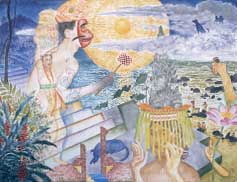 Sound of the Gong. Watercolor, 22" x 30"
ARTWORK COURTESY OF Paul Nagano '60

Asked to reflect on how Columbia influenced his life and his career, Nagano says, "As an NROTC scholarship student, I was not permitted to major in art, which ultimately made me thirstier for a career in art after graduation. I received a B.A. in English Lit instead, and that reinforced my tendency to continue to be a reader. That simply means that I have had a wide range of interests, and that has kept me open to all sorts of experiences that included, 18 years ago, my first brush with Bali.
"It think that without the background of the humanities education that Columbia provided me, I would not have been the open, seeking individual who can express his interests visually as I do. I would not have been prepared to explore the culture in all its manifestations — its religion, philosophy, art, dance, music, its ancient and modern history, even its rice cultivation — had I not been so well grounded in a liberal education of the depth of that I received at Columbia. And it pains me to hear dissenters argue that a liberal education has no practical use. For me, it is the core of education, the means by which one makes a meaningful life."
Robert A. Machleder '60
| | | | | | | |
| --- | --- | --- | --- | --- | --- | --- |
| | | || | | || | | |


CCT Home


This Issue


Previous Issue

CCT Masthead