AROUND THE QUADS
In Memoriam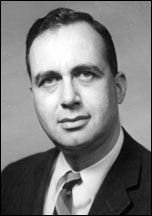 Marvin Harris '49


Around the Quads


Marvin Harris '49, the celebrated and controversial anthropologist who taught at Columbia from 1953–80, died on October 25, 2001. Born in Brooklyn in 1927, Harris earned his Ph.D. from Columbia in 1953 and spent the next 27 years as an anthropology professor here. He chaired the department for three years. From the time he left Columbia in 1980 until his retirement in 2000, Harris was Graduate Research Professor of Anthropology at the University of Florida, Gainesville.
Harris was a proponent of the four-field approach to the discipline of anthropology, which combines cultural anthropology, anthropological linguistics, biological anthropology and archaeology. His influence spans all four fields. Harris is known as the founder of cultural materialism, a theoretical paradigm and research strategy that attempts to explain cultural practices as a result of the ways in which a culture solves the practical problems of survival. He suggested that food taboos, warfare and witchcraft originate from a society's ways of adapting to a means of subsistence. For example, Harris proposed that the Hindus did not eat cows because they needed them for other useful purposes, such as plowing fields and providing milk. Because of his views, Smithsonian called him "one of the most controversial anthropologists alive" in 1986. The Washington Post described him in 1983 as "a storm center in his field."
During his time at Columbia, Harris had a tremendous influence on the anthropology department. "When he was there, his impact was so powerful that many people in the field related Columbia anthropology with Marvin Harris," said Myron Cohen, professor of anthropology. Harris recognized and attempted to explain "riddles of culture" in terms of similarities as well as differences. "He was very much in favor of demystifying what people thought about other cultures in the world," said Allan Burns, chair of the Department of Anthropology at the University of Florida. "He was responsible for social science explanations that made sense and also were profound."
During the course of his career, Harris published 17 books that have been translated into 14 languages. In 1990, he delivered the Distinguished Lecture at the annual meeting of the American Anthropological Association. He was later elected as head of the association and served a one-year term. "He was a man with a vision — a real vision," said Cohen. "What was extraordinary about him, and perhaps infuriating to some, was that he clung steadfastly to his beliefs." Harris is survived by his wife, Madeline, and daughter, Susan.

Eric Barnouw, a long-time Columbia professor and a noted scholar of the broadcasting industry, died on July 19 at the age of 93 in Fair Haven, Vt. Barnouw was on the Columbia faculty from 1946–73, organizing the film division in the School of the Arts and serving as its chair. He also was editor for the Columbia Center for Mass Communication.
Barnouw's career was marked by creativity, integrity, insight and a love of broadcasting. The winner of the Peabody Award in 1944 for a documentary radio series entitled "Winds at War," Barnouw is best-known for his three-volume History of Broadcasting in the United States, and received a Bancroft Prize in 1971 for the last volume of the series, The Image Empire.
Journalist Lincoln Diamant '43 described Barnouw as a preceptor and friend. He wrote, "Associated in one way or another with Morningside throughout his brilliant career in the field of broadcast communications, Professor Barnouw, a writer of wisdom and integrity, cut a wide swath through the areas of human fallibility he encountered in the radio and television business. No wonder The New York Times called his monumental History of Broadcasting in the United States 'quite simply, what everybody who writes about television steals from.' "
Barnouw's death prompted Diamant to relate the following tale:
"I first met Professor Barnouw in the winter of 1941, when he was appointed faculty adviser to the Columbia University Radio Club, then preparing to launch a 'wired wireless' narrowcast radio station serving the Columbia campus. It was an era of distinctive radio sign-ons and sign-offs. The newly minted CURC staff, not to be outdone by chimes or sound effects, decided what the station needed was the voice of a roaring lion. Eschewing commercial pre-recorded animal noise disks (and with an eye toward New York press coverage), a vote was taken to go on safari to the Bronx Zoo, but first we confronted Professor Barnouw with our plans. His response was worthy of Samuel Johnson. 'Do you propose that I accompany you to the Bronx?' he asked. 'No,' we responded. Our adviser looked enormously relieved. 'Then you have my permission to go.' And so we did.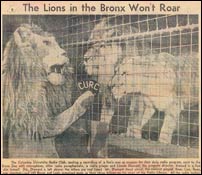 Linc Diamant '43 (holding microphone) attempts to elicit a roar from Bruno and Lady, to no avail, at the Bronx Zoo, March 24, 1952. The photograph first appeared in the New York World Telegram.

"CURC (progenitor of WKCR) set up its microphones and recording equipment close to the cage of Bruno and (pregnant) Lady. Captain Jack Aubrey (myself) climbed into a lion's suit borrowed for the occasion, and we were off and rolling. Two of New York's evening newspapers, corralled by Eugine Serchinger '43, were sufficiently intrigued to assign a photographer to cover our hijinks. But the CURC safari blanked out. The two lions simply refused to roar. They merely stared at the follow lion cavorting outside the cage. The play-by-play of Len Koppett '44 proved to be all talk and no action.
"CURC's recording engineer, Martin L. Scheiner '44, remained bent over his acetate recording, oblivious to anything other that what he could hear through his headphones, which suddenly turned into a stifled gasp from the crowd. It seems Lady had had enough. She slowly backed up against the bard of her cage and fired a magnificent arc of urine at least a dozen feet through the air, intuitively choosing the engineer and his recording equipment as her primary target. Marty's head and shoulders bore the full brunt of the attack.
"We dutifully reported back the afternoon's failure to Professor Barnouw, who seemed hugely amused by our escapade."

Around the Quads