Bernard W. Nussbaum '58, White House Counsel Under President Clinton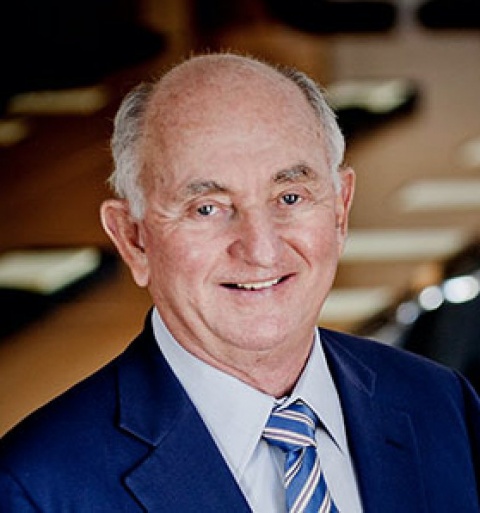 Bernard W. Nussbaum '58,
who served as White House Counsel to President Clinton during his first term, died on March 13, 2022, at his home in Manhattan. He was 84.

A longtime friend of Hillary Clinton, Nussbaum was a fast-talking New Yorker lawyer whose tough legal tactics had made him highly prized by corporate clients in high-stakes litigation. He was named to the White House post in 1992 and served for 14 months, but his aggressive advocacy for his client rubbed some the wrong way. He resigned at the President's request amid a series of controversies — the Arkansas land venture known as Whitewater; the suicide of deputy counsel Vincent W. Foster Jr., which gave way to conspiracy theories and official inquiries; and the FBI's agreement to a White House request for files on dozens of Republicans whom the bureau had screened for White House jobs in previous administrations.
Supporters contended that Nussbaum was only doing what any good lawyer would do, which was to fight his best to protect a client. Critics claimed that he obstructed justice and argued that he failed to recognize that insisting on a client's privacy rights and nondisclosure privileges was shortsighted when the client was a top elected official seeking the public's trust. So after 14 months, Nussbaum returned to the private sector.
He was famously quoted that in New York, lawyers were expected to fight to the fullest for their clients, but in Washington, D.C., opponents wanted to "beat you into the ground, destroy you, suck out your blood."
Born to Polish immigrants on March 23, 1937, in Manhattan, Nussbaum grew up on the Lower East Side and graduated from Stuyvesant H.S. After earning a J.D. from Harvard in 1961, he was an assistant U.S. attorney in Manhattan for several years before joining the New York law firm of Wachtell, Lipton, Rosen & Katz in 1966.
In 1974, Nussbaum served as a senior counsel on the House Judiciary Committee as it investigated the Watergate scandal and recommended the impeachment of President Nixon. There he met Hillary Rodham, a young lawyer assisting the committee. He returned to Wachtell, Lipton and remained in private practice until Bill Clinton brought him to the White House almost 20 years later.
In a 2001 interview with The New York Times, Nussbaum said that President Clinton "asked me to resign in response to media and political pressure" and spoke about "lots of innuendo in the press" and "phantom scandals." But Nussbaum added that he did not regret his time in D.C.; "It was a great adventure," he said.
Back in New York, one of his major cases involved how much insurance companies should pay for the destruction of the World Trade Center in the 9-11 terrorist attacks. A federal jury said that the hijackings constituted two separate attacks and awarded developer Larry A. Silverstein, who was represented by Nussbaum, up to $2.2 billion. This ensured the construction of the $1.5 billion, 1,776-ft. Freedom Tower at the WTC site.
Nussbaum was predeceased by his wives, Toby Sheinfeld in 2006 and Nancy Kuhn in 2021. He is survived by his sons, Frank and Peter; daughter, Emily; stepson, Bill Kuhn; brother, Martin; and six grandchildren.
— Alex Sachare '71

Published three times a year by Columbia College for alumni, students, faculty, parents and friends.
Columbia Alumni Center
622 W. 113th St., MC 4530, 4th Fl.
New York, NY 10025
212-851-7852
cct@columbia.edu

Columbia Alumni Center
622 W. 113th St., MC 4530, 4th Fl.
New York, NY 10025
212-851-7488
ccalumni@columbia.edu