Wheels Keep on Turning for Cyclist David Stanton '77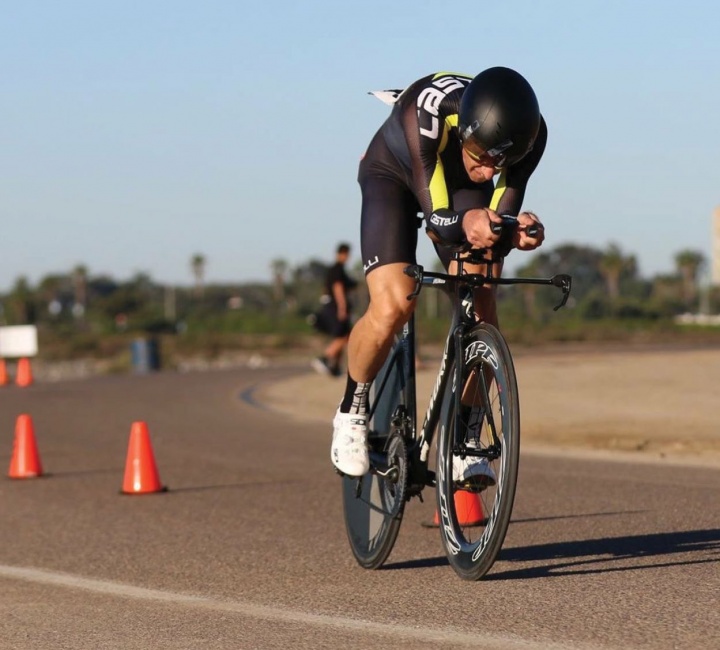 COURTESY SAN DIEGO TIME TRIALS
C
hampion bicyclist
David Stanton '77
has a not-so-secret alter ego — Captain America. Most mornings find the razor-lean cyclist in a skin-tight, stars-and-stripes jersey, powering through training rides as long as 60 miles near his Newport Beach, Calif., home.

Stanton, a gastroenterologist, earned the iconic shirt last September after winning a gold medal at the USA Cycling Master Track National Championship in Trexlertown, Pa. He took the 65–69 age group division honors (defeating a former U.S. Olympic cyclist), finishing the 2 km velodrome race in just 2 minutes and 36 seconds.
Donning the winner's jersey gave Stanton "the thrill of a lifetime." He'd wanted it since his first national competition nine years ago: "I really loved it, coveted it, and you never know if it's going to happen for you," he says.
A lifelong athlete, Stanton played on Columbia's varsity golf team, and as an adult, took up competitive skiing. He came to cycling in 2009 when his wife invited him to attend her spin class; realizing he had found a sport that would give him "a lot of athletic purpose later in life," he took to it with gusto.
In 2010, to celebrate his first anniversary on wheels, he entered the Everest Challenge, a two-day mountain stage race in the Eastern Sierras that includes 29,000 feet of climbing. After suffering a broken collarbone at the start of a crowded race, in 2013 he switched to time-trial events. Racing on 24-mile courses, he then won six straight California championships in his age group.
Stanton loves cycling's rigors. "You learn determination. You learn patience. You learn resiliency. But at the end of the day, bicycle racing is about tolerance of suffering," he says. He paraphrases legendary Belgian cyclist Eddy Merckx: "I'm no better than anybody else. I can just suffer more." For Stanton, the sport is "about pushing yourself to the so-called 'pain cave' and holding it for however long you need to hold it."
He tested those limits in 2015 when, for six days and eight hours, he competed on a four-man team in the ultracycling event Race Across America. During this nonstop ordeal from California to Maryland, one team member continuously rides while the others rest in a van. "It was like nothing I'd ever done or would ever want to do again," Stanton says. (His most memorable state? Colorado, because of the extreme temperature changes; in Durango, he says the day started at freezing and hit 85.) He only got one or two hours of shuteye that week— when the odyssey ended at 1 a.m. in Annapolis, he couldn't remember how to open a champagne bottle.
"Cycling has taught me I thrive in an environment where the process is king. I like playing to big events, big things, big goals. I can set lofty goals, sometimes meet them and enjoy the process along the way," he says.
Now in training for this fall's national championship, Stanton has a new challenge — keeping up with, and beating, younger competitors. "As you get to the back end of your age group, it's a whole 'nother challenge," he admits. "But honestly, after winning it once, it's now all gravy. It hasn't diminished my desire, but it certainly diminishes the stress."

George Spencer is the former executive editor of Dartmouth Alumni Magazine. He lives in Hillsborough, N.C.

Published three times a year by Columbia College for alumni, students, faculty, parents and friends.
Columbia Alumni Center
622 W. 113th St., MC 4530, 4th Fl.
New York, NY 10025
212-851-7852
cct@columbia.edu

Columbia Alumni Center
622 W. 113th St., MC 4530, 4th Fl.
New York, NY 10025
212-851-7488
ccalumni@columbia.edu