Franklin A. Thomas '56, Pioneering Ford Foundation President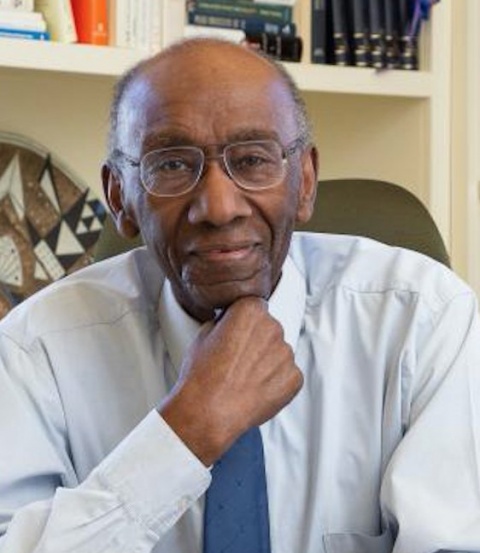 Franklin A. Thomas '56, LAW'63,
who led an extraordinary life of service to his college, his community, his country and the world, died at his Manhattan home on December 22, 2021. He was 87.

Thomas grew up in Bedford-Stuyvesant and was a basketball star at Columbia, where he worked with the NAACP chapter to help increase admissions of Black students at the University. After serving as a navigator in the Air Force, he helped rehabilitate his impoverished Brooklyn neighborhood and was deputy police commissioner for the City of New York. He then became the first Black person to run a major American philanthropy and revitalized the Ford Foundation during his 17 years as its president.
Thomas actively supported anti-apartheid efforts in South Africa, where Ford was among the first global nonprofits to open an office, and he became a close friend of Nelson Mandela. He left the foundation in 1996 and from 2001 to 2006 chaired the September 11 Fund, created by the NYC Community Trust and the United Way of NYC to assist victims, their families and affected communities in the aftermath of the 9-11 attacks.
Born on May 27, 1934, Thomas grew up in a tight-knit family of immigrants from Barbados. His father, James, was a night watchman and laborer who died when Franklin was 11; his mother, Viola (née Atherley), was a waitress and housekeeper. "I grew up in a family that just assumed that one, you were smart and capable; two, that you were going to work hard; and three, the combination of these meant anything was possible," Thomas said in a 1982 interview with The New York Times.
A high school basketball star, the 6-foot-4-inch Thomas was offered a number of athletic scholarships but turned them down to attend the College, where in 1956 he became the first Black captain of an Ivy League basketball team. He set school records for season and career rebounds that still stand, and in 2010 was inducted into the Columbia University Athletics Hall of Fame.
After serving four years in the Air Force, Thomas graduated from the Law School in 1963. He worked on housing law for the federal government, the U.S. Attorney's Office in Manhattan and a Brooklyn-based nonprofit before joining the NYPD as a deputy commissioner. Among his responsibilities was balancing demands for more community input on police conduct hearings with opposition from rank-and-file officers, and in 1971 he was a member of the Knapp Commission, which investigated corruption in the NYPD.
Thomas was president of the Ford Foundation from 1979 to 1996, taking the helm after overspending and the economic slump of the mid-1970s had cut into its endowment and inflation had eroded the value of its existing grants. He set about cutting costs by terminating many of the foundation's top officers, closing many of its foreign offices and restructuring its divisions to focus on six thematic areas, including urban poverty, education and public policy. Within three years, he had trimmed a staff of 442 to 324. Those efforts turned the organization around, and by the mid-1980s, grants were once again on the rise, as was the endowment.
"Frank Thomas saved the Ford Foundation," Darren Walker, the foundation's current president, said. "We were spending ourselves into irrelevance.
Thomas created the Local Initiative Support Corp., which provided resources and support to grassroots development organizations, and by the mid-1980s it had given more than $40 million in grants or loans to hundreds of fledgling local redevelopment ventures in 27 cities. He also refocused Ford on improving the lives of women through projects as varied as producing nonsexist textbooks for use in the United States and encouraging rural women in developing countries to form their own farm organizations. And although he had initially pared back some of Ford's international efforts, by the late 1980s the revitalized organization was once again engaged with global human rights and development issues.
According to the Times, Thomas was once asked if his mother ever dreamed that he would become president of the Ford Foundation. "She would not have set her sights so low," he replied.
Thomas is survived by his wife, Kate Whitney; sons, Kyle and Keith; daughters, Kerrie Thomas-Armstrong and Hilary Thomas-Lakee; stepchildren, Andrea Haddad, Lulie Haddad and Laura Whitney-Thomas; 16 grandchildren; and four great-grandchildren.
— Alex Sachare '71

Published three times a year by Columbia College for alumni, students, faculty, parents and friends.
Columbia Alumni Center
622 W. 113th St., MC 4530, 4th Fl.
New York, NY 10025
212-851-7852
cct@columbia.edu

Columbia Alumni Center
622 W. 113th St., MC 4530, 4th Fl.
New York, NY 10025
212-851-7488
ccalumni@columbia.edu