Thank You, Dean Valentini
By Ted Schweitzer '91, LAW'94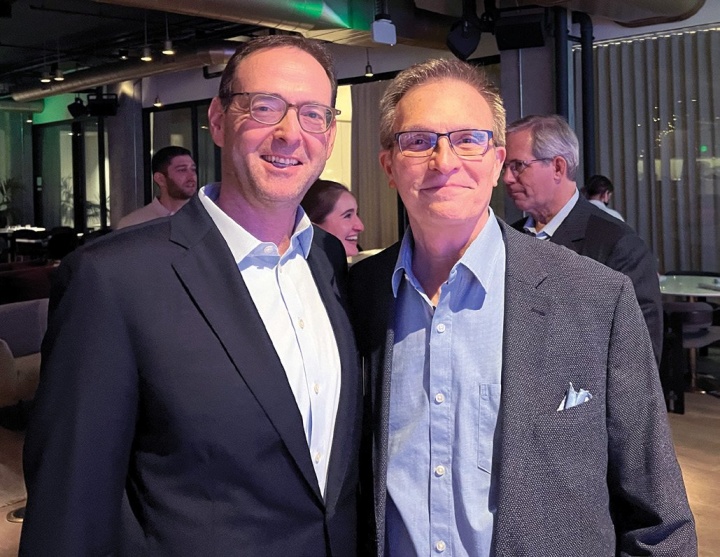 COURTESY TED SCHWEITZER '91, LAW'94
T
he John Jay Awards Dinner, held on March 2 at Cipriani 42nd Street, celebrated six bright stars in the College alumni constellation. We had a robust turnout, with a cautious optimism that the worst of the pandemic is behind us. This momentous ceremony had been postponed for two years, and given the extraordinariness of the recipients, it was worth the wait!

As I write, the revitalization of Columbia gains momentum as students are required to wear masks less and less. Just as the magnolia buds reveal their colors, so too the former campus life of lecture halls, outdoor study groups and sports unfolds in early spring air.
Despite these hopeful signs, students must grapple with shocking news from Ukraine — witnessing Vladimir Putin's attempt to rebuild the Russian empire of old, killing thousands of innocent Ukrainians in this quest. How do Columbia students reckon with these headlines? I imagine they, like many of us, feel powerless. I fervently hope a Columbia education will help them improve the world. Students leave Columbia armed with multilayered knowledge and a deep understanding of the value of liberty. They also participate in global engagement with micro-communities that encourage compassion and connectivity, and offer portals to other parts of the world. Indeed, global engagement has become central to the Columbia College experience under the leadership of Dean James J. Valentini, aka Deantini. College students will become empathic leaders and will, perhaps, help shield the global community from catastrophes.

Valentini's 11 years of service as the leader of Columbia College (10 as dean, and one as interim dean) conclude on June 30.
The one word I think of in this context is gratitude. Thank you for your unparalleled service, Dean Valentini. We recognize all you have done to make the College better.
Last summer, when I introduced Deantini at Convocation, I referred to Scottish philosopher Thomas Carlyle. In the 1840s Carlyle articulated the great man theory of history, which posits that heroes shape the world around them. This is a theme in many of the Core Curriculum readings.
Deantini fits neatly into the philosopher's paradigm. Not unlike Odysseus, or Alexander Hamilton CC 1778, the dean took action to improve his surroundings no matter the obstacles. The voice of such greatness might unsettle the status quo, but it is for this same reason that it reverberates and becomes a legacy. Only the resolute and courageous can leave a mark on history. In this spirit Deantini advanced College life for all.
During the last 11 years, among other things, he established a strategic plan for the College to ensure continued excellence of the student experience and the Core; raised funds to support financial aid; and articulated 13 competencies, aka My Columbia College Journey, to reorient thinking about the value of a College education. In addition, Deantini emphasized the importance of Pantone 292, our College's particular shade of blue, which visually unites us. While doing all this, he encouraged a philosophical mindset of the unjaded "Beginner's Mind." And, on a note of pure fun, he participated without fail in an annual snowball fight with students in front of Alma Mater.
In the realm of alumni engagement, Deantini brought vigor and fresh perspective, emphasizing how we are part of one community of past, present and future students. He also established the goal of 100 percent alumni engagement, sending a message about the strong role he envisioned us taking within our multi-generational Columbia community. For example, the Odyssey Mentoring Program was launched to facilitate both alumni-to-alumni and alumni-to-student connections. The dean also championed a new series of AlumniTALKs, many of which were presented online with a focus on underrepresented alumni voices. Deantini often refers to the College as the greatest college in the greatest university in the greatest city in the world. In so doing, he manifests his intent and instills an esprit of connection among alumni. A highlight for alumni during his tenure was the 100th anniversary of the Core.
Dean Valentini is first and foremost a scientist. And he brings a scientific approach to all, including the Core: assimilating data, combining it in new and startling ways, and thinking methodically through the implications of each new idea. We can all draw inspiration from this sort of discipline in our own pursuits. We wish the dean the best in his next chapter.

Published three times a year by Columbia College for alumni, students, faculty, parents and friends.
Columbia Alumni Center
622 W. 113th St., MC 4530, 4th Fl.
New York, NY 10025
212-851-7852
cct@columbia.edu

Columbia Alumni Center
622 W. 113th St., MC 4530, 4th Fl.
New York, NY 10025
212-851-7488
ccalumni@columbia.edu