Jason Epstein '49, GSAS'50, Editor and Publishing Innovator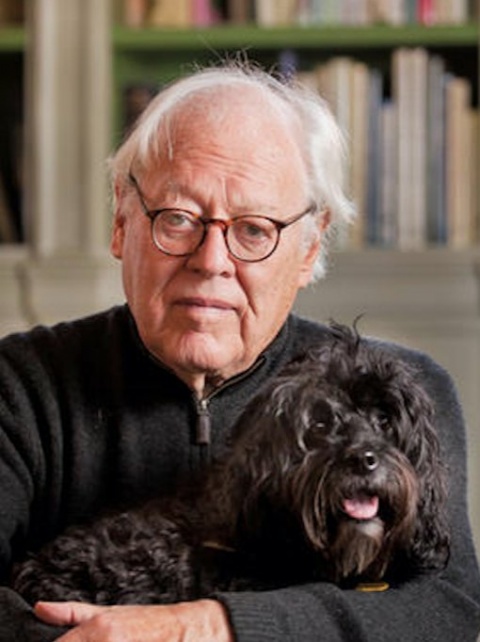 Jason Epstein '49, GSAS'50,
who enjoyed one of the most remarkable careers in 20th-century publishing, died on February 4, 2022, at his home in Sag Harbor, N.Y. He was 93.

Epstein was a man of letters with an instinct for business who readily adapted to changes in publishing technology. A brilliant editor who nourished the works of many talented authors into print, Epstein introduced the quality paperback to American readers, helped found The New York Review of Books, launched The Library of America and created The Reader's Catalog, which marketed books directly to readers and paved the way for modern online bookselling.
Born on August 25, 1928, in Cambridge, Mass., Epstein's father sold textiles and his mother was a homemaker. A devoted reader as a child, he was rarely far from a book. He earned bachelor's and master's in English literature before making his passion his profession.
"I've always thought of my career in publishing as an extension of my wonderful undergraduate years at Columbia, which I never wanted to give up," Epstein told C-SPAN in 2001. "And by pure luck, I stumbled into the book business, where I could remain an undergraduate, so to speak, for the rest of my life; these authors being my teachers and their books being my curriculum."
In 1952, Epstein was working in his first publishing job at Doubleday and making $45 a week. Unable to afford many hardcover editions of classic literature and criticism, he proposed that the company publish them in inexpensive paperback editions, a format that until then was used for lowbrow escapist fiction.
He created Anchor Books, with early titles by British writer D.H. Lawrence and critics Lionel Trilling CC 1925, GSAS'38 and Edmund Wilson. Priced from 65 cents to $1.25 and published in editions of 10,000, the books quickly sold out; other publishers noticed and followed Epstein's lead, making literary classics and new works widely available in softcover. Quality paperbacks or "trade" paperbacks, as they are known, became the most profitable part of the publishing business.
Epstein briefly ran the Vintage paperback imprint at Alfred A. Knopf before joining Random House in 1958, where he edited manuscripts by Philip Roth, Gore Vidal, Norman Mailer, E.L. Doctorow, poet W.H. Auden and activist Jane Jacobs, among many others. He was editorial director of Random House 1976­-95 and continued his association with the firm, now Penguin Random House, into the 21st century.
In 1962, when a strike by labor unions shut down NYC's seven daily newspapers and created a void in literary criticism, Epstein helped develop the idea for an independent publication called The New York Review of Books. It was an instant success and remains one of the country's foremost literary and political journals.
In 1979, Epstein was a driving force behind The Library of America, a nonprofit publisher of classic American literature, with seed money from the National Endowment for the Humanities and the Ford Foundation. To date the project has published more than 300 volumes in uniform, hardcover editions.
He received the first National Book Foundation's Medal for Distinguished Service to American Letters, in 1988. That same year, he received a John Jay Award for distinguished professional achievement from the College.
In 1989, Epstein published The Reader's Catalog, which contained the titles of 40,000 books, with descriptions, illustrations and essays, as a way to make them available to readers via a toll-free number. Although his venture never caught on, it was seen as a forerunner of Amazon, which Epstein was skeptical about but which he welcomed because it was a way to get books into the hands of readers.
"If we didn't have books, people wouldn't think at all," Epstein told C-SPAN. "I think we would be lost without them … They're the basis of our democracy. That's why dictators like to throw them in the fire. Without them, we wouldn't have a democracy."
Epstein is the author of several books, including a 2009 memoir, Eating: A Memoir, and a 2001 book about publishing, Book Business: Publishing, Past, Present and Future. In the latter he presciently addressed the future of the publishing industry.
"With books no longer imprisoned for life within fixed bindings, the opportunities are endless for the creation of new, useful and profitable products by Internet publishers," he wrote. "There will be room for a virtually limitless variety of books that can be printed on demand or reproduced on hand-held readers or similar devices."
Epstein's first marriage, to the former Barbara Zimmerman, ended in divorce. He is survived by his wife since 1993, Judith Miller; son, Jacob; daughter, Helen GSAS'86; and three grandchildren.
— Alex Sachare '71

Published three times a year by Columbia College for alumni, students, faculty, parents and friends.
Columbia Alumni Center
622 W. 113th St., MC 4530, 4th Fl.
New York, NY 10025
212-851-7852
cct@columbia.edu

Columbia Alumni Center
622 W. 113th St., MC 4530, 4th Fl.
New York, NY 10025
212-851-7488
ccalumni@columbia.edu