In Memoriam: Douglas A. Chalmers, Political Science Professor and University Administrator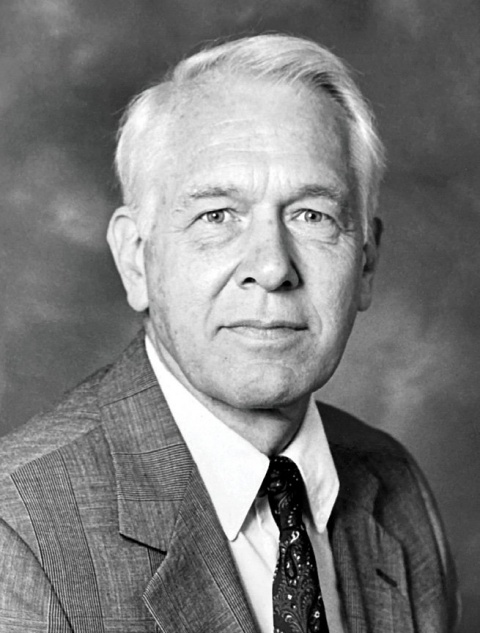 COURTESY JOSHUA CHALMERS '86
Douglas A. Chalmers
, a beloved and esteemed professor of political science, died on April 4, 2022, from complications of Parkinson's disease. He was 90.

Chalmers was born in 1932 in Madison, Wisc.; in 1936, the family moved to Geneva. In 1939, they relocated to Washington, D.C., and Chalmers graduated from Woodrow Wilson H.S. He completed his early studies at the University Laboratory H.S. (Uni High) in Urbana, Ill., graduating in 1949.
Chalmers began college at MIT, focusing on chemistry and physics. Moving toward the humanities and social sciences, he finished at Bowdoin College in 1953, graduating Phi Beta Kappa with philosophy high honors.
He met his future wife, Janet Gerard BC'56, SOA'81, in New York City in 1953 while working a summer job in the mailroom at Western Publishing in Rockefeller Center. He caught the eye of Gerard, who was on summer break from Antioch College working in the layout department. As they tell the story, she contrived to spill a bottle of glue to ensure that the handsome mailroom boy would have to clean it up. They were married in 1957.
Chalmers had been in ROTC in college and was obliged to provide two years of service after graduation. As the Korean War was resolved before graduation, he spent two years in the Army in Bordeaux, overseeing trucking. Upon completion of his service, Chalmers and his wife moved to New Haven, where he completed a Ph.D. in 1962 in political science at Yale. His first teaching positions were at Swarthmore College and Douglass College, Rutgers (Newark, N.J.).
In 1967, Chalmers was hired by Columbia's Department of Political Science; he was quickly drafted to join a group of administrators and faculty that had been appointed to communicate with the student protestors occupying Low Library. After that tumultuous beginning, he spent the next 52 years at Columbia, teaching and writing in the field of comparative politics. He was department chair, dean of SIPA and interim director of the Institute of Latin American Studies.
Chalmers's success as an administrator and teacher could be attributed to his intellectual concern for underrecognized participants in the democratic political process. He was attentive to the workings of power within Columbia's academic hierarchy, and was an advocate for women in the University, especially regarding hiring, promotion and tenure. As a teacher, his dedication, patience and respect made him a favorite among students.
In 2005 Chalmers officially retired, though he continued to be active as an emeritus professor for 14 years. He was executive director of the Society of Senior Scholars, a special assistant to the provost for faculty retirement and a president of Emeritus Professors in Columbia (EPIC), which was reinvigorated under his leadership.
One of Chalmers's great joys was teaching undergraduates; he started teaching Contemporary Civilization in 1984. He loved the seminar's discussion-based format and encouraging students to debate the larger ethical and political questions.
He continued teaching CC and contributed to the evolution of its syllabus until he left Columbia in 2019.
Everyone who knew Chalmers describes him as calm, thoughtful, intelligent and sweet. He was unfailingly interested in all intellectual and artistic endeavors, and brought his quiet and attentive approach to loved ones and acquaintances alike.
In 2019, Columbia awarded Chalmers an honorary Doctorate of Letters. President Lee C. Bollinger's remarks focused on his teaching and his leadership as director of the Institute of Latin American Studies, during which, Bollinger said, the institute "blossomed."
"As a mentor to generations of budding scholars and public servants, you offered guidance without ego or orthodoxy, creating networks of Latin American experts across disciplines and schools. In so doing, over the span of your illustrious career, you transformed the field," Bollinger said.
Chalmers is survived by his wife of 65 years, Janet; children, Jessica BC'84 and Joshua '86; granddaughter, Lola; sister Tiela; and many nieces, nephews and cousins. He was predeceased by his sisters Jean and Meg.
EPIC is establishing a lecture series for graduate students in Chalmers's honor, The Douglas Chalmers Research Presentation Award, with the inaugural lecture set for Fall 2022. A memorial, as well as a fund in his name, are being planned. Details will be announced on douglasachalmersmemorial.net.
— Joshua Chalmers '86

Published three times a year by Columbia College for alumni, students, faculty, parents and friends.
Columbia Alumni Center
622 W. 113th St., MC 4530, 4th Fl.
New York, NY 10025
212-851-7852
cct@columbia.edu

Columbia Alumni Center
622 W. 113th St., MC 4530, 4th Fl.
New York, NY 10025
212-851-7488
ccalumni@columbia.edu