When CCT last spoke with Robby Mook '02 in 2012, he was the executive director for the Democratic Congressional Campaign Committee, the campaign arm of the House Democrats. Six years (and a presidential election!) later, we asked: Where is he now?
Robby Mook '02 made national headlines in April 2015 when former Secretary of State Hillary Clinton named him campaign manager of her groundbreaking 2016 presidential bid. Mook and Clinton quickly found themselves in a presidential campaign unlike any in American history, and not just because Clinton was the first female presidential candidate nominated by a major party. The public sentiment surfaced by Donald Trump and his subsequent election revealed a divisive split in American politics, and Mook felt "jolted" by the strength of the previously undetected disillusionment and disenfranchisement among voters; he was also very concerned about future foreign influence on American democracy. Despite Clinton's loss on November 6, Mook hasn't left the civic space; instead, he's looking for solutions to protect future elections from the problems that troubled the Clinton campaign.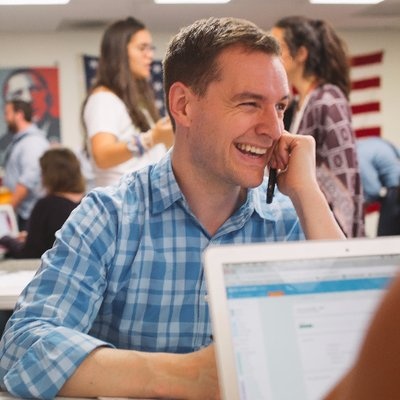 As a visiting fellow for the 2017–18 school year at the Harvard Kennedy School, Mook is working with the Kennedy School's Belfer Center for Science and International Affairs on the Defending Digital Democracy (DDD) Project — a bi-partisan effort to develop strategies, tools and technology to shield democratic processes from cyber and information attacks. "The greatest challenge moving ahead for campaigns is how to really understand what voters are hearing and how they are feeling — and I don't think we have a good grasp of that right now. … If anything, I've learned that campaign managers need to operate in an environment of tremendous uncertainty, volatility and change," he says. "I think we got blindsided a bit in 2016 and still haven't figured out how to understand, of everything that's out there, what voters are paying attention to and what information is actually getting through to them."
With political campaigns now an easy target for influence via the internet and social media, the DDD Project aims to prevent hacks and information leaks by advising campaign teams and election officials on everything from safeguarding digital devices and computers to creating strong passwords to regularly backing up data. Mook joined Eric Rosenbach (co-director of the Belfer Center) and Matt Rhodes (manager of Mitt Romney's 2012 presidential campaign) on the DDD Project to produce bi-partisan playbooks that allow election administrators, election infrastructure providers and campaign organizations to learn more about digital vulnerabilities, such as hacking and malicious information leaks, that exist in their organizations and what they can do to offer better protection. The project also focuses on public discourse, namely how leaders in the tech and media fields can prevent misinformation from spreading on their platforms.
"I obviously was not an expert in this," Mook says. "I got a little bit of an education on the campaign when we had to manage these issues in real time, but over the last few months I've learned a lot more. It's helped me to understand not just cybersecurity in particular, but also more about how technology is influencing our security, the way we talk to one another, the way people engage in our democracy … The biggest thing I've learned over the last few years is how campaign management is no longer a set of best practices that evolve in two-year cycles; it's now an incredibly dynamic space. Managers have to learn to anticipate the unexpected and have to look at a campaign not as it is in the present, but where it could be and anticipate that."
The DDD Project has so far released three playbooks, "The State and Local Election Cybersecurity Playbook," the "Election Cyber Incident Communications Coordination Guide" and the "Election Cyber Incident Communications Plan Template," each of which focuses on a facet of cyber vulnerabilities or potential cyber crises.
Mook notes that this project has been especially rewarding because it's a chance to work with people from opposing political parties to create practical tools that are valuable to both sides. "When it comes to this issue we're able to get in a room together and be very productive, with a shared vision to make the country better," he says. "I think we need more of that in our political culture today."
While Clinton's loss was a blow, Mook says that the process was a great learning opportunity that has brought him to a new and exciting role in the civic space. And despite the challenges ahead, he remains hopeful: "I'm optimistic about our politics moving forward because I've seen again and again the power that individual people have to organize and mobilize other people and make changes."