| | | | | | | |
| --- | --- | --- | --- | --- | --- | --- |
| | | || | | || | | |
COVER STORY
The Growing Cult of Paul Auster '69
By Claire Lui '00
Paul Auster '69's books are not always available on local bookseller's shelves — or so it seems. That's because his novels have earned an unofficial badge of cool: An occasional shoplifting problem has made some booksellers keep Auster's works behind the counter.
The critics love Auster, and so do the readers; he has an extremely devoted fan base. Some of his neighbors on the most frequently stolen shelf include Jack Kerouac '44, William S. Burroughs and Charles Bukowski, which gives an idea of the type of devoted fans who sometimes help themselves to his books. He has fans who create websites, some of which mention stalking the author around Brooklyn. He's the kind of author who has inspired a cult following; people tend to have read all of his books or tried just one, with few in between.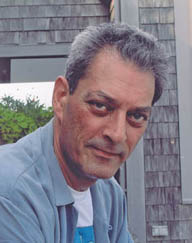 PHOTO: COURTESY PAUL AUSTER '69

Auster's books, including novels and autobiographical works, all have the same unmistakable voice. It's a voice with a melancholy ache, telling tales of lonely, broke and broken heroes who search for love and family. His narrators worship books and movies, and they almost always struggle with understanding the limits of language and art.
Auster's stylish melancholy hooks devotees and brings them back for more. Luckily for fans, Auster is a steady writer, making the wait between books only a couple of years or so; in December, his 10th and newest novel, The Brooklyn Follies, was published by Henry Holt and Co. Add a few volumes of autobiography, several books of poetry, some essays and three film scripts (Smoke, Blue in the Face and Lulu on the Bridge), and it's clear that he has contributed a solid body of work to almost every category of literature.
The Brooklyn Follies is one of Auster's happier books, and perhaps his happiest novel yet. He describes the book as "a comedy, even though a lot of dark things happen in the book. By the end, the people are a bit better off than in the beginning." Set in his Brooklyn neighborhood, Park Slope, the novel starts with a recently divorced man, Nathan Glass, who has moved back to the borough of his youth because he "was looking for a quiet place to die." This simple goal turns into quite the opposite, as Glass discovers more and more reasons to live, making connections with a long-lost nephew and a charming con man.

Auster's stylish melancholy hooks devotees
and brings them back for more.

Carol Mann, Auster's literary agent, agrees that the book has a different tone from Oracle Night and The Book of Illusions, the novels that preceded it. "It's an upbeat book after a couple that weren't," says Mann. "This one has a smile on its face."
Auster's editor at Holt, Jennifer Barth, concurs, saying she hopes that this will be the novel that will break through to the unconverted. "I know a lot of people who are under the impression that he's cerebral, that he's an acquired taste," says Barth. "But his books are incredibly accessible, and the characters are very human. You don't need a degree to read Paul Auster."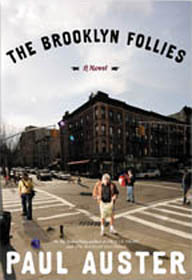 PHOTO: COURTESY HENRY HOLT AND CO.

Her words echo Smoke and Blue in the Face director Wayne Wang's description of Auster to the Guardian: "He and I are basically humanists. We love to see the better side of people, although we see a lot of ironies within that."
Auster fans don't need the new book to do any convincing. A new book by Auster is reason enough to read it. But even devoted fans have to start somewhere, and most start with The New York Trilogy, particularly the first novella, City of Glass. City of Glass is a detective story about a private eye keeping watch over a man, in the same sense that Hitchcock's Vertigo is a detective story about a private eye keeping watch over a woman, which is to say the book isn't about that at all. Auster used the skeleton of a detective story to explore the notions of language (one of the characters has been raised without being exposed to any language at all), the role of the author (a character named Paul Auster makes an appearance) and the impact of fate (a random phone call sets off the story).
The New York Trilogy's popularity can be gleaned in many ways: It's never been out of print, an adaptation of City of Glass into a graphic novel was named by The Comics Journal as one of the best 100 comics of the 20th century and a bookstore manager commented on NPR that The New York Trilogy was the most frequently filched Auster novel, including one incident where a stack of 20 copies was taken in one fell swoop.
The New York Trilogy also was the first work of fiction Auster published under his name, with the first novella published in 1985 and the second and third in 1986. (An ill-fated mystery novel was published earlier under a pseudonym.) Auster's wife, writer Siri Hustvedt, describes the book as an introduction to the rest of Auster's work for Auster himself: "It was a kind of internal investigation of the novel itself, a way for Paul to answer for himself fundamental questions about the art of fiction. Who is the author? What does it mean to be a fictional character? What is storytelling? That three-part exploration was a necessary, and I believe, brilliant, preamble to the narratives that followed."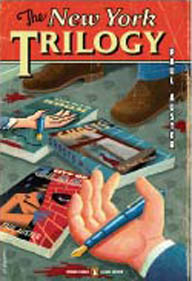 PHOTO: COURTESY PENGUIN GROUP (USA)

But for Mann, who has represented Auster since the beginning of his career, it is his first book, The Invention of Solitude, a 1982 memoir about his father, that serves as the best introduction to Auster's world. "The scenes of his novels are clearly in that first autobiographical work," she says. The Invention of Solitude and his other memoirs have an intimate tone that often is matched by the first-person narration of his novels.
For many readers, it's easy to conflate the two, to assume that much of the fiction draws directly upon the autobiographical works. And Auster's authorial tricks — putting himself and his wife into City of Glass as characters, marrying a character from his wife's first novel, Iris (spell it backwards) to one of his characters in Leviathan — don't help the confusion. But Auster is firm about the distinction between fiction and non-fiction: "People simply can't understand that there's such a thing as imagination. It comes up again and again. People read a novel and think 'Oh, that's the person's life.' The greatest novelists are not writing their life stories. They are taking material from their lives and transforming it into something else."
Auster understands the slippery bond between author and reader, something he references with his allusions to Don Quixote. When asked about the confusion between a novel's narrator and author, he admits, "I've always been fascinated by the fact that you pick up a novel and you see the author's name on the cover, and while you're reading, someone is talking to you. But is it that same person? Who is that person?" He pauses and adds, "The person who pays the bills and takes out the garbage is not the person who writes the book. It's someone else."

"I've always been fascinated by the fact that you pick up a novel and you see the author's name on the cover, and while you're reading, someone is talking to you. But is it that same person? Who is that person?"

Though Auster emphasizes that there is no conscious connection between the two, his memoirs have stories that sometimes seem more fiction than fact. The Invention of Solitude describes scenes from his parents' unhappy marriage and the tale behind his father's reticence to speak about family history. In 1919, Auster's paternal grandmother killed his grandfather, a family scandal that his father never spoke about. It was only after a cousin's accidental meeting with a stranger that the younger generation learned the sad truth. Auster also notes in the book that his grandfather died on the same day as his own father, only 60 years earlier.
The Invention of Solitude is an exploration of one of Auster's constant themes — what does it mean to be a father? It's a theme he returns to over and over again in his books, and his foreword to Twenty Days With Julian & Little Bunny, by Papa, a small book excerpted from Nathaniel Hawthorne's diaries, is a testament to his connection to fatherhood. The diary excerpt, which, as the title explains, recorded Hawthorne's three weeks alone with his 5-year-old son, is touching and poignant, and Auster's final sentence of his introduction hints at some of his feelings toward his children: "In his modest, deadpan way, Hawthorne managed to achieve what every parent dreams of doing: to keep his child alive forever."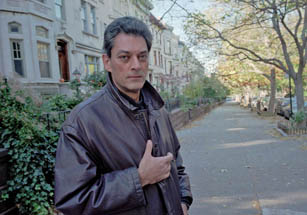 PHOTO: AP PHOTO / MARK LENNIHAN

A glimpse of Auster as a parent (his wife describes him as "an active, involved and passionate father" to their daughter and Auster's older son from his first marriage to Lydia Davis, a poet and translator) appears during an interview, when his daughter, then a soon-to-be college freshman, calls.
Up until his daughter's call, Auster has fulfilled expectations about what the "real" Paul Auster should be like. First, he really does have the broodingly handsome bone structure shown on his dust jacket photo. (Novelist David Foster Wallace once jokingly wrote that his cruise ship captain was "ridiculously good-looking, like an extremely fit and tan Paul Auster.") Second, he seems to live exactly the life one would imagine for him: smoking one small dark cigarette after another in his book-lined library, surrounded by glamorous black-and-white photographs of his wife and children. Third, his speaking seems to match his aura perfectly — a low, smoky voice, and a deliberate, thoughtful pace. (It's no surprise that NPR asked him to be a regular after hearing him read on-air.)
But on the phone with his daughter, Auster changes. Suddenly, he seems a lot more like the average dad than international literary man of mystery. His posture changes from elegant and relaxed, to hunched over and well, dad-like. He puts on glasses to write down information, mangles the name of a teen soap that his daughter is chatting about (His daughter says "One … Tree … Hill, Dad!"), gently teases her about a certain boy who has been leaving messages at their house, and most fatherly of all, gives detailed instructions about the subway system with a firm (and a little worried) instruction to check in with her parents soon. When he gets off the phone, Auster, who does not have e-mail or the Internet and only recently learned to use the computer, proudly tells me to check out his daughter's website, which sells CDs of her first album.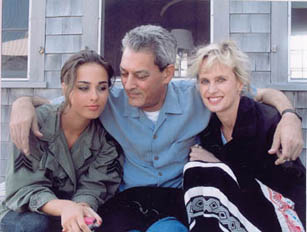 PHOTO: COURTESY PAUL AUSTER '69

It's a side that doesn't come out in his books much, and sheds some light on Hustvedt's comment that her husband "is funnier in his work and in life than people give him credit for."
Auster's undergraduate days were spent on campus during some of Columbia's most tumultuous years. Writing in Hand to Mouth, Auster describes his time at the College: "Those years were not about making plans, not about preparing for my financial future. They were about books, the war in Vietnam, the struggle to figure out how to do the thing I was proposing to do [be a writer] … Nearly everything that is still important to me in the way of literature and philosophy I first encountered during those two years … I read books as if my brain had caught fire, as if my very survival were at stake. One work led to another work, one thought led to another thought, and from one month to the next, I changed my ideas about everything." Auster dropped out of the College after a fight with the director of the study abroad program in Paris, but was reinstated when he returned to New York. That put Auster back on campus in time to participate in the protests that were sweeping campus.

His speaking seems to match his aura perfectly — a low, smoky voice, and a deliberate, thoughtful pace.

Auster earned an M.A. in English and comparative literature in 1970 from GSAS, and though he remembers his time at Columbia as "very stimulating," he mentions a memory that perhaps tells a great deal about his years at the University. "Years later [after graduation], I taught a course at the School of the Arts. It was just that one semester — I was filling in for somebody. I would take the subway from Brooklyn uptown, get off, start walking around the campus, and a tremendous sadness would start washing over me, almost a kind of depression. And I realized then that I must have been much unhappier at Columbia during my years there than I had realized, since it happened every time I went to campus during those 14 weeks."
No matter what his experience, Columbia is a part of New York, and the campus and its surroundings appear in many of Auster's novels. His personal life also is tied to the school. His first wife graduated from Barnard in 1970, and Hustvedt received an M.A., an M.Phil and a Ph.D. from Columbia in 1979, 1982 and 1986, respectively — all in English and comparative literature. Hustvedt was introduced to Auster at a poetry reading by a fellow Columbia graduate student at the 92nd St. Y and describes her first impression thus: "I thought he was the most beautiful thing I'd seen in ages." Auster clearly thinks equally highly of his wife of more than 24 years. His main character in City of Glass describes "Iris" as "a tall, thin blonde, radiantly beautiful, with an energy and happiness that seemed to make everything around her invisible."

"When I was in Paris in 1967, I remember seeing Samuel Beckett, my big hero. I was awestruck that he was there, just walking down the street. I remember walking behind him for a while, but I didn't approach him. I was too shy."

So what's next for Auster? He laughs and says, "To try to stay alive. I think that's No. 1. If I can accomplish that, that will be good. And to keep working." His plans are certainly a bit more ambitious than his modest pronouncements. In addition to The Brooklyn Follies, Auster is editor of a new four volume set of Samuel Beckett's works for Grove Press, being published in April in honor of Beckett's 100th birthday. Beckett is one of Auster's favorite writers, and he admits to a little fan stalking of his own: "When I was in Paris in 1967, I remember seeing Samuel Beckett, my big hero. I was awestruck that he was there, just walking down the street. I remember walking behind him for a while, but I didn't approach him. I was too shy." There's also a mysterious new film project Auster only hints about, and of course, he's working on another novel.
As Auster wrote in Hand to Mouth, "Becoming a writer is not a 'career decision,' like becoming a doctor or a policeman. You don't choose it so much as get chosen, and once you accept the fact that you're not fit for anything else, you have to be prepared to walk a long, hard road for the rest of your days." Auster is still walking on that road, and clearly has much more of his chosen work ahead of him.
---
Claire Lui '00 is a frequent contributor to CCT. She is on the staff at American Heritage and also has also written for Print, Budget Living and Martha Stewart Living.
| | | | | | | |
| --- | --- | --- | --- | --- | --- | --- |
| | | || | | || | | |


CCT Home


This Issue


Previous Issue

CCT Masthead