| | | | | | | |
| --- | --- | --- | --- | --- | --- | --- |
| | | || | | || | | |
FIRST PERSON
Chronicling America's Mayor
By Robert Polner '82
If people were surprised by Rudy Giuliani's steadying performance on September 11, 2001, I was not among them. As a Newsday reporter in the City Hall press room for more than four years, I had observed and chronicled the restive and driven politician who was comfortable with conflict and ill at ease in periods of relative calm.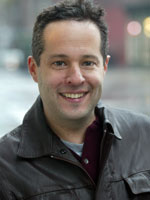 Photo: ari mintz

Peaceful times, of course, can invite scrutiny and debate, two things the former mayor seemed to deplore, for reasons tactical as well as temperamental (though it was sometimes difficult to tell which). I and other reporters knew that if a Thursday rolled around and the media were not sufficiently occupied by a mayor-generated story, he usually could be counted on to throw a verbal headline-making punch or announce a "major initiative" to stay in control of the discourse.
On the day the towers fell, when so much seemed beyond control and the President and Vice President of the United States were incommunicado, Giuliani quickly became the most visible leader of a city, and country, compelled to a wartime footing. He will long be remembered for his rendezvous with the city's darkest hours of horror and crisis, and aptly so. At the same time, he was, in a sense, doing what came naturally to him: taking charge single-handedly and controlling the media's message.
These days, some admirers begin and end their discussion of Giuliani's eventful mayoralty with 9-11. I was never comfortable with that. The heroic narrative, sometimes most pronounced in national media, strikes me as a simplification and distortion, as the attributes that made Giuliani so effective in a crisis often served him, and the city, ill during peacetime. And he largely reigned during moments of good fortune in the city's and country's history — the dot-com boom of the late 1990s, for example, and the fall of crime in most cities, including New York.
On 9-11, I stood fewer than four blocks from the World Trade Center, gaping at the smoke and fire in the sky. The first tower fell in the early moments of the mayoral primary election I was covering. I think I only began to feel life in the city's political world returning to something approaching normal when Giuliani, appearing at a Bronx high school at one of his last public forums, sounded off at a teacher who pointedly challenged his education policies. Though by then he was a national hero, "America's mayor," he grew agitated and defensive and he accused the teacher of behaving like a "jerk."
That display of pique was typical of Giuliani as I saw him before 9-11 — sometimes impulsive, invariably sensitive to criticism and (like many public servants) loath to admit a mistake. Also characteristically, he unsuccessfully tried to extend his last allowable term beyond the statutory limit and the end of 2001. The feat he did pull off was having underlings remove — to a secure warehouse — the physical record of his mayoralty, putting the papers and keepsakes out of reach of historians, journalists and other researchers.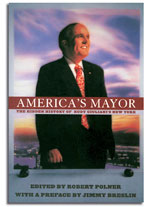 A year after Giuliani left office, I became concerned that the complexities of his tenure were in danger of being swept under the rug and mythologized. I decided to assign and edit 18 original essays by notable New York writers, with each contributor examining a specific aspect of Giuliani's tenure, such as public education, poverty and the emergency rescue operation on 9-11. The book, America's Mayor: The Hidden History of Rudy Giuliani's New York, includes a preface by Jimmy Breslin, and an introduction by me. Whatever its shortcomings, I hope it contributes to an understanding of one of the city's most interesting political figures of recent history, who is widely expected to enter the Republican presidential primaries in 2008.
When I think back to my days at the College from 1978–82, I'm not surprised that I involved myself in a project like this. I spent many a day and night (and well into the early morning) as a fledgling reporter and editor for Spectator. The intense experience set me on a career path through five newsrooms and on many memorable journalistic forays.
Moreover, Columbia's academic culture placed a premium on debate. It was an environment like no other I have experienced since — where the Socratic dialogue (frank discussion, questioning and debate as means to deeper understanding) is not a lofty ideal but a common teaching practice. At Columbia, critical thinking is encouraged. I took that for granted at times when I was a student. I don't anymore.
Now, I never expected to hear Socratic dialogue in a political environment, for woe is the politician who is perceived by the press as something less than decisive. However, people should know the record of their leaders, especially those, such as Giuliani, with their eyes on the presidency. The charge requires not only access to public information, which the former mayor went to great lengths to withhold, but also the spirit of independent journalism — that is, a healthy skepticism about what politicians say and a careful regard for what they do. Another phrase for it, again, is critical thinking. Columbia showed me it is advisable in times of war as well as peace.
---
Robert Polner '82 lives in New York City with his wife and daughter. He writes for Newsday.
| | | | | | | |
| --- | --- | --- | --- | --- | --- | --- |
| | | || | | || | | |


CCT Home


This Issue


Previous Issue

CCT Masthead