| | | | | | | |
| --- | --- | --- | --- | --- | --- | --- |
| | | || | | || | | |
WITHIN THE FAMILY
The Arts of Columbians
By Alex Sachare '71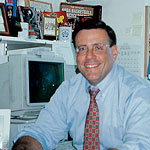 In this issue, we spotlight several Columbians in the arts, with features on author Paul Auster '69, who recently published his 10th novel; writer/director Bill Condon '76, whose film credits include Chicago, Gods and Monsters, Kinsey and the upcoming Dreamgirls; and the teams of young alumni behind two noteworthy independent films, the critically acclaimed Murderball and soon-to-be-released Man Push Cart.
All of these artists continue a long and rich tradition of Columbians in the arts, a legacy that includes Broadway pillars Richard Rodgers '23, Oscar Hammerstein '16 and Lorenz Hart '18; writers as diverse as Herman Wouk '34, Allen Ginsberg '48 and Jack Kerouac '44; musicians such as Emanuel Ax '70 and Art Garfunkel '65; legendary actor James Cagney '22; prolific TV writer/producer Saul Turteltaub '54 (That Girl, Sanford and Son); and the Oscar-winning screenwriting brothers, Herman Mankiewicz '17 (Citizen Kane) and Joseph Mankiewicz '28 (All About Eve). And this is only a partial list that doesn't even touch on painters, sculptors and so forth.
At the Academy Awards on March 5, two Columbians were nominated for best adapted screenplay: Dan Futterman '89 for Capote, of which he also was executive producer, and Tony Kushner '78 (with Eric Roth) for Munich. Futterman is best-known as an actor for his recurring roles on Judging Amy and Related, while Kushner is the Pulitzer Prize-winning playwright of Angels in America.
In addition, Murderball (see feature), with Henry-Alex Rubin '95 as co-director and cinematographer, Jeffrey Mandel '96, '03L, '03 Business as producer and Sara Cross '95 as associate producer, was up for an Oscar as best documentary feature.
At the Sundance Film Festival last month, Maggie Gyllenhaal '99 (Secretary, Mona Lisa Smile) received rave reviews for her performance in the gritty Sherrybaby. Gyllenhaal and her brother, Jake (Brokeback Mountain, Jarhead), who briefly attended the College but left as his career took off, must be the hottest sister-brother acting duo in Hollywood.
Meanwhile, Matthew Fox '89 stars in Lost, one of the most popular dramas on television, and Amanda Peet '94 is taking a break from her extensive movie career to star in a Broadway revival of Neil Simon's Barefoot in the Park. There's also Julia Stiles '05, Anna Paquin '04, Rachel Nichols '03 and many, many more.
Clearly, a new generation of Columbians is making its mark in a variety of writing, film and performing arts fields.
Speaking of marks, did you know that Leo the Lion, the roaring logo for MGM, was created by Howard Dietz '17, who enjoyed a unique career as a Hollywood publicist and Broadway lyricist? He was inspired by the Columbia mascot and fight song. Roar, Lion, Roar!
| | | | | | | |
| --- | --- | --- | --- | --- | --- | --- |
| | | || | | || | | |


CCT Home


This Issue


Previous Issue

CCT Masthead