| | | | | | | |
| --- | --- | --- | --- | --- | --- | --- |
| | | || | | || | | |
ALUMNI UPDATES
Daniel Alarcón '99 Writes From Outside
By Elbert Garcia '97
In just two years, Daniel Alarcón '99 has begun to make his mark in the literary world. After an impressive 2003 debut on the fiction pages of The New Yorker, he followed up last spring with his first book, a well-received bilingual short story collection, War by Candlelight.
Writing, however, is not the only passion that drives this young author. Despite the praise, the book deal with HarperCollins and the daily opportunity to live out a dream, Alarcón's steadfast love is being in the classroom.
"Teaching is like standing up and tricking people into learning … entertaining them, making them feel comfortable," says Alarcón, who taught in public schools in the Bronx and Harlem after graduation. "It's not sitting at home alone writing. It's getting in front of 25 strangers and convincing them that you're not boring and that you have something interesting to tell."
The realities between the classrooms and streets of New York and Lima, Peru, including his students' struggles to find their place within a rapidly changing world, pepper War by Candlelight. Closest to the young author's heart by far is the title story, a tale loosely based around a relative's involvement with the radical left and the effect insurgency groups have had on the South American country.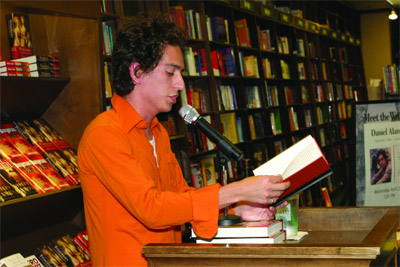 Photo: Jorge Sarmiento

"I didn't want to romanticize it at all, but I didn't want to try to explain or attempt to understand from my perspective how this character, who from what everyone says is the best that Peru has to offer, could make a choice like he did to take up arms," says Alarcón, who was 3 when his middle-class parents settled in Birmingham, Ala., in 1980.
Allowing readers to get to know his characters as they react to political turmoil, street violence and natural disasters, without condoning or condemning them, is one of Alarcón's strengths. Another is his ability to describe personal battles that sometimes take place in the public eye and to weave in new scenes and details with universal emotions so that they seem like distant memories, not works of fiction.
What results are clear and familiar snapshots of Latino life from South America to the Big Apple — a good start to what Alarcón hopes will be a career that will include fiction and nonfiction, and perhaps even some policy work.
As for his time at Columbia, Alarcón remembers it as four years that helped established lifelong friends, most of whom appear in his book's acknowledgments section, all of whom continue to push and inspire him. An anthropology major, Alarcón took advantage of many of the resources Columbia and New York City offered. In addition to taking a slew of history, sociology and anthropology classes, he spent a semester abroad in Ghana and took classes at the School of the Arts. His interests also led him to reach into the surrounding New York City community and teach photography and writing to elementary school students.
Alarcón says what he learned outside the classroom had a big impact on his education. He was active in the student movement that developed Columbia's Latino and Asian American Studies programs and co-edited the undergraduate journal Roots & Culture.
"That was the kind of stuff that certainly is more worthwhile than reading Pride and Prejudice, in terms of real world experience and putting me in a place that was not my place," says Alarcón, who graduated in 2003 with an M.F.A. from the Iowa Creative Writing Workshop, one of the nation's most prestigious writing programs. "If you are going to be a writer, you need to be prepared to know what it means to be an outsider, to be observant of what you are doing and why you are doing it."
Feeling like an outsider, wanting to explore his identity and walking between multiple worlds were all familiar experiences for Alarcón, and they allowed him to bond with the students he taught in the Bronx and Harlem public schools after graduation. With help from Dean Kathleen McDermott, it also was what drove him to return to Peru in 2001 as a Fulbright Scholar.
Alarcón became involved with a local Lima organization in constructing a demographic map of the neighborhood. There, both the native Peruvian and the anthropologist in him were hooked, immersed in a city that had been as much transformed by the children of first-generation indigenous urban dwellers as it had by the socioeconomic forces of globalization.
Alarcón is serving a two-year appointment from 2005–07 as distinguished visiting writer at Mills College in Oakland, Calif., where he will teach three graduate-level fiction writing workshops — he taught two in the fall, "The Craft of Fiction" and "Graduate Fiction Workshop," and is teaching one this spring.
"In a sense, it gives you [material] to write about," notes Alarcón, who hopes to complete his first novel this year. "Instead of studying writing, you're studying about life."
If Alarcón could have it all, he would commute during the summers between the United States and Lima, continuing the constant learning he enjoys from being a teacher. But for now, he's thankful to be at the right place at the right time.
"You collect rejection letters for years and then you get a shot. It's not really fair to ask for much more than an opportunity," he says. "This particular moment is mine. Someone else will have another. I hope I take advantage of this one."
---
Elbert Garcia '97, born and raised in Washington Heights, is a New York City-based freelance journalist and Web producer who writes about culture, politics and youth. He lives in Inwood with his wife, Grissel Seijo '93.
| | | | | | | |
| --- | --- | --- | --- | --- | --- | --- |
| | | || | | || | | |