| | | | | | | |
| --- | --- | --- | --- | --- | --- | --- |
| | | || | | || | | |
OBITUARIES
Dr. Herbert Mark '42, Devoted Alumnus and Class Leader
Dr. Herbert Mark '42, a devoted College alumnus and Class of 1942 leader, died on January 5, 2006. He was 84 and lived in Tuckahoe, N.Y. [more]
Henry S. Coleman '46, Former Interim Dean
Henry S. "Harry" Coleman '46, who held numerous administrative positions in 32 years of University employment, died on January 31. He was 79 and lived in New Canaan, Conn. [more]

1927

Julian M. Sturtevant, professor emeritus of chemistry, molecular biophysics and biochemistry, Seattle, on August 12, 2005. Sturtevant was born in New Jersey on August 9, 1908, to Bessie and Edgar H. Sturtevant, professor of classics and linguistics at Columbia and Yale. Sturtevant received his Ph.D. from Yale in 1931 and began his career there at 23, chairing the chemistry department from 1959–62. During WWII, he worked at the Radiation Laboratory at MIT. An authority on the application of calorimetry to biological systems, Sturtevant was elected to the National Academy of Sciences in 1973 and received numerous awards in the United States and abroad. A Yale Faculty member until 1977 who continued working in his lab there for another 20 years and continued his research into the '90s, Sturtevant also served as a visiting professor at UC San Diego and the Batelle Research Center in Seattle. Sturtevant and his wife of 75 years, Elizabeth, who predeceased him, traveled and hiked all over the world, celebrating her 75th birthday at Mt. Everest base camp. Sturtevant is survived by his daughter, Ann Sturtevant Ormsby; three granddaughters; two great-granddaughters; two great-grandsons; and daughter-in-law, Carol. A son, Bradford, and son-in-law, John W. Ormsby, predeceased him.

1936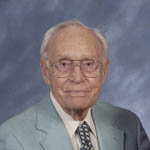 William V.P. Sitterley '36

William V.P. Sitterley, retired assistant comptroller, Naples, Fla., on December 5, 2005. Sitterley was born on March 28, 1916, in Brooklyn. After earning his B.S. from the Business School in 1936, he joined Bethlehem Steel, where he worked for 37 years before retiring. In 1940, he married Catharine Lewis. Sitterley was an ordained elder in the Presbyterian Church and served on the boards of St. Luke's Hospital and Collier County Habitat for Humanity for many years. Following in his footsteps at Columbia were his daughter, Catharine Pasmantier '64 SW, who predeceased him; son, William '74; granddaughter Meredith '01; and grandson, James '03 Business. Sitterley also is survived by his wife; daughter, Beth Newman; son, William V.P.; brother, Donald; five grandchildren; and three great-grandchildren. He was preceded in death by an infant granddaughter.

1938

Seymour Trevas, retired businessman, Manhasset, N.Y., on December 17, 2005. Trevas was born in the Bronx on March 5, 1917, and raised in Far Rockaway, N.Y. He studied economics, and, after graduating, joined Travers Tool Co., a Queens machine shop and metalworking tool distribution company that was started in 1924 by his father. Trevas began working in sales, deepened the product line and developed longstanding relationships with customers. After his father passed away, Trevas served as president until 1986, when he became chairman and promoted his son-in-law to president. In 1992, his eldest grandson joined the company, making Travers a fourth-generation family business. Trevas had married Doris Shapiro in 1939; she died in 1997. He was a member of Three Arrows Cooperative Society, an avid learner and a passionate supporter of social causes. He is survived by his daughters, Marjorie Zolot and Carole Trevas Fleisher; four grandchildren; and two great-grandchildren. Memorial contributions may be made to Workmen's Circle Division of ORT or the UJA Federation.

1939

Theodore R. Breunich, retired engineer and manager, Stamford, Conn., on October 24, 2005. Raised in Pelham, N.Y., Breunich received a B.S. (1940) and M.S./Ph.D. (1941) from the Engineering School, both in mechanical engineering, and held various engineering and management positions during his career. These ranged from working at the Auto Ordnance Thompson Submachine Gun factory in Bridgeport during WWII to being a chief engineer of the nuclear submarine development program. Breunich was a sailor, nautical history buff and model shipbuilder who gave dozens of his works to his family. He and his wife of 60 years, Julie, were members of the Roton Point Beach Club for more than 50 years. In addition to his wife, Breunich is survived by six children, Ted Jr., Rich, Julianne, Claudia, Paul and Elaine; and two granddaughters. Memorial contributions may be made to Saint Camillus Health Center, 494 Elm St., Stamford, CT 06902.

1940

Roy L. Mitchell, retired educator, New Hartford, N.Y., on November 10, 2005. Mitchell was born on September 25, 1918, in San Francisco. He graduated from Bryant H.S. in Brooklyn; after the College, he received an M.A. from Columbia and did doctoral studies at Syracuse. Mitchell served in the Army Calvary Band prior to WWII and during the war was a company tank commander in the 1st Armored Division in North Africa and Italy, achieving the rank of captain. He was awarded the Bronze Star and the Purple Heart. During the Korean War, Mitchell was a military tactical instructor in Nebraska and Roswell, N.M. He was an English instructor at Mohawk Valley Technical Institute, now Mohawk Valley Community College (MVCC), since WWII, retiring in 1978 as associate dean of humanities and communication. He was a member of St. Stephen's Episcopal Church in New Hartford and served on the vestry. Mitchell was an accomplished pianist, flutist and an avid reader, and enjoyed woodworking and making furniture. In addition to his wife, née Edith Mae Smith, whom he married on March 26, 1949, he is survived by two daughters, Emily V. and her husband, John Garrett, and Ellen J. and her husband, Steven (Gus) Drake; son, Douglas R. and his wife, Robbie Riley; four grandchildren; and a great-granddaughter. Memorial contributions may be made in his name to a scholarship at MVCC or to the New Hartford Volunteer Fire Department.

1942

Henry Chippindale, retired commercial photographer, Palmyra, Va., on September 25, 2005. Chippindale was born on May 21, 1920, in Richmond Hill, N.Y. At the College, he was a member of Phi Gamma Delta fraternity. Chippindale served in WWII as a fighter pilot, flying a P31 Mustang. He contracted polio after his second mission in North Africa and required years of rehabilitation. He later worked in Manhattan for Daybrite lighting. After that, he owned a photography studio in Mineola, L.I., where he lived and raised his family. Gifted with a rich baritone, Chippindale was a soloist with several church choirs. In 1997, he retired to Virginia but continued to spend his summers at the family cottage in Sag Harbor. Chippindale is survived by his wife of 55 years, Joyce; and sons, Bruce and his wife, Svetlana, Glenn and his wife, Carrie, and Craig; and four grandchildren. Two sisters, Constance and Isobel, predeceased him. Memorial contributions may be made to East End Hospice, PO Box 1048, Westhampton Beach, NY 11978 or Palmyra United Methodist Church, Palmyra, VA 22963.

1943

David E. Mark, retired ambassador and tour guide, New York City, on September 17, 2005. Mark was born in New York City on November 15, 1923. While serving in the Army Air Corps during WWII, he completed his studies at the Law School, earning a degree in 1946. Mark joined the Foreign Service and rose to the rank of ambassador, serving in South Korea, Finland, West Germany, Romania and Moscow in the 1950s. He met his wife, Elisabeth Lewis Mark, in 1958 in Moscow, where she headed the Anglo-American elementary school. They married in Washington, D.C., in 1959 and moved to Geneva, where Mark joined the delegation to the test ban treaty negotiations. In the early 1960s, he lived in Bethesda, Md., and served as deputy head of the Intelligence and Research Bureau until his appointment as ambassador to Burundi from 1974–77. From 1979–81, Mark served again at the State Department as deputy assistant secretary of state. After retirement from government in 1981, he consulted on international affairs for ALCOA in Pittsburgh. Mark spoke fluent Russian, German and French and was conversant in Portuguese, Spanish, Italian and Japanese. With the breakup of the Soviet Union in 1989 and a dearth of Russian linguists, Mark was asked to help establish the American Embassy in the former Soviet Republic of Georgia. He returned to Tiblisi in 1992 to help the Georgians write their constitution. During the 1990s until his death, Mark was an active member of the NYC Council on Foreign Relations. For nine years, he volunteered every week as a guide and translator for Big Apple Greeters of New York and was a full-time, licensed New York City tour guide for Gray Line, sharing his love for the city with thousands of tourists each year in a number of languages. Mark also taught courses as an adjunct professor of global affairs at NYU. Mark is survived by his wife; children, Leslie Mark and Mark Eisemann, Andrea and Adam Chiou, and Clayton and Lisa Mark; niece, Elena Nantz Strunk; and seven grandchildren. Memorial contributions may be made to Big Apple Greeters, 1 Centre St., Ste 2035, New York, NY 10007; Center for Global Affairs at NYU, Attn. Amy Cross, 25 W. 4th St., 4th Fl., New York, NY 10012; or The Council on Foreign Relations, The Harold Pratt House, 58 E. 68th St., New York, NY 10021.
George W. Spitler, retired self-employed manufacturer's sales representative, Scottsboro, Ala., on December 17, 2005. Spitler formerly resided in Buskirk, N.Y., and Old Bennington, Vt. He was born on March 2, 1922, in New York City and attended The Loyola School. After the College, he spent three years in the Navy, 1943–46. During his sales career, Spitler was a representative for various gift and food/bakery companies, most notably the family-owned business, Spitler & DeBragga; International Bakers Services; Bakery Crafts; Pfeil and Holing; and Bloekers Chocolate. He was predeceased by his first wife, Marjorie M., and son, Richard M. He is survived by his wife, Margaret P.; children, James, Dorothy Martino, Heidi Reynolds, John and Heather; stepdaughters, Melanie Hoffmann and Caroline Goss; 10 grandchildren; two great-grandchildren; and a sister-in-law. Memorial contributions may be made to the Columbia College Fund, 475 Riverside Dr., Ste 917, New York, NY 10115-0998.

1945

Arthur W. Epstein, retired physician and professor, New Orleans, on November 8, 2005. Epstein, a professor of psychiatry and neurology at Tulane's School of Medicine, died in Austin, Texas, where he was temporarily living after evacuating his home due to Hurricane Katrina. Born in New York City on May 15, 1923, he earned his M.D. from P&S in 1947. After training in neurology at Mount Sinai Hospital, Epstein moved to New Orleans in 1950 and trained in psychiatry and psychoanalysis at Tulane's School of Medicine. Active in professional organizations, he was president of the American Academy of Psychoanalysis and of the Society of Biological Psychiatry. The Louisiana Psychiatric Association named him "Psychiatrist of the Year" in 1992. Epstein's publications include scores of scientific articles for professional journals and collections, and a book, Dreaming and Other Involuntary Mentation: An Essay in Neuropsychiatry, published in 1996, which summarizes his lifelong research in dreaming. He also was a prolific creative writer. Epstein is survived by his wife of 50 years, Leona; son, David, and his partner, Alexander Bargioni; daughter, Nona Kathryn Epstein and her husband, Daniel Samuels; daughter, Emily Vera Epstein and her husband, Yoshiharu Kobayashi; son, James Jacob (Jack) and his wife, Mary Strother; sister, Florence; sister Roslyn and her husband, Aaron Weiner; and four grandchildren.

1947

Melvin G. Shimm, professor emeritus of law, Durham, N.C., on September 17, 2005. Shimm was born in New York City on January 30, 1926. His College education was interrupted by WWII, in which he served for three years. After he was honorably discharged from the Army as a second lieutenant in the field artillery, he resumed his College education in 1946 and was elected to Phi Beta Kappa. He graduated with honors from Yale Law School in 1950, where he was an editor of the Yale Law Journal and was elected to the Order of the Coif honorary society. Shimm had a long, multi-faceted career in law, law teaching and civic affairs. In 1950, he practiced law in New York City and was an attorney for the Wage Stabilization Board in Washington, D.C., during the Korean War. Following a year as a Bigelow Fellow at the University of Chicago Law School, Shimm began a long and fruitful career on the faculty of Duke Law School, where he taught from 1953 until he retired in 1996. He also taught at NYU and the Universities of Southern California, North Carolina, Michigan and Texas. Shimm served as editor-in-chief of Law and Contemporary Problems and of the Journal of Legal Education, both at Duke Law School; as American editor of the Journal of Business Law and the Business Law Review; as faculty editor of the Duke Law Journal; and as director of the Association of American Law Schools Orientation Program in American Law 1968–70 and of Duke Summer Institute in Transnational Law 1986–92. He served on a number of boards and was senior legal consultant for the Brookings Institution in Washington, D.C. Shimm received numerous awards, and an endowed professorship was named in his honor at Duke Law School in 2000. Shimm was active in the community, serving Durham's Jewish and community organizations. Survivors include his wife of 57 years, Cynia B; sons, David and his wife, Carmen, and Jonathan and his wife, Judith; two grandsons; and twin brother, Robert. Memorial contributions may be made to the Jewish Family Service, 3622 Lyckan Pky, Ste 3003, Durham, NC 27707 or to Beth El Synagogue, 1004 Watts St., Durham, NC 27701.

1951

Emile Capouya, essayist, critic and publisher, East Meredith, N.Y., on October 13, 2005. Capouya was born in Manhattan in 1925 and grew up in the Bronx. At DeWitt Clinton H.S., he worked on the school's literary magazine. After high school, Capouya joined the Merchant Marines, returning home after the war to attend Columbia while working part-time as a stevedore on New York's docks. This, coupled with earlier experiences at sea, helped shape the political views he put into his articles and reviews for The New American Review, The New York Times, The Saturday Review and The Nation, where he was literary editor from 1969–81. Capouya began his professional career at New Directions in New York, publishing works by Ezra Pound, Tennessee Williams, Jean-Paul Sartre and James Joyce, among others. Through the years, he worked at a number of other publishers, acquiring and editing works such as The Other America, by Michael Harrington, and The Periodic Table, by Primo Levi. In 1986, he and his wife, Keitha, founded New Amsterdam Books, publishing literary fiction. The couple also edited The Essential Kropotkin, a collection of writings by the Russian anarchist. At 68, Capouya published his first story collection, In the Sparrow Hills, was based on his experiences as a young officer in the Pacific during WWII. A collection of five semi-autobiographical short stories, it won the Sue Kaufman Prize of the American Academy and Institute of Arts and Letters. Donna Seaman, in the American Library Association journal Booklist, described narratives that recounted "heightened moments of conflict between duty and integrity, the surge of adrenalin in instants of fear and fury, and the seethe of emotion beneath the orderly surface of military and workday life." Capouya also published a novella, The Rising of the Moon, in 2003. He is survived by Keitha, his second wife; daughter, Laure; son, John; and sister, Miru. His first marriage, to Mary Denman, ended in divorce.

1957

Aryeh Hurwitz, professor of medicine, Overland Park, Kan., on October 21, 2005. Hurwitz earned his M.D. at Washington University and worked at Kansas University Medical Center. His specialty was pharmacology; his childhood friend, Milton Stein '58, noted, "He performed outstanding research on the interactions of over-the-counter medications." As an undergraduate, Hurwitz held Columbia College and New York State Scholarships, won a Silver King's Crown, and was a member of WKCR, Pre-Medical Society, Seixas-Menorah Society and the Hebrew Club. He was active in the Columbia College alumni association in Kansas City. Stein also noted that Hurwitz's "Columbia education led him from the slums of Brooklyn to a vital life devoted to the public good … His dedication inspired each of his three sons into careers in academic medicine." Memorial contributions may be made to the Kansas University Endowment, Aryeh Hurwitz Memorial Research Fund, 3901 Rainbow Blvd., Kansas City, KS 66160-7804.

1967

Timothy Vernon, choral music leader, conductor and pianist, New York City and Pleasantville, N.Y., on December 28, 2005. Vernon was born in Winston-Salem, N.C., on February 5, 1945. He earned B.A. degrees in music simultaneously from Juilliard and Columbia and had two graduate degrees (in musicology in music liturgy and in orchestral conducting) from the Yale School of Music and SUNY Buffalo. While at the College, he received the Henry Evans Traveling Fellowship and was a member of Delta Phi fraternity. A pianist, harpsichordist and organist, Vernon was the music director of the Choral Arts Society, based in Briarcliff Manor, N.Y., since 1990. He also had conducted the Yale Philharmonic, been music director of the Opera Program at the Music Conservatory at Purchase College and taught at Bennett College, the Aspen Music Festival and School and the School of Visual Arts. Vernon toured as a pianist and conductor throughout the United States, Canada, Europe and South America and had a special interest in directing vocal music, leading choral groups and coaching opera singers. He also taught private lessons in his community. Vernon was the choir director and musical liturgist at The Church of St. Mary the Virgin in Chappaqua, N.Y. In addition to his work in music, Vernon was an adventurous traveler, having recently voyaged down the Mekong River and traveled to Egypt. He is survived by a brother, John; and sister, Carolyn Carter. Memorial contributions may be made to the Timothy Vernon Memorial Organ Fund, The Church of St. Mary the Virgin, PO Box 380, Chappaqua, NY 10514.

1978

Michael T. Porter, senior analyst, Summit, N.J., on September 8, 2005. Porter earned his bachelor's degree in German language and literature and a degree in finance and accounting from the Business School in 1987. During his College years, he rowed on the lightweight varsity crew team and was a founding member of CATV. Porter was an industry expert in the field of investment research and a senior analyst at Lipper in New York. He is survived by his wife, Prudence; children, John M., Caroline V., Ann T. and Mary L.; mother; two brothers; and three sisters, including Gabrielle Porter Dennison '78 Barnard.
Lisa Palladino
Other Deaths Reported
Columbia College Today also has learned of the deaths of the following alumni (full obituaries will be published if further information becomes available):
1932: Benito Gaguine, attorney, Chevy Chase, Md., on March 8, 2005. Gaguine earned a degree from the Law School in 1934.
1938: Arthur H. Waldo Jr., retired naval commander, North Andover, Mass., on December 13, 2005.
1939: C. Robert Schulz, retired business owner, Shelton, Conn., on December 24, 2005. Schulz earned a B.S. and Ph.D. in chemical engineering from the Engineering School, both in 1940.
1944: Max Yergan Jr., physician, Port Angeles, Wash., on July 18, 2005. Yergan earned his M.D. at P&S in 1946.
1948: Marshall D. "Scotty" Mascott, Montreux, Switzerland, on December 22, 2005.
Johnson "Jack" Levering, Lincoln Park, Ill., on December 17, 2005. Memorial contributions in Levering's memory may be made to Oak Park Area Lesbian and Gay Association, 947 Garfield St., Oak Park IL 60304-1848.
1950: Lester M. Chace, painter and portraitist, Pekin, Ill., on December 8, 2005. [Editor's note: A full obituary will appear in May.]
1962: Allen R. Miller, retired Realtor, Honolulu, on April 18, 2005. Miller earned a degree from the Business School in 1965.
| | | | | | | |
| --- | --- | --- | --- | --- | --- | --- |
| | | || | | || | | |


CCT Home


This Issue


Previous Issue

CCT Masthead