| | | | | | | |
| --- | --- | --- | --- | --- | --- | --- |
| | | || | | || | | |
ALUMNI UPDATES
Steven Bargonetti '78, the Music Man
When a 5-year-old huddles under his bedsheets with a recorder trying to play by ear the score of How The West Was Won, he might be destined for a career in music. That turned out to be the case with Steven Bargonetti '78, who was so inspired after seeing the film with his parents.
While he has long since given up the recorder, Bargonetti has gone a long way with the guitar (which, coincidentally, he has a birthmark of on the back of his leg). He has performed with big-name artists in a variety of genres, including Bryan Adams, Garth Brooks, Aretha Franklin, Billy Joel, Eric Clapton, Queen Latifah, Kathleen Battle and The Temptations. He is the resident guitarist for Sesame Street, has played for Broadway shows such as A Chorus Line and Cats, has written jingles for corporations from McDonald's to Kodak and works a repertoire that ranges from the electric guitar to the mandolin.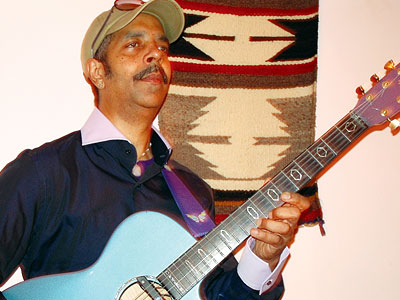 PHOTO: GIOIA

Born in Chicago and raised on the Upper West Side of Manhattan, Bargonetti began his musical career at 5 when he took recorder lessons in school. He later aspired to play the saxophone but was swayed from it by his school's music teacher, whose motivation was "to make me his prodigious clarinetist in his children's chamber group," says Bargonetti, who quickly tired of the clarinet.
Years later, however, when Bargonetti picked up a guitar at his father's friend's house, he realized he had a knack for the instrument. Quite impressed, his father's friend awarded him the guitar, which jump-started his future musical career.
Armed with his love of music, Bargonetti graduated from the Bronx H.S. of Science and went to the College on scholarship to study astrophysics. "My father, being an ex-musician," Bargonetti notes, "felt it was in my best interest to steer me into something I could 'fall back on.'"
Studying astrophysics did not prevent Bargonetti from taking advantage of the many performance opportunities on campus, however. Students at Columbia during the late '70s may remember seeing Bargonetti perform as a founding member of SO WHAT, a jazz-fusion group named after a popular Miles Davis piece. The group performed at the Furnald Folk Festival in 1976 and 1977 and at various area venues such as The Bottom Line, My Father's Place and The Village Vanguard, often opening for stars such as Spyro Gyra, Larry Coryell, Tony Williams and Angela Bofill. The group also frequented the Cabaret, a performing arts venue in Ferris Booth Hall. Bargonetti says that some of his best memories are of performing at the Cabaret as well as other campus spots. "At the time, we were a hot item, which was evident by the panties being thrown on stage," Bargonetti says.
After graduating from the College with a computer science degree and enough courses for a music minor, Bargonetti took a recruitment job offer from IBM — and worked for the company for one day. With the realization that he could always go back to programming computers, he instead took a job selling magazines via telephone — "a job my father cringes at," he notes — in order to make more time for music auditions, interviews and rehearsals. This way, Bargonetti was able to nail gigs subbing for Broadway shows, eventually becoming guitarist for singer Lena Horne and her show Lena Horne: The Lady and Her Music. Through that show, he met his wife, Dr. Diane Gioia-Bargonetti, one of its producers.
Bargonetti's gig with Lena Horne led to a signing with Quincy Jones's Qwest record label, which issued his self-titled solo guitar album, produced by his wife. Bargonetti credits this as an important stepping stone in his career.
Last summer, Bargonetti played guitar and mandolin in the orchestra for Two Gentlemen of Verona at Central Park's Delacorte Theatre. He completed work in the fall as music supervisor with the Second Stage Theater's critically acclaimed A Soldier's Play and was a featured guitarist on the Oxygen Network's Trisha Yearwood Custom Concert. As a teacher as well as a performer, Bargonetti has offered a series of master classes on music, guitar and composition at several schools and venues, including Columbia's Miller Theatre, York College, Yale University's Repertory Theatre and drama/music departments, Merkin Hall at Lincoln Center, Culver Academy, The Dalton School and Columbia Preparatory School.
Now, Bargonetti is the featured guitarist and music in-house contractor for the Broadway show The Color Purple. He and his wife also are writing music for several commercials, films, theater productions and television series. In addition, they are collaborating on a new television program, Get Healthy, Get Happy with Dr. Di, which surveys the world of alternative medicine. Not only are they co-writing the show's music, but as the title indicates, Gioia-Bargonetti is the star, with Bargonetti acting as interviewer. "The producers are determined to make my wife the 'Naturopathic Martha Stewart,' " he says, "with doses of healing music on the side."
When asked about his future plans, Bargonetti says, "I will continue to grow in my personal quest to always improve my musical skills and performance presentation as I strive to soothe, inspire and enlighten through music. I believe music is a cosmic gift."
Maryam Parhizkar '09
| | | | | | | |
| --- | --- | --- | --- | --- | --- | --- |
| | | || | | || | | |


CCT Home


This Issue


Previous Issue

CCT Masthead