A Treasure Trove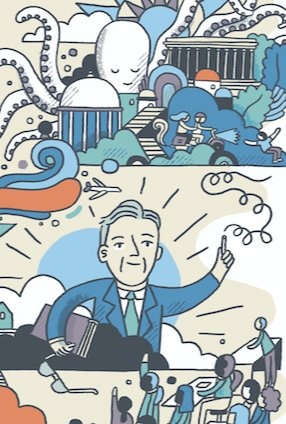 I took the Core from September 1960 to May 1962. I greatly enjoyed the feature article
"Your Core Stories"
in the Fall 2020 issue. If I had been able to contribute, I would have noted that although I finished the course 58 years ago, I still have my Contemporary Civilization books, which have come with me through all these decades and I don't know how many moves. The
CCT
article made me pull them from the shelf and crack them open. What a treasure trove. I am interested all over again and will be rereading materials that no doubt have been the basis of my thinking, and that now look like old friends.

Stuart Sieger '64
Melville, N.Y.
[Editor's note: Good news for Sieger — and anyone else who's interested! Core Stories can still be submitted; go to core100.columbia.edu/community.]
---
Revelatory Rousseau
The Fall 2020 issue's celebration of "Your Core Stories" resonated deeply. In my experience, The Social Contract by Jean-Jacques Rousseau proved to be the most illuminating piece of literature as I assimilated into society, finished law school, raised a family in a medium-sized western community, and experienced the full gamut of successes and failures of our American social landscape.
I still have Introduction to Contemporary Civilization in the West, Vol. I (1946), which contains this and other writings that were central to my experience with the Core Curriculum. Thank you for bringing back so many memories, along with my appreciation for Columbia College.
Don B. Allen '58
Salt Lake City
---
An 11th Win To Savor
Thank you for your excellent article "10 Great Moments in Lions Football" (Fall 2020). Ah, too many memories ....
I suggest that you consider an 11th, the Lions victory at Rutgers, 35–28 on Thanksgiving Day, November 30, 1963.
The game was historic in that it was an Archie Roberts '65 gem, but more so in that it was postponed from Saturday, November 23, in memoriam of President John F. Kennedy, who had been assassinated the day before. (Both Columbia's and Rutgers's stats incorrectly show the game date as on November 23 instead of November 30.) We were ready for Rutgers and took a 24–6 halftime lead. Seeming to think the game was over, and almost tasting the turkey and cranberries, we let the Scarlet Knights dominate the second half and fell behind 28–24. Archie and captain Ed Malmstrom '65 mustered the very tired Lions, and we went ahead to stay on an end-zone, sideline pass with minutes left. The Rutgers fans were stunned. I savored the post-game Thanksgiving dinner all the more at my aunt's home in Flatbush.
A couple of notes: President Kennedy had attended the Lions game at Harvard on October 16, 1963, and the Harvard band played "Hail to the Chief." The 1963 season was the last where many players were required to play offense, defense and special teams, so Archie, Ed and most of the team played a full 60 minutes [on game days]. Our team ultimately went 4–4–1 that year.
Bob Donohue '65
Los Gatos, Calif.
---
Pop Quiz
As Columbia football's official scorer for 30-plus years, I could easily identify another dozen truly exciting games for the article "10 Great Moments in Lions Football" — most recently the kickoff return during Columbia's last home game in 2018 that led to a victory with no time remaining.
Also, the entry on the November 24, 1956, game did not include details, including the key play that won the game for Lou Little. Hint: Claude Benham '57 threw the go-ahead touchdown in the last minute of play. Guess who was the receiver?
Ronald Szczypkowski '58
Rye Brook, N.Y.
---
A Singular Touchdown
Thank you for "10 Great Moments in Lions Football" (Fall 2020). I was a year too late to experience that win over undefeated Army, but reading about it jolted a memory of one of my most elating moments of watching football; this is a personal memory of a singular event in a close friend's football career.
Don McLean '51 played center for four years in high school and three years at Columbia. In Don's senior year, Lou Little switched him to tight end. Although he had a good season as a receiver, he never scored a touchdown.
It was the last game of the season, November 25, 1950, and Don's final game, played at Brown. With a comfortable lead for the Lions — and apparently with Don's never having scored in mind — the last series of plays was three passes to Don. All went incomplete. On fourth and long, with the game clock almost done, Don caught a pass on the 15-yard line and was immediately hit. Listing at a 45-degree angle, his legs continued to pump from sheer determination, and he managed to fall over the goal line for his first, last and only touchdown in eight years of football. His team and the few Columbia spectators gave him a standing ovation.
Nearly 70 years later I can recall the vicarious thrill of seeing a friend end his football career with a memorable goal.
Irvin Herman '52
Oakland, Calif.

Published three times a year by Columbia College for alumni, students, faculty, parents and friends.
Columbia Alumni Center
622 W. 113th St., MC 4530, 4th Fl.
New York, NY 10025
212-851-7852
cct@columbia.edu

Columbia Alumni Center
622 W. 113th St., MC 4530, 4th Fl.
New York, NY 10025
212-851-7488
ccalumni@columbia.edu