Student Spotlight: Building a Better Bleach To Fight Ebola
Thanks to a trio of Columbia students, healthcare workers treating Ebola may be better protected against the deadly virus by next summer.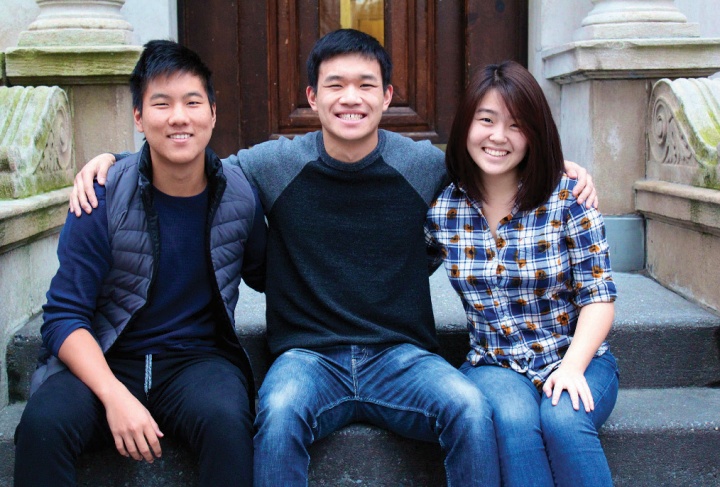 The innovation is a powder designed by budding scientists Katherine Jin '16, Jason Kang SEAS'16 and Kevin Tyan '16. Called Highlight, it alters the properties of bleach — the decontamination agent most commonly used in West Africa against Ebola — to make it more effective. Adding Highlight to bleach turns the otherwise colorless disinfectant bright blue, which allows doctors and nurses to see what parts of their protective gear have been sprayed. The visualization helps eliminate gaps in coverage, a potentially lethal pitfall in the case of Ebola. The stain fades after 10 minutes, the contact time required for bleach to kill the virus, to indicate that the process is complete.
The students were spurred to develop Highlight by the Columbia Design Challenge: Confronting the Ebola Crisis, which launched in October 2014. Alarmed by the number of healthcare workers who contracted Ebola during the crisis in West Africa, and aware that doctors and nurses in underdeveloped nations are overtaxed, Jin, Kang and Tyan sought to improve existing decontamination protocols without overcomplicating them. "Our goal was to come up with something that was easy to use with minimal training," says Jin, who is studying biology and computer science.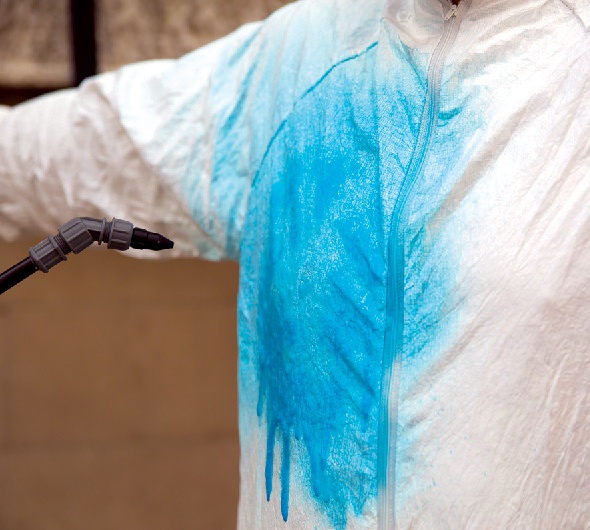 At first the students conceived of their product solely as a colorizer. But as they pinpointed bleach's other shortcomings as a disinfectant, they adjusted the formula. In its current form, Highlight also slows the evaporation rate of bleach to ensure enough contact time to neutralize viruses and prevents droplet formation, which essentially allows the liquid to stick better to waterproof surfaces (such as hazmat suits). "Highlight bridges the gap between having a disinfectant and using it effectively," says Tyan, a biology major.
As a winner of the challenge, which was sponsored by Engineering and the Mailman School of Public Health, the three received support from the University to develop Highlight, which is patent pending. They scored a major victory last February, when Highlight was awarded a substantial federal grant as one of 12 winning entries in USAID's Fighting Ebola: A Grand Challenge for Development, which received more than 1,500 submissions.
Though developed with Ebola in mind, Highlight can also be used to combat other infectious diseases. To ensure that it does not compromise the antiviral potency of bleach, the product has been subjected to vigorous viral testing. Having shown to be effective on the West Nile virus in tests conducted at the Center for Infection and Immunity at Mailman, at press time it was undergoing testing on influenza at CII and was slated to be tested on Ebola at the National Institutes of Health.
For Jin, Kang and Tyan, who met as first-years and were already good friends when they began developing Highlight, what started out as a purely humanitarian endeavor quickly became a path to entrepreneurship. They realized they would have to start a business in late 2014, when, in what they consider one of the most exciting developments of their journey, the New York City Fire Department requested a demonstration of Highlight and subsequently purchased and incorporated the product into its hazmat decontamination protocols.
Soon after, the students formed a company, Kinnos, which received $10,000 for placing third in the "Undergraduate Challenge" of the 2015 Columbia Venture Competition. The company's board of advisers comprises Mary C. Boyce, dean of Engineering; Aaron Kyle, lecturer in biomedical engineering; W. Ian Lipkin, the John Snow Professor of Epidemiology and CII director at Mailman; and Samuel Sia, associate professor in biomedical engineering.
"[Healthcare workers treating Ebola patients] are risking their lives every day, so we want to do our part to help them," says Kang, who is majoring in biomedical engineering. "At the same time, in order to keep providing this protection, we need to have a viable business."
After graduation, Jin, Kang and Tyan plan to devote themselves to Kinnos. They hope to be ready to deploy Highlight to areas affected by Ebola by next June. "Our dream is to make a tangible impact on the world," says Jin. "We're so lucky to have this amazing opportunity and a series of events that have blessed our hard work."
Nathalie Alonso '08, from Queens, is a freelance journalist and an editorial producer forLasMayores.com, Major League Baseball's official Spanish language website.

Published three times a year by Columbia College for alumni, students, faculty, parents and friends.
Columbia Alumni Center
622 W. 113th St., MC 4530, 4th Fl.
New York, NY 10025
212-851-7852
cct@columbia.edu

Columbia Alumni Center
622 W. 113th St., MC 4530, 4th Fl.
New York, NY 10025
212-851-7488
ccalumni@columbia.edu