| | | | | | | |
| --- | --- | --- | --- | --- | --- | --- |
| | | || | | || | | |
COVER STORY
Terrence McNally '60 Prepares
For Another Broadway Opening
At 67, the scribe is not about to rest on his laurels
By Laura Butchy '04 Arts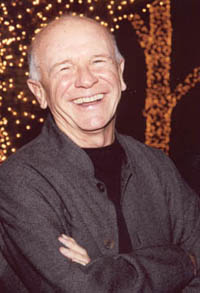 Terrence McNally '60 is one playwright who is never out of work. A stalwart in a profession known for erratic employment, McNally has sustained himself for more than 40 years while enjoying one of the most successful careers in American theater. With numerous plays, musicals and even an opera to his credit, the prolific writer shows no signs of stopping.
"I count my blessings on a daily, hourly basis. I'm a very fortunate man, and I know that," says McNally. One of America's most important playwrights, McNally's modesty and genuine contentment seem understated for a man who has been described by The New York Times as "one of the theater's most acclaimed, and durable, playwrights."
This spring's double helping of McNally's plays in New York is a perfect example. Following its world premiere in Philadelphia last year, Some Men runs Off-Broadway at Second Stage Theatre March 2–April 15. On May 6, his newest play, Deuce, will premiere on Broadway.
Deuce will star Marian Seldes, lauded for her performance in McNally's Dedication, or the Stuff of Dreams at Primary Stages in 2005, and Angela Lansbury. Lansbury's appearance has garnered considerable buzz, as it will be her first appearance on Broadway in more than 20 years after earning four Tony awards for her work in the musicals Sweeney Todd, Dear World, Gypsy and Mame. "We all are floating around in the ether," Lansbury told The New York Post when the cast was announced in October. "It's a wonderful gig we're embarking on here."
"Listen, darling," added Seldes, "Angela and I are playing two women our own age. But we are not in a nursing home, we are not being pushed around in wheelchairs, we do not have Alzheimer's. Most times, you open a new script, that is where you are. But it isn't what I want to go to the theater to see."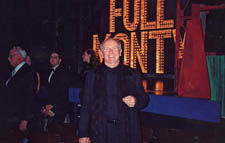 The veteran actors will co-star as retired tennis players who were once a championship doubles team. As they prepare to be honored for lifetime achievement, they look back on their relationship and the sport that gave them their livelihood and how it has changed. Directed by Michael Blakemore, the show will open at the Music Box Theatre just in time to be eligible for the 2007 Tony Awards.
McNally's Off-Broadway offering, Some Men, revolves around a subject close to his heart: gay marriage. Set at the wedding of two men, the play observes guests at the ceremony reflecting on their own lives and loves, mingled with scenes covering the evolution of gay life during the last century. The play premiered last summer at Philadelphia Theatre Company, which also produced the world premiere of Master Class, McNally's examination of legendary opera soprano Maria Callas that earned the 1996 Tony Award for Best Play.
"We are obviously enormous fans of Terrence's work," says Sara Garonzik, producing artistic director of Philadelphia Theatre Company. "When I read online that he was developing a new play called Some Men at White Oak as part of the Sundance Theater Institute, I began making inquiries as to whether it was possible for Philadelphia Theatre Company to jump into its development process and ultimately give it its world premiere."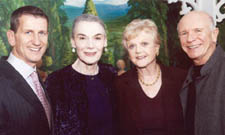 A CurtainUp review of Philadelphia Theatre Company's production last summer read, "This is a lush, mixed bouquet of sex, pain, and laughs, and sometimes big laughs happen in the painful parts. Not quick montage, situations are presented with depth and poignancy. Time is taken to get to the heart of each little story … This is a big, generous, multi-faceted, ultimately joyful smorgasbord with an implicit plea for acceptance."
McNally believes acceptance of gay marriage is only a matter of time. In 2003, he and public-interest lawyer Thomas Kirdahy traveled to Vermont to get married, initially meant as a political gesture. "We were standing in the hotel, and people started gathering as the ceremony went on," McNally recalls with feeling. "By the final 'I dos,' there were about 30 people, and it was very emotional saying those things: in sickness and health, until death do us part. It has really raised the quality of our relationship. Since then, I've convinced two of our heterosexual couple friends to get married, and they're very glad they did!"
Second Stage artistic director Carole Rothman found Some Men intriguing from an early reading of the show, and she is enthusiastic about the play's development. "It's very different than it was in Philadelphia," she says. "For example, there were two women in the play before, and those parts are gone. And they sang, and those songs are gone. Terrence has made a lot of changes; many scenes have been cut, new ones have been written. It's going to be very interesting."
Even with adjustments, the topic remains clear. "I really think gay marriage is a civil right that eventually will go to the Supreme Court," McNally says, "and no matter how conservative they are, with the right lawyers, it's going to make it. I hope that this play will make people feel a little more sympathetic to it."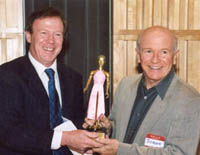 Photo: Chris Taggart

Fighting for gay marriage is nothing the wide-eyed young McNally would have expected for his future while growing up in Corpus Christi, Texas. He doesn't recall living in Florida, where he was born when his parents were running a bar and grill on the beach. After a few years, the family moved to Texas, where his father became a soft drink distributor and then a beer distributor.
McNally's mother, however, set the course for his future. When he was 7, she took him to New York City to see Ethel Merman in Annie Get Your Gun, and he was hooked. Six years later, they returned to see Gertrude Lawrence in The King and I. Both experiences are burned in his memory. "Those were two very significant theater experiences for a child. They were very real for me," McNally remembers. Though he would see Merman again, Lawrence died shortly after that and the young McNally "just wept copiously. She was so beautiful and just the essence of the stage actress. I don't remember where we were sitting, but it felt that she was right there. We were probably in the balcony, but she had a presence."
Meanwhile, McNally was excelling at the W.B. Ray H.S. in Corpus Christi, inspired by English teacher Maurine McElroy (whom McNally still respectfully refers to as Mrs. McElroy). Though few students from the town went out of state for school at the time, McElroy suggested McNally consider the Ivy League, "which sounded very exotic," McNally says with a laugh. When he and his best friend were accepted into Yale and Columbia with identical scholarships, they thought it would be silly for the first two students from their area to go east to the same school. "We literally flipped a coin," McNally says. "He was very, very happy at Yale, and I ended up being very, very happy at Columbia."
The chance to attend theater and opera in New York City was a major attraction for McNally. His first night at Columbia in 1956, he wanted to see My Fair Lady, but the line formed overnight to get tickets. So he went a few blocks away and saw Gwen Verdon in Damn Yankees, and after the show waited in line all night to see My Fair Lady the next day. "One night when I saw it — I saw it 12 times — President Eisenhower was there, one time Frank Sinatra, Dean Martin … every celebrity in the world was going to see it," he recalls.
Those two shows only whetted McNally's appetite for theater. He spent most of his evenings as a College student seeing as much theater and opera as he could, paying $2.90 for back-row seats on Broadway or $1 for standing room at the Metropolitan Opera. In between classes and shows, he waited tables at a graduate dorm across Amsterdam as part of his work scholarship to pay tuition and invest in a winter wardrobe.
Though he may have had "nothing to wear," he was fortunate to arrive in New York in a mild September. McNally vividly remembers his first trip to campus via White Plains, where he visited family friends who drove him into Manhattan. "They knew how to get into New York without using toll bridges," McNally relates. "So we went right thorough Harlem, and suddenly they stopped the car. I was shocked because we went from a pretty gamey neighborhood to suddenly Morningside Heights, and it was like, 'Get out of the car, this is where you're going to school!' "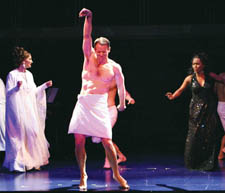 Photo: Mark Gavin

McNally soon adjusted to an urban campus and New Yorkers, whom he initially found "very brash and loud and aggressive. But by the time I went home at Christmas, I knew this was where I wanted to stay. And I think I began to realize while I was there that Columbia was really going through a golden age. My freshman history was with Stephen Marcus. I studied with Trilling, Bentley, Barzun, Van Doren … I had an incredible education at Columbia."
The College also provided McNally with his first opportunity to write for the stage. His parents had grown up in the New York area and become fans of the Varsity Show, seeing works by Richard Rodgers '23, Lorenz Hart '18 and Oscar Hammerstein II '16. When McNally read in Spectator his senior year that there would be no Varsity Show because there was no one to write it, he volunteered. Titled "A Little Bit Different," the show had music by Edward Kleban '59, who later earned fame as the lyricist for A Chorus Line, and was directed by notable director Michael Kahn '61. "I had a great time in doing it. I was even in it," McNally adds. "It's the only time I've ever acted. Someone got sick, and I ended up playing a bullfighter, with shoe polish in my hair."
After graduation, McNally moved to Puerto Vallarta, Mexico, on a traveling fellowship to write a novel. When he realized he didn't know how, he wrote the beginning of a play instead. He sent it to the Actor's Studio in New York, and they invited him to work as a stage manager there to learn about the practical elements of theater. After a year, the head of the playwright's unit recommended McNally for a job as a private tutor. McNally spent the next 10 months traveling around Europe with author John Steinbeck and his family.

"I always knew that I wanted to be a writer, but I was
kind of surprised that I ended up writing plays."

During that time, McNally finished his first full-length play, And Things That Go Bump in the Night. The play opened on Broadway on April 26, 1965. Unfortunately for the budding writer, the play closed on May 6. "The play was a flop," McNally says, "so I took a job at Columbia College Today!"
While the show was a legendary bomb in terms of the press, McNally earned some fans and was awarded a Guggenheim Fellowship the following year. He continued to try his hand at playwriting, and in 1969, his one-act comedy starring James Coco, Next, became his first hit. "I've earned a living as a writer ever since," McNally adds. "Sometimes a very meager one, but I haven't had to have any other jobs."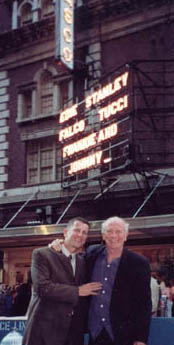 Living in a $45-a-month apartment in Greenwich Village furnished almost exclusively by a bed and a typewriter, the young playwright continued to write. Following Next, he completed a series of well-received comedies, including Where Has Tommy Flowers Gone?, Bad Habits and The Ritz.
It was Bad Habits that introduced McNally to Manhattan Theatre Club and its artistic director, Lynne Meadow. In 1973, the show debuted as part of a festival of 23 plays. Composed of two one-acts, Bad Habits went on to a Broadway run featuring F. Murray Abraham, Cynthia Harris and Doris Roberts. McNally returned to MTC in 1986 after his play It's Only a Play found its way into Meadow's hands. "I thought it was really fun — vintage Terrence," says Meadow. "The night before it opened, I said, 'It doesn't matter what the press says to me about the play. I think it is great, and I'd like to do your next play.' It was the beginning of an amazing time and an amazing collaboration for Terrence and MTC."
MTC and McNally went on to collaborate on a series of outstanding productions that garnered critical and popular praise. "It was wonderful doing plays there — every artist should have something like that," McNally says. "It was kind of a family. I basically view theater in New York like any other town — regional theater — and MTC was my regional theater, whereas the Alley Theatre in Houston or Seattle Rep might have been somebody else's."
The not-for-profit MTC turned out to be a life-changing artistic home for McNally, offering him the unique opportunity to write freely knowing he would be produced and leading him to write some of his most heralded plays. The Lisbon Traviata (1989), Lips Together, Teeth Apart (1991), A Perfect Ganesh (1993) and Love! Valour! Compassion! (1994) all earned praise, with the last moving to Broadway and earning McNally the 1995 Tony Award for Best Play. Each of these dealt in some way with the AIDS epidemic and homosexuality, topics that McNally has never had difficulty addressing. In fact, And Things That Go Bump in the Night caused a stir in part because in 1964 Broadway was not ready for such a frank portrayal of a gay character.
"One of the proudest things during my time as artistic director at MTC is my collaboration with Terrence and the plays we worked on together," Meadow says of her 35 years with the company. "This was a very special commitment to a very special person who turned out to be one of the great American playwrights, and a great human being."
The genuine human qualities of McNally's characters provide his writing with a universal quality. His characters often are people looking for relationships and commitments, trying to connect and achieve intimacy with others. In its embodiment of these underlying themes of loneliness and wanting to connect, Some Men harkens back to another McNally MTC premiere, Frankie and Johnny in the Claire de Lune. One of his most popular plays, the story of two lonely New Yorkers trying to start a relationship was later made into a movie starring Al Pacinoand Michele Pfeiffer and was revived on Broadway in 2002 with Stanley Tucci and Edie Falco.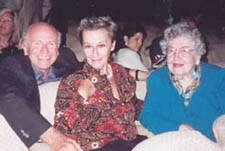 For the revival, McNally flew McElroy in from Texas to attend opening night. The play is, after all, dedicated to his beloved high school English teacher. "I'm very, very lucky I had this woman as a teacher at a public high school. She's influenced me as much as anyone," McNally says. "I remember writing a short story in my writing class in high school that began 'Mrs. Johnson toyed with the maraschino cherry in her martini and thought about whether she should tell her husband she wanted a divorce.' And Mrs. McElroy said, 'Have you ever had a martini? Because the thought of a maraschino cherry in a martini is revolting. Write about what you know.'"
In a sense, that is what McNally has been doing ever since. Many of his plays include elements of the gay experience through the years, reflecting changes in homosexual life during his lifetime. He recalls being impressed when he lived in New York in his 20s that he could visit gay bars without them being raided.
"Gay life has changed enormously," McNally says. "When I went to Columbia, there was no gay student union. There were gay bars, but with no windows, just a door. Forty years later, the issue is gay marriage." While Some Men embraces themes he has dealt with before, the play reflects his passionate support of gay marriage and is more outwardly political than some of his other work.
Though his writing is far from "agitprop," McNally has met with his share of controversy. In 1997, his play Corpus Christi — a modern-day retelling of the story of Jesus' life in which he and his disciples are homosexuals — caused a furor in New York and London. After misinformation about the play appeared in the press prior to opening, protests surrounding the production became so intense that MTC had to stop selling tickets and audience members were forced to pass through metal detectors upon entering the theater. When the play premiered in England, a British Muslim group went so far as to issue a fatwa on McNally.
"I'll never know if the chaos was genuine because it was created so artificially," McNally says with a sigh. "It was never intended to be blasphemous. I thought the play would open the experience of the life of Christ, which I find a significant and meaningful life, to gay men and women who have been told they are sinners, to let them hear this story and to feel welcome, and I was very proud of it.
"I had the same thing with my first play, AndThings That Go Bump in the Night," he continues. "One night somebody pulled an actor off the stage, and started screaming, 'You shouldn't be doing this obscene play!' and another actor jumped off and started fighting with him. I don't like that kind of conflict in the theater. I want people to be agitated and argue when it's over, but I don't think actors should be pulled off the stage."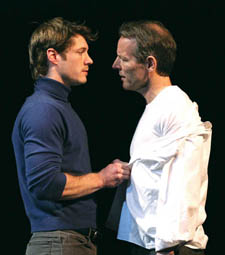 Photo: Mark Gavin

McNally hasn't let such incidents affect his work, and somehow, the inexhaustible writer doesn't suffer from writer's block. "Usually I figure out what I want to do and do it pretty quickly," he says of his writing method. "At Columbia, I'd stay up all night writing my papers. When I worked at a newspaper, the pressure taught me to write for deadlines. I think newspapers were good training for theater — it was loud and people were running around. I write in the corner of a rehearsal room, and people ask how I can work there. I could work in a subway if I had to. I don't need a perfect environment."
Another way McNally avoids writer's block is by never sitting in front of an empty screen. "It's masochistic, and I won't do it to myself," he says simply. "If I don't feel like writing or I don't have something I want to write, I go to a museum, I go for a walk, I see a friend, I travel."
McNally penned Deuce in a few months last year. Interested in people who had earned their living doing physical work and no longer can, such as older athletes or dancers, McNally focused on two women who were once great tennis players. He also wrote it thinking of Seldes, hoping she would want to be in it. McNally frequently has specific actors in mind when writing, such as Kathy Bates for Frankie and Johnny or Nathan Lane for The Lisbon Traviata. "Sometimes you write a part for people just hoping you'll have access to what they can bring to it," McNally explains. "It's not line reading, it's rhythms and cadence ... You can't teach it, so finding the right people is a big part of it.
"I basically hear Nathan Lane in everything I write," he admits after a pause, "man, woman, old, young … who was Master Class written for? I would say Nathan Lane." Though Lane never played Maria Callas, he did feature in earlier McNally works such as The Lisbon Traviata, Lips Together, Teeth Apart and Love! Valour! Compassion! "I believe very much in writing for specific actors, when you find people who share your world view," McNally adds, "because you can't explain to someone why something is funny or sad."
Through the years, McNally also has given voice to characters in musicals and even an opera. He first tried his hand at writing the book for a musical with 1984's The Rink, but it was Kiss of the Spider Woman that brought him acclaim as a musical writer when he won the 1993 Tony Award for Best Book of a Musical. He won the same award in 1998 for Ragtime, the highly praised adaptation of E.L. Doctorow's novel.
"It's a different job of craftsmanship," McNally says of writing a musical. "Theater is collaborative to begin with, but with a musical, there are three authors: the lyricist, the composer and the book writer. The musicals I've done are often ones I've cared about very much. But Ragtime was Doctorow's baby. I tried to take care of his baby, and present it in a new way."
An opera fan since childhood, McNally was well-prepared for his operatic venture, Dead Man Walking. Working with composer Jake Heggie, he wrote the opera version of Sister Helen Prejean's story about visiting an inmate on death row for San Francisco Opera in 2000. The show has been unusually successful for a contemporary opera and is performed around the world.
Thus far, McNally's writing has earned him four Tony Awards, an Emmy Award and a citation from the American Academy of Arts and Letters. Among his many other accolades and awards, he received the John Jay Award for distinguished professional achievement from the College in 1992 and the inaugural I.A.L. Diamond ['41] Award for Achievement in the Arts from Dean Austin Quigley at a reception prior to a performance of the 110th Varsity Show in 2004. McNally, who penned the 66th Varsity Show, keeps that statuette on a shelf just below his Tonys in his Greenwich Village apartment.
But at 67, the scribe is not about to rest on his laurels. In June, there will be a workshop of Catch Me If You Can, a musical based on the 2002 Steven Spielberg movie that he is creating with music by Scott Wittman and Marc Shaiman (creators of the musical Hairspray). A musical by McNally, composer John Kander and lyricist Fred Ebb, The Visit, is scheduled to open in September at the Signature Theatre in Arlington, Va., starring Chita Rivera, for whom McNally composed a one-woman musical in 2005.
In the meantime, McNally continues to devour New York theater at an incredible rate. Attending shows three times a week, if not more, McNally enjoys everything from Broadway to off-off-Broadway. He also has begun to listen to more instrumental music later in life, which he confesses to not having enjoyed at the College.
"I ended up being a great proselytizer for Columbia," says McNally. "The program we took was great, two years of Humanities and CC … stuff I probably never would have done. Somewhere else, I would have just focused on journalism. In summers, I worked at a newspaper in Corpus Christi as a reporter. I always was interested in writing, from the time I was a student in elementary school, cranking out little things on ditto machines.
"I always knew that I wanted to be a writer, but I was kind of surprised that I ended up writing plays."
McNally and the Varsity Show
When The Varsity Show: A Celebration was published in conjunction with the Columbia250 commemoration in 2004, Terrence McNally '60, who describes the Varsity Show as "one of the reasons I went to Columbia," was asked to write the Foreword.
"Both my parents were New Yorkers, and one of their springtime rituals was attending the annual Columbia Varsity Show," he writes. "They thought it to be one of the best shows in town and did not miss a year. They claim they discovered there such soon-to-be-heard-everywhere voices as Rodgers, Hart and Hammerstein. This might have been a slight fudging of the facts on their part, wish fulfillment rather than veracity, but I got the point: the Columbia Varsity Show was the place to be if you wanted to be in on the ground floor of what was going to happen in the American Musical Theatre."
McNally wrote the 1960 Varsity Show, "A Little Bit Different," about "a group of celebrities of the day who were in darkest Africa making a film." The extras on this film were cannibals, and each day there was one fewer person at roll call. "We were merciless in our mockery of these celebrities' foibles," McNally recalls.
He concludes his Foreword by writing, "Just as my parents never forgot 'their' Varsity Shows, I will never forget mine. It's the only theatre poster in my study. You don't forget the traumas of your college years, but you don't forget the very great and very real pleasures of them, either."
Alex Sachare '71
Terrence McNally '60's Works
The prolific playwright's body of work includes:

And Things That Go Bump in the Night, 1965
Sweet Eros/Witness, 1968
Next, 1969
Where Has Tommy Flowers Gone? 1971
Bad Habits, 1974
The Ritz, 1975
The Rink (musical), 1984
It's Only a Play, 1986
Frankie and Johnny in the Clair de Lune, 1987
The Lisbon Traviata, 1989
Andre's Mother (teleplay), 1990,
Emmy Award Outstanding Writing in a
Miniseries or Special
Lips Together, Teeth Apart, 1991
A Perfect Ganesh, 1993
Kiss of the Spider Woman (musical), 1993,
Tony Award Best Book of a Musical
Love! Valour! Compassion! 1994,
Tony Award Best Play
Master Class, 1995,
Tony Award Best Play
By the Sea, By the Sea, By the Beautiful Sea, 1996
Corpus Christi, 1997
Ragtime (musical), 1998, Tony Award Best Book of a Musical
The Full Monty (musical), 2000
Dead Man Walking (opera), 2000
The Visit (musical), 2001
A Man of No Importance (musical), 2002
The Stendhal Syndrome, 2004
Dedication, or the Stuff of Dreams, 2005
Chita — The Dancer's Life (musical), 2005
Some Men, 2006
Deuce, 2007

---
Laura Butchy '04 Arts is a writer, dramaturg and theater educator in New York City. She is a regular contributor to CCT and American Theatre.
| | | | | | | |
| --- | --- | --- | --- | --- | --- | --- |
| | | || | | || | | |


CCT Home


This Issue


Previous Issue

CCT Masthead