| | | | | | | |
| --- | --- | --- | --- | --- | --- | --- |
| | | || | | || | | |
FEATURES
Fresh Eyes for MoMA
Professor Barry Bergdoll '77 joins Museum of Modern Art as chief curator of architecture and design
By Margaret Hunt Gram '05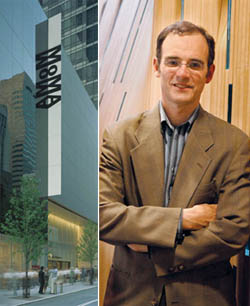 Photos: Timothy Hursley (Left), Eileen Barroso (Right)

In 2001, Professor of Art History and Archaeology Barry Bergdoll '77, '82 GSAS, '86 GSAS embarked on an ambitious project to bring together New York City's top university programs in architectural history and practice with the Museum of Modern Art (MoMA). Together, the project's participants changed the way historians, curators and architects think about the work of German-born architect Mies van der Rohe, one of the masters of architectural modernism.
The project began as a two-year seminar, which Bergdoll co-taught with Terence Riley, then MoMA's curator of architecture and design. The seminar's participants were students from Columbia, NYU and the CUNY Graduate Center who worked in teams that included students in both architecture and architectural history. Across two years, the teams scoured the museum's archive of Mies's work: more than 17,000 drawings and hundreds of pages of correspondence.
Whereas previous scholars had conceived of the architect's early work in Germany as no more than a prelude to his longer and more productive career in America, Bergdoll, Riley and the students reimagined Mies's German career as a distinct period in which the architect was wholly engaged with debates about architecture, politics and culture in that moment in Germany.
The seminar became a MoMA exhibition, Mies in Berlin, that changed scholarship about Mies and modernism. The exhibition examined the connections between 20th-century Modernism and its historical context. New York Times critic Herbert Muschamp called it "a powerful study of artistic formation" that "unfolds in a series of dynamic exchanges between Mies's inner and outer worlds."
"It was a massive work of revisionist history," Bergdoll says, "and it began by opening up everything to fresh investigations and fresh eyes."
Such fresh historical investigations, as it turned out, were just what MoMA was looking for. After the exhibition closed, the museum's director, Glenn D. Lowry, invited Bergdoll to join its Committee on Architecture and Design. Then he asked Bergdoll to consult with him about the future direction of the department of architecture and design. Lowry liked Bergdoll's suggestions so much that he suggested that perhaps Bergdoll himself should do the job.
"I said: 'Oh no! That wasn't what I meant!' " Bergdoll says. "I told him that I was very happy being a professor at Columbia."
But then he thought again about the offer.
He thought about how much he had enjoyed the Mies project: working on a team, creating a space, telling a new story, engaging in a public discourse. "I kept thinking, 'You know, that kind of work is the thing I really enjoy about being an architectural historian,' " he recalls. "For me, it's more rewarding than the old model of the scholar alone in the library and the archive, working for vast hours in a solitary cell."
He weighed his options. "I thought to myself, 'the two most interesting jobs one can have in modern architectural history in America' — because, in my view, you have to be in New York! — 'are to be a professor of architectural history at Columbia University or the curator at MoMA.'
" … It was a kind of an enviable decision, I suppose."
On January 1, Bergdoll assumed the position of Philip Johnson Chief Curator of Architecture and Design at MoMA. In the end, it didn't mean choosing between the two most interesting jobs in modern architectural history in America. It meant doing both.
Bergdoll plans to continue teaching at Columbia — one seminar a year, for now — while forging new links between the University and the museum.
He describes the seminar he is teaching this spring as an exercise "in the mode of nostalgia for that Mies course": a class on the history of architectural exhibitions at MoMA. Like the 2001 Mies course, this seminar includes students from Columbia's art history Ph.D. program and its master's program in architecture. Together, Bergdoll and the students are opening the museum archives and departmental files to study the art and science of architectural curating.
"Almost all the teaching experiences that I've most enjoyed — from the Mies class to the undergraduate course that ended in an exhibition on the history of Columbia University — have been classes in which students could do firsthand research in a group setting with all the archives that they needed," Bergdoll says.
The seminar allows Bergdoll to launch his career as a full-time curator without abandoning his historical impulses.
"Being by nature an historian, it's hard for me to be in an office or position without wanting to read the files, the archives, the history of the department," he notes.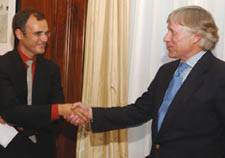 Photo: Eileen Barroso

Bergdoll is 51. He maintains a 40-year-old's looks and a 7-year-old's curiosity and enthusiasm. Francesco Benelli, an assistant professor in the art history and archeology department, recalls following him around a building site in Rome: "We were lost in the middle of nowhere, in a building structure in the rain. We couldn't see anything. We didn't know where we were. But all I remember is the enthusiasm and the curiosity that Barry was pouring into that building. It was 1,000 times stronger than any atmospherical event." In the same vein, a former student recalls trotting after Bergdoll one spring day around the old Connecticut town of Litchfield, where he had taken students in his undergraduate seminar, "Modernism and the American House," on a field trip to look at an unusual profusion of modernist homes. "Look!" cried Bergdoll to a companion as he bounded, elated, up a hill toward the 1955 Marsters House. "It's a black International Style house!" (International Style houses are usually white.)
Bergdoll lives in Manhattan with his partner, William Ryall, a practicing architect. Between 1999 and 2000, as Bergdoll worked on Mies in Berlin, he and Ryall collaborated on the design of a weekend house in Orient, Long Island. The house, completed in 2002, marries Ryall's interest in the way modern buildings are integrated into their landscapes with the insights that Bergdoll was gleaning from the Mies archives and has unobstructed views of the Long Island wetlands to the south and east.
Bergdoll always has been the kind of historian who engages with his contexts. He says he came to Columbia as an undergraduate from his hometown of Wallingford, Pa., "because I wanted to study art history in one of the most exciting places in the world: New York." A love of cities and a fascination with history led him quickly to the study of architecture. He was inspired by the teaching of Professor Rosemarie Bletter, who has since moved to the CUNY Graduate Center, and the late Professor George Collins. After earning a master's at King's College in Cambridge, Bergdoll returned to Columbia and was awarded an M.Phil. in 1982 and a Ph.D. in 1986 by the department of art history and archeology. The department hired him in 1986 as an assistant professor, and he has been a member of the faculty ever since.
During his time in the department of art history and archaeology, Bergdoll has published extensively on topics from 18th- and 19th-century architecture worldwide to Charles McKim's 1897 master plan for Columbia's campus. He also has gone above and beyond the call of academic duty. In 2000, he founded the Collins/Kauffman Forum on Modern Architecture, which preserves Collins' memory, as a way to foster community among students studying architecture both in the art history department and the Graduate School of Architecture, Planning and Preservation, as well as other New York doctoral programs. The monthly forum has become a kind of salon for architecture buffs around New York. Bergdoll also developed a strong architectural programming series for the University's Miriam & Ira D. Wallach Art Gallery, including a recent exhibition on Czech Modernism.
Upon becoming department chair in 2004, Bergdoll began to physically expand and renovate the department, retaining New York's Marble Fairbanks Architects to design a master plan for the department's spaces in Schermerhorn Hall. That plan, says, Associate Professor John Rajchman, is "a model of a new kind of interactive departmental space in which pedagogical and intellectual exchange and the department's visual resources are be brought together." The first step in the plan — the transformation of 901 Schermerhorn into a new space for graduate students to show slides and hold meetings — has been carried out and has won awards from the American Institute of Architecture and other design authorities.

"The teaching experiences that I have most enjoyed
have been classes in which students could
do firsthand research in a group setting."

Bergdoll's colleagues credit him with strengthening the department's unique master's programs, especially the program in curatorial studies, where he envisaged a larger consortium of institutions working with the art history and archeology department in New York. To an existing relationship between the M.A. program and the Whitney Museum, Bergdoll added a new formal relationship between the M.A. program and MoMA. Going forward, the department will add several other institutions to the consortium.
Bergdoll also has guided the department through a period of faculty transition. During his tenure as chair, Rosalind Krauss became University Professor and Benjamin Buchloh left for Harvard, leaving the modernist cohort diminished in ranks. In response, Bergdoll stepped up efforts to hire talented junior faculty.
"Barry is very well-liked in all quarters in the department, with a light, sure touch in identifying problems and inventing solutions," Rajchman says. "Everybody felt that he did a very good job of thinking about the transitions that our department has experienced."
Junior faculty say he prioritized their development. "We have much better quality of life, because we are not overwhelmed by duties and obligations," Benelli says. "Barry understands that junior faculty need time for research, because we are at the beginnings of our careers. He really takes care of us."
When asked to explain Bergdoll's popularity, his colleagues point not only to his eminence in his field but to his interpersonal talents: resolving dilemmas, running a productive meeting. Professor Robert Harrist, who will succeed Bergdoll as chair, says that it is "characteristic that, sometimes, in a faculty meeting, we'll sort of reach an impasse about what to do, and then Barry will suddenly have a burst of insight into how to solve such a problem."
Several colleagues still refer to a routine faculty meeting in which Bergdoll asked the faculty to discuss not undergraduate major requirements or committee appointments but instead the question of what "art history" means in the present and how the department should act according to that definition. "I come from Italy, where faculty meetings are made for disagreement and for dealing with low academic politics," Benelli marvels, recalling that meeting. "When Barry introduced this intellectual level to a faculty meeting, I thought: 'This is amazing.' "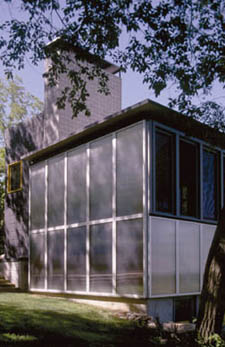 Photo: Courtesy Barry Bergdoll '77

As it was at Columbia, one of Bergdoll's first and most important tasks at MoMA was to build a team. MoMA's architecture and design department is understaffed; a number of curator positions must be filled immediately. Bergdoll plans to hire new curators for contemporary architecture and, perhaps, early modern design.
"On the one hand, this hiring task seems to reproduce one of the things I most enjoy about academic life," Bergdoll says. "On the other hand, when you're in an academic setting in a high-powered city, you're surrounded by colleagues who do amazing but very separate work, and an academic department is not necessarily the place where it all gets connected. In the museum department, in contrast, everyone is working as a team."
Once the team is assembled, Bergdoll will focus on ambitious programs to collect and exhibit drawings of buildings, plans for buildings, photographs of buildings, models of buildings, correspondence about buildings and even buildings themselves.
He will focus as much on the private work of strengthening the museum's collection as on the more publicly lauded exhibitions. "I think most people couldn't tell you what is in the collection of a museum," he says. "It's not the thing that's going to get all the press coverage, but it's the kind of thing that you have to work on, quietly, with your colleagues." He says he hopes that his legacy will be to have "made it possible to tell a much more complete — and also a much more nuanced — history of 20th-century architecture using the collections at MoMA."
As for exhibitions, Bergdoll aims to "fulfill an obligation to the public." Upon Bergdoll's selection as curator, a Times critic, appending to the end of an otherwise admiring profile that obligatory declaration of journalistic skepticism, wrote: "To rekindle the public's imagination, Mr. Bergdoll will have to engage fully the world outside the museum's doors. Scholarly exhibitions are nice, but what's also needed is a visceral connection with the architecture — always a tall order, since buildings themselves can't be installed in a show." That critic may be surprised to find that among Bergdoll's first exhibitions will be a show connecting with the tradition of the "house in the garden." The show will use the exterior spaces of the museum to install full-scale buildings or building components.
MoMA's first "house in the garden" show was designed by an architect, Marcel Breuer, subject of Bergdoll's current book project, and commissioned by MoMA under Architecture Curator Peter Blake, father of Columbia Professor Casey Blake. The exhibition consisted of a binuclear house, divided into separate functional zones for sleeping and living, with a butterfly roof; the entire building was installed in MoMA's backyard in 1949. "It was one of the most populist moments of the museum's history," Bergdoll says. "I think it's concretely emblematic of a moment when MoMA's mission to take an architectural stance that would reach a broad public was extremely successful.
"My ambition," Bergdoll says, "is to reconnect with that moment."
---
Margaret Hunt Gram '05 majored in English and African-American studies. She is director of communications for the New York Civil Liberties Union.
| | | | | | | |
| --- | --- | --- | --- | --- | --- | --- |
| | | || | | || | | |