| | | | | | | |
| --- | --- | --- | --- | --- | --- | --- |
| | | || | | || | | |
FEATURES
One Funny Voice at a Time
Kate Berthold '06 takes her comedic talent to television
By Yelena Shuster '09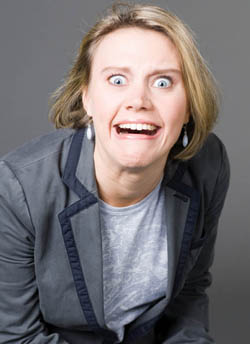 Photo: Logo TV

Kate Berthold '06 was one of those children who went to school every day in costume. Raised on Mel Brooks and Shirley Temple movies, she's always had an ear for voices and comedic timing. Her affinity for dress-up and accents suited her well in adolescence as she starred in theater productions during middle and high school.
"I've been doing funny voices since I was 5. It's always been the way I communicated most comfortably with the rest of the world," she says.
Funny voices is a mild way of putting it. Berthold played more than 60 characters in various productions as a theater major at Columbia, transforming herself completely each time. But now, less than a year after her graduation, she is
getting paid for her self-transformations.
Berthold (under the stage name of Kate McKinnon— her "gentler" middle name) stars as one of eight cast members in a new TV comedy sketch show on Logo, a network launched by MTV Networks two years ago targeting lesbian, gay, bisexual and transgender (LGBT) viewers, which has approximately 20 million subscribers.
The show, tentatively titled The Big Gay Sketch Show, premieres on April 24 and will be shown on Thursdays at 10 p.m.; its executive producer is Rosie O'Donnell. Directed by Amanda Bearse (director of numerous episodes of Mad TV, but perhaps best-known as Marge on Married with Children), the show features a combination of traditional sketches, musical numbers and pop culture parodies for the LBGT audience, with an LGBT point of view.
This project was a dream for Berthold, who was among 300 who showed up to an open call casting for a gay-themed sketch show in February 2006 (along with "every old gay man in NYC," she jokes). After two callbacks, the numbers trickled down to 16.

"Someone was paying me to do funny voices. I
couldn't believe it. It was my dream come true."

The casting process took six weeks. "For that whole time, I was a nervous wreck and didn't think about anything else. I did little schoolwork or looking for a job," says Berthold, who was in the second semester of her senior year.
At the final callback in March — O'Donnell helped select the eight members of the cast — Berthold was asked to do five minutes of characters. She admits to having been nervous, but says she felt that she was "meant to do this." The night of the callback, Berthold received a phone call telling her she had been chosen as one of the eight. "It's like I had gotten a shortcut to where I wanted to be, instead of toiling for years and possibly quitting before I had a chance to do anything," she says.
Casting Director Jodi Collins noticed Berthold's imaginative and well thought-out sketches, "very well performed, truly like a pro," Collins explains. "She continues to stand out. She pops for me — that special 'it' factor. Call it crazy, call it genius. But it's there. You can feel it. Whether it's the hunger or intangible something that everyone feels, I kind of have the sense that she has that."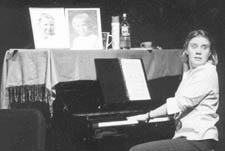 Photo: Courtesy Kate Berthold '06

For Berthold, this was more than just an acting gig. "It was an important milestone to have a gay sketch show," she says. "Comedy is important to me and to have a show that is just about how funny it is to be gay seems like a good thing. I was desperate to be involved in that," she says.
Offstage, the blond, blue-eyed Berthold is quiet and unassuming. "I'm extremely quiet and terribly meek," she admits. "It is scarier for me to tell one person who I'm very close with something that I'm feeling than to tell 100 people about it as a character." This timidity explains why she feels best when performing. Under the cloak of a character, she can be anyone or anything — and nothing is more liberating.
Berthold describes her background with wit and honesty (and with the help of a few funny voices). She was born and raised in Sea Cliff, N.Y. (which, of course, she can't help but say in a faux-Long Island accent). In addition to watching the movies of Brooks, Temple and many more, Berthold has played various musical instruments since she was a little girl, piano since the age of 5, cello and guitar since middle school. Her whole family — mother, father and younger sister — did voices. She and her sister would memorize movie dialogue and recite it to each other, mimicking each voice in the movie ("We both have a good ear," Berthold says). And it's clear why: Her mother was the president of her high school drama club and is a public speaker, while her father was a "funny" architect who took piano lessons with her.
Berthold's desire to entertain and become different characters was always a part of her charm. As a child, she says she had to be in costume all the time. In pre-school, she was Peter Pan; in kindergarten, Pippi Longstocking; in first grade, Snow White. She stopped around second grade, because her teachers began to get worried that she didn't know the difference between reality and fantasy.
"After that, I took Halloween very seriously," she jokes. "You're speaking to the three-time winner of the North Shore Halloween costume contest." (The winning costumes were Sven, a German boy with lederhosen; special agent Scully from The X Files; and Mrs. Doubtfire.)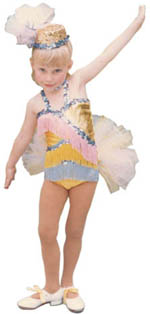 Photo: Courtesy Kate Berthold '06

But Berthold's adolescence wasn't all dress-up and funny accents. By her freshman year of high school, she knew she was homosexual, but in her public school of 600, no one was "out" and no one was talking about it. Berthold told only a few close friends. "To the rest of the school, I desexualized myself," she notes. "I fell in love all the time with straight girls, and it was very painful."
Berthold had many reasons for keeping her sexual orientation quiet. "I didn't know how my teachers would react. It was a different time back then," she says, explaining that her school had no Gay Straight Alliance until after she graduated."When I was there, teachers sometimes made fun of gay people. 'Gay' was just tossed around as an insult and the teachers didn't stop anybody. While I would have been physically safe, I didn't feel that was something I wanted people to know. I thought I'd be ridiculed. Plus, my little sister went to school there, and I didn't want people to harass her."
She did not tell her sister that she was gay until she was 18, three years after she had told her mother, whom she says always has been progressive. "The thing that made it OK was that my mom had never said a negative word and has been unflinchingly, unbelievably supportive. She is so proud that I'm on The Big Gay Sketch Show and has no problem with me being a publicly gay figure. She has outdone herself as a mother. And my littler sister, who's 18 now, adopted this as her cause too, even though she's not gay."
Berthold told her father when she was 15, shortly before he was diagnosed with brain cancer. He passed away three years later. "In his sickness, he became very religious, but he never made me feel bad about [my sexuality]," Berthold says, adding, "He loved comedy and made sure that I watched good comedy my whole life."
Columbia gave Berthold the opportunity to be more open about her sexuality. The College was a new environment with lots of gay people. "Even in high school, I thought maybe there was a chance it would go away and I wouldn't have to tell the world about it. Once I knew for sure I was going to be this way my whole life, it became necessary to have everyone know," she explains.
Berthold attributes much of her acting success to the Varsity Show, where she starred in three consecutive shows: "V109: Dial D for Deadline," "V110: Off-Broadway" and "V111: The Sound of Muses."
"I don't think I'd still be involved in theater if it wasn't for the Varsity Show," she says. "I didn't know it at the time, but I was learning the tools of sketch comedy and improv comedy."


Photo: Courtesy Kate Berthold '06

Berthold also credits her theater experience for its social opportunities. "The people at V-Show became my closest friends," she says. Jordan Barbour '05 and Berthold met at Berthold's first Varsity Show five years ago, and they remain best friends. "I'm sort of in awe when I watch her perform," he says. "Having worked with her for so long, I've seen her grow as an actress and comedian. She has all this determination and such a unique voice."
Berthold continued to wow audiences on the Columbia stage in multiple theater productions, including her thesis debut and one-woman-show: The Samantha Show. She performed the show in the fall semester of her senior year, both as a proud accomplishment and a cathartic experience. She interwove personal reflections into a witty script of funny characters that included a maladjusted 16-year-old, her perfectionist friend and many more. She revealed her father's death in the show. "I had never told [my friends] about it, or the details of it. Having everyone I knew watch that was very cathartic for me," she says.
In her final semester on campus, Berthold co-founded a comedy group, Tea Party, which focused on musical improv comedy, and often provided the music from her piano. The group was co-founded by Ted Malawer '06 and Dan Kessler '06 after their rejection from another improv group, Fruit Paunch, whose policy did not allow them to accept graduating seniors. "We loved showy musicals," explains Berthold, "and thought instead of improv games, why not have a set of stock characters who improvised together with music?" With Tea Party and more funny accents in tow, Berthold further established herself as a comedienne.
Filming for The Big Gay Sketch Show began while Berthold was a senior at Columbia. Everyone else she worked with was older and more experienced, and at first, she felt intimidated. "I didn't want them to think I was there by accident," she says. But Berthold gradually became more comfortable, thanks to many talks with her mother, who advised her to "Walk in there like you own it and you know what you're doing." And eventually, "We became an ensemble," Berthold says.

"I don't think I'd still be involved in theater
if it wasn't for the Varsity Show."

At press time, the ensemble was waiting to hear if the network will agree to pick up another six episodes. As a recent graduate, Berthold says she has no structure or schedule. Her day jobs include telemarketing for Kaplan Test Prep and occasional stand-up comedy performances around the city. "I could get a job, but the goal is to leave the job soon to film another six episodes of the show," she says. "The thing about the business that probably kills people is boredom. If you're an actor who's not working, you feel like a slug."
Berthold came away from the show experience not only with a professional acting credit but also with two new friends and mentors, actress Julie Goldman and writer Rebecca Drysdale. "I look up to them. They are the kind of lesbian comediennes that I want to be one day," she says.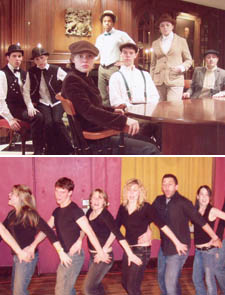 PhotoS: Courtesy Kate Berthold '06

Goldman holds Berthold (who she fondly calls "Brecht") in high esteem, as well. "My first im­pression of her was these awesome characters she performed at our writers' meeting; they were so funny and smart," Goldman says. "I didn't notice any inexperience. She could've told me she was performing all her life and I would've believed her."
Berthold filmed the pilot in two weeks in April of her senior year, and filmed the rest of the six episodes by October. During the pilot's filming, she also was starring in the Barnard Theatre Department's production of Caryl Churchill's Cloud Nine. After telling her professors she was taking a two-week hiatus, she began rehearsing for the pilot from 10 a.m.–6 p.m. every day. She would come back to campus at 7 p.m. and rehearse all evening for the Barnard play. And she enjoyed every fatiguing moment. "I didn't get tired at all. I loved it," she says. "Someone was paying me to do funny voices. I couldn't believe it. It was my dream come true."
One of Berthold's fondest memories from the show was shooting a parody scene in Columbus Circle, decked out in wig and boots as Rachael Ray from the Food Network. She never felt nervous. "That's my preferred moment of being in the world," she says, "being ridiculous."
Perhaps Berthold's kindergarten teachers were right, and she still hasn't learned the difference between reality and fantasy. Or maybe she just enjoys breaking the boundaries of both — one funny voice at a time.
---
Yelena Shuster '09 has seen every show on campus for the past two years and is not ashamed. Neither is her boss — Shuster is Spectator's campus arts editor.
| | | | | | | |
| --- | --- | --- | --- | --- | --- | --- |
| | | || | | || | | |