| | | | | | | |
| --- | --- | --- | --- | --- | --- | --- |
| | | || | | || | | |
FIRST PERSON
Masters of the Harlem River
By John E. Mulligan III '72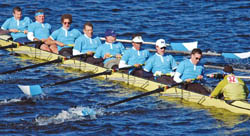 Photo: Gerald T. Mulligan

Almost four decades ago, a rudderless group of Columbia undergraduates found refuge from the storms at a great university that seemed, like so much of the wider world, to have gone mad. Our unlikely haven was an aging, whitewashed boathouse at the northern tip of Manhattan, and the dirty waters of the Harlem River beyond.
We had an improbable guide through the crisis of the '60s, a time of anti-war passions fed by radical politics and a blossoming culture of drugs. This stoic, sometimes distant figure was a first-time coach, a world-class oarsman, a Marine grievously wounded in Vietnam. From a ragtag collection of practiced losers, he forged a superior Columbia racing crew and led it to England's venerable Henley Royal Regatta in 1971. Along the way, John Abele gave us something richer than rowing honors.
Last fall, the core of that crew chased another unlikely dream, the brainchild of one of our freshman leaders, Manhattan lawyer Peter Darrow '72. We entered Boston's prestigious Head of the Charles Regatta, in the euphemistically named Senior Masters Division.
Our one and only practice as a group was a fiasco. Coxswain Dave Flannery '72, a Georgia geneticist accustomed to ruling a major hospital unit, tugged at defective rudder controls. The shell veered through lane buoys toward onrushing crews. Limping back to our dock, we passed Harvard's slate-roofed palace of rowing — a reminder of the hard times before our moment in the sun.
Spring 1968
As a freshman rower in 1967, Marc Binder '71 was disheartened by the daily journey from the oasis of the Columbia campus to the dreariness of the Harlem River — the decrepit warehouses, the Con Ed smokestacks, the kids hurling rocks from the shore. The flotsam and jetsam was astonishingly foul: raw sewage, orange peels, oil cans, condoms, even a bloated cow carcass. Once in our later years, a human cadaver floated by.
Winter training meant "the tanks," a subterranean rowing contraption deep under Low Library. "It was the fourth circle of Hades, just below the philanderers and just above the pedophiles," Binder recalls. "Satan himself presided from a great black throne, with steam vents hissing around his ears."
Columbia's campus strike of 1968 devastated the solidarity of the crew. The lightweights were split between those for and those against the seizure of several buildings by student protestors. Many heavyweights worked actively against the occupation. Their coach, former Olympic rowing champion Bill Stowe, led 100 New York police officers through underground tunnels near the tanks to break the occupation of Low.
Binder was among the lightweights who quit the crew in anger at the administration's role in the bloody April night of mass arrests, but he quickly came to believe that he had violated his obligation to his teammates. "I was 18 years old," he said. "What did I know?" He apologized and returned to the shambles of the 1968 season.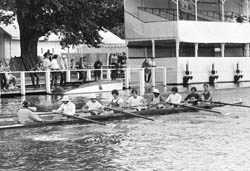 Freshmen on the Harlem
In fall 1968, I was among the freshmen for whom spring '68 already had congealed into legend — a Shangri-La of scalp wounds honorably borne and free concerts at Ferris Booth Plaza. But as a member of the Naval Reserve Officer Training Corps, I was torn. And ROTC was already in flight from the protestors: no more uniforms on campus, no more drills.
I was not the only conflicted soul on the freshman lights. Henry Herfindahl '72, who thought of himself as a Yale reject, was shocked by much of what he found on the urban campus — and the river. But he also had an epiphany on the Harlem one cold day when he was sore and frustrated enough to think of quitting, but there had been glimpses of what happens when a crew comes together. "You feel much stronger than you really are," is the way he described it. Herfindahl had his epiphany: The path was inward; pull harder on every stroke; focus on its every element.
This was the great paradox of racing speed. Through the relentless constriction and conformity of eight rowers striving as one, we would unlock one of the freest sensations we would ever know.
Our adventures involved unexpected danger. One stormy night, the boat foundered in freezing waters on Spuyten Duyvil, the stretch of water where the Hudson and the Harlem meet. All hands were rescued by the motor launches.
A first-race loss to Princeton set the pattern for spring 1969, but coach Charlie Sherman found some magic in a late-season shift. Walter Brown '73, '78E, '86E, '86 GSAS, a graduate of St. Paul's School in New Hampshire and our only experienced rower, took over at stroke. With Brown in the lead seat, we consolidated our individual gains in fitness and technique. Our fifth-place finish at the Eastern Sprints in Worcester was the biggest surprise of the sprints.
Kent State
My arrival onboard the battleship New Jersey for a summer training cruise was out of a B-movie boot camp scene — unseamanlike in every respect. A cold-eyed upperclassman from Annapolis became my Captain Queeg for the next six weeks.
Then it was off to a sea of mud in upstate New York for three days of music, peace and love. There I was equally out of place, the boy with the shortest hair in all of Woodstock Nation. My crewmate Paul Demartini '72, '77 P&S, also was there — another credential of the revolution to bring back to school. "We were the anti-Ivy League," he said.
Awaiting us that fall was a man unlike any we would encounter at Columbia. We knew Abele had been a combat Marine. We knew he was a friend of Stowe's from the great Cornell crews of the early 1960s, and we knew that Stowe thought poorly of us. When Stowe was collecting his 1964 Olympic gold medal in Tokyo, we heard, Abele was in the hospital recovering from his wounds from Vietnam.
For most of our crew, the military was so alien that even to meet someone from "that foreign country," as Herfindahl put it, was remarkable. Abele made a forbidding first impression: huge and powerfully built, grave in demeanor, with a weakness in his speaking voice and some scars. Often the intense eyes behind the aviator glasses would follow us down the river for long minutes of silence. No commentary, no commands, no encouragement.
But the man defied our stereotypes by giving us the respect of taking us exactly as we were. "John was completely indifferent to appearances — the long hair, the political posing, the unorthodox approach to organized sport," said Binder. He also demanded more of us than we thought we had to give, increasing the regime of sprints up the sagging wooden stands of Baker Field, for example. But he parceled out rewards as well: a better training table and, eventually, a winter rowing trip to a wonderful coeducational college in Central Florida.
Abele sent seniors down to the second boat that spring and brought the toughest sophomores, Demartini and Herfindahl, up to the first boat. He made no speeches. We got the picture: He wanted to win.
It took several races, but the wins began to come. Dead last in '68, the Columbia lightweights won sixth seeding for the Eastern Sprints of 1970.
Then came Kent State — the killing of several students when Ohio National Guardsmen fired on antiwar protestors. Strikes followed on campuses across the country. We met in the boathouse to decide whether to row in a regatta that now seemed rather small.
"I'll never forget that meeting," said Mark Lesky '72. Abele was implacably neutral. We were the crew, he said. We had to make the decision.
It was a struggle. All of us wanted to test our potential to shock the field at Worcester; most all of us wanted to show solidarity with the protestors. Some wondered whether we should race in black armbands, but such half-measures sank under the weight of the day's emotion. How could we row, one tearful oarsman demanded, when children were dying in a war on the far side of the world? The soft-spoken Herfindahl asked what practical effect our boycott would have. But in the end, we boycotted. That weekend on Lake Quinsigamond, the Harvard lightweights wore black armbands as they rowed to victory.
Demartini marched on Washington, D.C., that spring, an experience that cooled his enthusiasm for radical politics. He came back to Columbia determined to set a new course, for medical school.
I came back from Marine camp in Little Creek, Va., with a plaque for running the obstacle course — but no place to hang it. The Navy was leaving Columbia, its vandalized offices in Livingston [now Wallach] a sign of the times. And I was leaving the Navy — not officer material, by the agreement of both parties.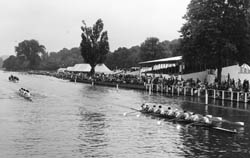 Henley
All of us came back to the boathouse in fall 1970 with the same idea. We expected to win.
Weighed against the struggles in the world, rowing ultimately was trivial, Herfindahl allowed. But it could yield simple truths about how to live in the world, about the uses of discipline, of doggedness, of putting the larger goal above the moment's whim. Driving a boat to racing speed was like moving from finger exercises to the beauty of a well-played piano piece.
Even the Harlem had come to seem welcoming. When we put into the boathouse cove after practice at sunset, the Henry Hudson Bridge arched into the wooded hills of Inwood Park. The craggy face of the Bronx towered over us with the imprint of generations of rowers, the great sky-colored "C."
It was possible to scan the scene from our racing shell and think with no trace of irony: We own New York. We weren't Yale rejects anymore, or ROTC washouts, or Woodstock Nation refugees. We were masters of the Harlem.
In spring 1971, we got a new boat, named for Columbia's unofficial poet laureate, Mark Van Doren. The old man christened "This Shell" with a verse by that name, his white hair flying in the Spuyten Duvil wind as he read.
Once more we rowed to daunting early losses, but shortly before the sprints, Al Medioli '73, a world champion youth sculler, defected to the lightweight varsity from the heavyweights. For the first time in years, the Columbia lights qualified for the finals in the Eastern Sprints.
At the start of the championship race, Harvard took the lead for good. At 1,000 meters, the halfway mark, Columbia and Penn were just behind second-place Princeton. But by 1,500, Columbia had slipped to fifth. Coxswain Andy Dunn '71 called for the sprint, and Columbia crept by Navy, then Penn.
The memory of battling Princeton in the final strokes has never faded for Medioli, who speaks of "that complete surge of adrenaline when we broke out of the pack" and pulled away stroke by stroke. Columbia's second-place finish, half a boat-length ahead of the astonished Princetonians, was the lightweight upset of the year.
Next thing we knew, we were entered in the Queen's own regatta at Henley-on-Thames, only the third Columbia boat ever to be so honored.
This was the lightweight varsity of Henley '71: Dunn at coxswain, Medioli at stroke, J.B. Doyle '72, John O'Connor '73, Jeff Johnson '73, Binder, Demartini, Paul Gruber '72E and Herfindahl in bow. The spares, racing in a pair, were Michael O'Donnell '71 and myself.
By Henley tradition, we lodged at the home of a well-to-do British doctor's family, on a tributary of the Thames. We wore floppy white crew hats and Columbia's regimental necktie with our new blue varsity letter blazers. We trained on the eccentric race course, barely wide enough for two boats. And, yes, we raced — one victory and then our abrupt elimination in the semifinals. It was a bearable disappointment. After years of toil on the humble Harlem, we had rowed to some credit for our college and our coach.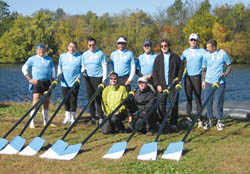 Photo: Patricia Brown

Head of the Charles
It was Darrow's idea, late in 2005, to reassemble a crew that was 35 years past its prime — and in some cases, at least that many pounds. He devoted to the Head of the Charles the same industry he took to drumming up business around the world for his Manhattan law firm.
Binder, now on the medical faculty at the University of Washington, trained in Seattle with Herfindahl, who had found his way from philosophy to a job at big power company there. Brown and Lesky had made lives in the earth sciences. Brown became a geophysical engineer in the oil industry in Houston and Lesky grew from gas pipeline industry projects in Western Canada to executive duties in Pittsburgh.
Medioli had parlayed his architectural training into a career analyzing public finance projects for an investment bank. He followed his son, another youth rowing champion, back to the water — and bought him a single shell that he named for coach Abele. Demartini, a heart surgeon in Westport, Conn., had traded his red bandana for a golf visor but, like Darrow, had retained an annoyingly youthful appearance.
The old crew reunited on the last weekend of October: eight formerly lightweight rowers and a coxswain, grinning at one another in the rain on the banks of the Charles.
The practice row on the eve of the race was, as mentioned, a disaster. By morning the rudder was fixed but Flannery had been stricken in the night by back spasms. He stepped aside for the team and Medioli found a skilled replacement, Helen Woznack, a 29-year-old cox from his New Jersey boat club.
Before the race, we gathered in the sun and the chill wind for John O'Connor '73, an old Henley mate who died last spring. We had a vessel of water from Spuyten Duyvil to pour on our bow, with some dirt from beside the boathouse. We stood a moment in silence for O'Connor. Then we went out on the Charles, where the riverbank was thronged with tens of thousands and decked out like a medieval pageant.
The main thing about our race was: We did it. For rowers so long off the water, we were fine, especially considering our swashbuckling mid-race moment of daring. It came as a faster MIT alumni crew began to overtake us. We had the right of way, so Woznack set us a plumb-line perfect point to hold them off at the big turn by the next bridge.
"Do not yield, gentleman," she commanded. "Give me that bridge." We gave. The MIT cox gambled, meanwhile, that his men could cross our stern and seize the inside lane.
Big mistake. Woznack's geometry was too exacting.
Time seemed to stop as we crashed — oars crunching, scenery and spectator noises suddenly clear. The collision cost us in the standings; we finished among the last few boats. But MIT paid more dearly, with a 30-second penalty, and the accident was weirdly invigorating.
The months of training recalled the work of our youth, and the durable gift we could not see at the time. By trying to master a boat on the Harlem, we had begun to master ourselves — a lucky few of us under Abele's steady, often wordless guidance. From this much closer to the grave, we could see how it worked, but we will never reclaim that innocent conviction: We own New York.
By the time we docked on the Boston shore, a restless pang had crept into the joy of our day. We wanted more.
Postscript
It took some searching to find the presence missing from our midst. A few days before Christmas, I punched up the telephone number for one John F. Abele in Veneta, Ore. A familiar voice came on the line, low but with a reedy hitch. I began my halting explanation of the reason for this call.
"Mulligan?" he said with a laugh. The conversation grew easy. Abele had retired from coaching more than 30 years ago, he said, and moved to Oregon on military disability. He and his wife, Judy, have raised three daughters, two of them married to military men, one of whom is serving in Iraq.
For many years, Abele has been a part-time medical worker, caring for people in nursing facilities, a life he described with what sounded like gratitude: "It's good work, it's hard work, and it helps me to relate to people who are not able to relate to much at all."
I wanted so much to convey to the coach our sense of debt to him, how he had helped us find something inside ourselves that we did not know we had. "Well," he answered, "that's what rowing does." He didn't know that much about coaching, he said; he learned from us.
"You were a good bunch of men," he said, as piping voices sounded on his end of the line, his grandchildren home for Christmas.
"We didn't have the best situation, but we did pretty well," Abele said. "We were able to get to Henley. That was the cream."
---
John E. Mulligan III '72 is the Washington, D.C., bureau chief for the Providence (R.I.) Journal.
| | | | | | | |
| --- | --- | --- | --- | --- | --- | --- |
| | | || | | || | | |