| | | | | | | |
| --- | --- | --- | --- | --- | --- | --- |
| | | || | | || | | |
OBITUARIES
Ira D. Wallach '29: Philanthropist, Lawyer, Businessman
Ira D. Wallach '29, '31L, a New York City philanthropist who for many years was the chief executive of Central National-Gottesman, the world's largest private marketer of pulp, paper and newsprint, died on January 6, 2006. He was 97 and lived in Scarsdale. [more]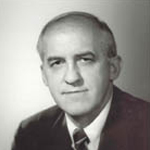 Hugh R.K. Barber, physician, New York City, on December 26, 2006. Barber was captain of the 1940 football team. He earned his M.D. in 1944 from P&S and was a prominent gynecological oncologist on staff at Lenox Hill Hospital, with a teaching affiliation with New York Medical College. Barber began his career in 1944 as a resident at Lenox Hill and was appointed chairman of the department of obstetrics and gynecology in 1963, a position he held until 1997. He was a leader in the field of gynecologic malignant disease and was internationally renowned for his seminal work in ovarian cancer. An advocate for women's health care, Barber authored hundreds of scientific journal articles and 20 books. He also lectured extensively and was a founding member of the New York Gynecological Society. In 2000, in recognition of his exceptional accomplishments and devoted service, Lenox Hill inaugurated an endowed chair in his name. Barber was a generous donor to the College and participated in alumni activities. The College honored him in 1995 with a John Jay Award for distinguished professional achievement. He is survived by his wife, Mary Louise.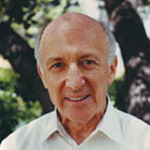 Leon A. Henkin, professor emeritus, Oakland, Calif., on November 1, 2006. Henkin was born in Brooklyn on April 19, 1921. He earned a B.A. in mathematics and philosophy, then an M.A. in 1942 and a mathematics Ph.D. in 1947 from Princeton. During WWII, Henkin worked for the Manhattan Project in New Jersey, New York City and Oak Ridge, Tenn. In 1949, he moved to the University of Southern California's math department and then joined UC Berkeley in 1953, becoming full professor in 1958. He retired in 1991. Henkin held a number of chairs and university appointments. He spent much of his career boosting the number of women and underrepresented minorities in the upper echelons of mathematics, spearheading the 1964 formation of the Special Scholarships Committee at UC Berkeley. The program served as a model for the federal Upward Bound Program. In 1990, Henkin received the first Yueh-Gin Gung and Dr. Charles Y. Hu Distinguished Service to Mathematics Award of the Mathematical Association of America. He is survived by his wife, the former Ginette Potvin; sons, Julian and Paul; and sister, Estelle Kuhn. Memorial contributions may be sent to Professional Development Program, 230-B Stephens Hall, University of California, Berkeley, CA 94720-5881, or to Doctors Without Borders.
Edward H. Weinberg, retired business executive, Mamaroneck, N.Y., on December 6, 2006. Weinberg was born on November 6, 1920, in Brooklyn. He entered the College at 16, majored in English and acted with the Columbia Players and in the Varsity Show. He was a brother in Beta Sigma Rho. During WWII, Weinberg served in the U.S. Army Air Force in the European Theater as a captain and intelligence officer with the 56th Fighter Squadron. He became chairman of the board for the American Tack and Hardware Company in Monsey, N.Y., which he ran with his brother, James, for 50 years and his son, Joel, for 16 years. Weinberg served on the Board of Directors of the Hebrew Immigrant Aid Society for 35 years and became a v.p. He was predeceased by his first wife, Miriam (née Schwartz), a Barnard graduate, in 1972. Their children, Deborah and Joel, survive them, as do their four grandchildren. In 1973, Weinberg married Adele (née Lipkin) Trolin, who survives him, as do her children, Clifford, Elisa and Martha, and their children. Memorial contributions may be made to H.I.A.S. Park Avenue South in New York City or to a charity of the donor's choice.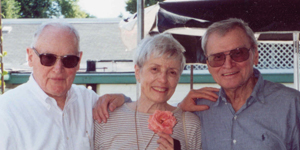 Donald W. Dickinson, retired casino executive, Las Vegas, on December 12, 2006. Dickinson served in WWII from 1942–46 as an officer in the 4th Infantry Division in Europe. He and his men were among the first to land on Utah Beach on D-Day, and he was wounded twice while fighting across Normandy and into Germany. After a long and arduous rehabilitation on his right arm, he achieved a substantial preservation of cosmetic and muscular function and rose to the rank of captain, commanding a POW camp in France; he was a decorated hero. Dickinson settled in Las Vegas soon after returning from the war and had a long and distinguished career as an executive in the gaming industry in several major Las Vegas casinos before retiring. He is survived by his sons, Phillip and Christopher; and daughters, Tina M. Edwards and Janice.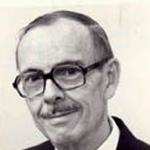 Marshall J. Hanley, retired physician, Rye, N.Y., on November 30, 2006. Hanley, who served in the Navy, earned his M.D. from NYU's College of Medicine in 1945 and an M.P.H. from Harvard in 1962. He was a diplomate of the American Board of Internal Medicine and the American Board of Preventive Medicine. Hanley was for many years the director of medicine and environmental health at Bell Laboratories in New Jersey and was a member of the American Academy of Occupational Medicine. He also was a clinical professor in the department of environmental and community medicine at the University of Medicine and Dentistry of New Jersey-Robert Wood Johnson Medical School before he retired.


Robert J. Gorlin, oral pathologist and professor emeritus, Golden Valley, Minn., on August 29, 2006. Gorlin was born in Hudson, N.Y., and earned his dental degree from Washington University in St. Louis in 1947 and a master's in chemistry from the State University of Iowa. An oral pathologist who achieved insights into genetic disorders of the head and neck and helped write several definitive medical reference works, Gorlin taught at Columbia and Iowa before moving to Minnesota, where he became an associate professor of oral pathology in 1956. Working with other doctors during his career, Gorlin named several medical conditions. He remained at Minnesota for the rest of his career and held additional appointments in pediatrics, dermatology, obstetrics, gynecology and otolaryngology. Gorlin became a professor emeritus in 1993 but continued his writing and research until soon before his death; he was a senior fellow of the Institute of Medicine at the National Academy of Sciences. Gorlin is survived by his wife of 54 years, the former Marilyn Alpern; son, Jed; daughter, Cathy; and five grandchildren.
Arthur Shimkin, children's record producer, New York City, on December 4, 2006. A Brooklyn native, Shimkin was born on October 8, 1922, and was an economics major. He served in the Army Air Corps and was a freelance writer for several years in the late 1940s, then was hired to work in Simon & Schuster's business department in 1948 and asked to come up with a new marketing concept. As head of the Little Golden Records division of Simon & Schuster in the '50s and '60s and, in association with the Children's Television Workshop, Shimkin started Sesame Street Records. He was the executive producer of more than 3,000 records that sold more than five million copies. Shimkin was nominated for 13 Grammys and won one in 1961 for Peter and the Wolf, played by the New York Philharmonic with Leonard Bernstein. Later, he produced records introducing basic reading, classical music and Shakespeare to children. In 1961, Shimkin produced Young Abe Lincoln, a Broadway show for children. Although it closed after 22 performances, it returned to Off-Broadway for a long run and has been performed on the road and in schools. Shimkin is survived by his wife of 39 years, Bonnie Lee Sanders; sons, Carl, Tony, Jonathan and David; and five grandchildren.


Frank Durkan, attorney, Rye, N.Y., on November 16, 2006. Durkan was born in Bohola in County Mayo, Ireland, in 1930. He immigrated to New York in 1947 and went straight to Gracie Mansion, the residence of his uncle, William O'Dwyer, the mayor of New York. He was put up overnight, but the next day, another uncle, Paul O'Dwyer, a liberal activist and Democratic politician who later served as president of the City Council, took him to a building on 97th Street and arranged for him to work as a janitor. Durkan held jobs as a liquor store clerk and a racetrack parking attendant, among others. He graduated from New York Law School in 1953, then was a clerk for two years at O'Dwyer and Bernstein. As an attorney, writer and political spokesman, Durkan was known as a fierce and clever defender of Irish nationalists, moving among the nation's courtrooms, fighting for the interests and rights of Irish-Americans who came into conflict with the law because of their involvement in Northern Ireland's politics. Durkan also specialized in negligence and malpractice cases and did some legal work for the Newspaper Guild of New York. He is survived by his wife, the former Monica Goggin; daughters, Mary Louise Martin and Ashling; and two grandsons.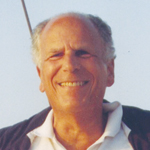 Stephen L. Bernstein, retired attorney, Woodmere, N.Y., on January 3, 2007. Bernstein earned an L.L.B. in 1958 from Harvard Law School but could always be found rooting for the Lions. After graduation from Harvard, Bernstein opened a private practice but spent the majority of his career as general counsel for private corporate firms, most recently The First Republic Corporation of America, from which he retired in 2002. In 1960, Bernstein married Phyllis, whom he met in Boston while at Harvard and she at Boston University, although both were coincidentally from the same hometown, Laurelton, N.Y. He was the first of a long line of family members who were College graduates, including his brother, Arthur '57; son, Kenneth '84; and nieces Karen '87 and Judith '90. Bernstein attended Dean's Day annually and interviewed Long Island applicants for College admission. In 2002, he was involved in a bicycle accident that left him a quadriplegic, but he attended lectures and concerts throughout the metropolitan area, as well as reunions with all of his good friends from the Class of '55. Bernstein is survived by his wife; brother, Arthur '57 and his wife, Edith; sons, Kenneth '84 and his wife, Debra, and Jeffrey and his wife, Robin; daughter, Gail Bennett and her husband, Wayne; and six grandchildren.
Bertram R. Newman, business manager, Bedford, Mass., on December 29, 2006. Born in New York City in 1934, Newman earned a second degree, a B.S. in electrical engineering, from SEAS in 1956. He was a business manager in the manufacturing industry. Newman was predeceased by his wife, the former Roberta Friedman, and is survived by two sons and a daughter.


Marvin M. Solomon, retired senior counsel, Bethesda, Md., on November 18, 2006. Solomon was born in Atlantic City. He earned a bachelor's in international studies from the College, a degree from the Law School in 1960 and a degree from the London School of Economics and Political Science at the University of London in 1963. He also attended the Academy of International Law at The Hague. Solomon was a senior tax law specialist with the IRS from 1963–68, specializing in international tax-exempt organizations. At the Export-Import Bank, from which he retired in 1994, he was responsible for preparing and negotiating international credit agreements with governments and enterprises around the world. In the 1973 Arab-Israeli war, he earned the nickname "Same Day Solomon" because he was able to arrange same-day titles and financing for two transport planes for Israel. Solomon lectured on international finance at the Law School, the University of Illinois, Georgetown and the College of William and Mary and worked briefly for the law firm of Cadwalader, Wickersham and Taft. Survivors include his wife of 40 years, Ilene Sinsky Solomon; and sons, Jonathan and Evan.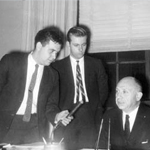 Gideon S. Oberweger, CEO, New York City, on December 28, 2006. At the College, Oberweger was heavily involved with WKCR as a DJ/host and business manager. His classmates on the board of directors, Walter Stingle '65 and Jack Kress '65, were his lifelong friends. At the time of his death, Oberweger was the CEO of Seymour Mann, an import company based in New York. He is survived by his wife of 39 years, Claudia; sons, Alexander '92, '01 Business, and Timothy; daughters-in-law, Caroline '06 TC and Willow; and two granddaughters. Memorial contributions may be made to the Leukemia and Lymphoma Society or Freedom Institute.
Arthur D. Sederbaum, attorney, New York City and the Berkshires, on January 19, 2007. Sederbaum was born on September 14, 1944. At the College, he was a first tenor in the Glee Club and a member of Notes & Keys. He was a hard-working student; the late Professor James P. Shenton '49 said of Sederbaum's academics, "He was achingly conscientious." Sederbaum earned a degree from the Law School in 1968 and an L.L.M. from NYU. A partner at Patterson Belknap Webb & Tyler, he was a leader in its personal planning practice and a pillar of the New York Trusts and Estates Bar. Sederbaum was renowned for his expertise and ability to communicate complicated ideas in easily understandable language in writings and lectures delivered at educational organizations and cultural institutions. He was a generous contributor to professional and philanthropic organizations, as well as to Columbia. A member of The Bankers and Lawyers Advisory Committee of the New York Philharmonic, he also was long involved in the UJA-Federation. More than 500 people attended a memorial service that was held in St. Paul's Chapel on January 23. Sederbaum is survived by his wife, Jayne M. Kurzman, daughters, Rebecca and Elizabeth; son, David and his wife, Phoenix; sister, Caroline; stepchildren, Anthony and Pamela Rykowski; and father, William. Memorial contributions may be made to The Rockefeller University or Memorial Sloan-Kettering Cancer Center.


John P.S. ("Penn") Gardiner, salesperson and tour guide company owner, Lexington, Mass., on November 9, 2006. Gardiner entered the College with the Class of 1966 but graduated later due to illness. He majored in government and was a member of the lightweight crew and the Old Blue rugby club. Gardiner had a career in sales and also had his own company that conducted tours of the Boston area for foreign tourists, using his knowledge of Boston and its history. He traveled extensively, was fluent in French and had a working knowledge of German and Hungarian. Gardiner overcame great adversity and is best remembered by the poem "Success," by Ralph Waldo Emerson, according to his friend, Roger Keppel '66. He is survived by his wife, Patricia.


Douglas E. Gladstone, environmental entrepreneur, Gaithersburg, Md., on October 10, 2006. Gladstone was born in New York City and raised in Hillsdale, N.J. He earned a master's in zoology from Rutgers in 1975 and a doctorate in ecology and environmental science from Penn in 1978. His master's research involved environmental interactions of marsh nesting birds in New Jersey and Mexico, especially the great egret, and his doctoral dissertation evaluated environmental interactions of plants and beetles in the rain forests of Costa Rica. In graduate school, Gladstone was elected a member of Sigma Xi, a society that honors excellence in scientific investigation. He was the co-founder of Environmental Strategies Corp. in Reston, Va. in 1986, and worked there until 2004, when he became ill. Gladstone was a member of the editorial advisory board of the Environmental Claims Journal and wrote more than a dozen papers on environmental assessment techniques and regulatory developments. He played tennis and the guitar and performed with several local groups. Survivors include his wife of 22 years, Lenore; children, Gillian and Scott; mother, Jean; and brother, Peter.


Neha Shende, student, Edison, N.J., on December 22, 2006. Shende graduated from J.P. Stevens H.S. At the College, she was an active board member of the Hindu Students Organization, and danced Bharatnatyam, a classical Indian dance, in high school. Her close friend, Shray Kumar, described her as a free spirit and recalled taking road trips, kayaking and going to her favorite Mexican restaurant. "Neha's humor and passion set her apart from other people," Kumar wrote to Spectator in an e-mail. "She just had the ability to open up different views and lights on matters." Shende is survived by her parents, Manjusha and Amar; brother, Parag; paternal grandparents, Tara and Guarishankar Shende; and maternal grandparents, Usha and Ramkrishna Pandhare. A student-hosted remembrance was held on campus on February 11.
Lisa Palladino
Other Deaths Reported
Columbia College Today also has learned of the deaths of the following alumni (full obituaries will be published if further information becomes available):
1937 John B. Bockelman, Tinton Falls, N.J., on September 17, 2006. Bockelman earned a B.S. in chemical engineering, a Ph.D. in civil engineering and a Ph.D. in chemical engineering from SEAS in 1938, 1939 and 1941, respectively.

1955 Henry H. Abraham, London, on November 18, 2006. Abraham earned an M.A. in economics and a Ph.D. in social psychology from GSAS in 1959 and 1960, respectively.

Robert M. Palmer, Ogunquit, Maine, on January 4, 2007.

Aaron Preiser, Morristown, N.J., on October 20, 2006. Preiser earned a B.S. in mechanical engineering from SEAS in 1956.

1956 Norman Riegel, physician, Woodcliff Lake, N.J., on August 14, 2006.

1964 David I. Victor, physician, Lexington, Mass., on December 1, 2006.

1969 Peter E. Turner, talent agent, Los Angeles, on December 27, 2006. Turner is survived by his daughters, Julia and Veronica.
Obituary Submission Guidelines
Columbia College Today welcomes obituaries for College alumni. Please include the deceased's full name, date of death with year, class year, profession, and city and state of residence at time of death. Biographical information, survivors names, address(es) for charitable donations and high-quality photos (print, or 300 dpi .jpg) also may be included. Word limit is 200; text may be edited for length, clarity and style at editors discretion. Send materials to Obituaries Editor, Columbia College Today, 475 Riverside Dr., Ste 917, New York, NY 10115-0998 or to cct@columbia.edu.
| | | | | | | |
| --- | --- | --- | --- | --- | --- | --- |
| | | || | | || | | |


CCT Home


This Issue


Previous Issue

CCT Masthead